Honey & Co Bloomsbury opens with interior design concept by Studio Found.
Honey & Co has recently moved its inaugural restaurant in Warren Street, London, where it has been serving its much-loved Middle Eastern cuisine for ten years, to a new, bigger location in Bloomsbury.
Honey & Co has relocated to Lamb's Conduit Street taking over the site of a former restaurant, which has been brought to life through a design collaboration with south London-based designers, Studio Found.
Studio Found has once again worked with Itamar Srulovich and Sarit Packer, owners of Honey & Co, to come up with an interior design concept that perfectly reflects the food and ambiance that Honey & Co is so well known for.
It was a truly collaborative design process which enabled Itamar and Sarit to bring their own personal touches to the space; from sourcing the vintage furniture and art to Sarit hand making all the pottery, coffee cups, jugs and plates used in the restaurant.
The owners wanted their new venue to be a welcoming, homely and aspirational space, with a subtle and light finish that would enhance the vibrant food and drink Honey & Co serves.
Through the choice of colours and materials, Studio Found met this brief, coming up with a concept that evoked a homely feel and created a relaxing space for diners to enjoy great Middle-Eastern food and drink.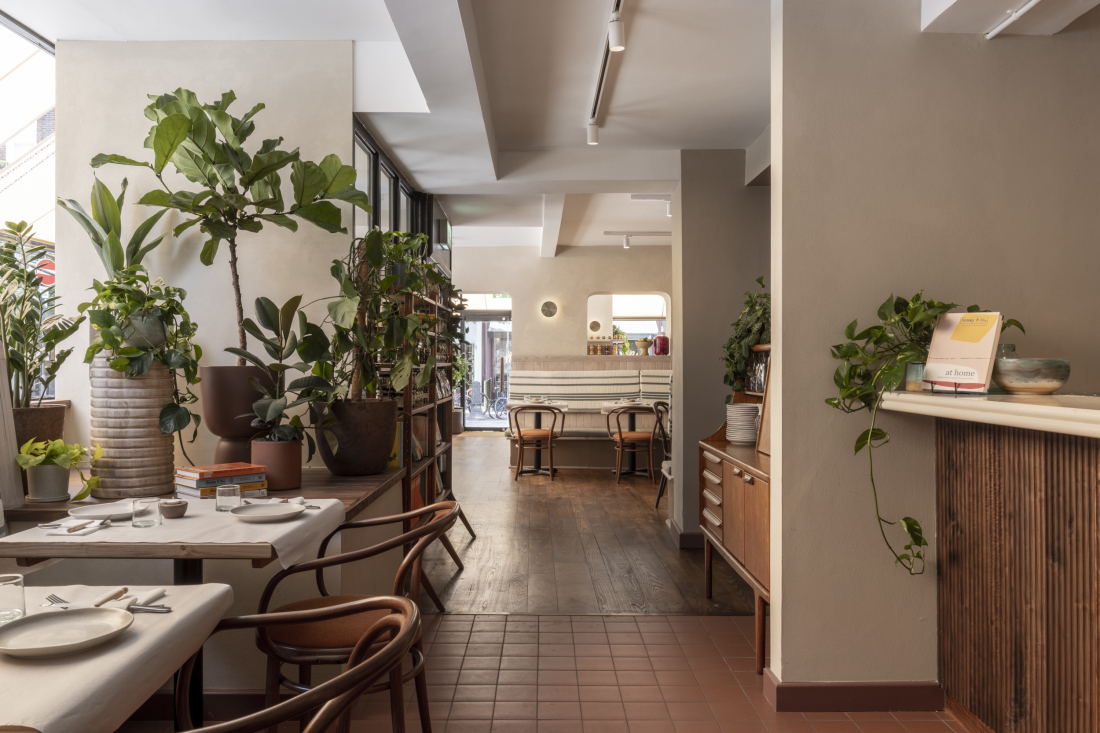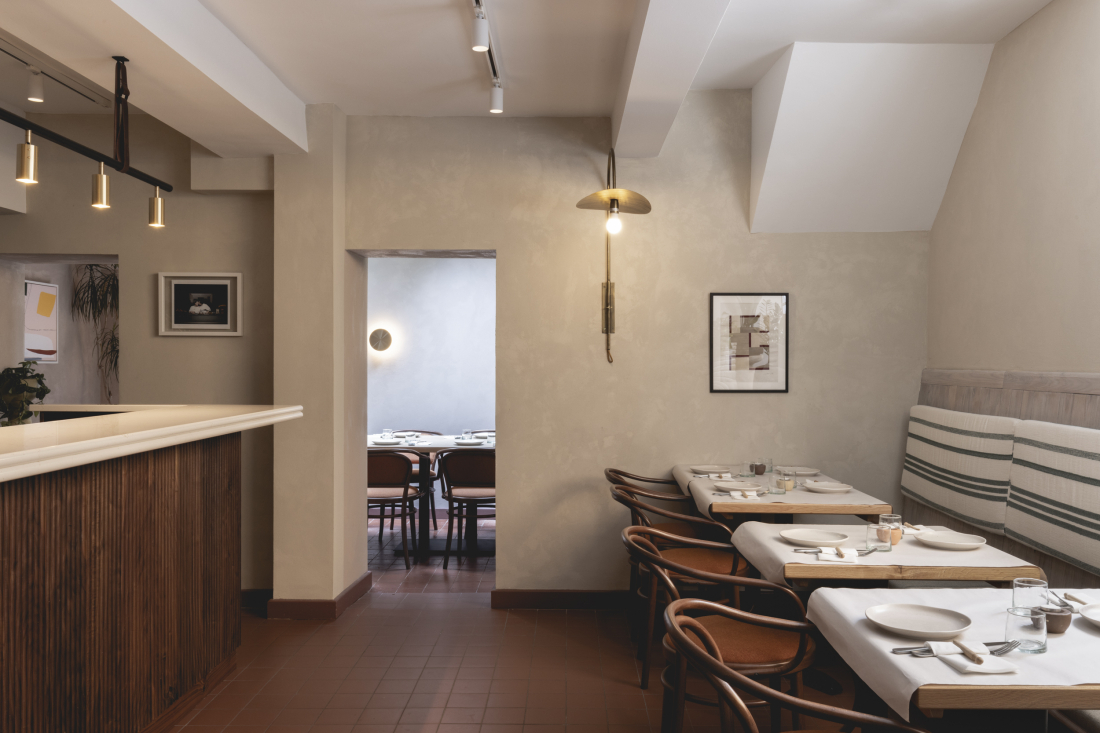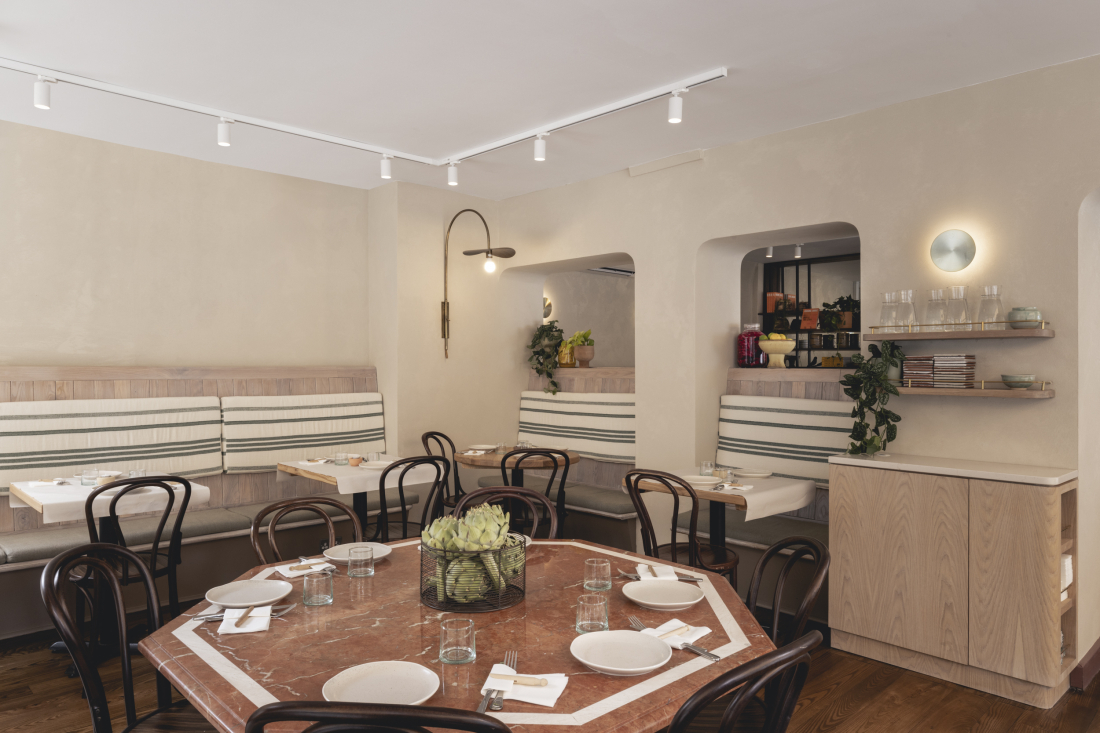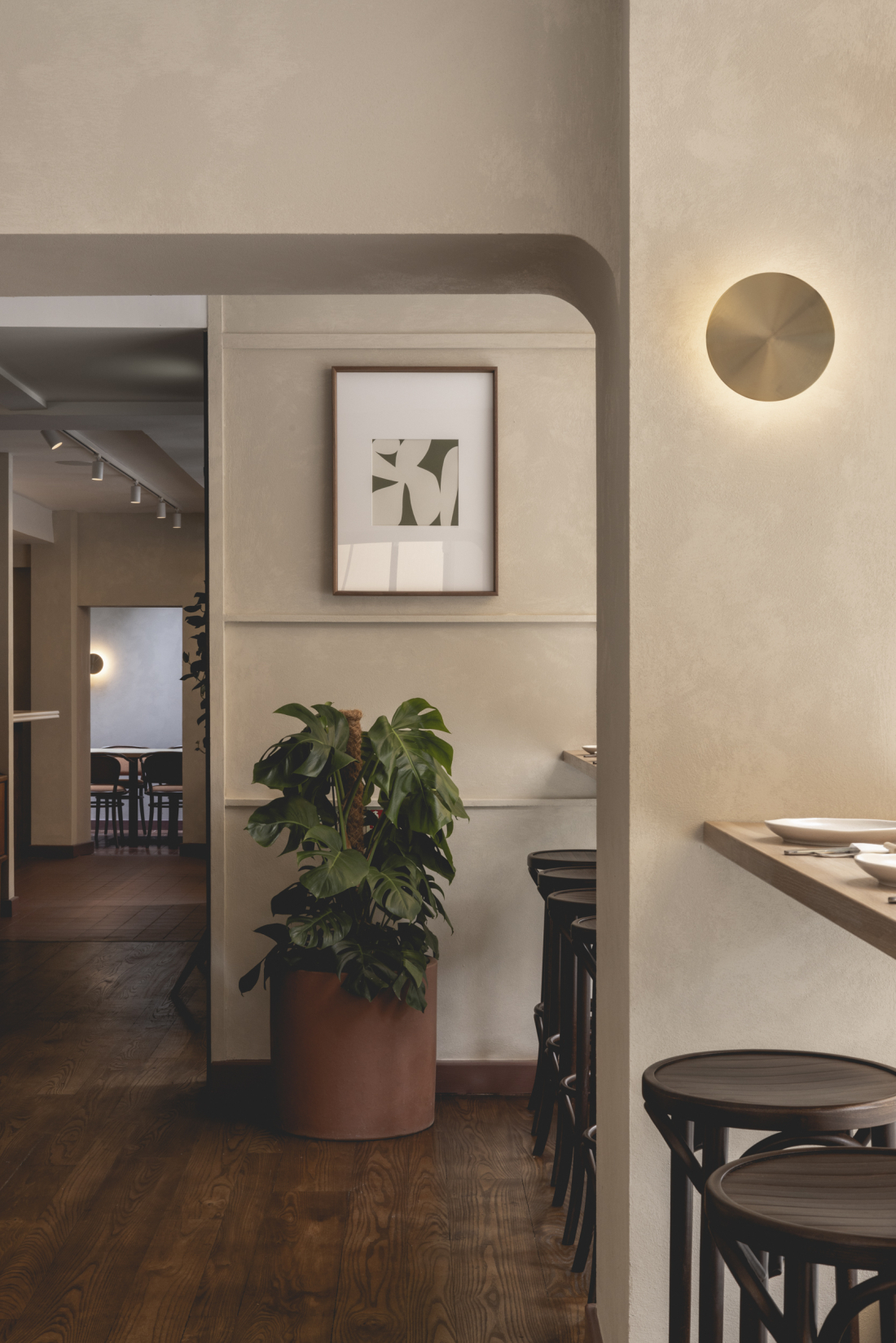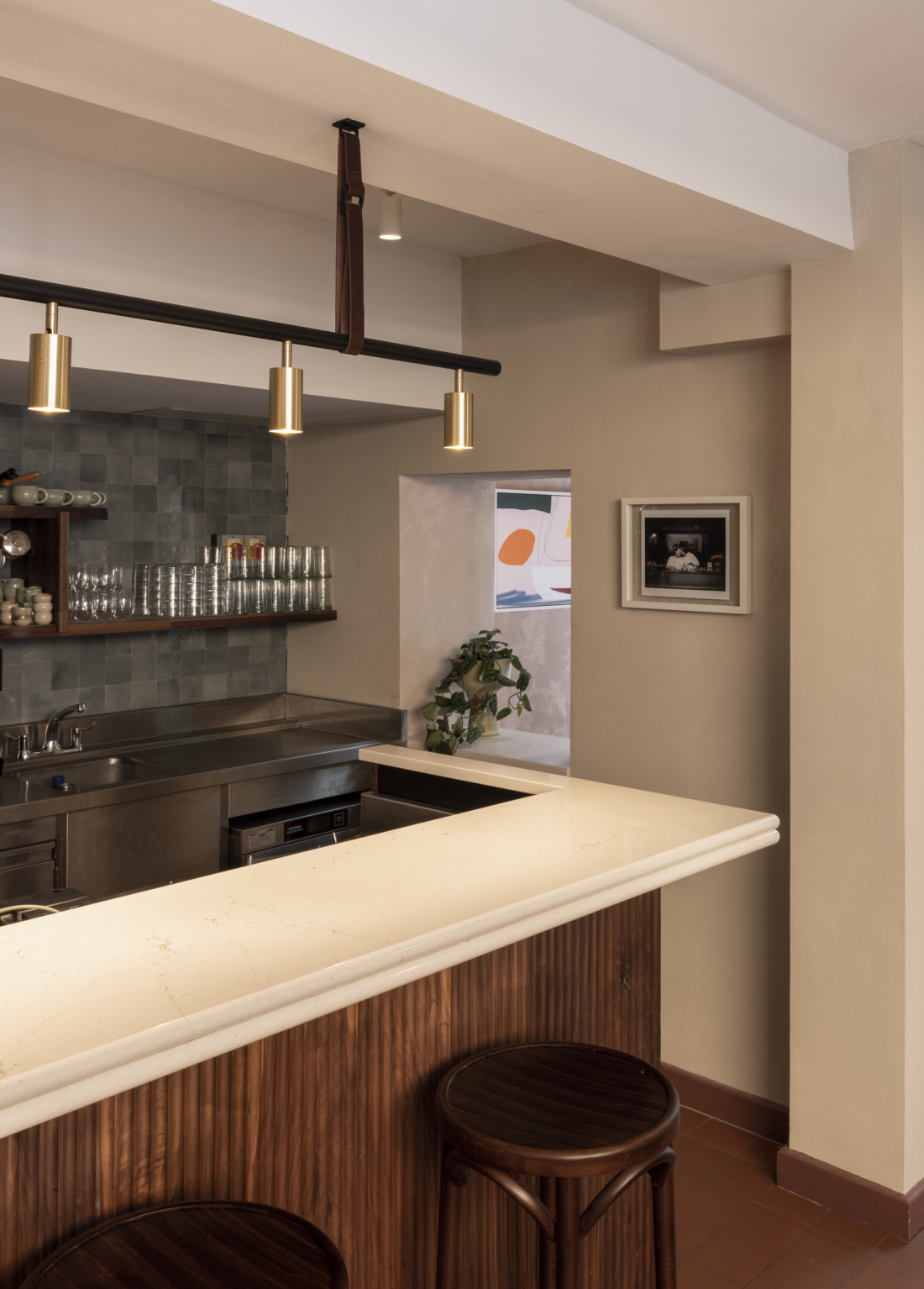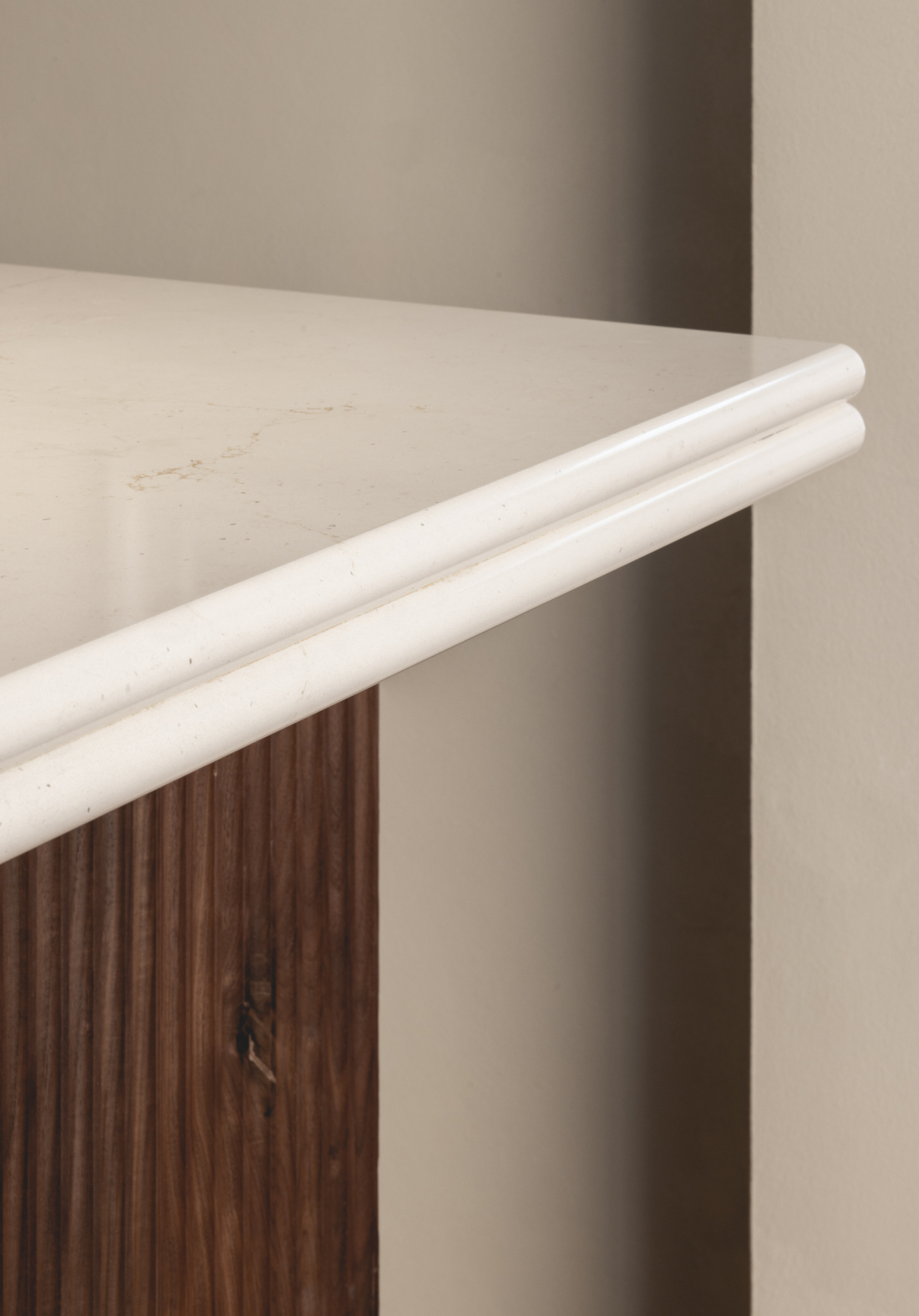 Having worked with the Honey & Co team before at Honey & Smoke: Grill House, Studio Found enjoyed the challenge of creating a special space for the new venue. There was a real emphasis on retaining and reusing as much as possible of what was already at the new site.
In particular, Studio Found encouraged Honey & Co to keep the distinctive large format terrazzo shopfront, which was already loved by the locals, and to use this as an inspiration for design elements within the interior.
Itamar and Sarit also wanted this venue to have a synergy to Warren Street, so the iconic patterned floor tiles from the Warren Street restaurant were replicated in a different colourway within the design.
The interior palette is subtle and calming with tactile and muted finishes, textured plastered walls provide the backdrop for the oak and contrasting walnut joinery. The beautiful woven upholstery fabric and handmade green Zellige tiles add a layer of comfort and detail.
The original floor has been refinished in a deep tone and new quarry tiles have been used towards the rear of the space to define the bar and private dining room.
The private dining room is connected in design to the main restaurant with a continuation of the textured wall plaster finish, but with a different, darker hue. Combined with the deep green ceiling this helps to create a more intimate and rich dining space.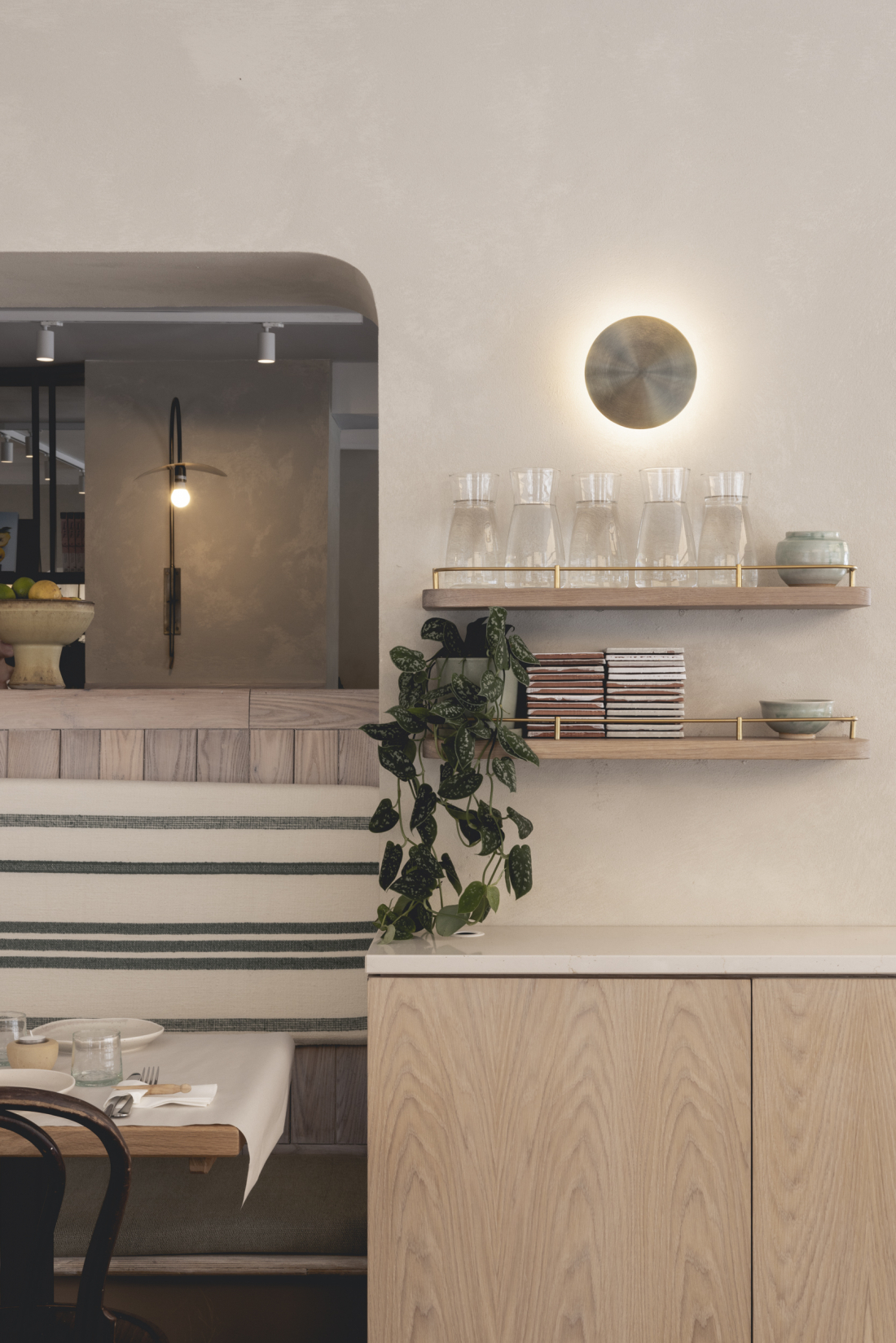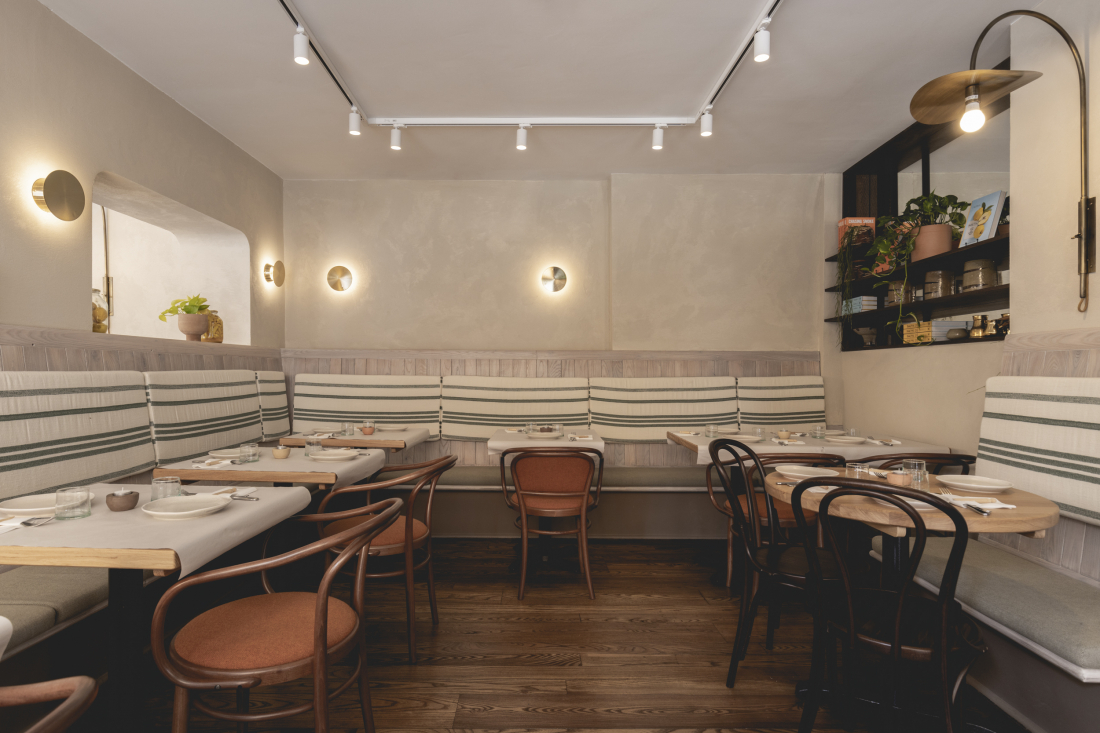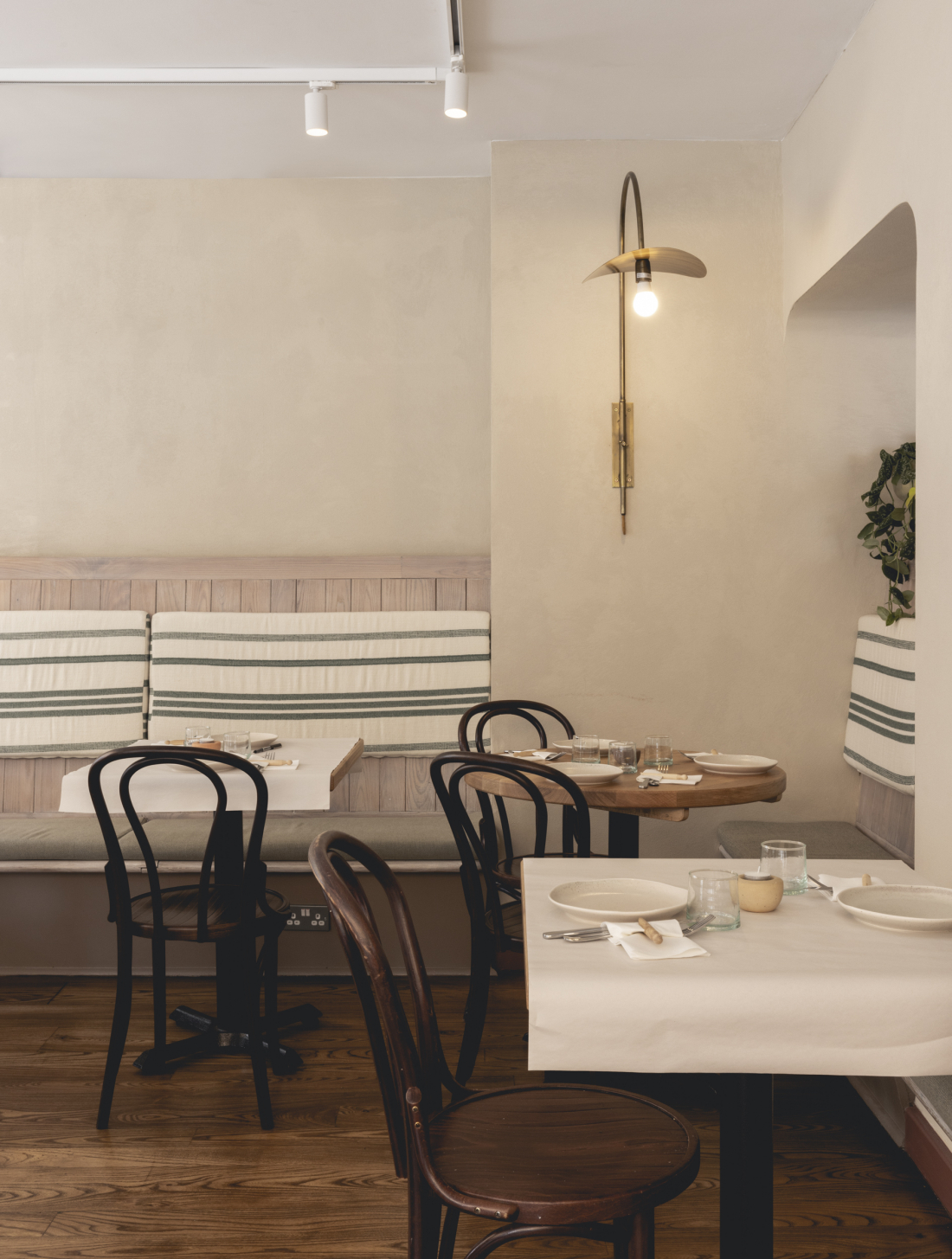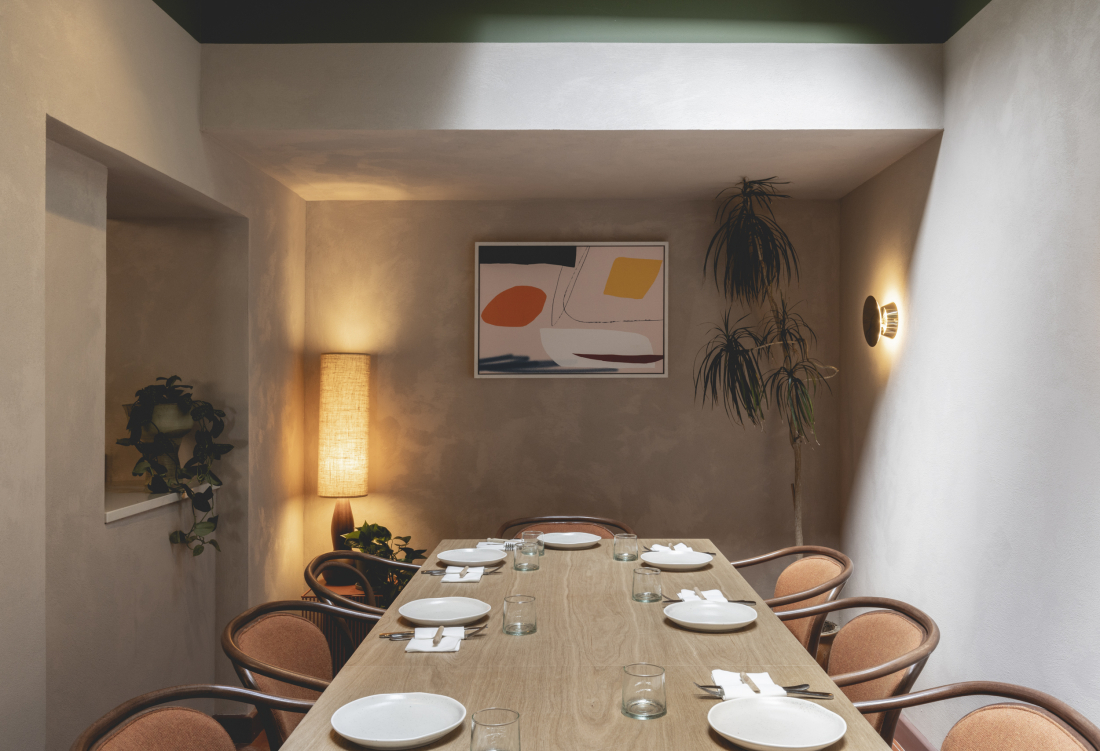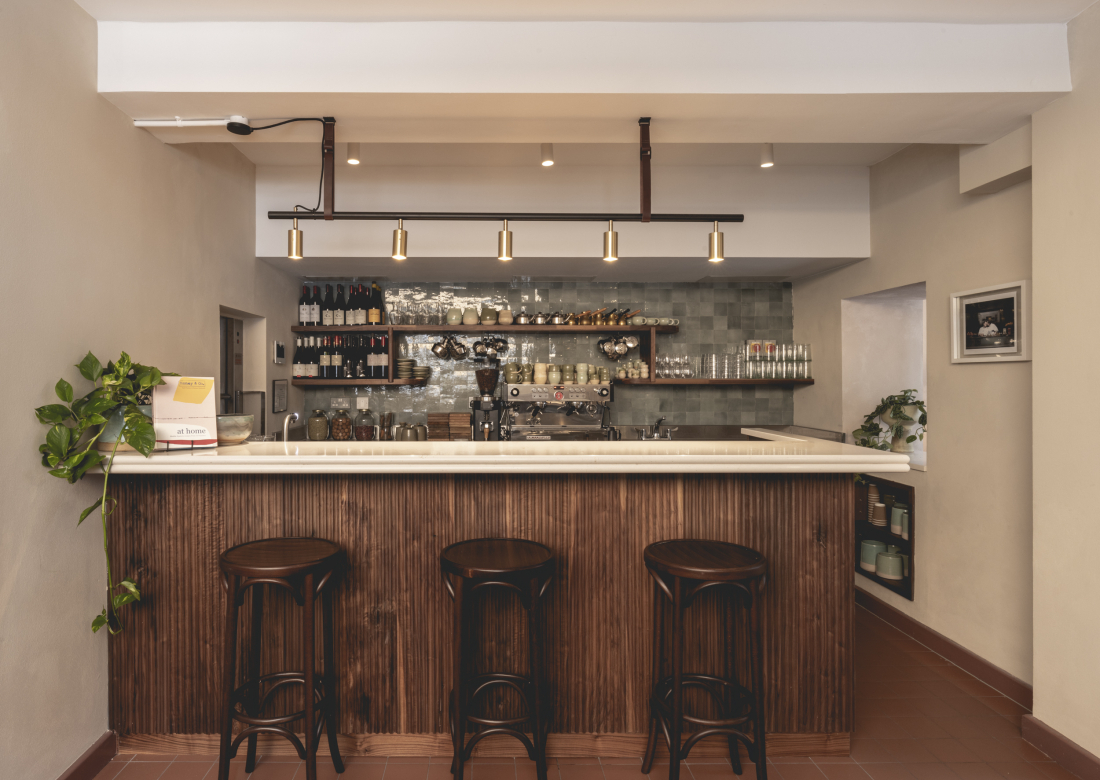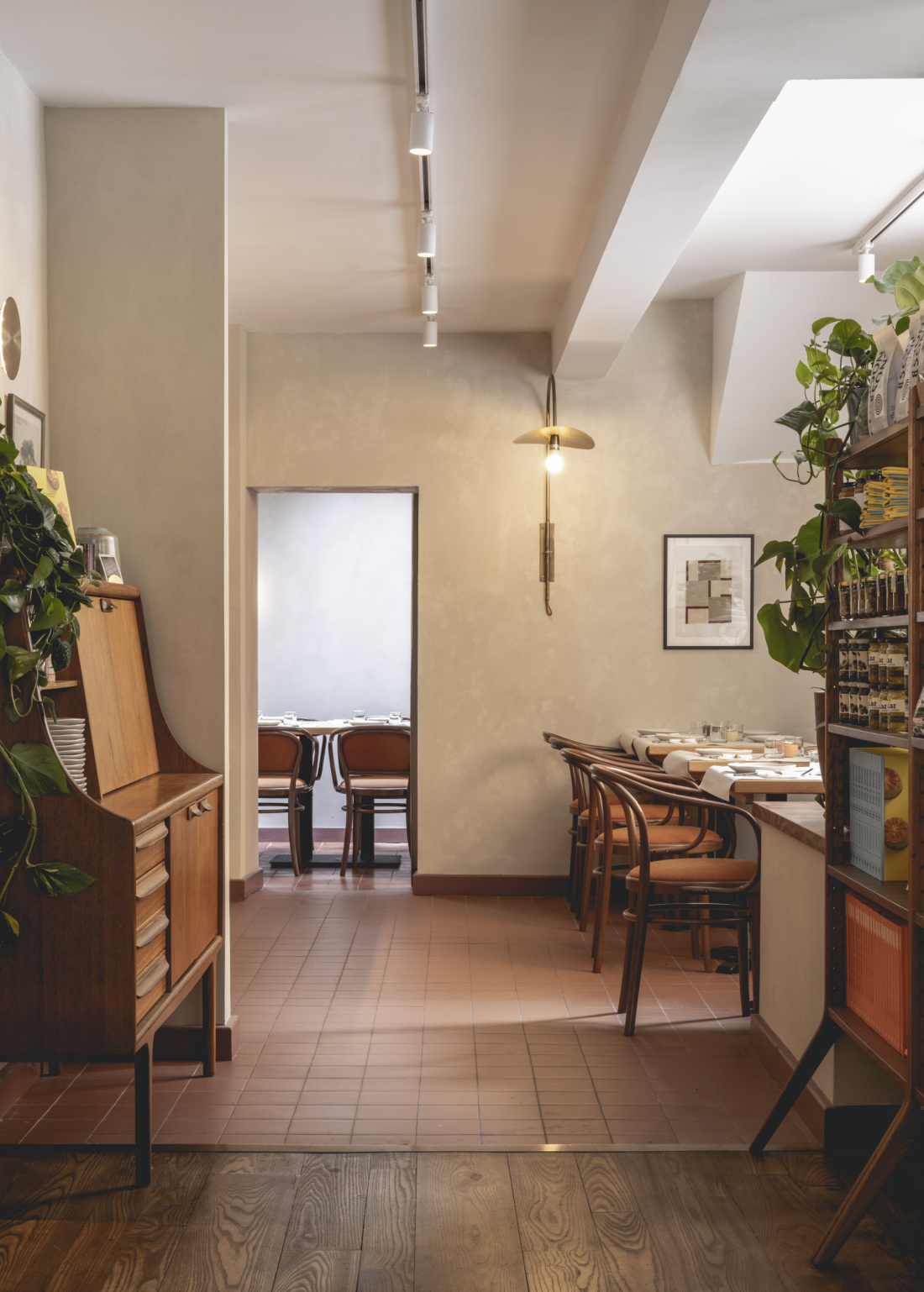 With the owners keen to reuse as much of the interior fixed seating as possible, this provided a starting point for an interior layout. Elegant and timeless furniture was sourced by Itamar with mid-century vintage pieces adding an eclectic, welcoming look and feel. Itamar's love of furniture and objects is clear throughout.
Studio Found also worked closely with the operations team throughout the design process to ensure that the interior was configured for a smooth running restaurant. A dispense bar and service area were introduced as a result.
"It was a privilege to work with Itamar and Sarit once again to bring their original Honey & Co concept to a new home and neighbourhood," said Ed Plumb, Founder and Design Director, Studio Found. "It marks the start of an exciting new chapter for Honey & Co, and we are so pleased to be part of that."
"We enjoyed the collaborative design process with the Honey & Co team. As with all our projects, we started by breaking down the brief, exploring the themes and words that Itamar and Sarit had given us whilst analysing the site. We were all keen to reuse and restore what the site already offered and enhance with some new materials and personally selected furniture and art pieces. Together we have brought a new and interesting food destination to Bloomsbury where people can eat great food and relax in the space."
"We are on our third big project with Studio Found and wholly expect to do every future project with them. Ed and his team are the full package: creative and original in their vision, knowledgeable and insightful about the industry, attentive and open to our needs and opinions, while being exact and efficient on execution and schedule. They have helped us to create a welcoming new venue that everyone at Honey & Co is thrilled about and we hope that our customers will also love," said Itamar Srulovich, co-founder of Honey & Co.