Run For The Hills designs the interiors for Kricket, a new restaurant at the renovated Television Centre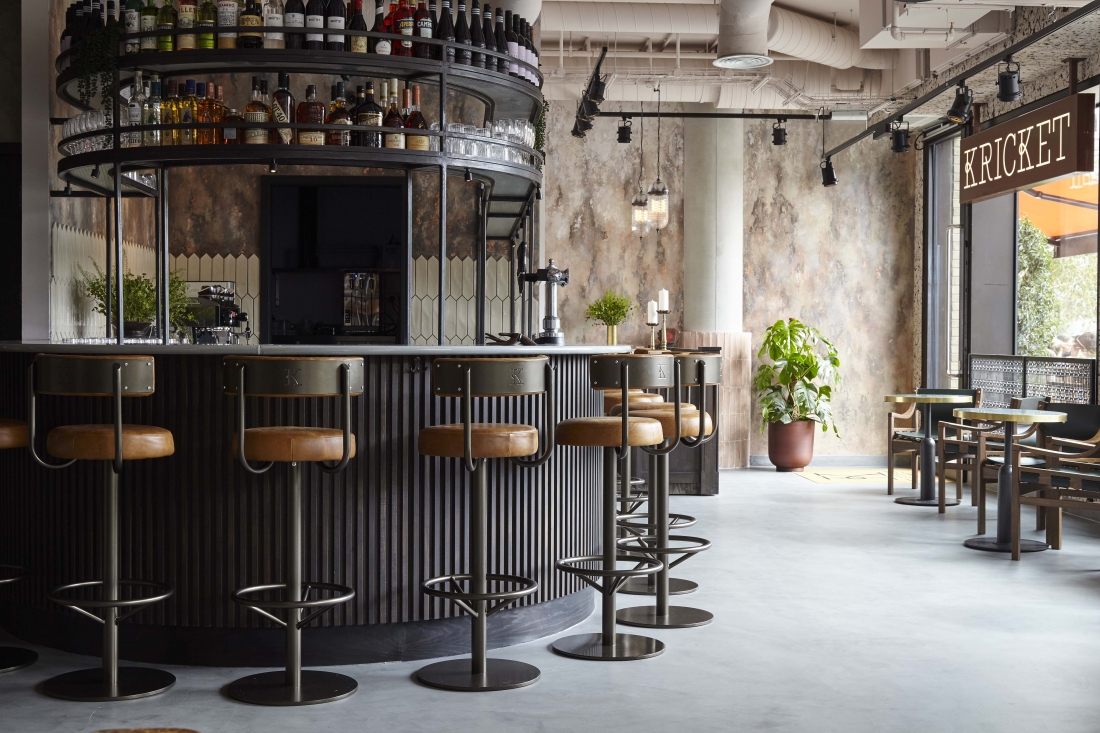 Run For The Hills has designed the interior of the new Kricket TVC restaurant at the recently renovated Television Centre in London. Headed up by founders Will Bowlby and Rik Campbell, the 100-cover restaurant is the third Kricket designed by the London-based consultancy.
Founded in 2015, the duo began serving out of a 20-seater shipping container in Brixton. Known for its modern, seasonal twists on Indian dishes, Kricket's latest project showcases Will's flair with Indian spices, learned from his years in Mumbai and his passion for quality, locally sourced ingredients.
Run For The Hills has a long history with the brand having worked on its creative identity, website, and the first two restaurants in Soho and Brixton. The studio's graphics team also designed the Kricket cookbook earlier this year.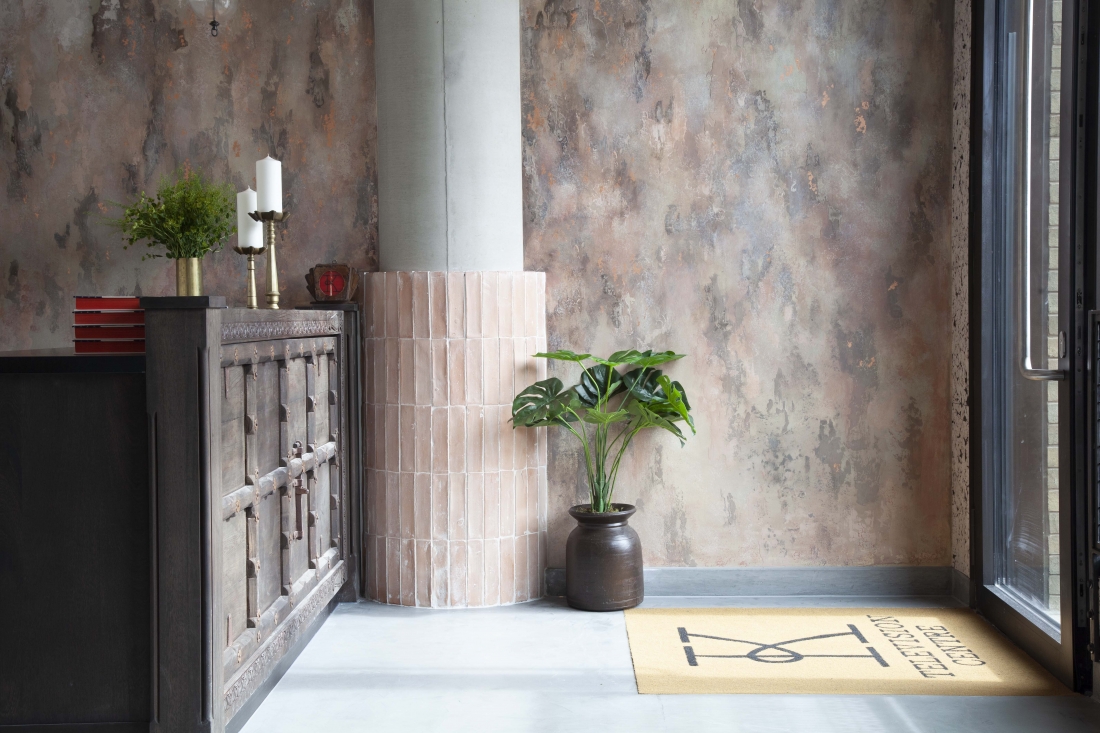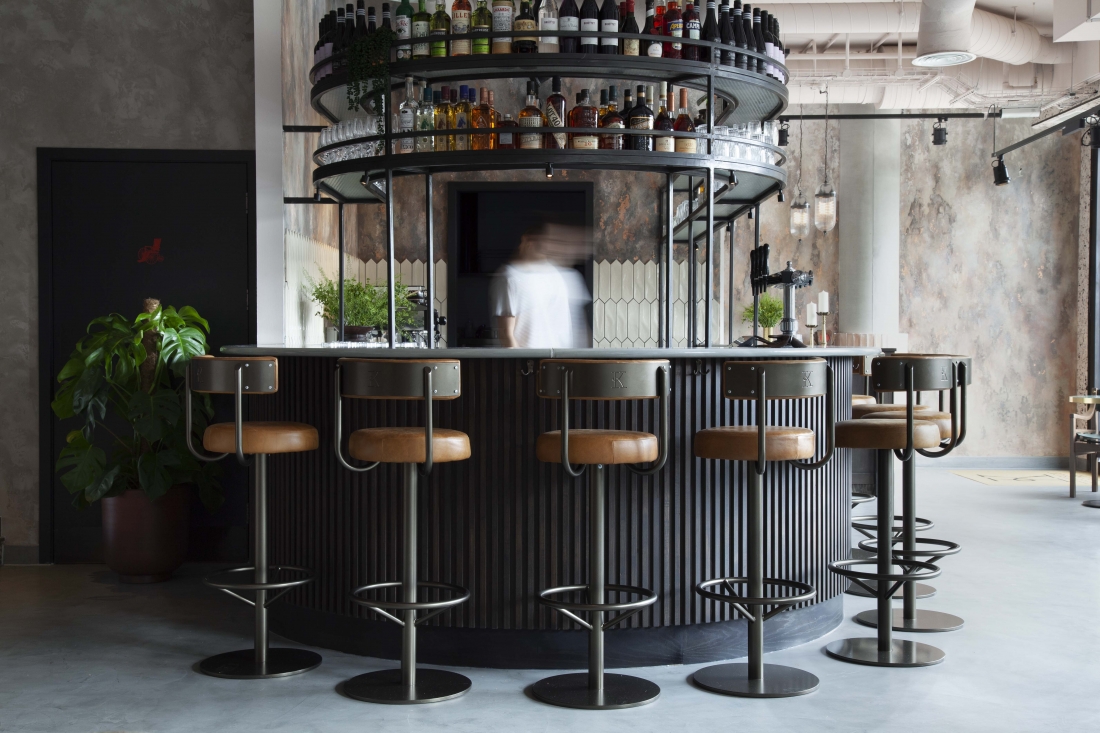 "For the look and feel of the new space, we've styled it with an atmospheric and highly tectured palette," says Anna Burles, Creative Director at Run For The Hills. "Ranging from urban nudes and cracked terrocottas through to smoke gold veined marbled cork walls, with a mint-crisp crackle-glazed bar top, weathered polished plaster, aged walls and lightly distressed micro-cement floor.
"The antique brass metallics of Soho have been replaced with rich and dark oil rubbed bronze, raw iron and refined gunmetal steel metalwork. The new design also features a range of bespoke specialist finishes and layering of decorative grilles, custom metalwork and bespoke lighting. The overall scheme is fresh and earthy by day, designed to turn barfly-moody later on, for late night drinks and food."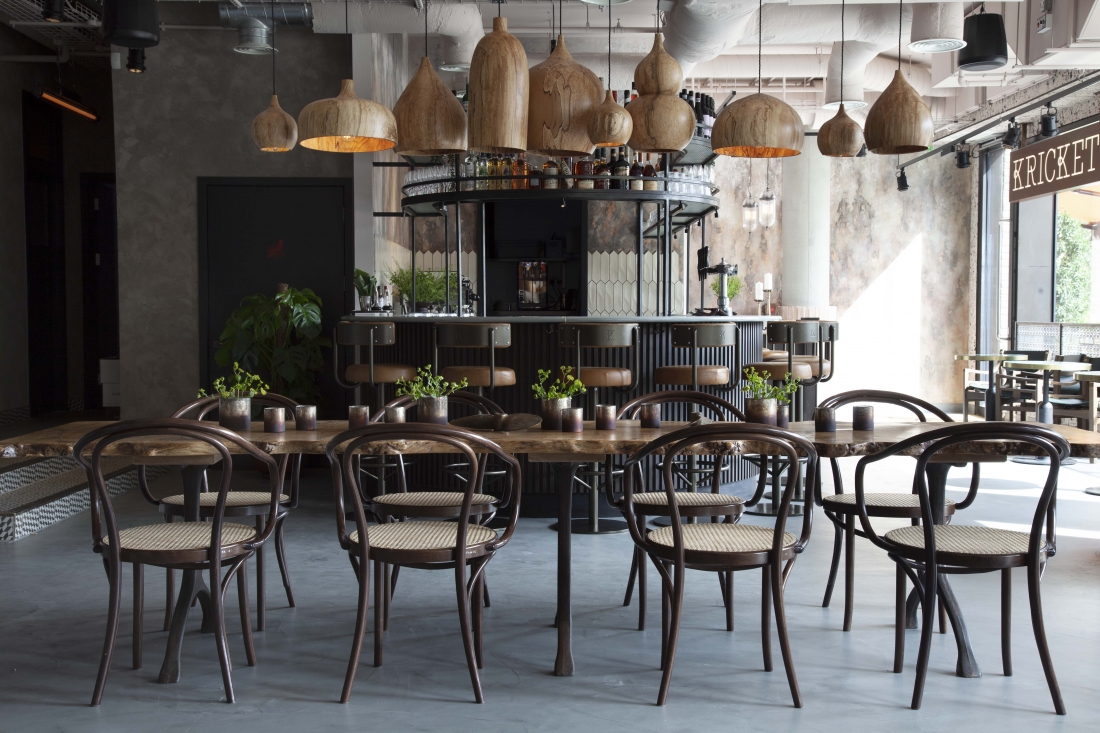 Looking more closely at the materials and finishes, the eat-at-kitchen counter has a polished plaster finish, and topped with crème pardais marble with 18 leather-clad bar stools. The semi-open kitchen bar sits opposite a run of rattenwork two-seater booths, similar to Soho, flanked by a blackened steel grille formed from the eponymous looped Kricket 'K'.
Kricket Soho's Lavastone ("Pyrolave") crackle-glazed bar-top has been replicated, but this time in a pastel mint-green hue on the horseshoe shaped cocktail bar near reception. The colour plays against the dark chocolate timber fascia below, creating an ice cream cool enticing mint-choc juxtaposition.
The cocktail bar stools are also reminiscent of Soho with the Kricket 'K' engraved into the metal backrest. But rather than antique brass and dusky pink, as found at Soho, the stools are finished in burnt bronze and cognac leather. The walls surrounding the horseshoe bar feature a specialist hand-finished aged plaster effect, with burnished rose gold leaf accents.
The new West London restaurant features a signature communal sharing table, lovingly-crafted from an extralarge 3.5m long slab of live-edge wood with a collection of hand-turned wooden lights framing it below. The fixed seating is vintage Indian inspired with a scalloped wood edge, aged leather seat upholstery and a rich velvet back cushion in Kricket's brand colour. All the seating has been designed to offer a comfortable place to kick back and enjoy punchy, Indian-inspired cocktails and sharing plates.
Table-tops come in a mix of brown Emperador Marble top, white carrara and green Verde Rajistan Marble with brass trim. Furniture and woodgrains range from burnt tobacco to dark walnut. Dining chairs are upholstered in deep, forest green and cognac leathers, some feature woven cane for a shot of colonial styling.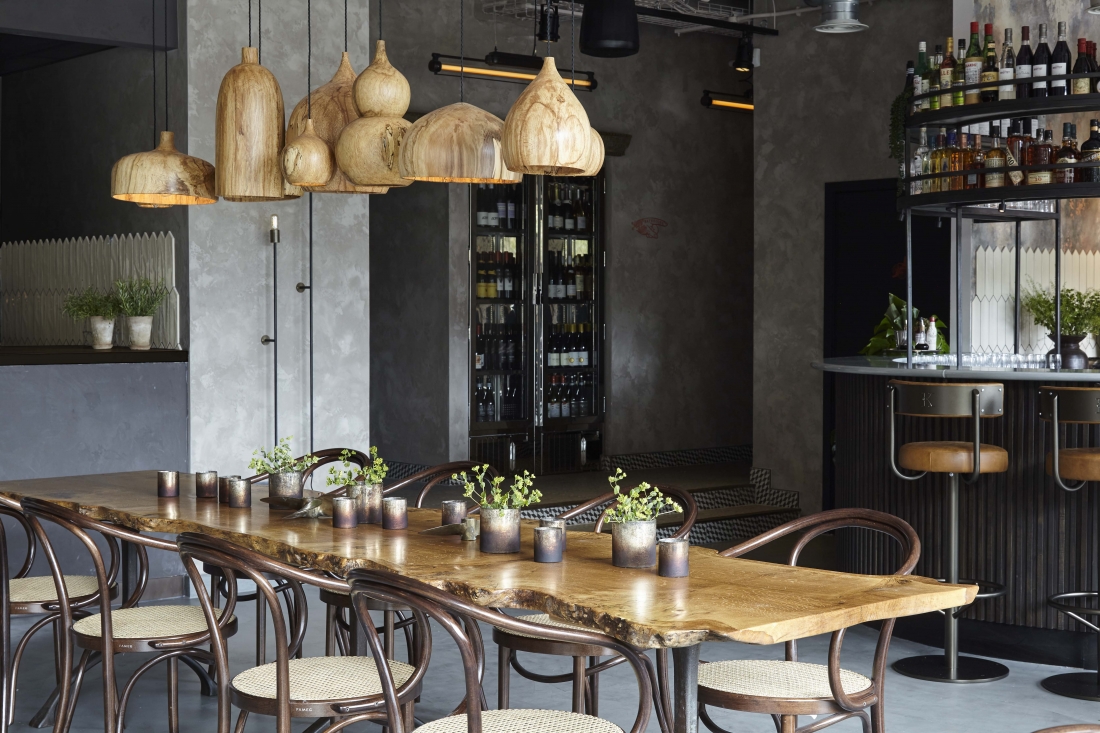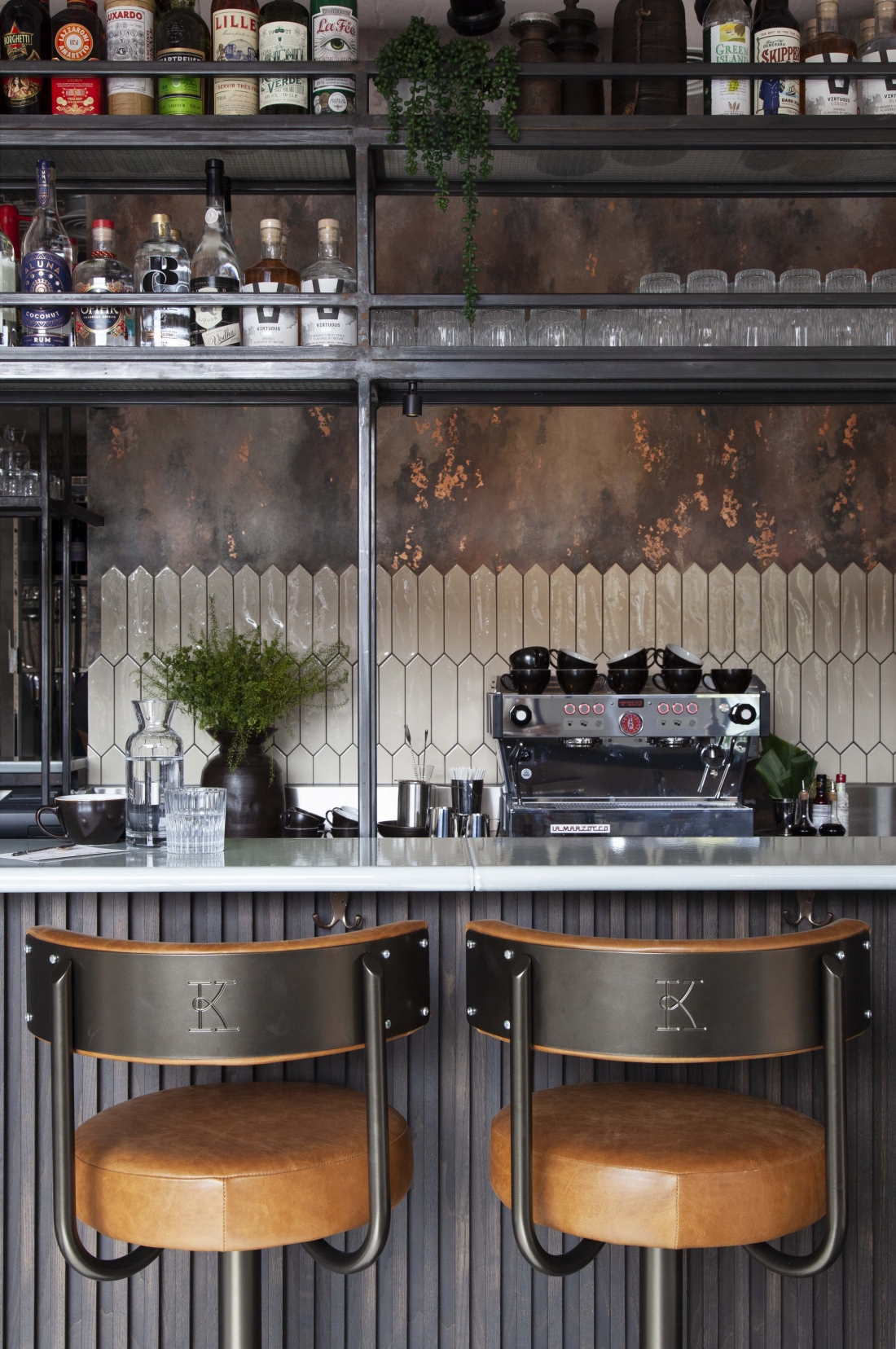 Ceilings are painted dusky blush with hand-fired terracotta tiles wrapped around the space's concrete columns. The overall decorative palette creates the perfect backdrop for pops of Kricket's brand orange-red, which zings out from sections of upholstery. A fiery glimpse of the brand colour can also be caught when the reception wardrobe doors open. Due to the size of the space, some of the walls have been treated in acoustic materials, including a black-ink marbled cork.
The bathrooms steal a few signatures from Soho, including pipework taps and ironwork mirrors, but on a grander scale with a three-metre wide asymmetric antique mirror and blackened steel trough sink. Harder finishes are softened by a rich ochre palette and monochromatic honed marble tiling.