Makers 2 - North West: Celebrating creative craft.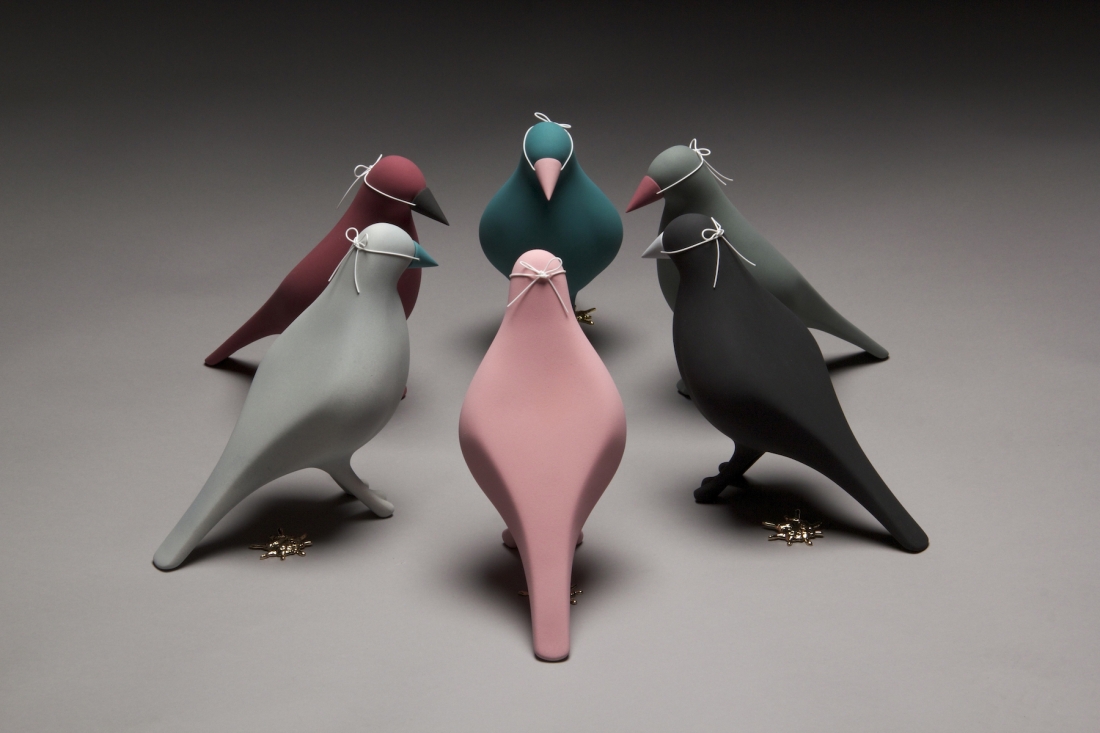 For the latest instalment in our Craft series, we turn our attention to the north west of England.
Looking to the cities - Manchester, Liverpool and beyond, we're championing the intricate work of our favourite makers of the moment, all flying the flag for their chosen heritage skill.
May Wild Studio
May Wild Studio is a creative practice located in Greater Manchester. Creative duo Rebecca May & Michael Wild create 3D artworks that communicate the raw materials of the natural and urban landscapes we live in. Combining traditional craft methods with manufacturing technologies, the studio develops new sustainable methods of making that look for a more meaningful connection to the natural world.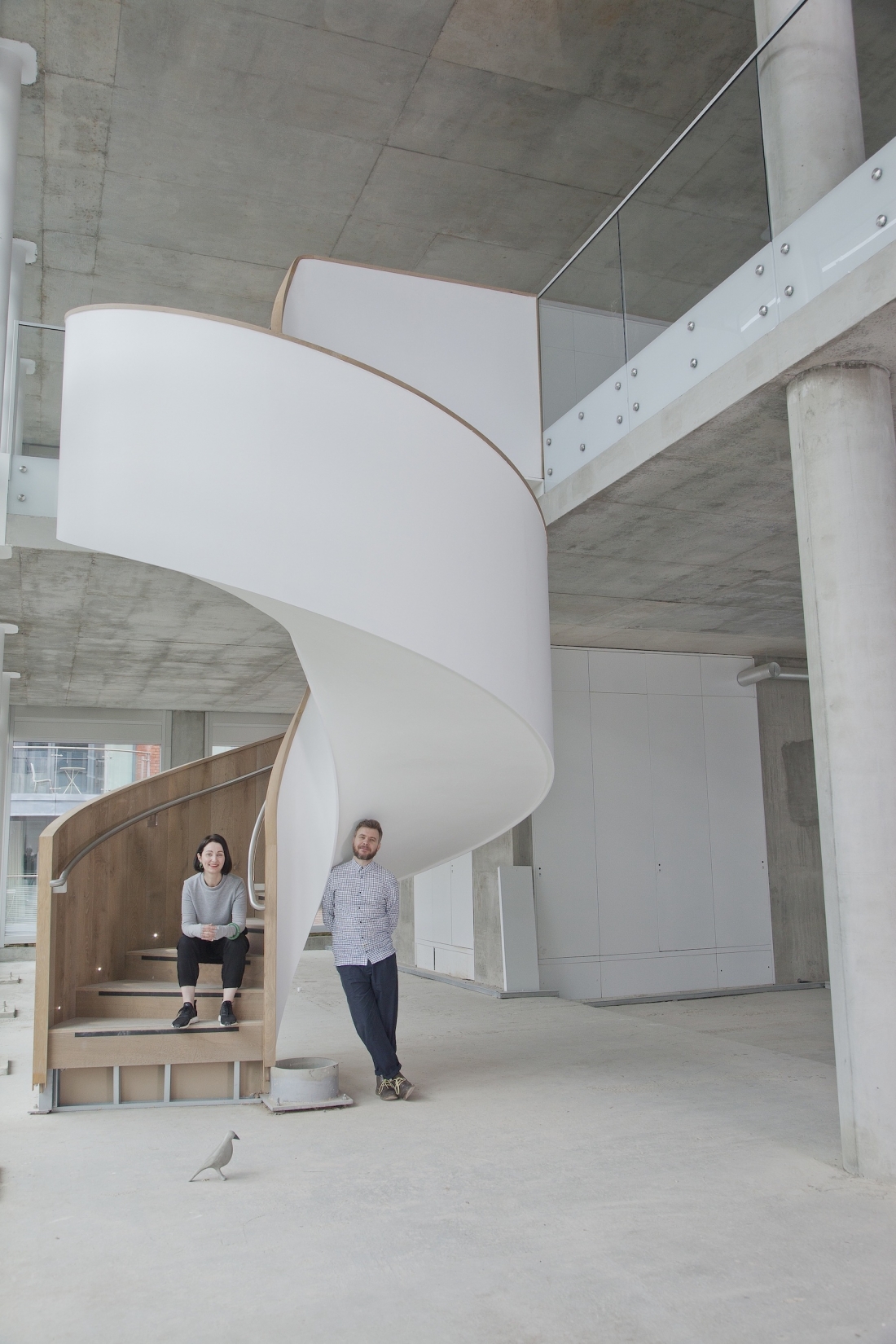 How did you get started?
"We're a social arts practice - Rebecca May & Michael Wild (commenced 2017). Our making backgrounds are in ceramics, both Fine Art and Design and we have 17 years arts/design teaching experience in education, youth & community workshops, working across the North-West.
"In 2012 we created a pop-up gallery, a space to celebrate Gtr. Manchester craft makers, this project became the catalyst for our collaboration May Wild Studio.
"In 2017 we were selected for the UK Crafts Council Hothouse Programme, a year-long mentoring scheme. Following this, we presented new work at London Design Festival 2018. Our work has been exhibited & commissioned in the UK & internationally & featured in numerous publications.
"Our work is rooted in the handmade. We create artworks challenging the conventions between visual art & traditional craft making. Using storytelling, collaboration & participatory projects, our work raises awareness & encourages conversation around themes of sustainability, climate change & local/global environmental issues.
"Recent 2020 projects include a commission to create a new installation work for Manchester City Council/Bee in the City for '50 Windows of Creativity' - an exhibition encouraging communities to access art outdoors, we created a Coo Window – presenting our handmade coo birds within a sustainably sourced backdrop that referenced the city landscape. We were also selected to create a new installation work as part of Window Wonderland commissioned by Oldham Council, themed on Oldham's history & community. For this project we created a paper and light installation work made up of over 200 handmade paper owls."
Can you briefly explain your making process from start to finish?
"For us the notion of play is key, every project we start we clear the table and experiment with materials and ideas. This activity is about making, creating and innovating, whether it's through model-making, material exploration or drawing, it's still a making process and it's a playful process, the fun bit. We then get down to the nitty gritty of the brief, connect all the pieces together and commence developing an outcome.
"Research is also key, often informing how we develop our projects, sparking the idea. Our work strives to engage people through its tactile qualities and its narrative theme, so often these connections to storytelling are woven through our designs.
"The importance of narrative can be seen in our Coo Bird object, inspired by the city pigeon and its urban habitat, a story about elevating the status of this often vilified creature. As our practice has evolved, these narratives now increasingly explore themes of sustainability, throw away culture and preserving our natural resources.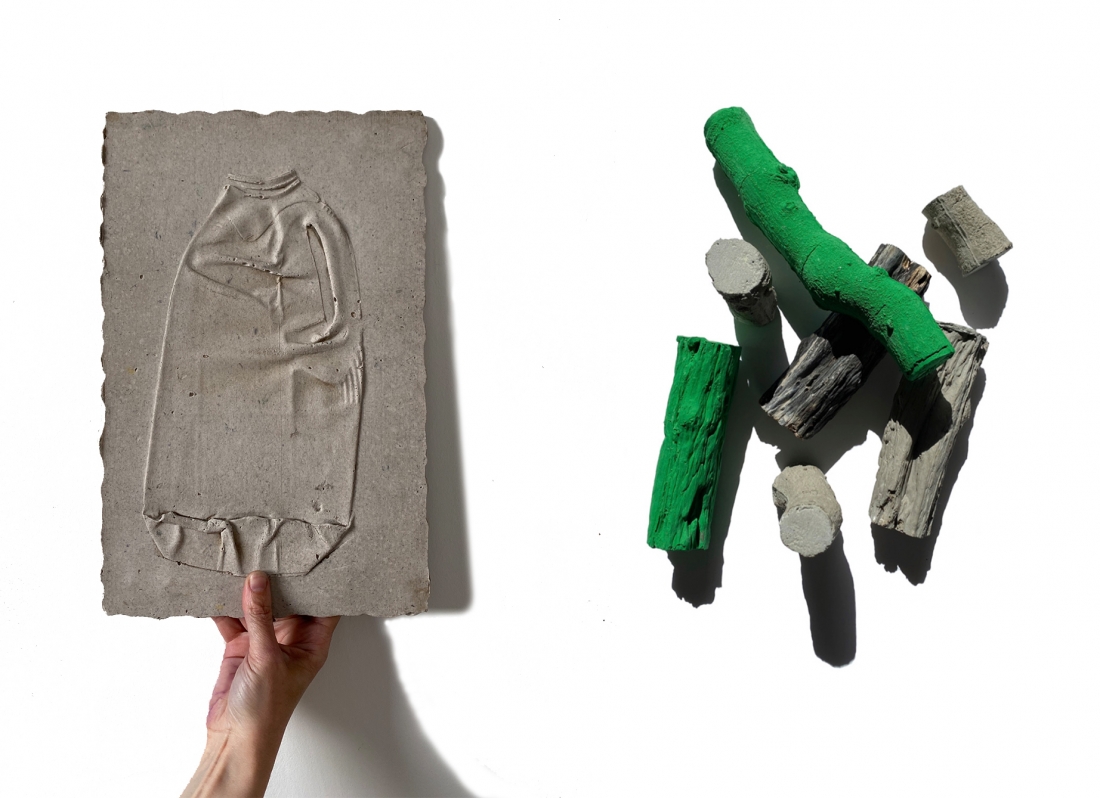 How important is material research and sourcing to your end product?
"Material experimentation and innovation are a key component of our work. Our background is in ceramics, this foundation of clay, an incredibly versatile and expressive naturally sourced material, has informed our future choices of materials.
"We connect materials with a narrative; it's our starting point, allowing the properties of the material to guide us towards a finished outcome. This approach to design means multiple materials catch our eye, the future of design and our role and responsibilities as artists and makers in that future impacts the material choices we make.
"Material advancements and innovations that address current social and environmental issues are necessary and positive shifts in the future of design. Collaboration with other sectors and problem-solving design looking at repurposing, bio-design, sustainability and waste materials etc. are areas we are currently researching in more depth. Specifically we are looking closer to home, working with the communities where we live, exploring our immediate natural landscape as a source of ongoing material research and development for new work, this is an exciting and important development for our practice."
How would you describe the north west's creative scene?
"The North West has an abundant cultural and creative community, an area rooted in a rich history of highly skilled craft and manufacturing, a truly impressive and inspiring part of our northern fabric. The North West showcases the very best examples of both traditional making and manufacturing right through to current contemporary and cutting edge creative and digital practices.
"There is also a strong supportive creative community, further highlighted during the pandemic. We have felt encouraged during these times to keep going, surrounded by fellow creatives, both individuals and organisations who are open to collaboration and are using creativity to respond to challenging times in positive and inspiring ways."
Hugh Miller
Hugh Miller is an award-winning designer and maker, with a self-confessed 'preternatural' affinity for wood. He started making furniture at the age of 15, but his formal training was in architecture. For Hugh, the office-based career of an architect felt removed from the physical materials of his designs. So, after completing his Masters in Architecture, he founded Hugh Miller Furniture, where the disciplines of designing and making could be combined into a single, intuitive, crafted process.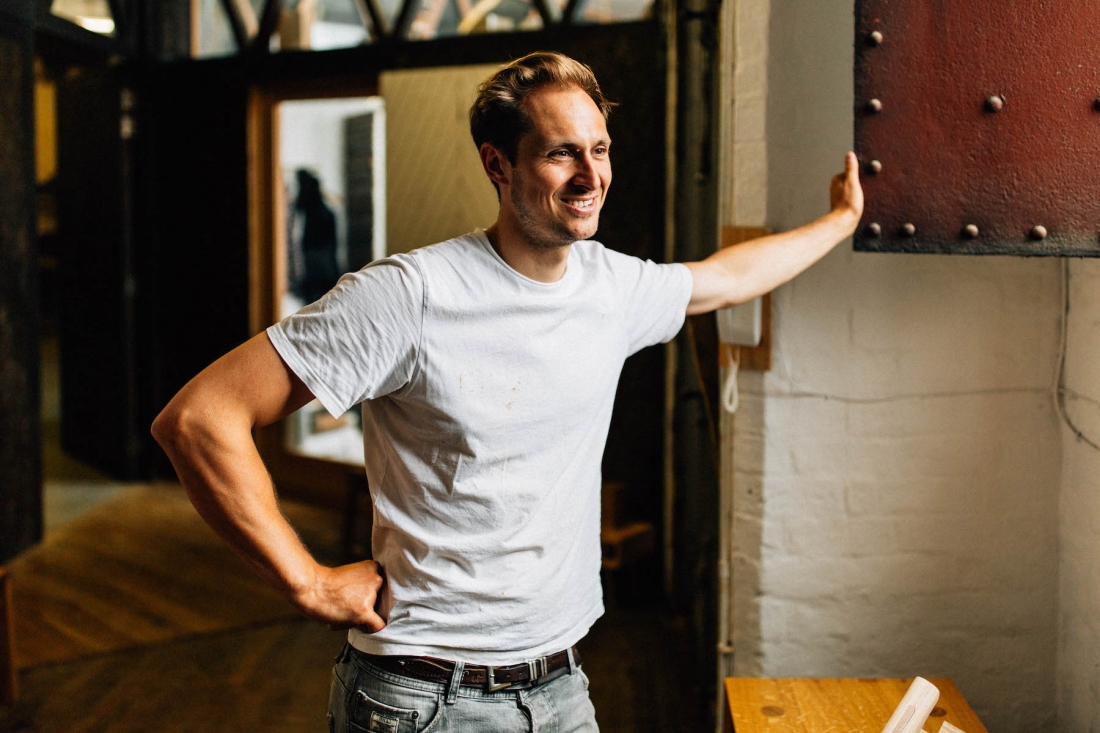 How did you get started?
"I started making furniture when I was 15. My parents gave me their garden shed for my birthday, and I bought a load of green oak and made a writing desk. I was quite academic at school, and I trained as an architect. I loved architecture at university, but I knew I wanted to make the things I designed, and I wanted to run my own business, so I started my first workshop when I was 24 the same week I completed by post-graduate degree in architecture.
"I'm self-taught in furniture making and woodwork, and this has actually been a really useful thing now I'm 12 years in. At first, it was really hard, as all the (many) mistakes that I made were mine alone to solve and fix. But as I got more experienced, I started to realise that this had given me experience with wood that was not based on received-wisdom, but on personal understanding and knowledge. It's meant that I'm now able to design things in wood that are more innovative and interesting."
Can you briefly explain your making process from start to finish?
"The making process starts with the client and their aspirations for the piece, whether it's something from my furniture collection or something entirely bespoke. I try to tease out the things that will delight them, and also the things that won't and I base my design work around this.
"Actually making a piece is the end the process, and by this point I'll usually have a good idea about where the tricky parts are and what order it needs to be made in. However, the making process is a design process in itself, and I often amend and tweak details during making in order to make the piece the best it can be."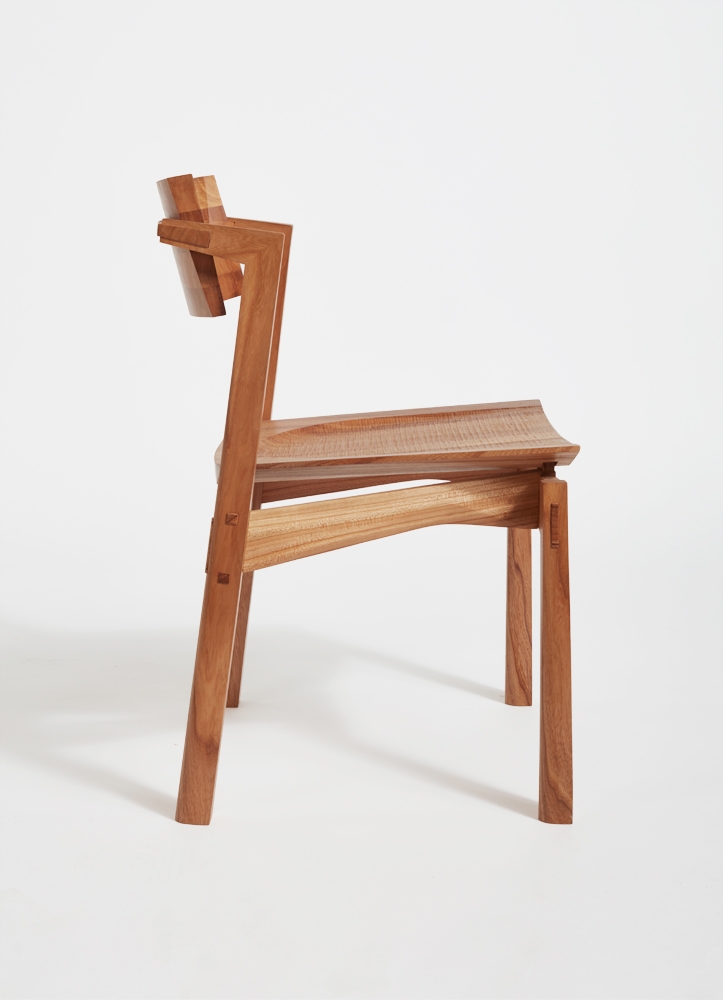 How important is material research and sourcing to your end product?
"For some pieces, material research is really important. If I'm using a new material, or combining non wood-based materials with hardwood, then I'll read up online or buy a book about it, and then I'll do a bunch of tests and trials to see if it behaves the way I expect.
"That being said, I've made hundreds and hundreds of pieces of furniture over more than a decade of having my own workshop, and so if I'm making a desk or dining table in oak or walnut, I sort of know where the tricky bits are going to be, and how to avoid them."
How would you describe the north west's creative scene?
"The north west creative scene is a bit of a hidden gem, and there are so many people doing interesting things. I've met loads of furniture makers and other craftspeople through the exhibitions and shows I've done, and I think there's a specific 'Northern Aesthetic' which is a little different from makers down south or in London. I grew up in the north west, and it's very much home for me, so I'm biased, but I think it's an exciting place to be a creative in the 21st Century."
Sally Burnett
Sally Burnett initially trained in 3D design and for many years specialised in the design and manufacture of hand blown glass vessels and panels, and large ceramic tile installations, for both private and commercial clients. Six years ago, she was given a lathe by a friend and that was the start of her passion for making in wood.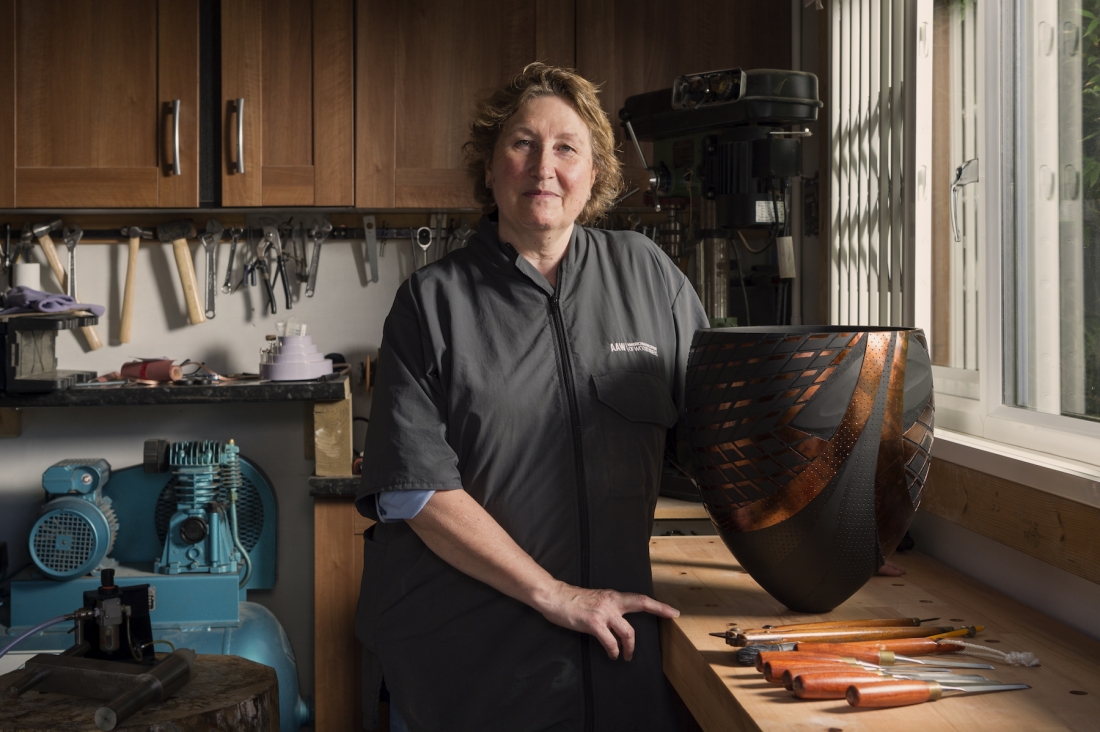 How did you get started?
"I have been a designer maker for more than 30 years, studying for an arts degree at North Staffs Polytechnic. I initially worked in blown glass and ceramics but more recently I make exclusively in wood."
Can you briefly explain your making process from start to finish?
"My pieces are all made from ethically sourced, freshly cut, English native hardwoods such as sycamore, beech and ash. The wood is turned to shape on a lathe and then put aside to dry slowly ready for decoration.
"Once dry the design is sketched onto the piece and the lines are burnt into the surface using pyrography (a hot knife tipped tool). Additional texture is added using hand carving tools to create a rich tactile surface. This surface is sealed using black acrylic colour which may also be used as a base for gilding. I use dyed marbled silver leaf in a wide range of colours – bronze, copper, gold and silver as well as lustrous blues, greens and greys."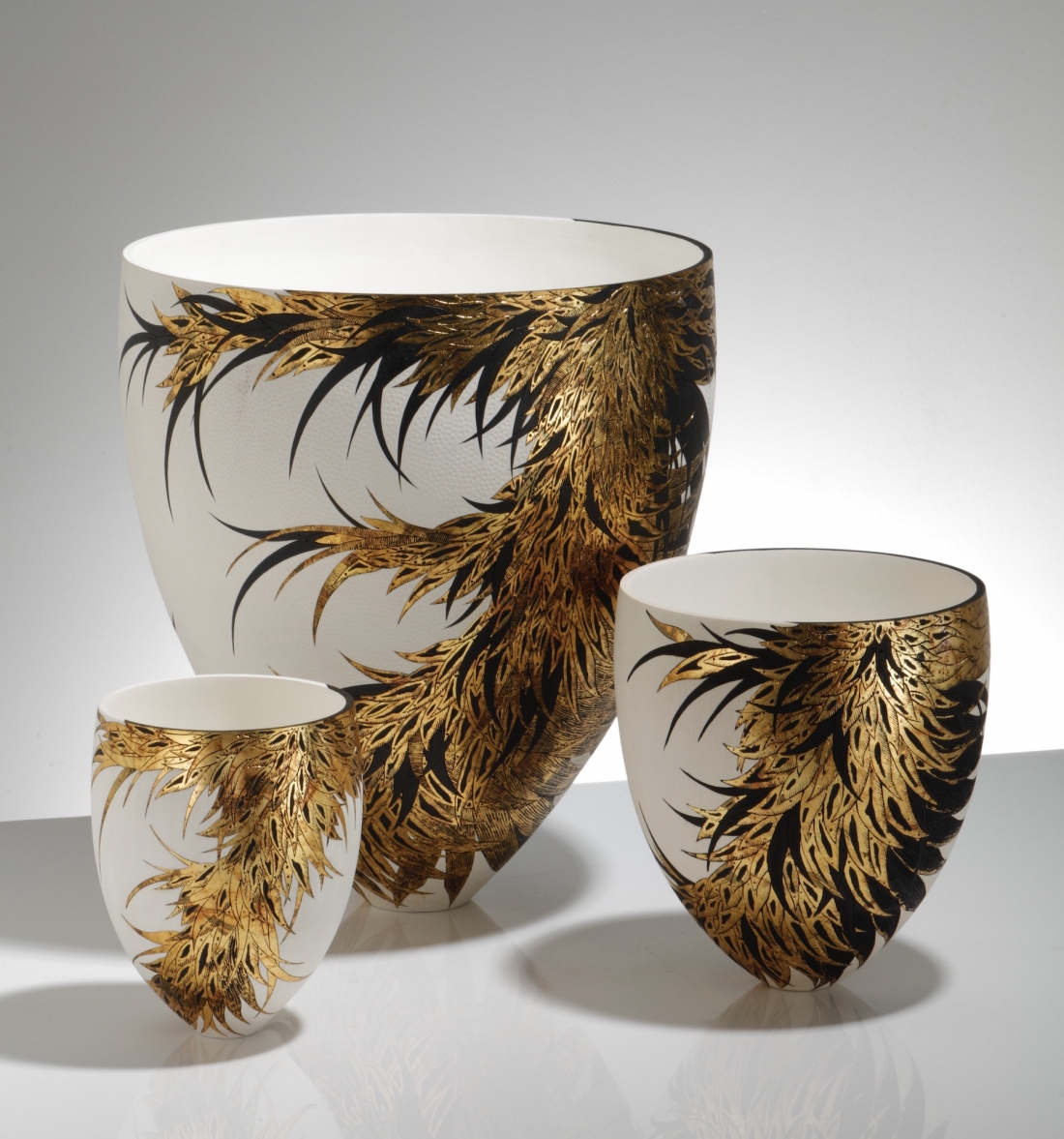 How important is material research and sourcing to your end product?
"The quality of the wood is important. It needs to be quite pale in colour with the pith running in the centre of the log. Pale wood creates contrast between the painted and gilded areas of the piece and the natural wood background where the ghost of the grain is still visible.
"The best trees are winter felled when the sap is no longer rising so that the moisture content of the wood is lower and the drying time shorter."
How would you describe the north west's creative scene?
"Despite Covid the creative scene in the north west has remained surprisingly active with sales clearly buoyant. There has been both increased interest in the arts and increased demand for quality hand made pieces. The future looks bright."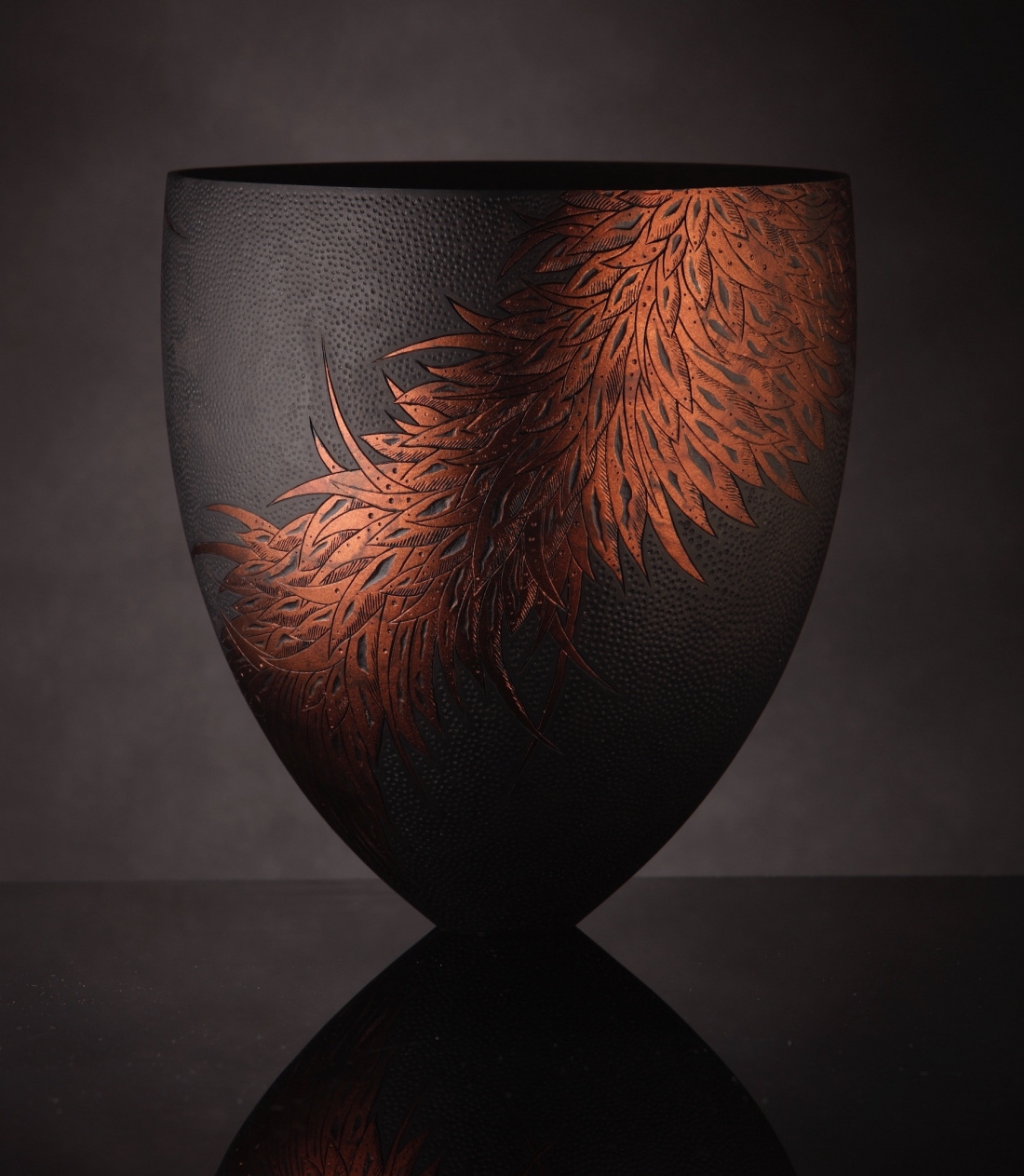 Catherine Mahé, Cmglassdesigns
Catherine Mahé, aka Cmglassdesigns, is a a self-taught designer-maker who stumbled upon glass during a language teaching career. A trip to India was pivotal in the designer's love of bold colour and pattern. "Manchester is a great city, but not known for its sunshine! So, I have found in colour a great antidote to the grey skies and surround myself with bright colour." Catherine works from her studio in Altrincham, just south of Manchester.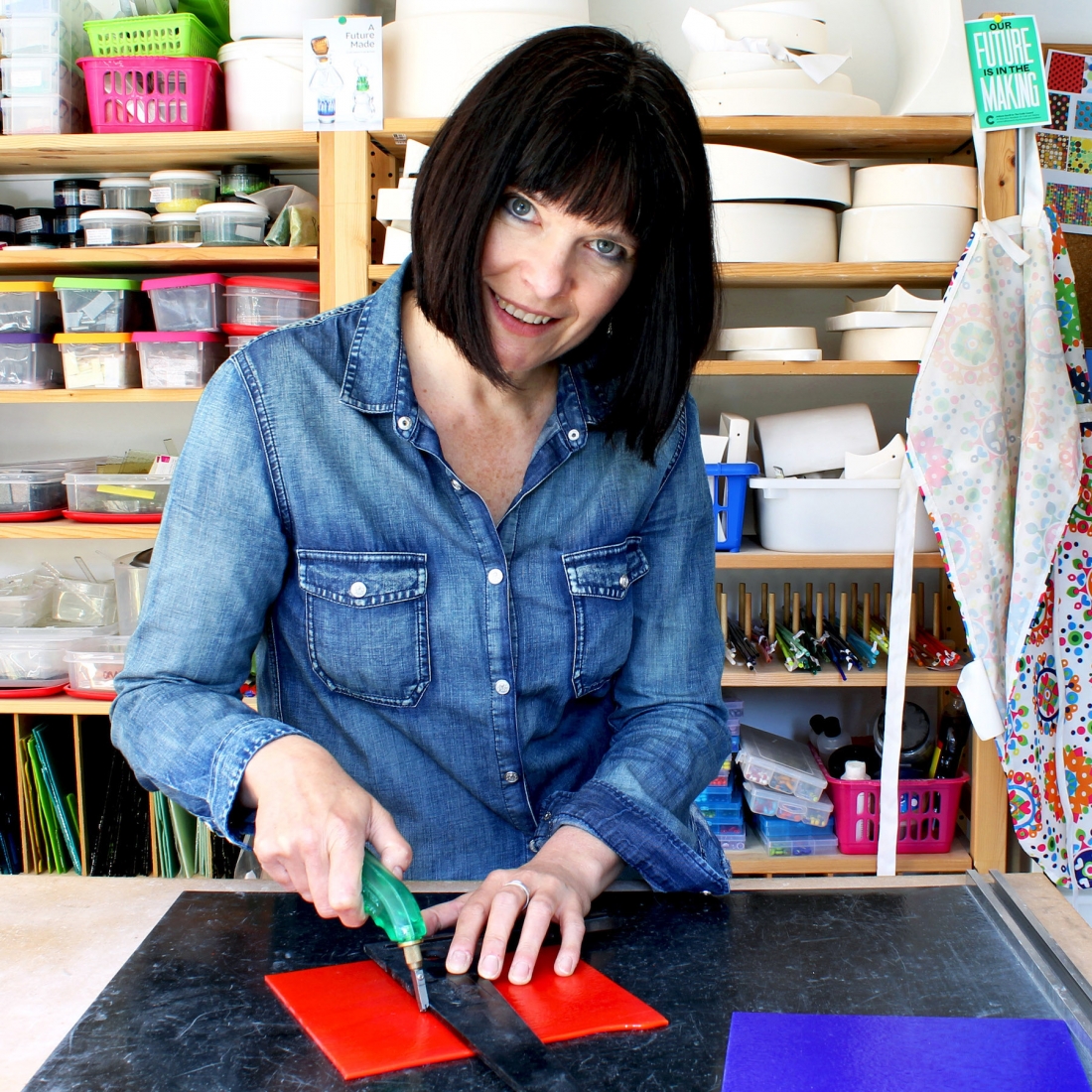 How did you get started?
"I'm a self-taught kiln formed glass artist whose upbringing was firmly rooted in the crafts. My dad was a joiner by trade and my mum made everything at home from curtains and preserves to our own clothes. For me, making was always there as a creative outlet at stressful times. More specifically it was whilst experimenting with mixed media mosaics that I had the idea to include fused glass inserts into my pieces to add contrast and texture.
"It was love at first sight and the magic of opening the kiln is still real nine years later! Glass is a fascinating material with incredible physical properties and limitless design opportunities. So after various courses, much reading of glass-making literature, hours of video tutorials and trial and error over the years, I have developed a colourful range of functional and decorative objects to inject fun into a home."
Can you briefly explain your making process from start to finish?
"My work takes shape in the kiln. Each object goes through at least three firings of over 15 hours each.
"After cutting and layering the glass to match my sketch, the piece is fully fused at 800C. In a second firing, I usually add decorative glass elements which I partially fuse on top to add texture and give my work a lovely tactile dimension. The shape of the object is achieved in another two or three firings by slumping the glass piece into ceramic moulds of different shapes and depths or draping it over bespoke stainless steel moulds.
"My drop-out vessels follow a slightly different journey. The fused piece is carefully positioned on top of a ceramic ring through which the glass stretches down to form a vessel. Hence their name: gravity vessels! The rim is then cut off, ground, bevelled and polished to a smooth shiny finish. Every piece is completely unique from the original sketching to the final object and is a true labour of love."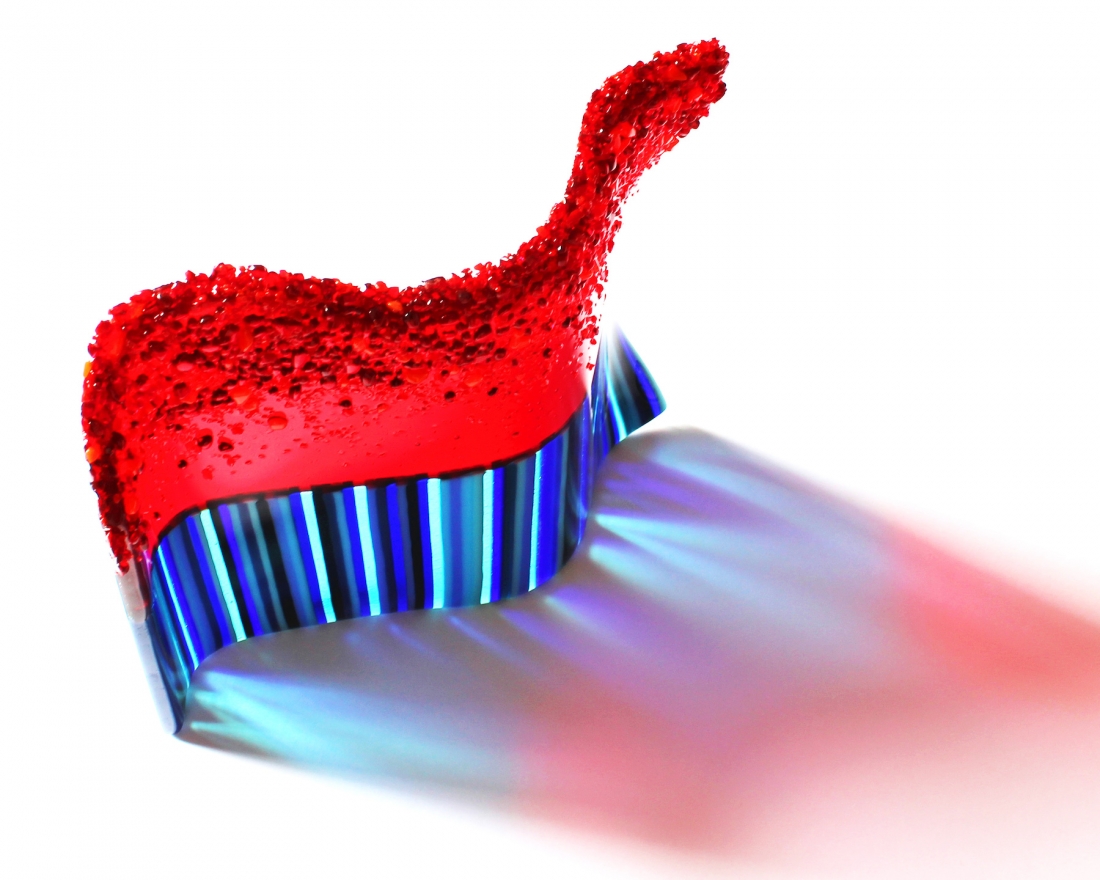 How important is material research and sourcing to your end product?
"The type of glass I use is crucial to my work and design. Contrast is at the heart of my practice and is constantly explored through colour, pattern, texture and light. For that reason, I only use premier quality Bullseye glass, made in Oregon. With the wide range of colours, shades and tones Bullseye offers, I can experiment with bold contrasting colour combinations by applying both principles of colour theory and intuition.
"Bullseye company produces compatible glass in many shapes and forms such as sheets, crushed glass, powder, rods and many more. My love of pattern and linear design is completely fulfilled by the range of glass products they manufacture. The compatibility of all the glass they produce is also a key factor as off-cuts from projects can be recycled or crushed and used as texture elements for new work, making my practice more sustainable.
"But for me, the most appealing characteristic of glass lies in its ability to transmit light, a property which is at the forefront of every single design. The glass Bullseye produces is available in both transparent and opalescent styles, allowing me to achieve playful and ever-changing light effects within the object as you hold and turn it in different light conditions."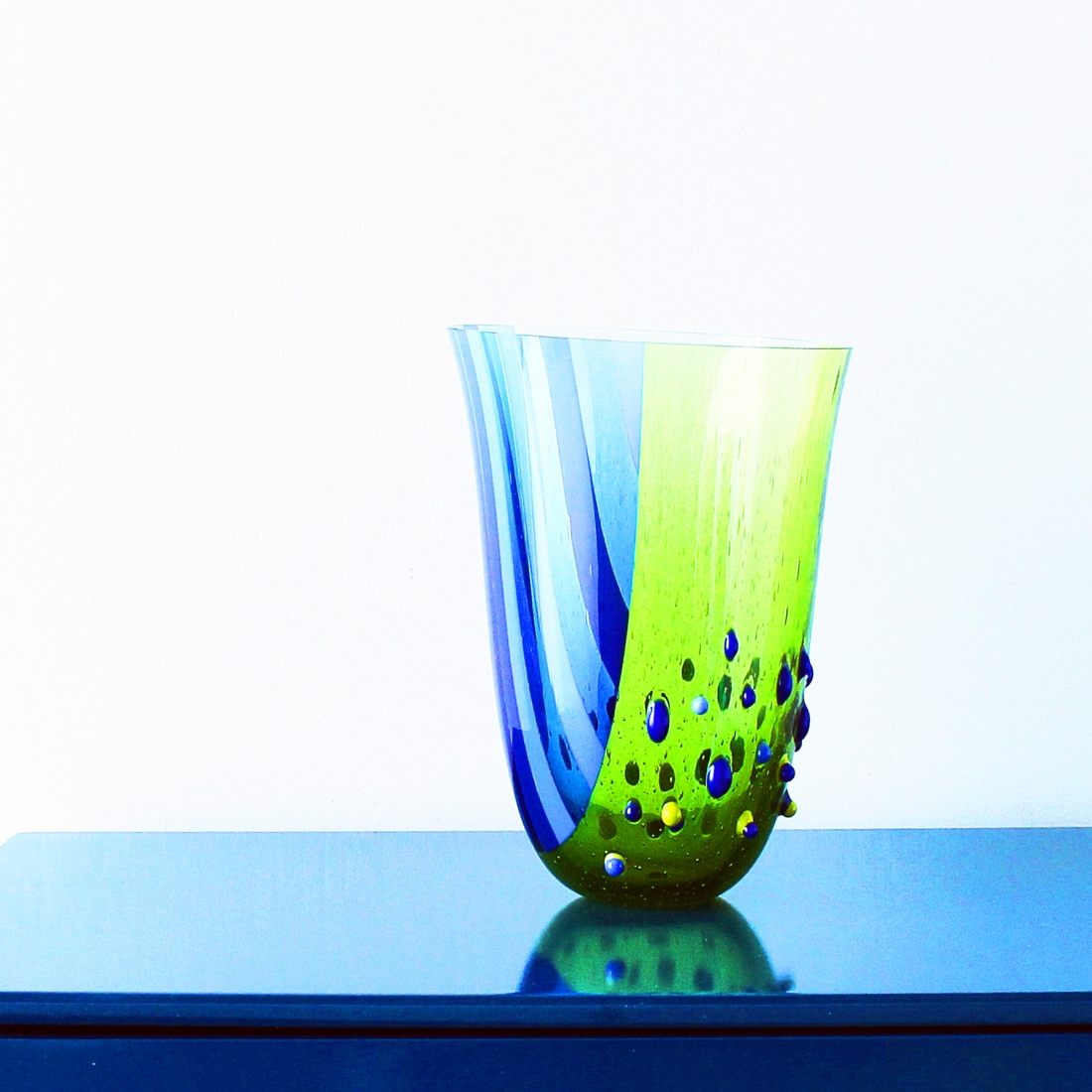 How would you describe the north west's creative scene?
"The north west has a growing and vibrant creative scene. As a maker, there are plenty of opportunities for showcasing my work. Over the years I have worked with many north west-based organisations that show a strong desire to promote makers and craftsmanship. The north west is also the birthplace of the Great Northern Contemporary Craft Fair - the largest in the north - organised by Great Northern Events, a not-for-profit organisation supported by Arts Council that aims to champion and promote designer-makers and contemporary craft.
"The craft scene is a supportive and friendly community, always looking forward to the next event as not just a showcase but also as a networking and social opportunity. The north west creative landscape has seen so many local events bloom and flourish in the form of craft markets, open studios, pop-ups and arts trails."