Marble Furniture by SolidNature enhances Dutch fashion brand Reinders new showroom and headquarters.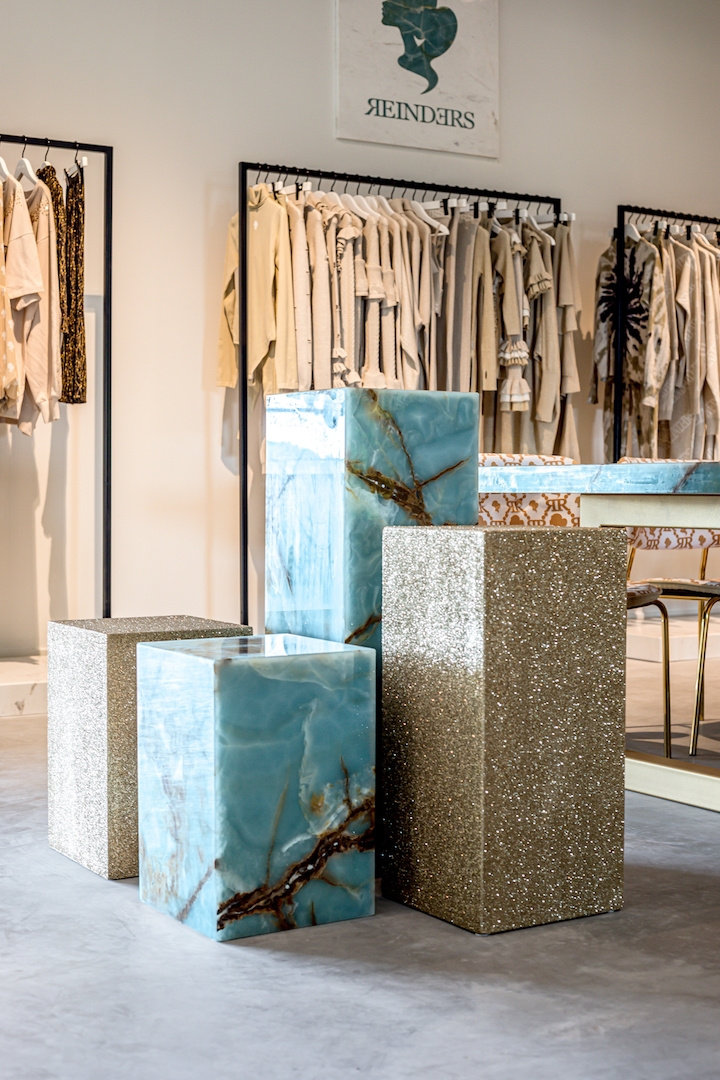 Hugely successful Dutch fashion label Reinders recently opened a new showroom and headquarters in Zandvoort, outside Haarlem in the Netherlands.
When the founders of the brand, twin sisters Julie and Marie Reinders, were designing the space, they approached Amsterdam-based natural stone supplier SolidNature to produce elegant marble and onyx furniture and fittings to showcase their latest collections for visiting wholesalers.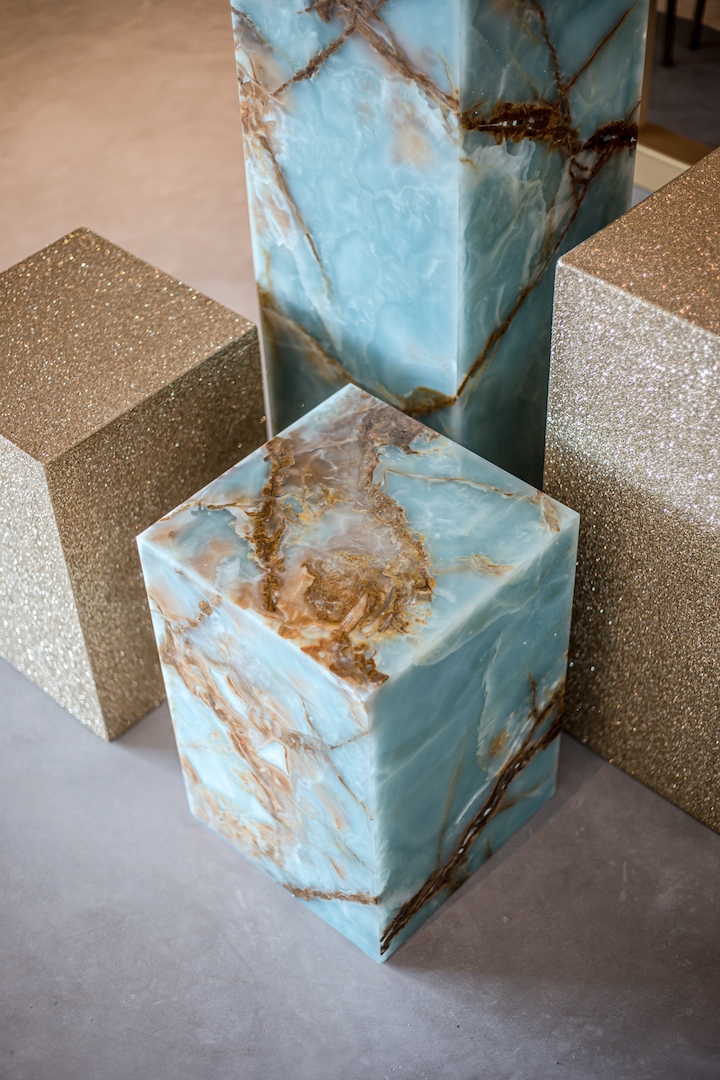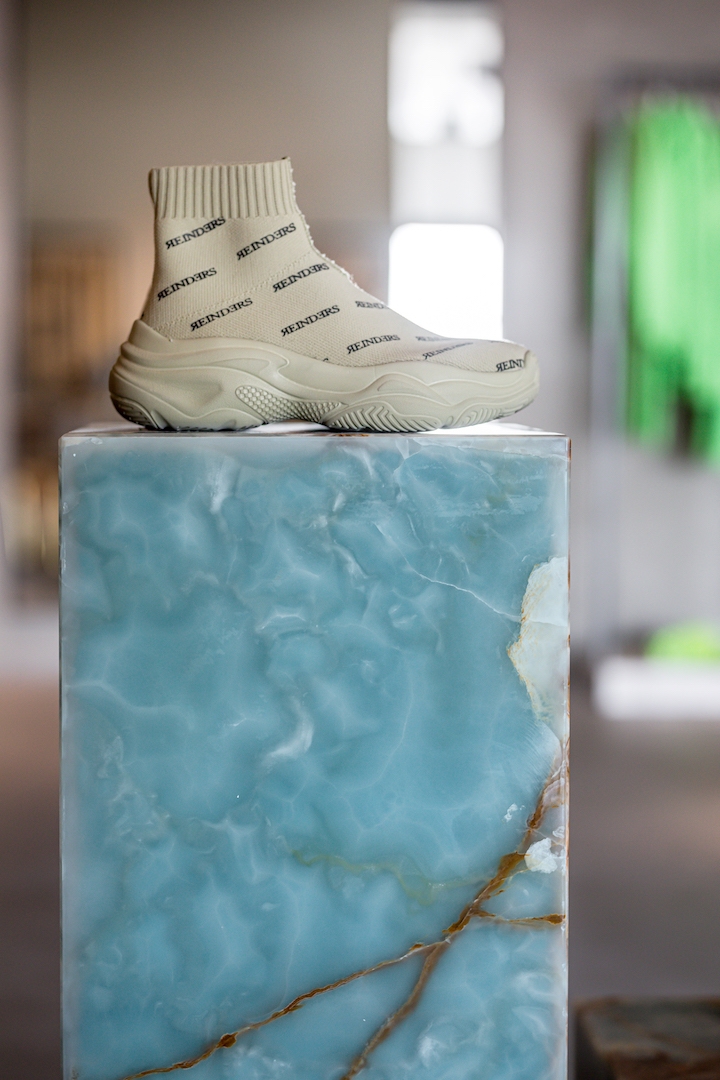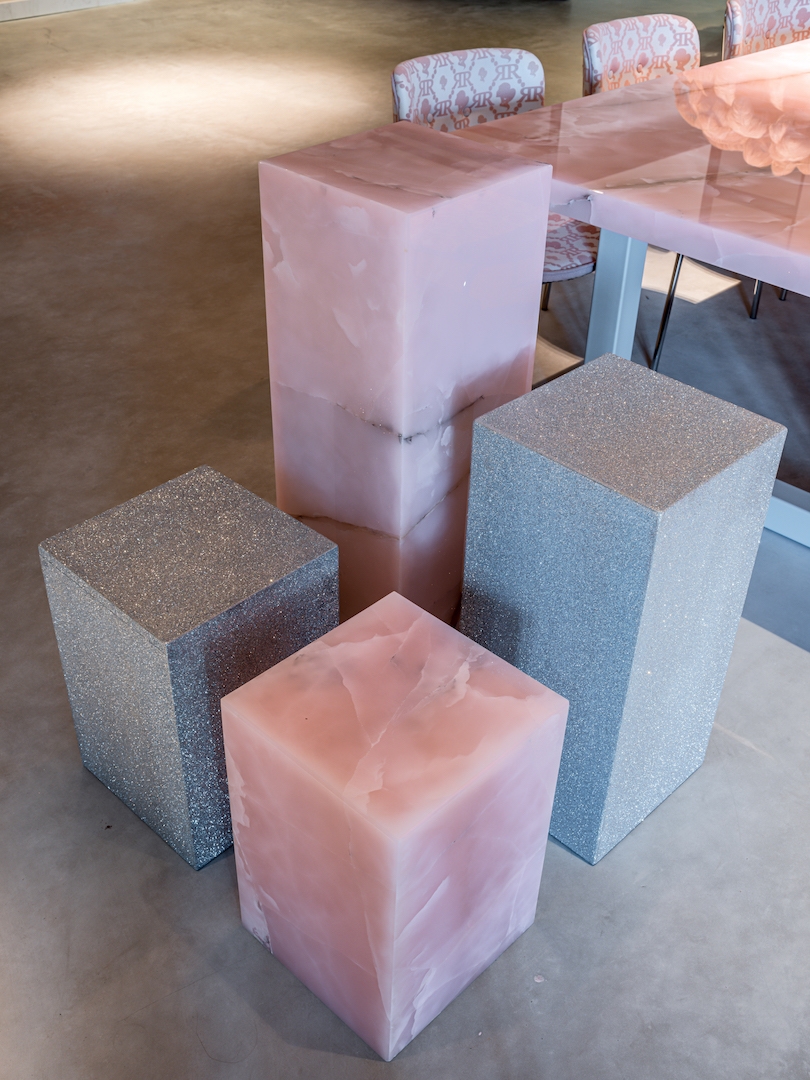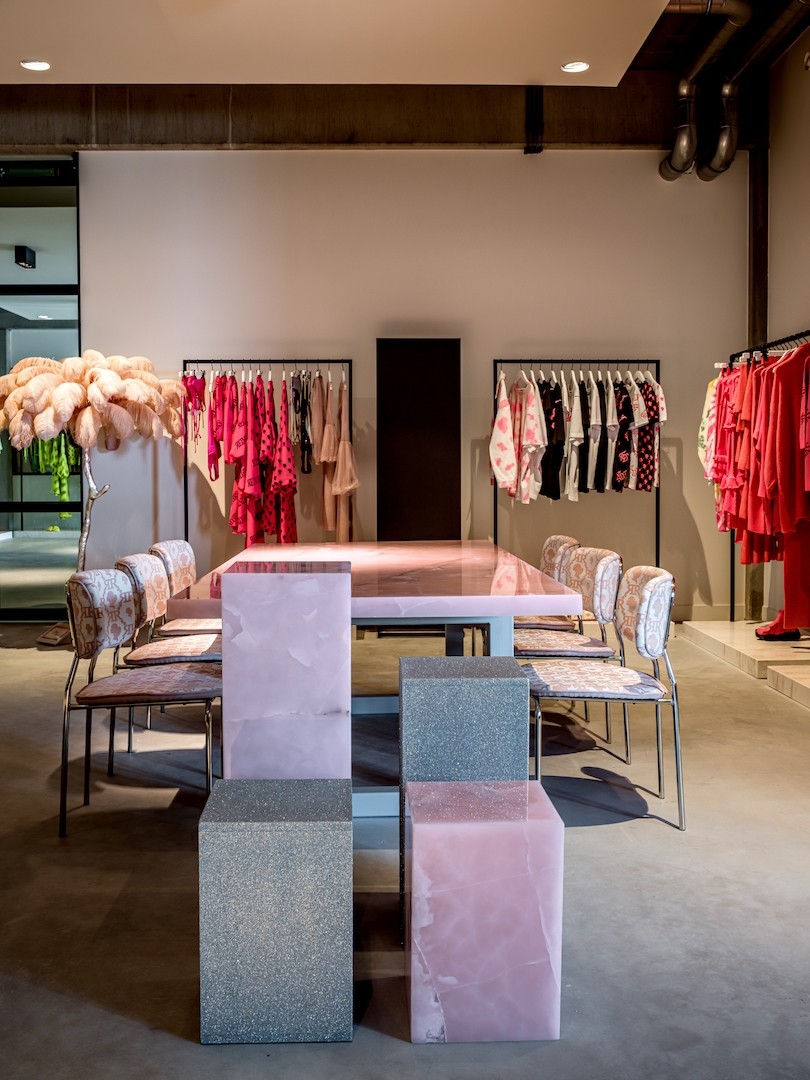 The Reinders sisters wanted the showroom to reflect their brand's reputation for distinctive designs and elegant silhouettes at affordable prices. They chose three different types of stone with intense and unusual colours and dramatic veins to distinguish the three areas of the space. A long meeting table crafted from mitred, polished, black Aurea Flamma marble with distinctive gold veins and matching gold metal legs takes centre stage at the entrance to the showroom.
Flanked by matching plinths designed to display accessories and is surrounded by clothes rails with mitred Vienna White marble bases that look like solid blocks of stone - in fact, they are just thin slabs. The monochrome marble palette accentuates the clothes on display and adds a feeling of understated luxury.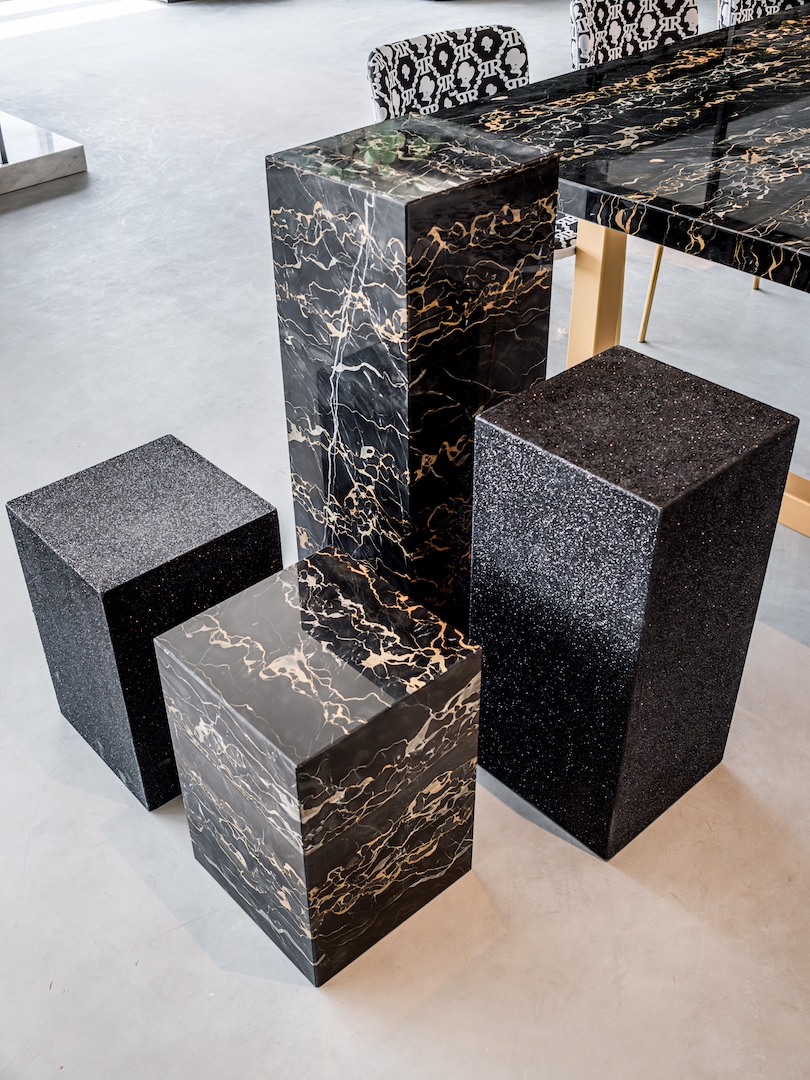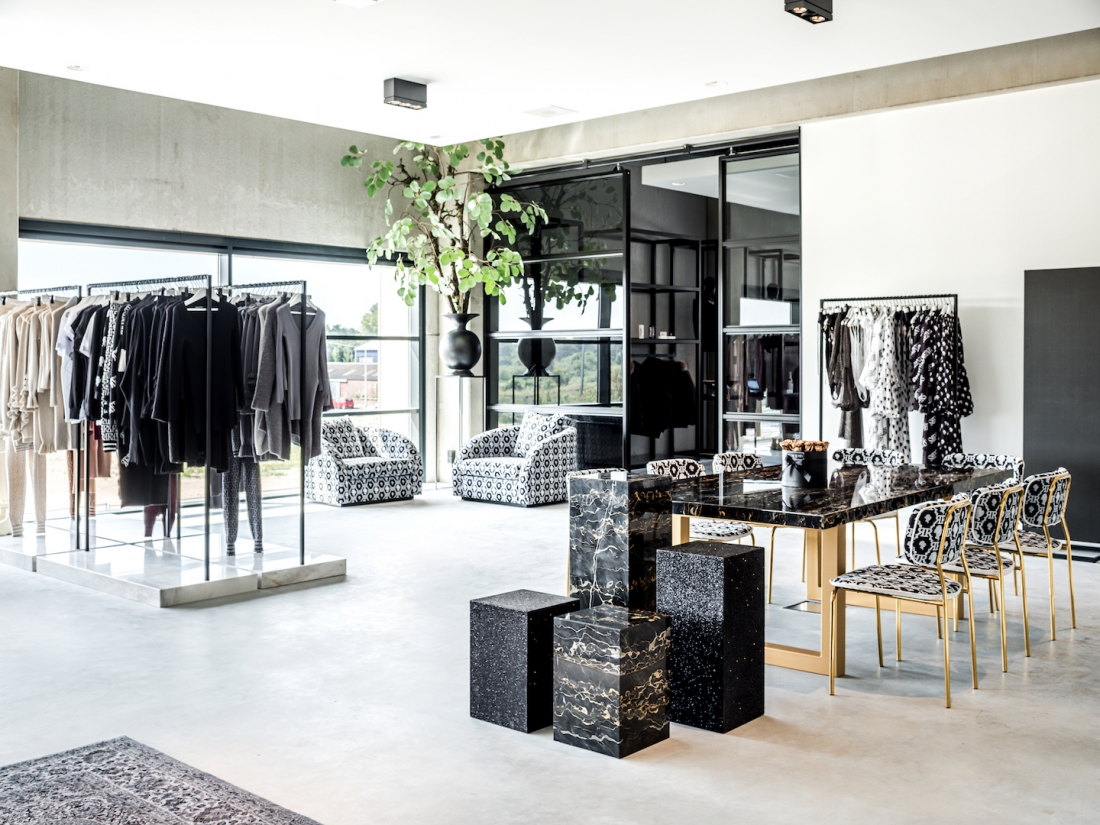 The sisters chose more vibrant stones for the mitred tables and plinths in the other two spaces in the showroom – baby blue Huvafen Onyx with dramatic rust-coloured veins and soft pink Magnolia Breeze Onyx that has a delicate, cloud-like white accent.
The Reinders logo, the silhouette of a girl with a ponytail, has been intricately carved using SolidNature's state-of-the-art water jet cutters using offcuts from the three stone slabs. The logos have been hung prominently above the clothes rails in all three spaces, a testament to the strength of the Reinders brand, the skill of SolidNature's craftsmen, range and quality of its stones.
Discover more about SolidNature.