Mirror Mirror at Chatsworth House reflects on its rich heritage and materiality.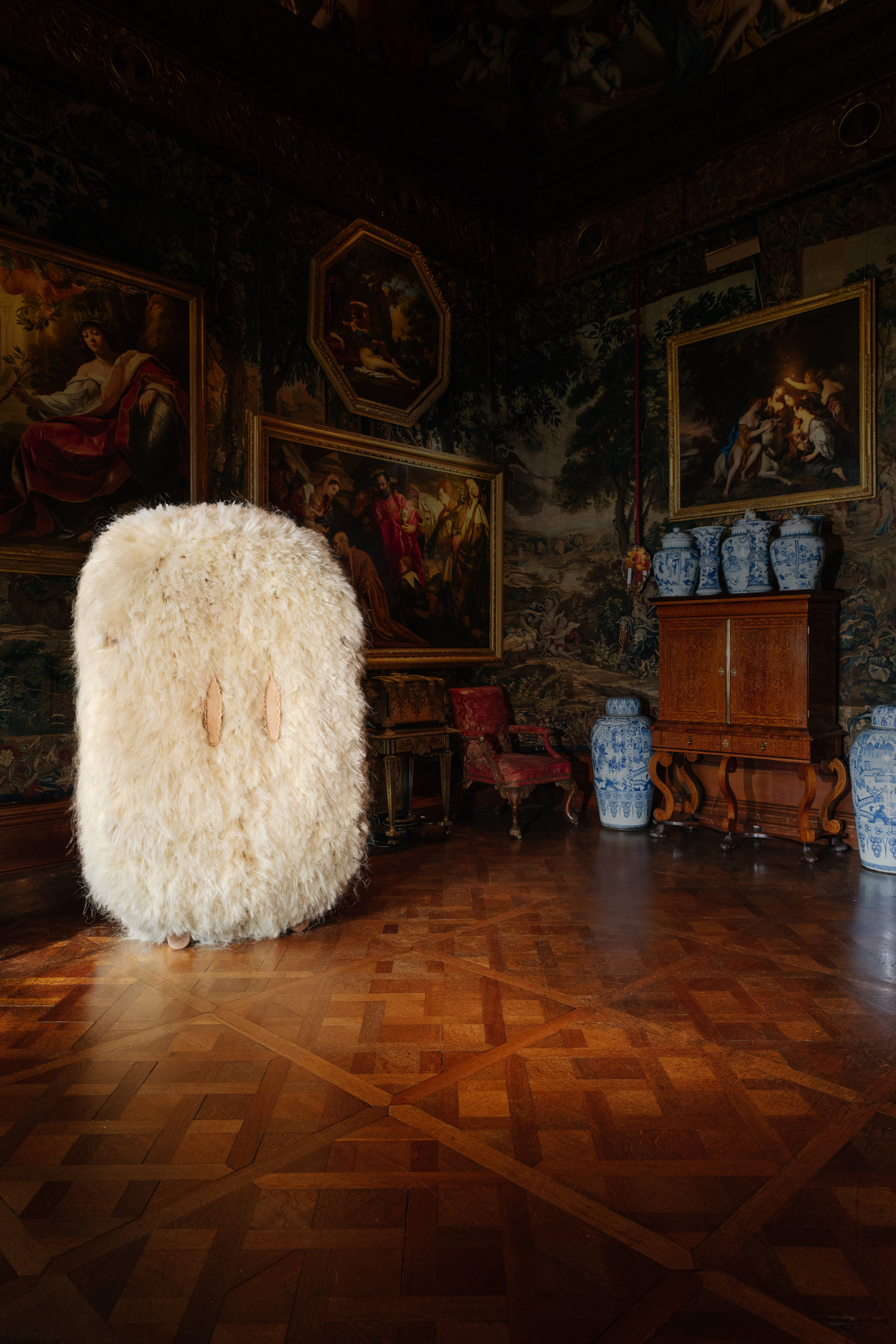 Chatsworth has long been a centre for creativity, with successive generations of the Cavendish family commissioning art and design contemporary to their times. 'Mirror Mirror: Reflections on Design at Chatsworth' reflects on that history and introduces new works to the house and garden, continuing its legacy into the present day.
Mirror Mirror takes visitors on a quest through Chatsworth's opulent architectural features in and around the house and garden, alongside carefully curated artworks that respond to Chatsworth's materiality and heritage.
Co-curated with writer, historian and curator, Glenn Adamson, the exhibition places contemporary works in direct relationship to the historic design at Chatsworth, creating unexpected connections with the house's architecture, interiors, furniture, ceramics, as well its essential materials of glass, stone, wood, and light. Mirror Mirror: Reflections on Design at Chatsworth' is delivered in partnership with Friedman Benda gallery, and with the support of Salon 94 Design and Adrian Sassoon galleries.
Throughout the house, visitors discover recent and commissioned works by sixteen contemporary artists and designers: Joris Laarman, Chris Schanck, Andile Dyalvane, Faye Toogood, Ettore Sottsass, Formafantasma, Max Lamb, Jay Sae Jung Oh, Fernando Laposse, Ndidi Ekubia, Joseph Walsh, Michael Anastassiades, Ini Archibong, Samuel Ross, Najla El Zein and Wendell Castle.
Alex Hodby, Senior Curator of Programme at Chatsworth, comments: "This project is a fantastic opportunity to reflect on the design histories at Chatsworth and bring them to the fore with an exciting array of international artists and designers. We're fascinated with how the contemporary works in our exhibition have used materials in innovative ways to make functional and intriguing objects that are also deeply connected to the house, garden and the collections here at Chatsworth – a place where design has been a key feature for 500 years."
Earlier this summer, we excitedly explored its breadth, winding through Chatsworth's grand corridors and vast gardens to dissect the works of both some familiar faces, and new makers on the block. The collection of works offer in-depth perspectives that are intrenched in historical, societal and ecological contexts, calling upon holistic global change in our attitude towards materials.
Exhibited until the 1st October, we say Mirror Mirror at Chatsworth is not one to be missed, putting forward a commanding response to key issues of our time including sustainability; equality; and how we connect to each other.
And so without further ado, here are some of our firm favourites...
Our first observation was the work of dutch designer, Joris Laarman. Joris uses new technologies to create functional, mathematically complex pieces that pay attention to the natural world around them. Two of Laarman's 'Maker Benches,' digitally fabricated in wood, greet visitors in the Painted Hall, surrounded by the grandeur of granites, marbles and golden goblets. These hexagonal geometries of alternating woods call for tactile engagement.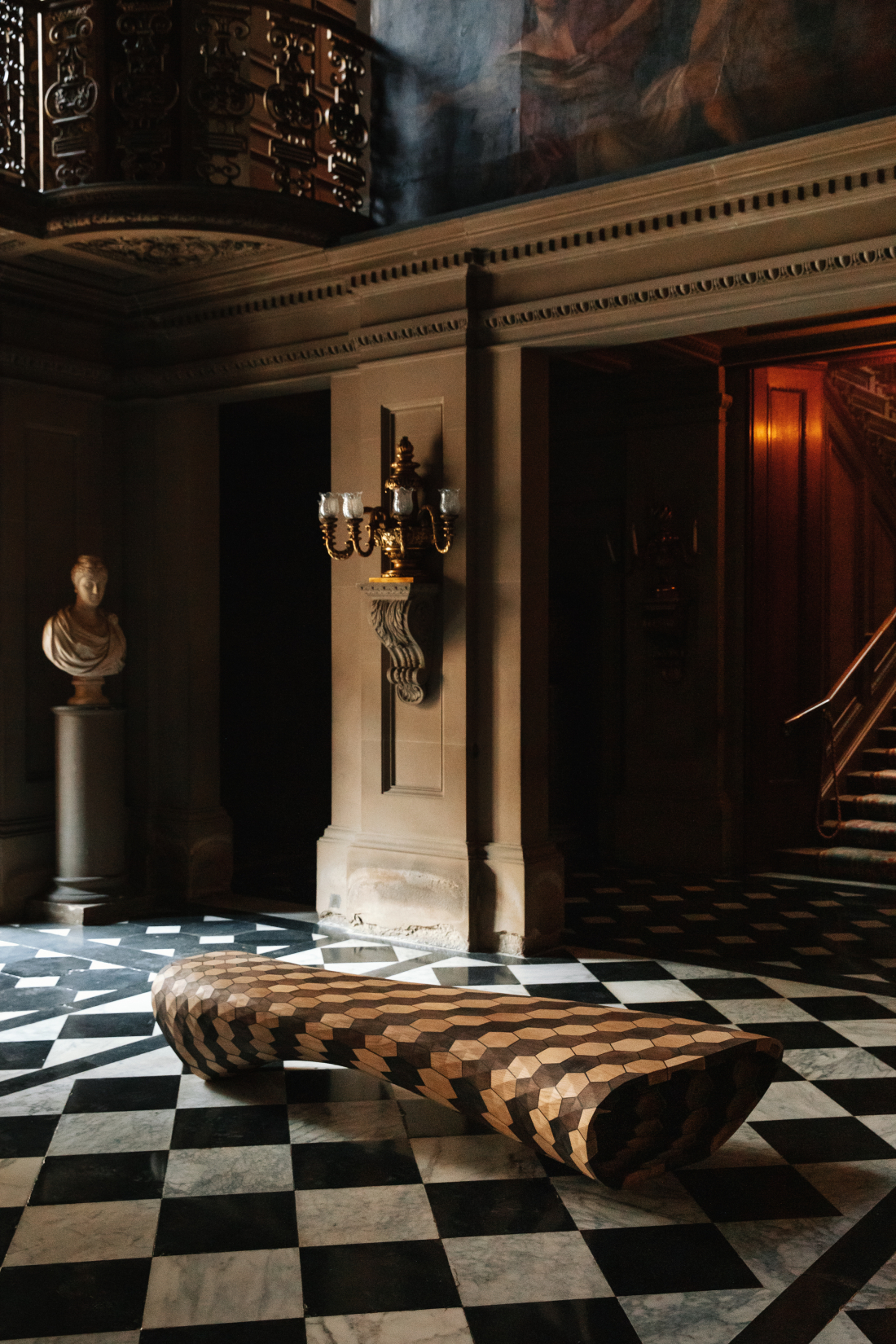 American designer Chris Schanck's seemingly calcified designs are wonders of transformation. Up-cycled scrap materials are turned into crystalline forms rendered in bright-hued resin. The two displayed works visibly connect with the historic features of the surrounding space.
Widely considered one of South Africa's foremost ceramic artists, Andile Dyalvane's work is an acknowledgement and celebration of his ancestral past, his heritage and community. These complex vessels feature symbolic pictograms and patterns, honouring traditional practices of the Xhosa people. At Chatsworth, the transformative nature of clay to ceramic is celebrated in works on display in the Chapel Corridor that are resonant with symbolism of fire, water and earth. They take their place in the rich history of ceramic collecting and commissioning over hundreds of years at Chatsworth – from historic Delftware to Edmund de Waal's site-specific work 'a sounding line'.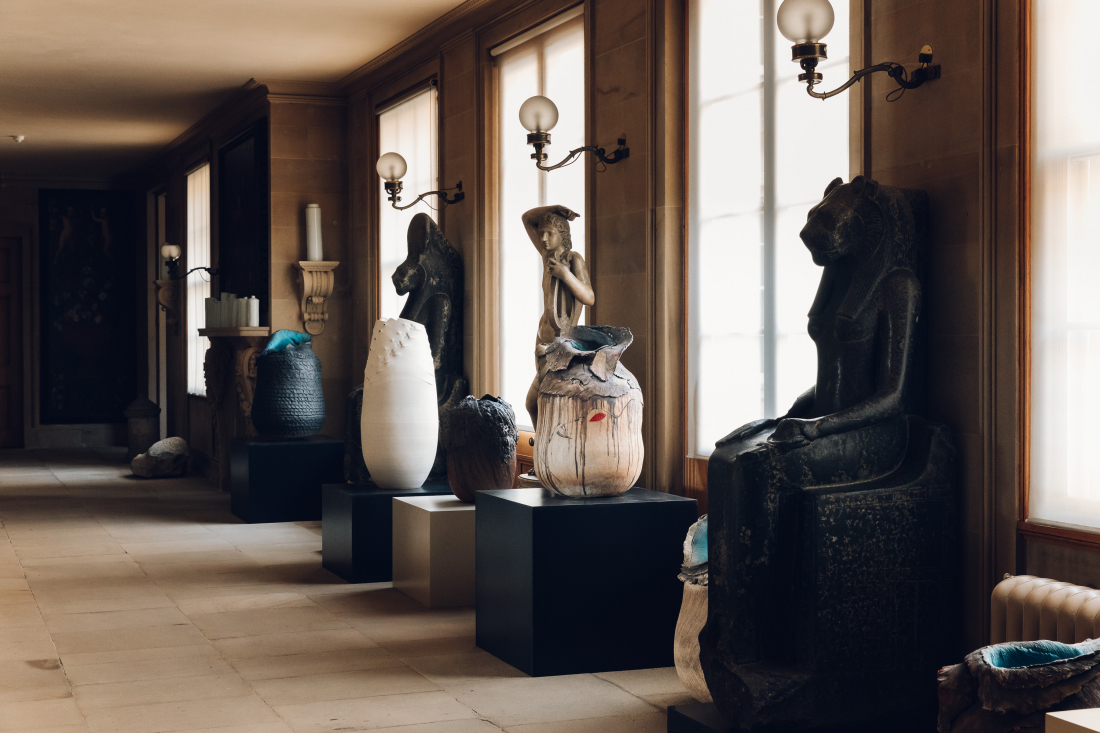 Faye Toogood is a British artist working in a diverse range of disciplines, from sculpture to furniture and fashion. Her installation of sculptural furniture for the Chapel in stone and bronze look like carefully excavated objects, holding rich and mysterious narratives behind them and in full acknowledgement of their spiritual setting. Sculpted from Purbeck marble - a limestone from Dorset with deep deposits of snail shells - this material was prized in the Middle Ages and often used in the construction of English cathedrals. The surfaces of Faye's crafted objects look alive, like a moving bath of microbes or a dense universe incased in a chiseled simplistic form. You can sense the years of rich material history reflected back in the surface quality.
For the adjoining Oak Room, decorated in German Oak panelling bought and installed by the 6th Duke of Devonshire (1790 – 1858) in the nineteenth century, Toogood has designed a suite of objects in oak and bog oak, connecting directly with both the material of the room and its use as a gathering space. Faye's interpretation responds imaginatively to the room's past use. All objects designed centre around a carved wooden table, with a top simulating a miniature landscape. Fingers tip are able to glide across chiseled plateaus and valleys during one dining course. The two stools designed by Faye are crafted from bog oak - a special kind of oak found in peat bogs and as a result of years of submersion, becomes extremely dark and dense.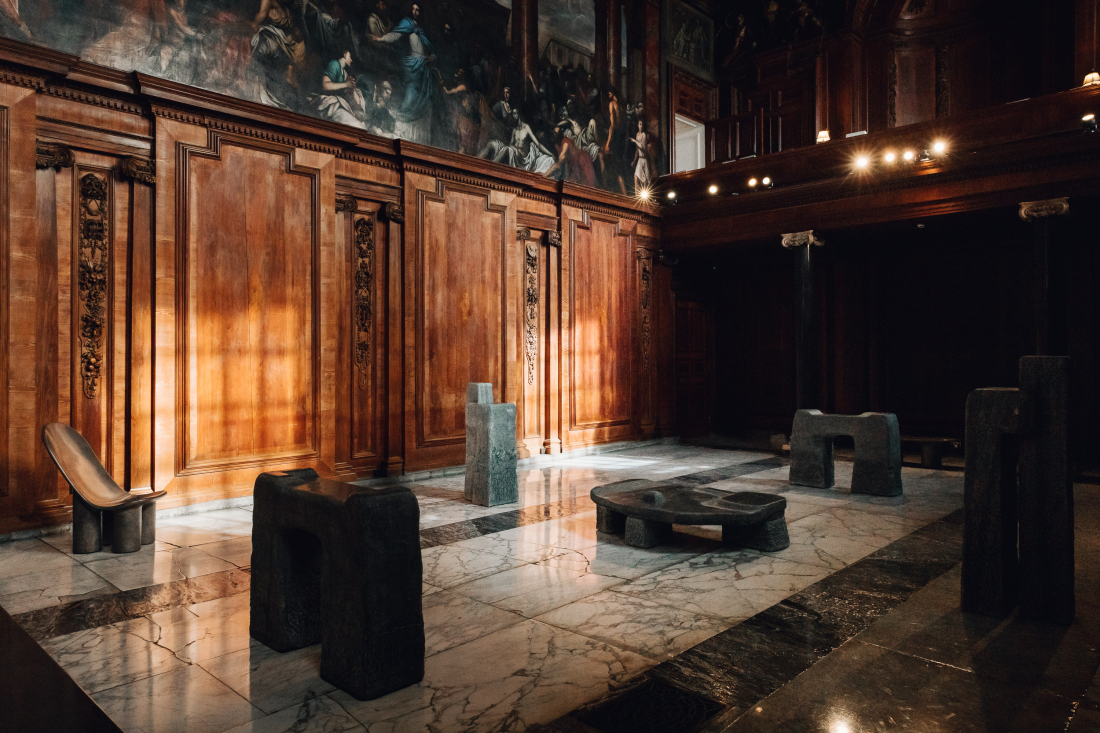 British artist Ndidi Ekubia creates visually rich yet functional silverware that pushes the craft of metal-raising to its limits. Her delicate series of silver vessels for the State Closet at Chatsworth are in dialogue with the monumental silver chandelier that dominates this intimate space, and more broadly, to the history of baroque ornamentation, in which material is given life through consummate craftsmanship.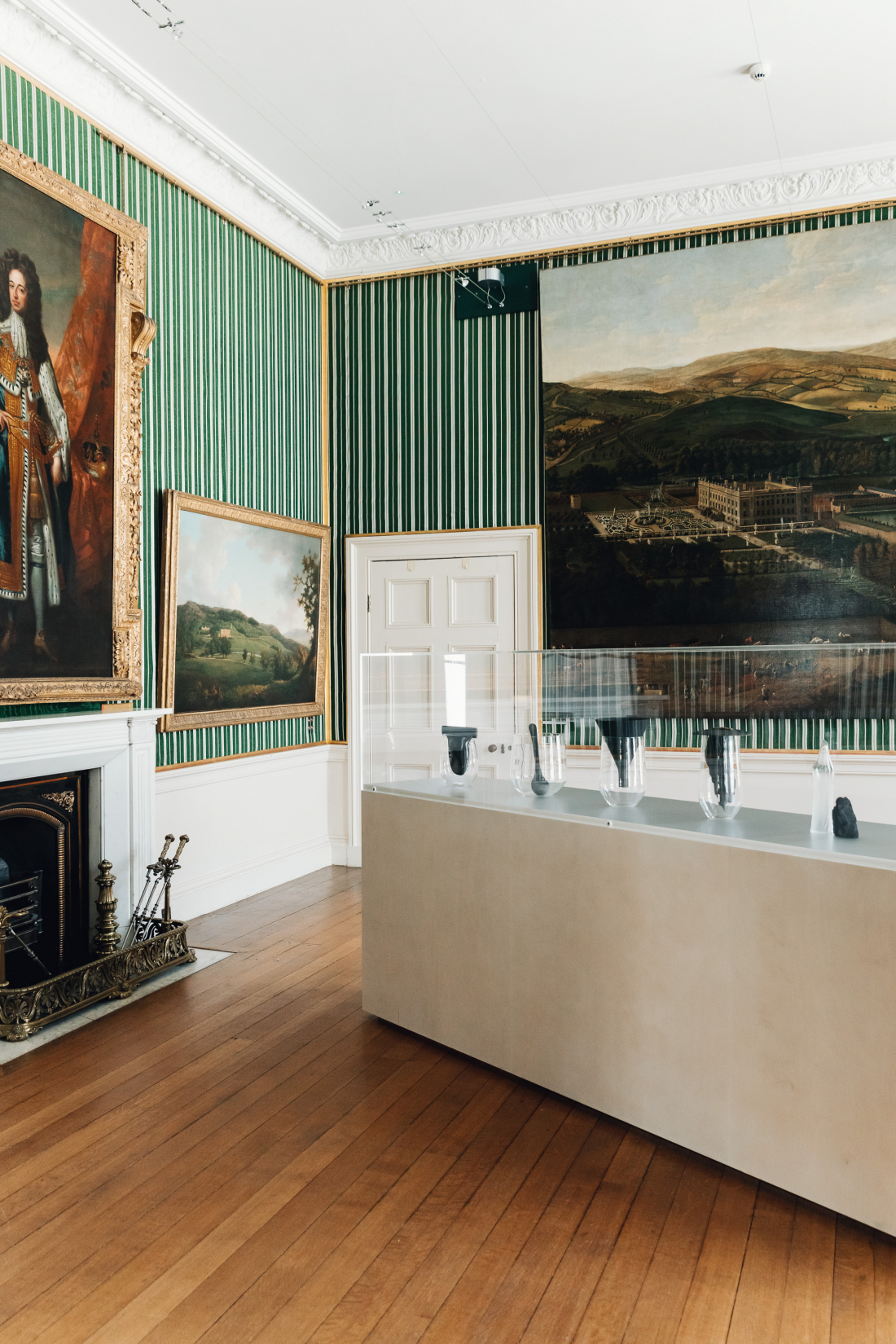 Italian design studio Formafantasma is the much celebrated design duo of Andrea Trimarchi and Simone Farresin. In their practice, they respond largely to the climate emergency by researching old technologies as it's their belief there is still much to learn by reverting back to the past. They are also the infiltrators of the Design Academy Eindhoven MA course GEO-Design - a platform to explore the social, economic, territorial, and geopolitical forces shaping design today.
Their featured project 'Charcoal series' draws on the tension between the dystopian connotation of charcoal – its connections to pollution and destruction – while also acknowledging its positive potential, in contexts like healthcare and water purification.
Chatsworth House possesses a deep history with charcoal. The first half of the 1800's saw a growing interest amongst the wealthy in collecting and cultivating exotic plants. In response, gardeners constructed elaborate, heated glass houses so they were able to to grow them within English climates. In Chatsworth's famous plant conservatory, 'The Great Stove' heat was provided by eight boilers via coal to give the plants the hot and damp conditions in which they need to thrive.
Works from this series are displayed in the Green Satin Room alongside paintings that feature the Chatsworth Estate, drawing parallels across moments in the landscape, and the materials and tools that can be wrought from it.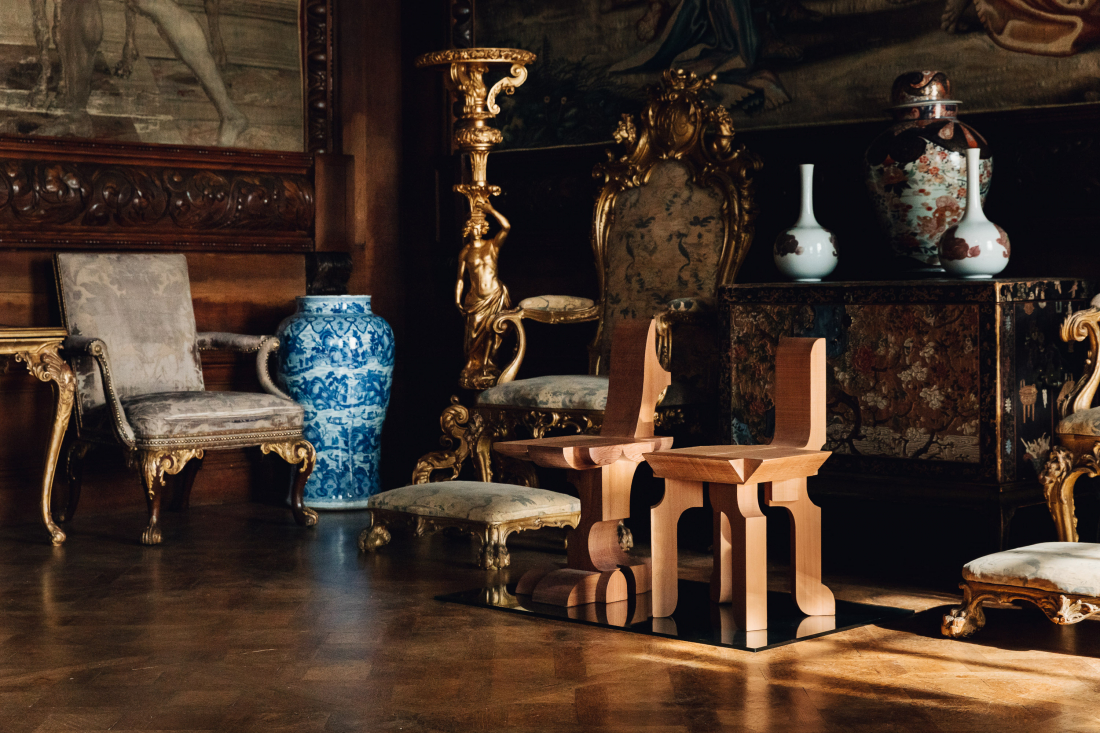 Fernando Laposse, one of our Top 23 Biomaterials for 2023 contributors, divides his time between London and Mexico, and works predominantly with overlooked plant fibres such as sisal, loofah, and corn leaves - transforming these humble natural materials into refined design pieces.
Fernando's work takes on its full meaning once you understand the process behind them. His whole practice centres around restoring social, economic and ecological balance to impoverished towns and villages in Mexico, directly referencing local people and cultures from which these materials originate and draws attention to the cultural, social and political mechanisms that underpin material economies.
His cabinet and armchair with long fibres of agave and sisal, presented in the State Bedchamber, bring a powerful animacy to the opulent surroundings, creating a presence almost like that of living creatures.
British designer Max Lamb is deeply concerned with the transformation of materials, and known for creating beautifully crafted pieces that have traditional processes at their core. His new work for the State Drawing Room is driven by research into the carving in the room, the stone used for the building, architectural details and the strong connections between them. These contemporary chairs - made from a single piece of cedar - fit together like a freestyle puzzle and respond playfully to the grandeur of their surroundings. Taking inspiration from the skill-full ornamentation of the master carvers of the 1700's, Max emphasises the potential in every single piece of cedar he uses.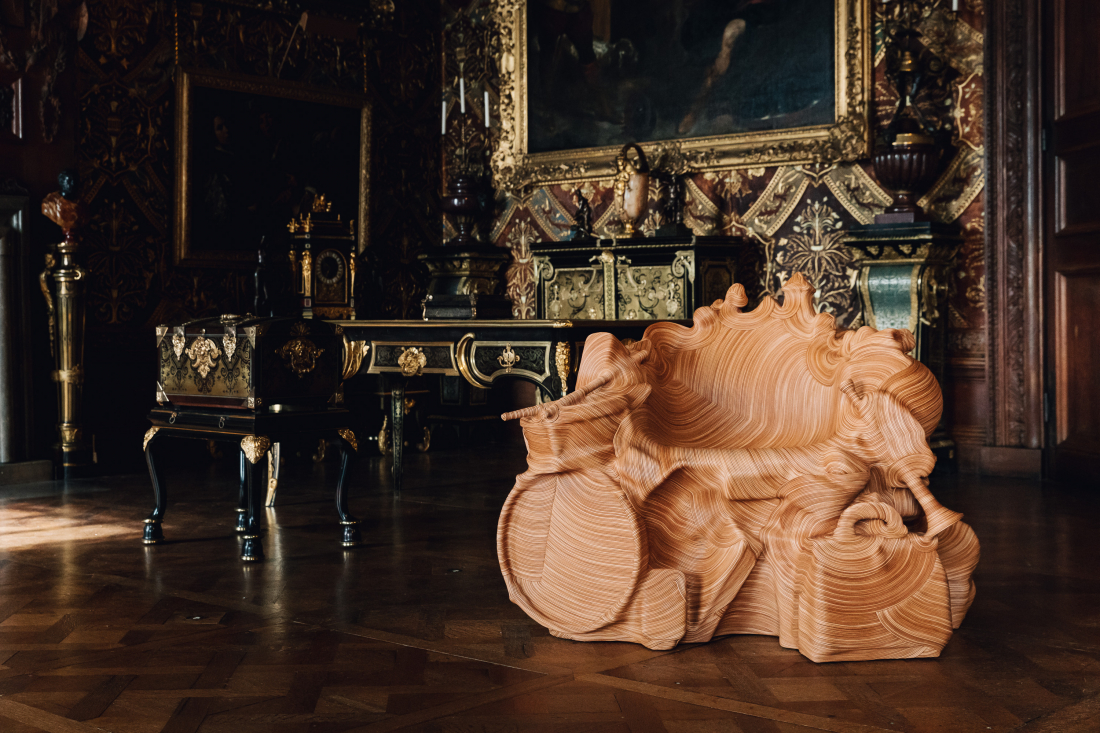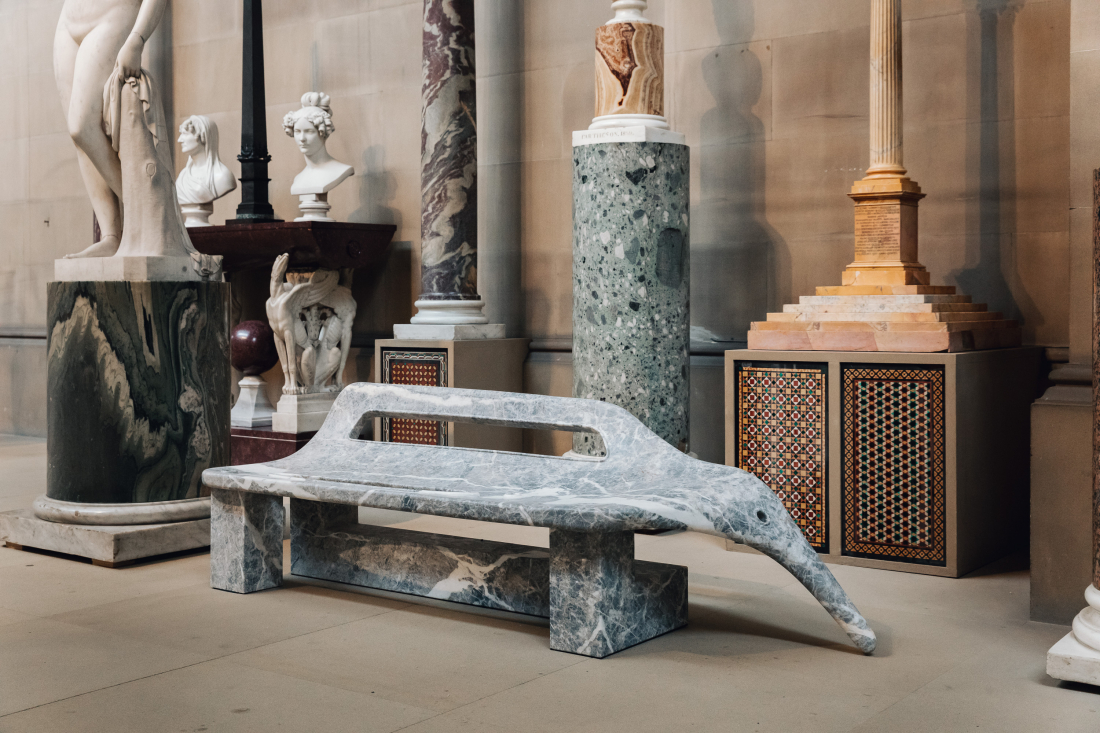 Jay Sae Jung Oh is a Seattle-based designer from South Korea, who explores the intersection of art and design with distinctive and intricately made objects. For Chatsworth's State Music Room, she creates a new work within her long running series of furniture made by tightly wrapping found objects with leather cord, here placing broken musical instruments at the object's core.
The innovative furniture of self-taught Irish furniture maker, artist and designer Joseph Walsh is organic and sinuous. The pieces on display at Chatsworth in the West and South Sketch Galleries are largely made using steam-bent wood, including gravity-defying wall brackets – sculptures that also serve as supports for other objects.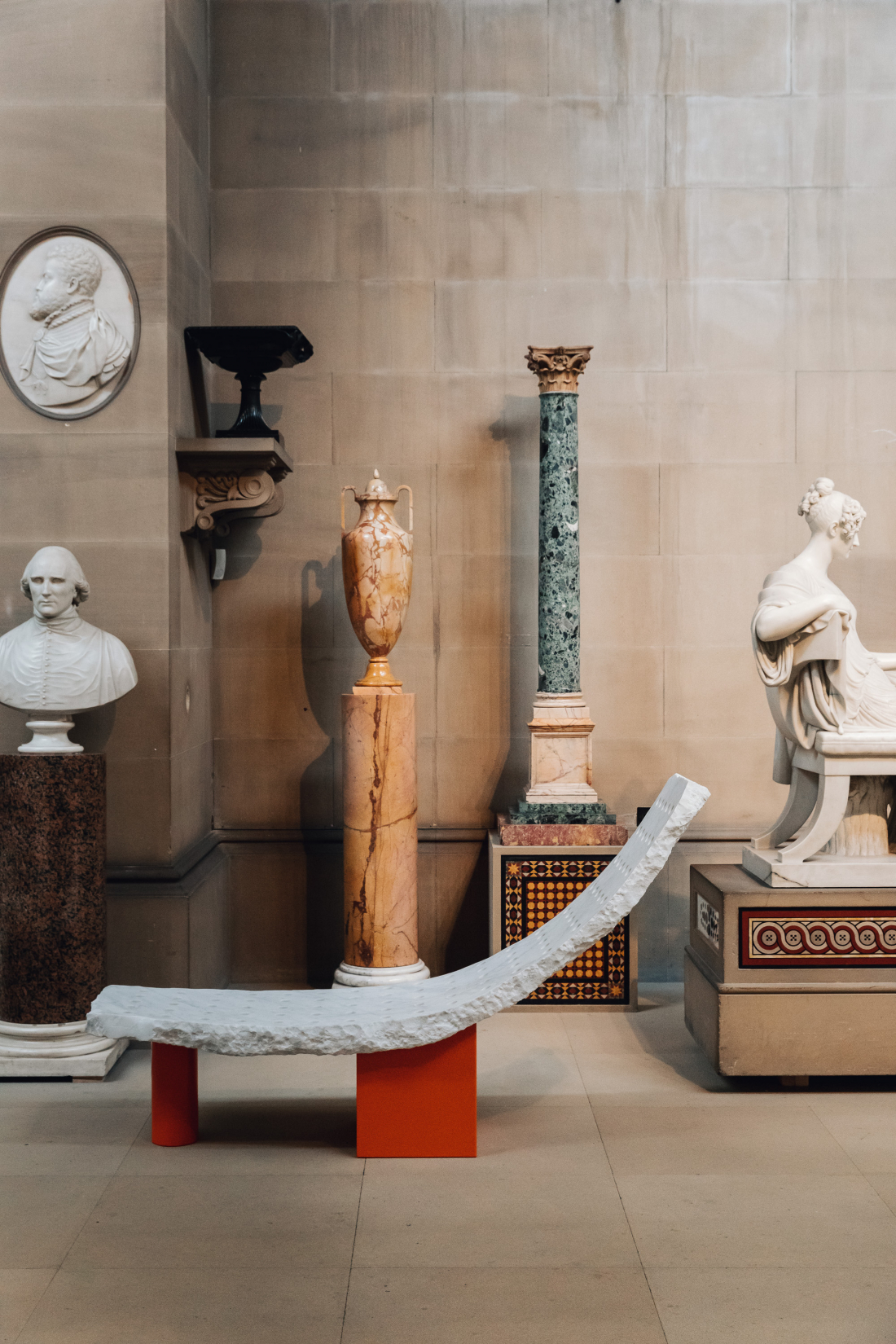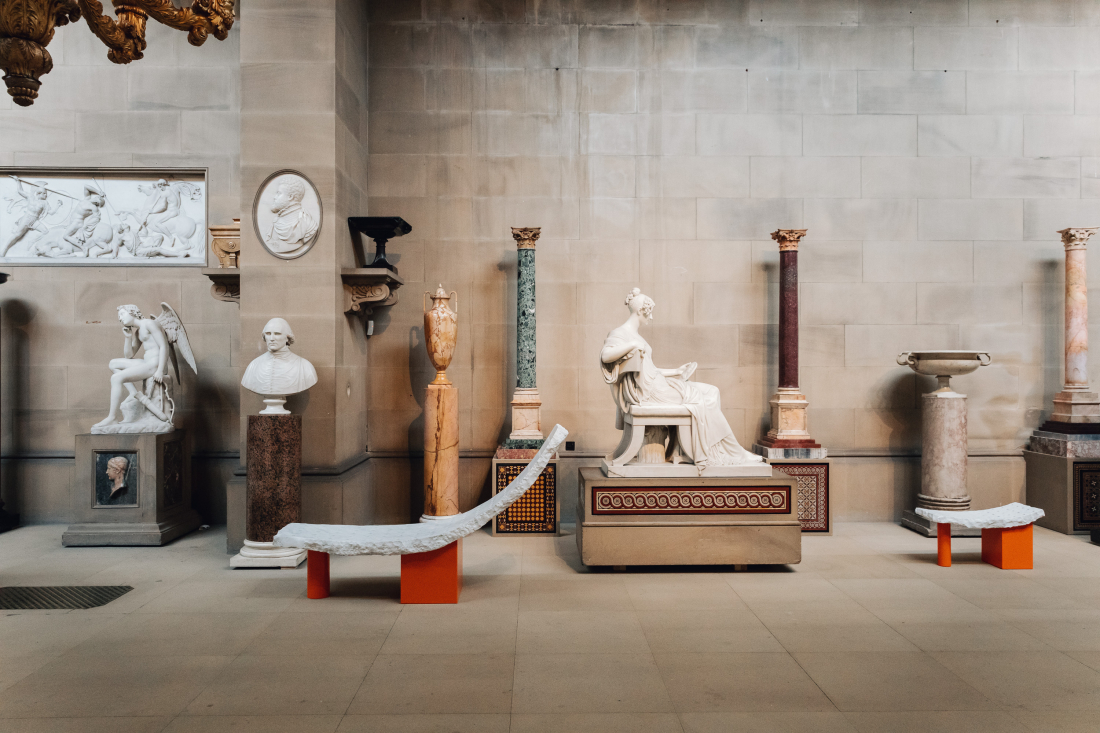 The purpose-built 19th-century Sculpture Gallery at Chatsworth contains two important reclining sculptures: Filippo Albacini's 'Achilles' and Antonio Canova's 'Endymion'. British artist, designer and multidisciplinary creative director, Samuel Ross, responds to these lively-seeming but inert bodies, with works in stone and steel; their forms invite us to imagine the body that would recline on them. The raw and finished quality of the stone that Ross uses also has a strong relationship to the marble 19th century sculptures around them.
Beirut-born, Amsterdam-based designer Najla El Zein's work explores the psychological potential of abstract form. The formality of the Rose Garden – its geometric planting and arrangement of columns and sculpture – provides an intriguing setting for El Zein's 'Seduction Pair 06', a seating sculpture hand-carved in Iranian red travertine that conveys the sense of two bodies conjoined.
Click here to book your ticket to Mirror Mirror: Reflections on Design at Chatsworth.