MSS Presents: Future of the Workplace.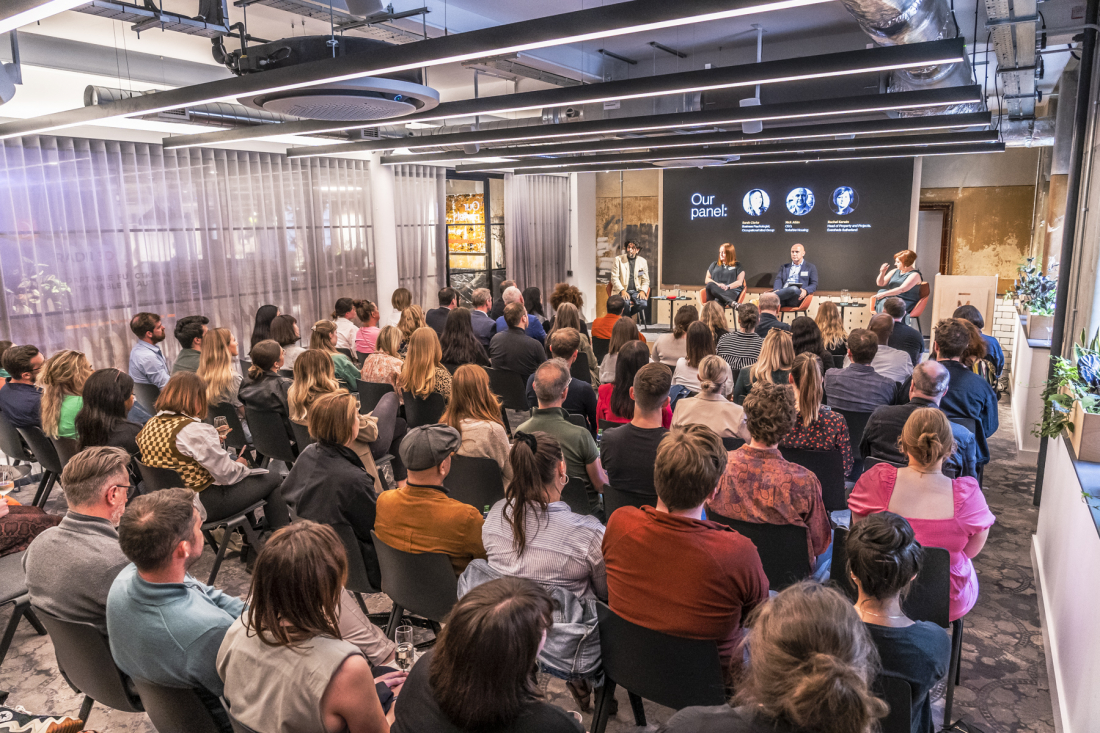 Tackling the timely topic of the Future of Workplace was the fourth seminar in our MSS Presents series.
Joining host David Smalley of Material Source, three unique perspectives were offered from a stellar panel. Nick Atkin, CEO of Yorkshire Housing - currently developing a new world-class HQ for its staff, the first carbon zero office in Yorkshire - gave his views as a tech-focused, corporate occupier.
Rachel Kerwin, Head of Property and Projects at one of the wold's largest law firms, Eversheds Sutherland, shed light on her experience in approaching workplace from an estate strategy stance.
And Sarah Clarke, Business Psychologist, Occupational Mind Group, provided evidence-based insight into the psychological impacts of work environments. Needless to say, some fascinating discussion and debate emerged over the course of the hour-long chat.
As always, this was just enough time to scratch the surface of this large-scale, ever-evolving topic, so we'll be following up the event with some dedicated interviews with Nick, Rachel and Sarah to keep the conversation going.
Whether you were able to join us on the night, or not, check out some of the highlights below.
People, Place, Process
To focus the discussion, three key themes were highlighted: People, Place and Process - coming under the banner: Workplace has changed forever and there is no going back. And to open, David asked the panel: "What was your first office job, how did it look and did it work?" Unsurprisingly, these workplaces looked very different to workspaces today. From smoking, to electric typewriters, cramped desk formations and compartmentalisation, the general consensus was it had been a process of learning what not to do in the future.
Place
There's been much talk of presenteeism, and how that has changed with the impact of the pandemic. But before the pandemic, did workspaces have 100% occupancy?
"No, never. Not a single day." answered Rachel. "We did not have a single office that ever had more than 74% attendance on any day. It's a myth that we had 100% of people in 100% of the time.
"We've had some of our 10 workspaces redesigned to be more activity-based and we're seeing higher numbers of people going into those offices now post pandemic than we are seeing people who want to go into some of our older officers that are more 'old fashioned', with rows of desks. And they're not necessarily coming back because the newer offices are more beautiful but because they work better for them."
Nick commented: "We found only 34% of desk space was being used. So taking this into account we decided to do something different. The biggest challenge for us though wasn't to get people to give up their desks. But getting people to give up their pedestals. Sometimes you have to be bold and go for it, so we cleared them out over a weekend and moved to a series of spaces designed for certain purposes.
"This was based on the principle that 95% of meetings do not need to happen in a glass box. 95% of meetings can happen anywhere."
People need people - Sarah Clarke
"As we go more towards remote working, we must ask ourselves, 'what's the purpose of the office?'", added Sarah. "It's for getting people together."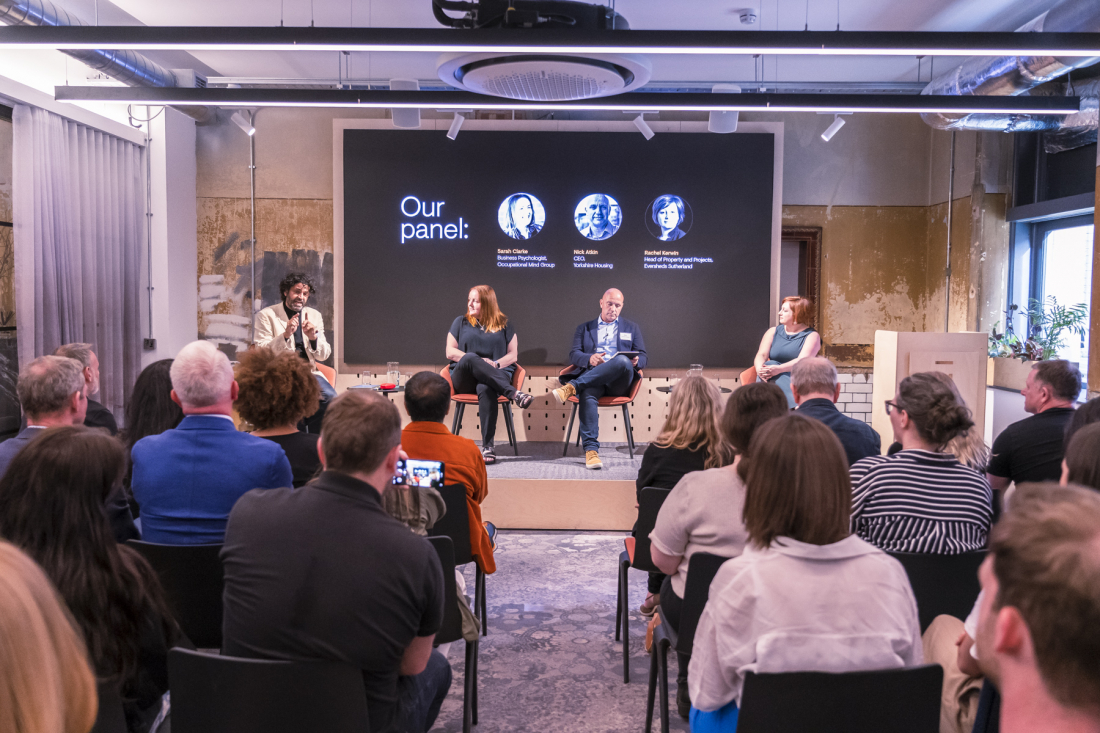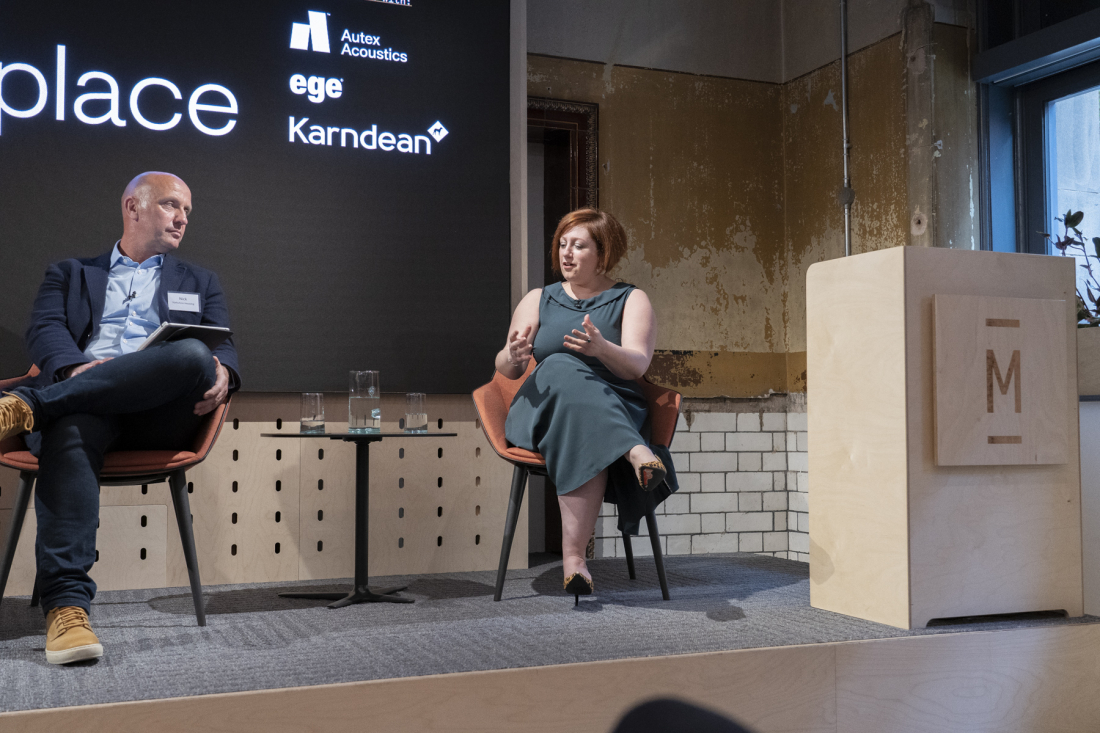 People
With increased remote working has come more discussion around productivity. And measures of success. To which Nick gave two punchy responses that form part of Yorkshire Housing's guiding principles. "Work is something you do, not somewhere you go." And: "You don't have to be in work to work."
"If people are commuting to a workplace they need to feel invigorated, to be able to socialise and to actually create ideas and opportunities for the business. You don't do that by nailing people's feet under their desk for 8 hours a day.
"We are living through a revolution. We have a fantastic opportunity to do something different. For designers, it's that most people haven't got a clue what that looks like. So if you can paint that picture for clients, aligning it to their values and business behaviours, that will create huge opportunities for you."
Rachel's response was very different: "I have to disagree with revolution. I think we're living through turbo-charged evolution. Well before the pandemic in 2016 we were looking at activity based working. For us, these things have been pushed further rather than present something totally new."
"I would argue that was a pre-pandemic enlightened view", replied Nick.
So when it comes to measuring 'success', how are businesses now going about that?
Sarah answered: "In the Industrial Revolution, machines were brought in to improve productivity. Back then, it was easy to measure physical productivity, but now, it's about much more than that. And a lot of what we want to measure now in terms of things like employee engagement isn't quantifiable. It's qualitative data and anecdotes. It's creativity and innovation. All those abstract things. Employee engagement does not just come down to presenteeism."
A workspace's character is driven by the characters in it - Rachel Kerwin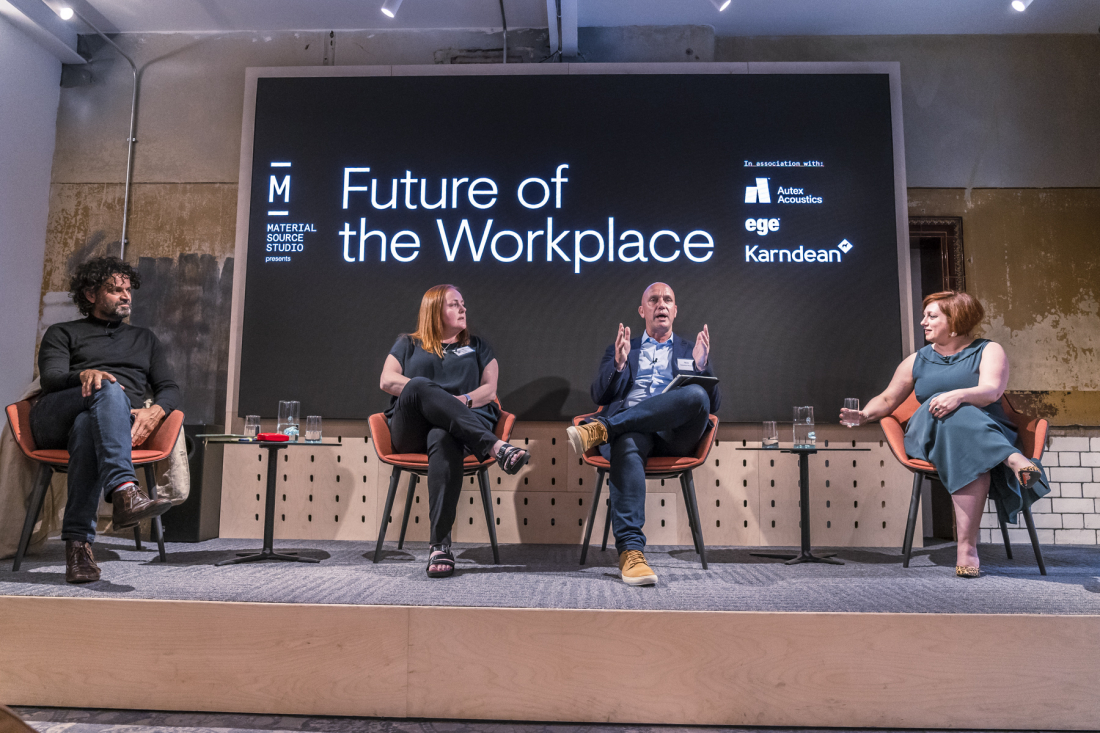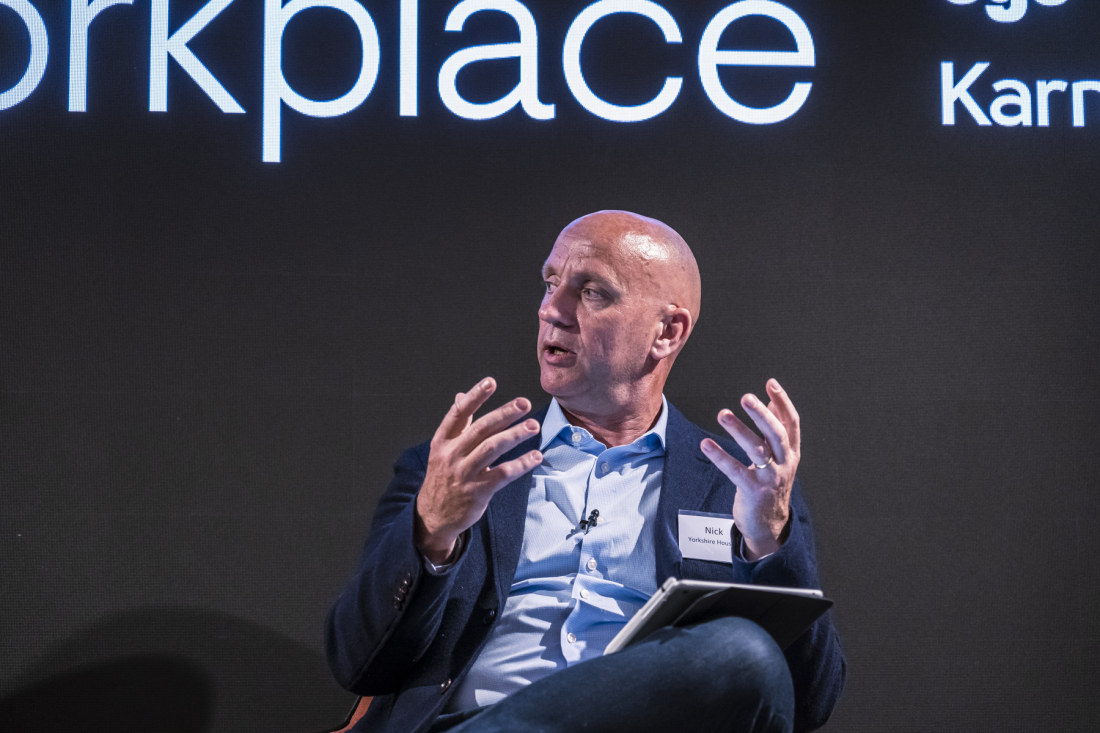 Purpose
So when it comes to the future of workplace, what does good look like? We are only a short way through this historical change in the world of work. We are still learning and developing the potential solutions that benefit individuals and achieves business objectives.
"For us in the law sector, workplaces must now challenge culture", said Rachel. "One of the legacies we've had to deal with is that people their whole life have been told, if you're a great lawyer, you'll make partner and then you'll get your own corner office and a parking space. So sometimes we have that challenge of people seeing their status is somehow infringed. I believe it's about taking some of those challenging people on a journey to realise that, actually, yes, that's what they expected. But what they're going to get is something completely different though offers many opportunities."
"The way I see it is our office is a place to socialise and collaborate," adds Nick. "And we need to lead by example in the way spaces can be used, from the top. If you're a business that's serious about having fun, then design for fun. And give people a good reason to use the spaces. For some people, what you do won't be right, but at least you're not mis-selling when you're recruiting. Always follow your guiding principles."
95% of meetings do not need to happen in a glass box - Nick Atkin
To close, David asked the panel to leave guests with one piece of advice as we journey through the future of workplace.
Sarah: "Have a strategy and know what your culture will look like in 30 years' time. It takes six months to change a habit."
Rachel: "Be adaptable."
Nick: "Think PC (post Covid) not BC (before Covid)."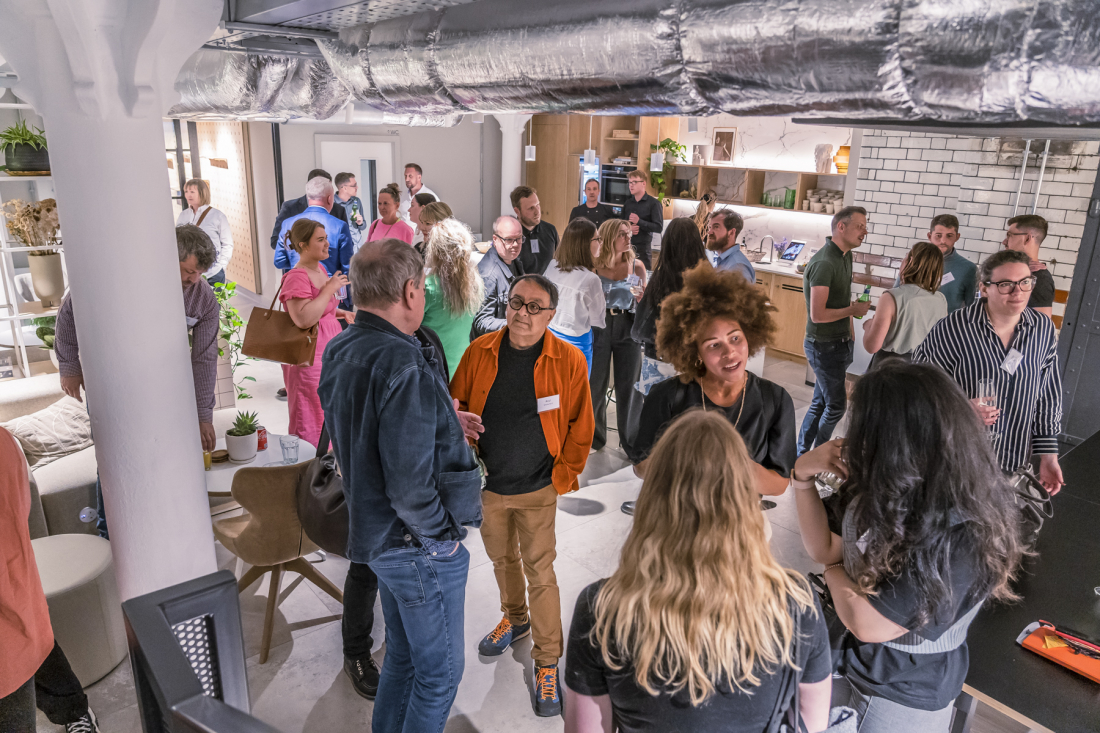 We'd like to say a huge thank you to our panellists and audience. Plus a special thank you to our sponsors Autex, Ege and Karndean - all partners at Material Source Studio.
Our next event will be dedicated to the Future of Residential on 8 June. Send your RSVPs to events@materialsource.co.uk. And please also let us know if you'd like to attend our partner's upcoming events at the Studio. Details here.