PENSON CEO Lee Penson on navigating the global design scene, material fluidity & motor racing.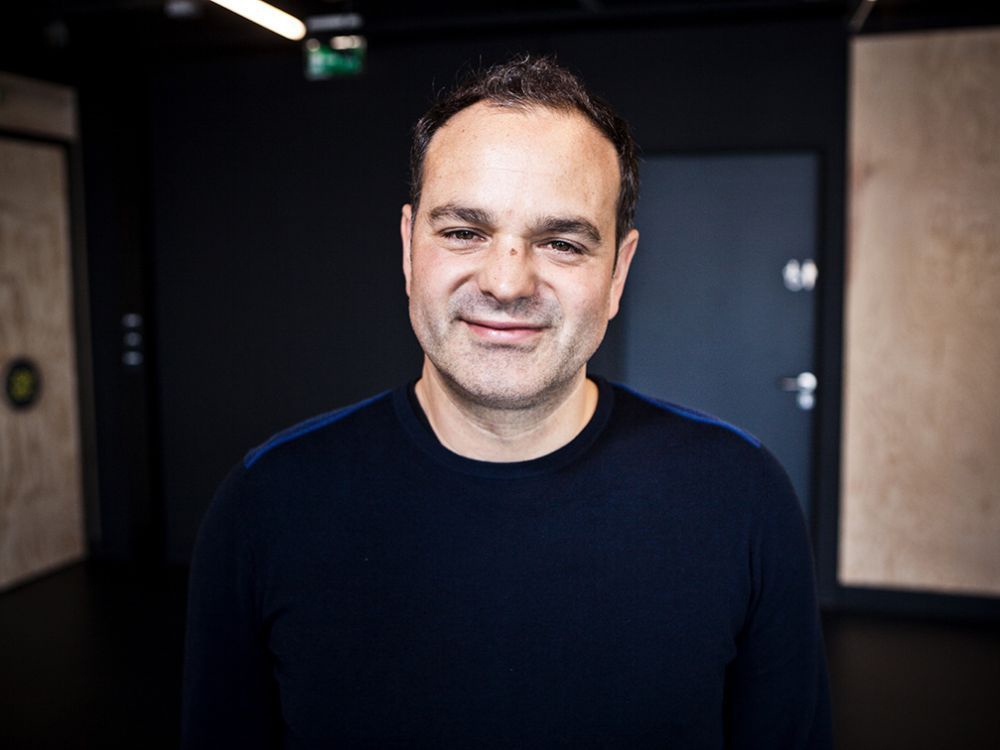 Lee Penson is CEO of world renowned architecture and interior design studio, PENSON. Recognised as an industry trailblazer, Lee has fostered a unique career spanning over 20 years, delivering creative solutions to a global client base.
Lee qualified as an architect after seven years of combined part-time study & working in practice, leading projects nationwide. In 2004, he founded PENSON, which has grown from bedroom-floor start-up, to international outfit, with offices in London, Beijing and New York.
If there's one thing for sure, it's that, as you'd expect, Lee Penson is a very busy man. But despite this, he took the time to answer our extensive list of questions. Without further ado, here's what Lee had to say...
Can you tell us the story behind how PENSON started?
"At University when a new project was given to us, there was always a mass exodus of my Uni classmates hurrying off to the local architectural library and scouring magazines in their search for inspiration. Instead I went sailing to free my mind to think about things objectively. Thankfully, I was the only person in my year that got a 1st class degree.
"After seven years of combined part-time study and working in practice, I qualified as an Architect in 2004 and immediately founded PENSON. I started out from a rented bedroom with dodgy carpet in Tooting Bec, then quickly upgraded to our offices in Waterloo with some seriously retro computers – won FX's International Breakthrough Talent and Mixology's Newcomer of the Year awards in 2006 – before finally settling at our amazing HQ in Shad Thames – then expanding globally to Beijing and New York.
"We haven't looked back since. It's been no easy feat, to say the least, but what drove me was my mantra that design needed to improve life at the core. Make things more efficient, more fun, more to the point. The good things in life are often very simple but very satisfying. At PENSON we don't just design, we solve things. PENSON's magic in the world of design and culture has a certain zest, difference and character that is tailored to each client or problem. It makes me very proud indeed."
During your career, how have you seen the architecture & design sector change?
"It's definitely become more fluid and transitional. Multifunctional spaces are still on the rise. All the rules apply – to the office, home, hotel etc. There was a huge focus on tech about 10 years ago to incorporate loads of it in the workplace, regardless of its use and functionality. We're seeing that way of thinking rejected more often now.
"People are scared of over doing the tech element and want to get back to the important human relationships and their interaction with a space. The biggest thing to come out of the past 10 years is that the design industry is much more waste conscious – on finishes, the company ethos – on everything. Thankfully this 'trend' is set to stay."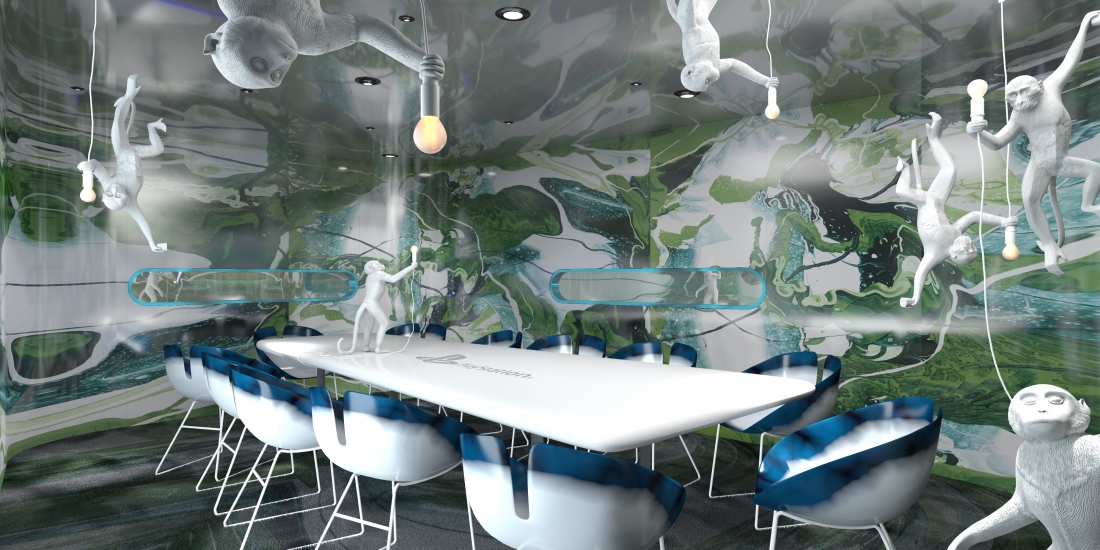 Commercial and residential spaces are becoming much more fluid now, with the home, office and leisure environments blurring into multi-use buildings. How has PENSON responded to this trend? And do you think it's here to stay?
"When PENSON started in 2004 we were one of the first to bang on about how offices should be more of your home from home. Today people now get that. What's interesting is that home is now being asked to cater for more and more work which is ironic! We continue to create hybrid spaces that offer much more flexibility and cater for every type of work style. Totally open plan was never our style. All of PENSON's projects help people along to do their best work, but the key is that our spaces bring people closer together for the benefit of all. This is what's important to understand.
"I think what we'll see is an increase in flexible working times to aid productivity; if you're more productive in the evening then the office will provide the rest space when you need it. If you're more productive 9-4 then the workspace will reflect that. Working hours will work around people's lifestyles rather than the other way around. All the while design will continue to support people in that space. Tech will become invisible and unseen. Clutter will totally disappear."
Looking at workplace design specifically, are your client briefs much different today than they were five years ago? And if so, how?
"We used to see our clients coming to us to transform their business for the benefit of their brand and shareholders. They wanted their brand to be perceived in a certain way by people. It was never about what would actually suit them and their business model. We had a hard time trying to convince people otherwise, and then along came our client Google in 2011. They just totally got it.
"They wanted what we set out as a business to do; tailored spaces but above all, a considered workplace culture. Now, others have caught up to speed and it's all about people. Now, companies look at what suits their people, space, type of work and brand, and we also help them along the way to future proof their space too."
What is the most surprising brief you've ever received from a client?
"In the early stages of our project for our client, Sony PlayStation, they raised the idea of having a meeting room that was like a games pod and could multifunction as such. In true PENSON style we took the brief and pushed the idea as far as we could go, while making it functionable as a meeting room. Sony PlayStation were slightly baffled but amazed with the result. Don't give us a crazy brief, because that's what you'll get!"
We get inspired at different stages and via various sources – mostly everyday life.
Being an international agency, do you see vast differences in what clients are looking for from country to country, or is it more a unified global scene?
"Not vast differences as such, but definitely variations in initial design inspiration because countries and cities follow different trends and cater for different markets – even cities in the same country. Because design is so fluid, inspiration can be easily translated, though. Ergonomics also vary country to country. One thing that we've seen in common is that all clients want a people-focussed and multi-functional design experience."
Can you briefly talk us through your creative process from brief to project completion?
"It varies between client and project because we treat each project as a bespoke to-the-point strategy. Our experience shows us that many organisations suffer from very similar issues to each other, though. We work closely with our clients to find the spirit, discover their identity, understand their work and get our teeth stuck in to their ways of working. Then we come up with the big idea, and usually surprise ourselves and the client. We're very versatile. We don't like to repeat. We get inspired at different stages and via various sources – mostly everyday life."
How important a role do your material selections play in your work?
"Material selections are hugely important. We usually start our process by letting the materials drive the design inspiration. We don't get bogged down by the brief. Our designers can come up with a whole scheme just by looking at two different but very cool fabrics. Materials are so tactile, so we challenge ourselves to discover new materials – especially new eco materials – whilst also balancing the project budget."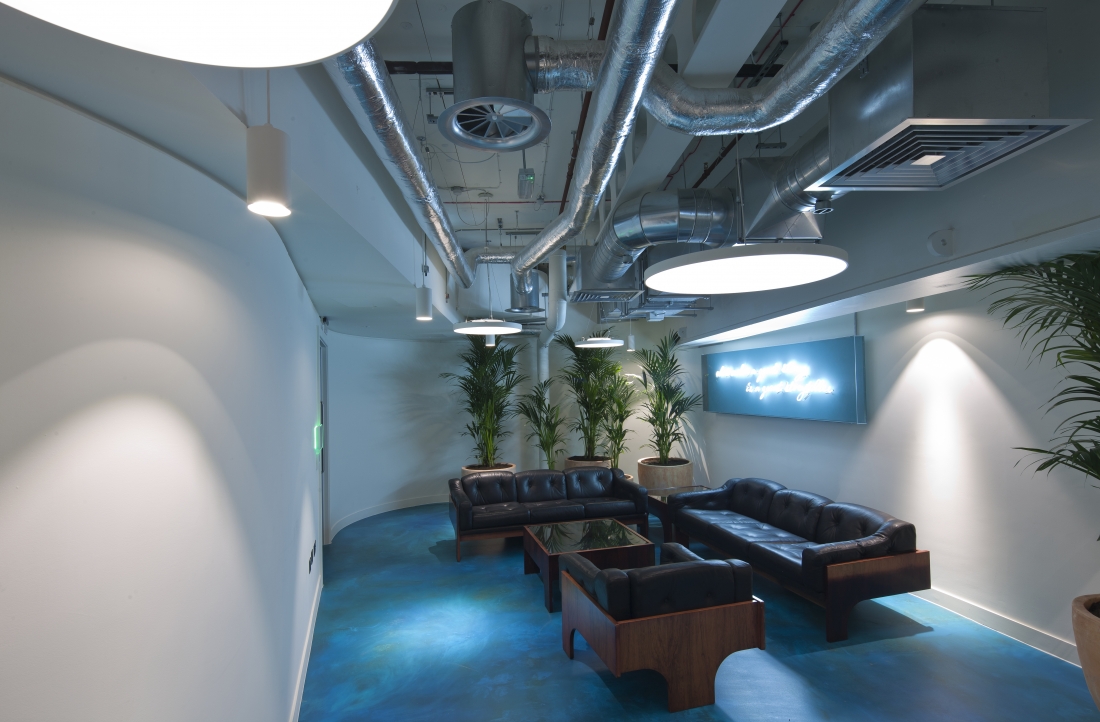 Is sustainability now a key consideration in all client briefs?
"It used to be a trend but now it's the norm. It used to always be a tick box exercise but now people are catching on to it. It's important now and it's become the focus. Now it's easy to get hold of eco-friendly products. We used to have to compromise on the design if we used eco materials as they weren't as considered, now that's not the case. The design has really improved."
Who or what inspires you?
"Motor racing – see below. I can really let my mind be free and just focus on racing. I suppose I'm a bit of an adrenaline junkie when I get in the car!"
Outside of your sector, where do you find inspiration?
"In my motor racing! I fully restored a beautiful and rare Lotus Elan 26r race car last year after finding it in a barn in California, where it had stood in pieces, untouched for 37 years. The colour of the car was essential; the paint I used is an original cellulose paint which is now rarely used. I made sure the colour was a one-off mix called 'Poppy Blue', named after my daughter, Poppy.
"It's nostalgic, it's glorious. It's something that people really admire. It's been photographed, exhibited and it can't be replaced. The joy this special little car brings to people and me at race events is just marvellous."
Do you have a favourite building?
"It's got to be THQ we're designing for The Hut Group. Nothing could compare. It's the largest new workplace campus in the North West of the UK. It will develop 1m sq. ft. of commercial Architecture, workplace design and hospitality design in the Airport City Manchester area. It will invest over $1bn in the region over the next three years and will support 10,000 jobs.
"We've proposed a scheme that drives functionality through effective and clever reductive design. The super sleek architectural structure and organically inspired mesh façade celebrate the unique, future visioning and innovative nature of the THG brand. The structure itself is very simple and uses smart materials. The whole scheme considers environmental factors and encourages THG people to live sustainably and to get outside in the surrounding gardens and nature. It's super exciting."
Are there any emerging materials that particularly excite you?
"Fluid materials – ones that don't have a set use – that can be used for the wall and floor at the same time. If materials have a story behind them then that's even better. I also love finding and rediscovering old materials and techniques to create new effects. For example, the floor we installed at UKTV's HQ was a blue mix of poured resin.
"When we specified it, the supplier said they hadn't been asked for something like it in 20 years! It's cool to reinterpret materials over time and use and apply things in different ways. The new low cost eco/recycled products on the market are exciting too as they're innovative and helping to save the planet."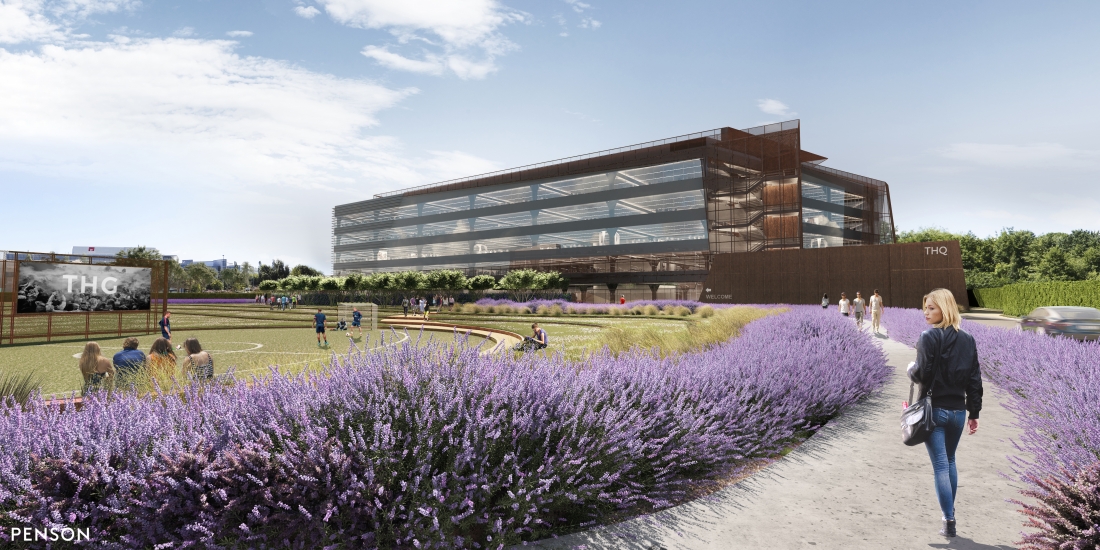 Where is the A&D industry headed?
"I definitely see it becoming more and more fluid. We won't see set sectors any longer – all designers and architects will be multidisciplinary in a way we haven't seen before.
"Obviously the specifically eco/sustainable path will continue to be trodden. We're in an industry that builds and demolishes just for the case of renewal. Everyone is more aware of this now and reusing buildings and architecture will become much more of the norm.
"As mentioned before, the workplace will have 24/7 flexibility. People can use the office as they see fit and come and go – this will be the only way to accommodate the increasing numbers needing a desk in offices."
What's next for PENSON?
"We've got quite a few very cool but secret things coming up this year. We've got a few global roll outs coming – in the coolest locations globally, with the trendiest vibes and innovative functionalities. Along with lots of parties of course!
"And of course, you'll find me at the racetrack with my race cars! Love & respect."