Pops of colour, striking lighting & rich texture: Jasper Sanders + Partners breathes new life into Sedbergh School's Queens Hall.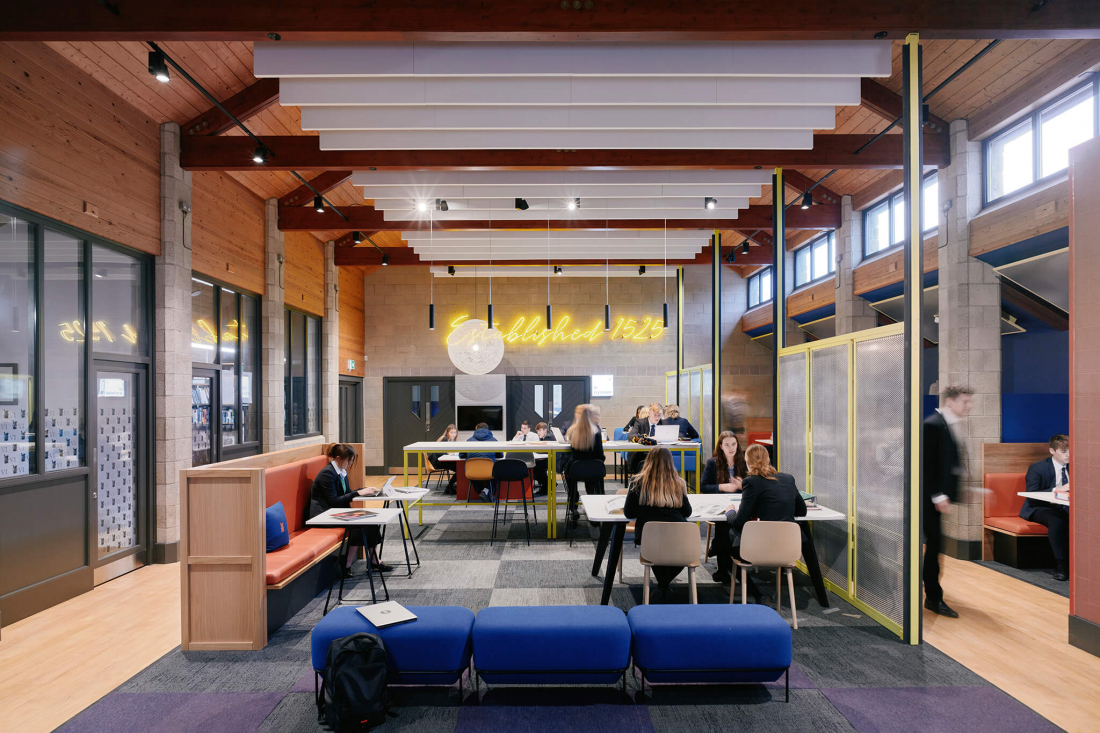 To say Sedbergh School was a heritage gem of a building would be a gross understatement. It was originally built in 1525, and still provides world-class education to its students today in 2022.
Though there's no doubt of the academic abilities of the school, the headmaster had began to feel this near 500-year-old premises was in need of an aesthetic uplift. Luckily, a chance encounter on a train would lead to the perfect design practice for the job...
"8 years ago, I was sat on a train and began talking to two fellow passengers", began Jasper Sanders, Design Director at Jasper Sanders + Partners. "Turns out, one of them was the headmaster of Sedbergh School. He expressed a desire to create some central spaces for collaboration and study for the sixth form students. But he was keen to stray outside of the heritage look and feel of the existing interiors in favour of something bolder.
"In our first meeting I showed the headmaster the designs we'd been working on - modernist timber paneling and paired back features. To which his response was, 'Jasper, I want Manchester, I want some lemon zest!'
"This was music to our ears, and after going back to the creative drawing board, we came up with a scheme that healed rather than replaced, contributed the least amount of material to create maximum effect, and amped up the vibrancy through lighting and touches of bold, block colour.
"Some of our design features included stained beams with acoustic panels, ensuring no reverberation, faux leather in regal blue to upholster modern church pews and a checkerboard floor like St Paul's Cathedral – a fun twist that nods to Sedbergh's heritage.
"We also took the school's crest and combined it with a six - for sixth form, and to mark its sixth century, for a modern take on a traditional motif.
"For the colour palette, which is such a big part of the new interior, we looked to artists for inspiration. We found a landscape that had been painted just a mile up the road from the school, and that paved the way to many of the bright, vibrant shades we used in the scheme."
If the brief was zesty, bright and full of life, then the project imagery below is visual proof that Jasper Sanders + Partners nailed it.