Silo, the world's first zero-waste restaurant by award-winning chef Douglas McMaster, designed by Nina+Co.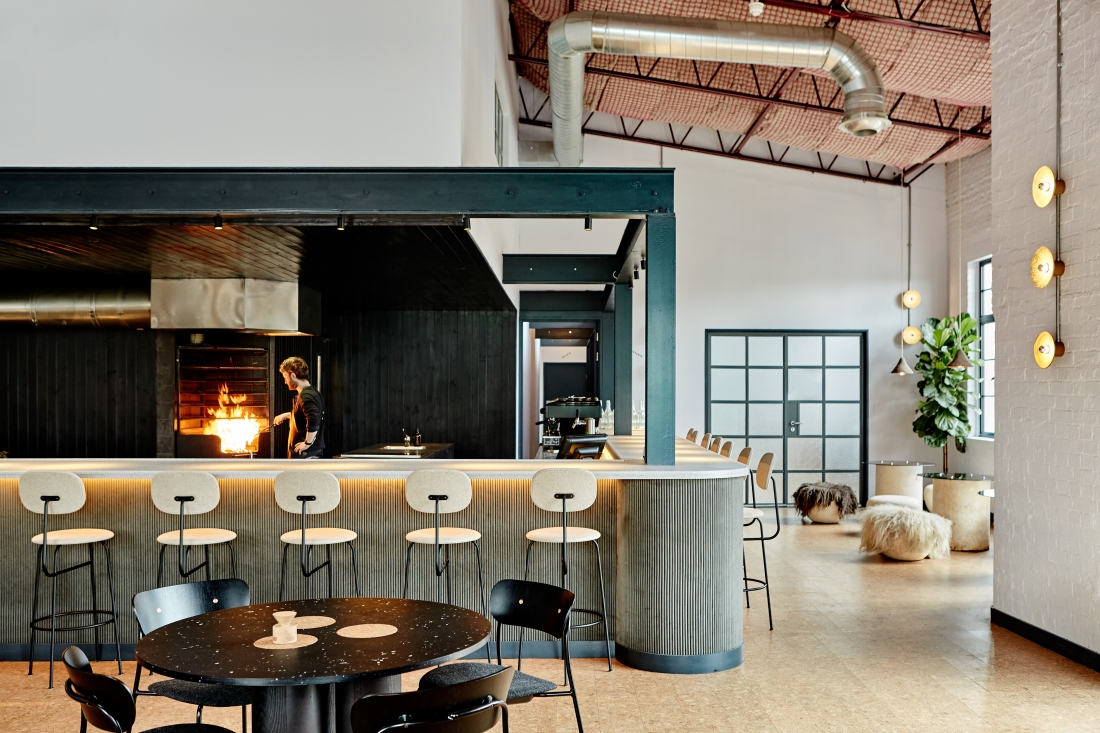 Nina+Co is an adaptable creative studio offering interior design, product design and visual identity services.
During her 14 years in the world of interior design, Nina has created elegant interiors for world-renowned hotel brands and designed luxury residences for private clients from London to Moscow.
The studio has collaborated with award-winning chef Douglas McMaster to design the interiors for Silo, the world's first zero-waste restaurant in their new Hackney Wick home, The White Building.
A zero-waste pioneer, Douglas' innovative approach is threaded throughout the whole restaurant and its supply chains: from trading directly with farmers to composting any leftover scraps into compost, the continuing aim is to 'close the loop' in the food production process.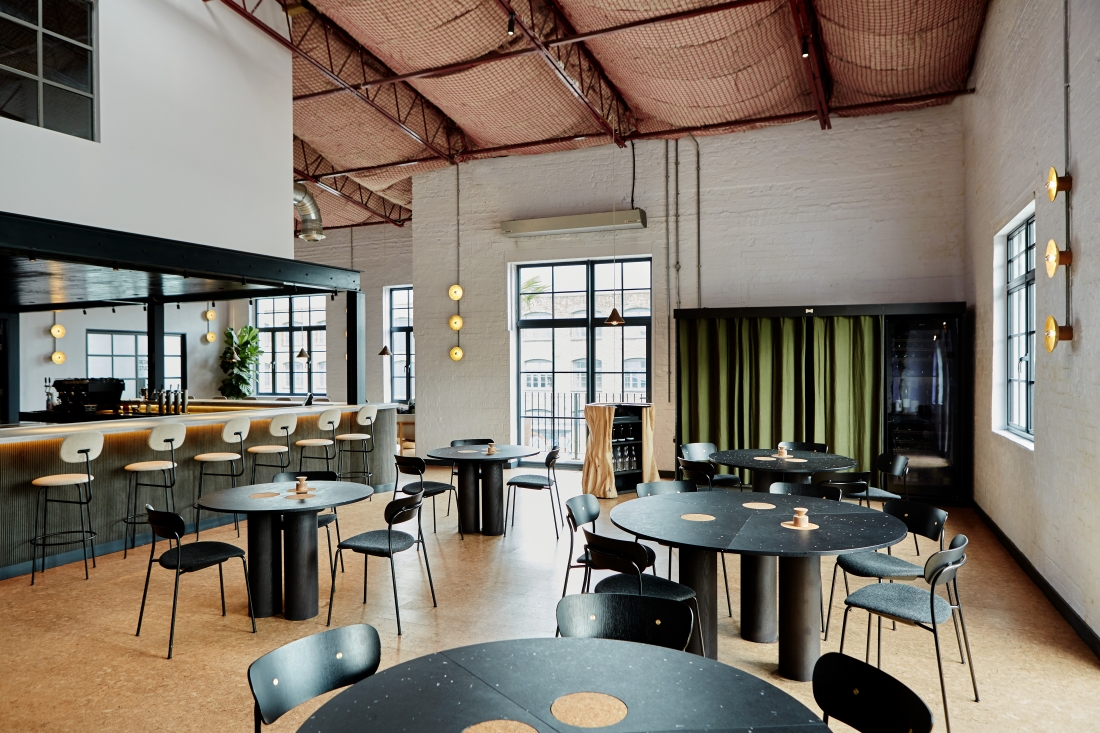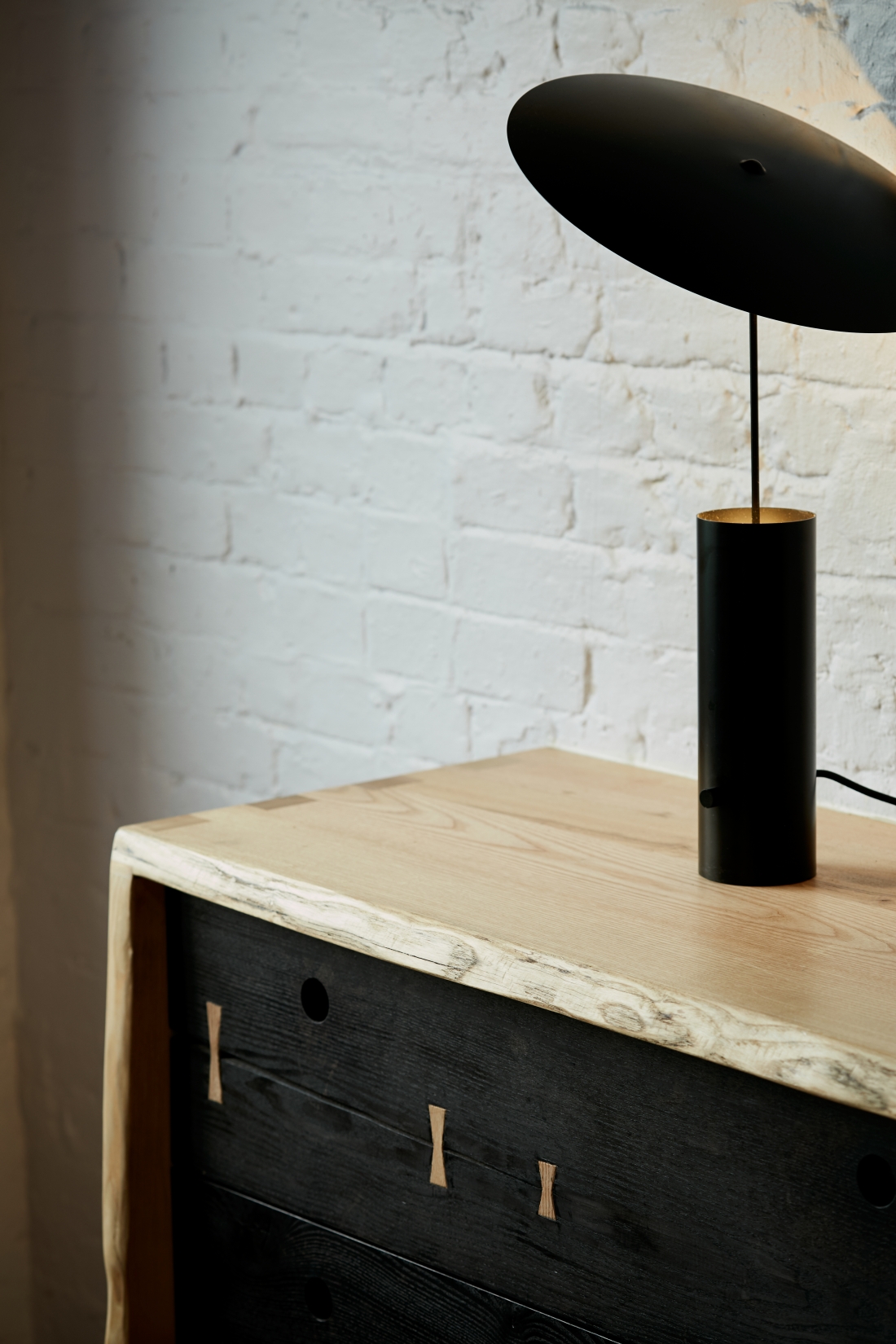 Silo has a continually changing set dinner menu with dishes such as grilled fantail squid, white kimchi, and Douglas fir; Jerusalem artichokes cooked on the fire and served with Cashel Blue and ruby kraut; and blue potatoes, barbecued sea kale, and caramelised whey. For something sweet, golden linseed ice-cream with fig leaf oil; and sea buckthorn, fresh cheese, grand fir, and fermented caramel.
On the weekend's Silo is also open for brunch, with a menu featuring dishes such as the Silo porridge, made with freshly rolled oats and home-made crème fraîche, topped with seasonal fruit; coddled eggs, kimchi, black pudding, and freshly baked sourdough, and to drink, a selection of fresh juices made using wonky fruit and veg.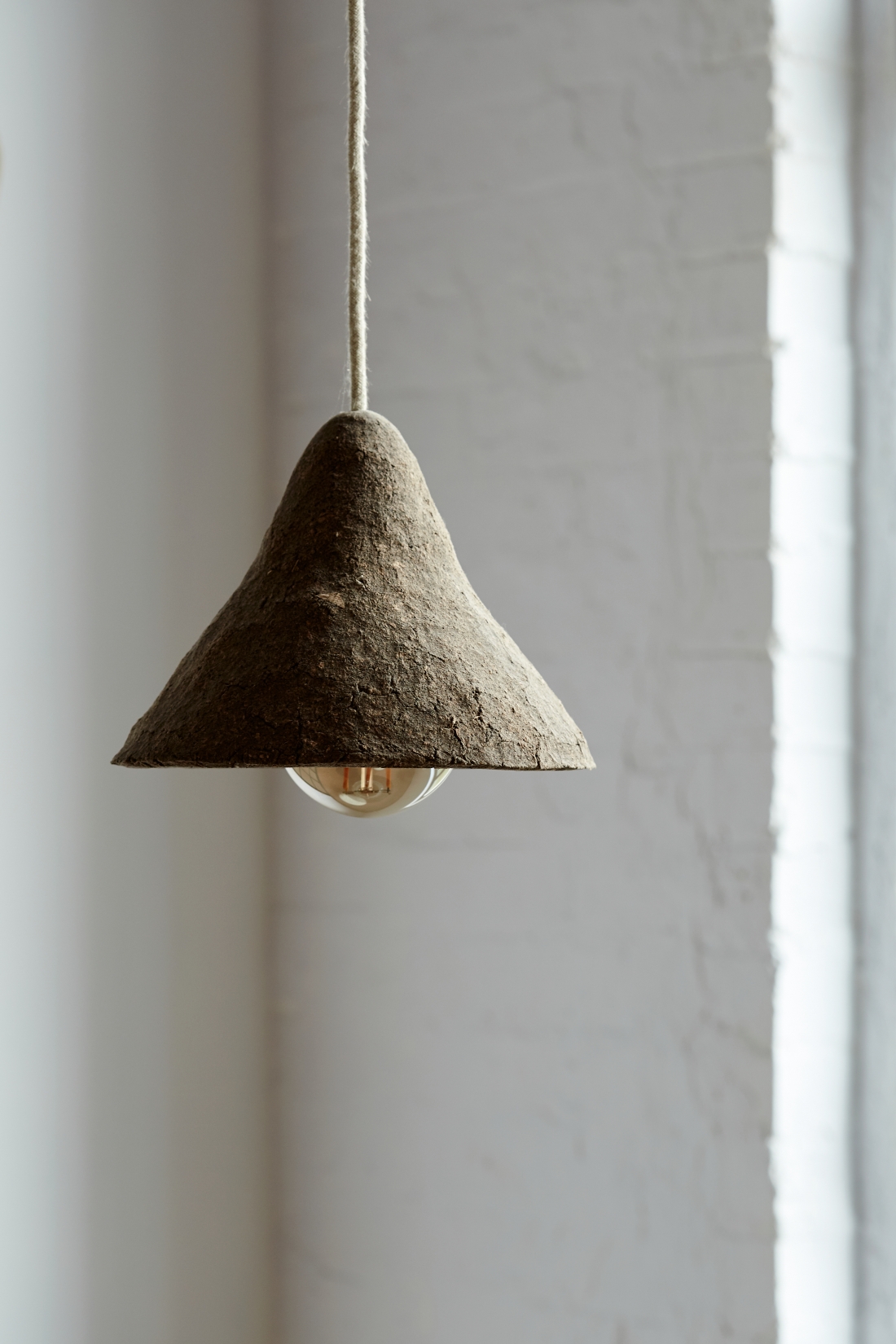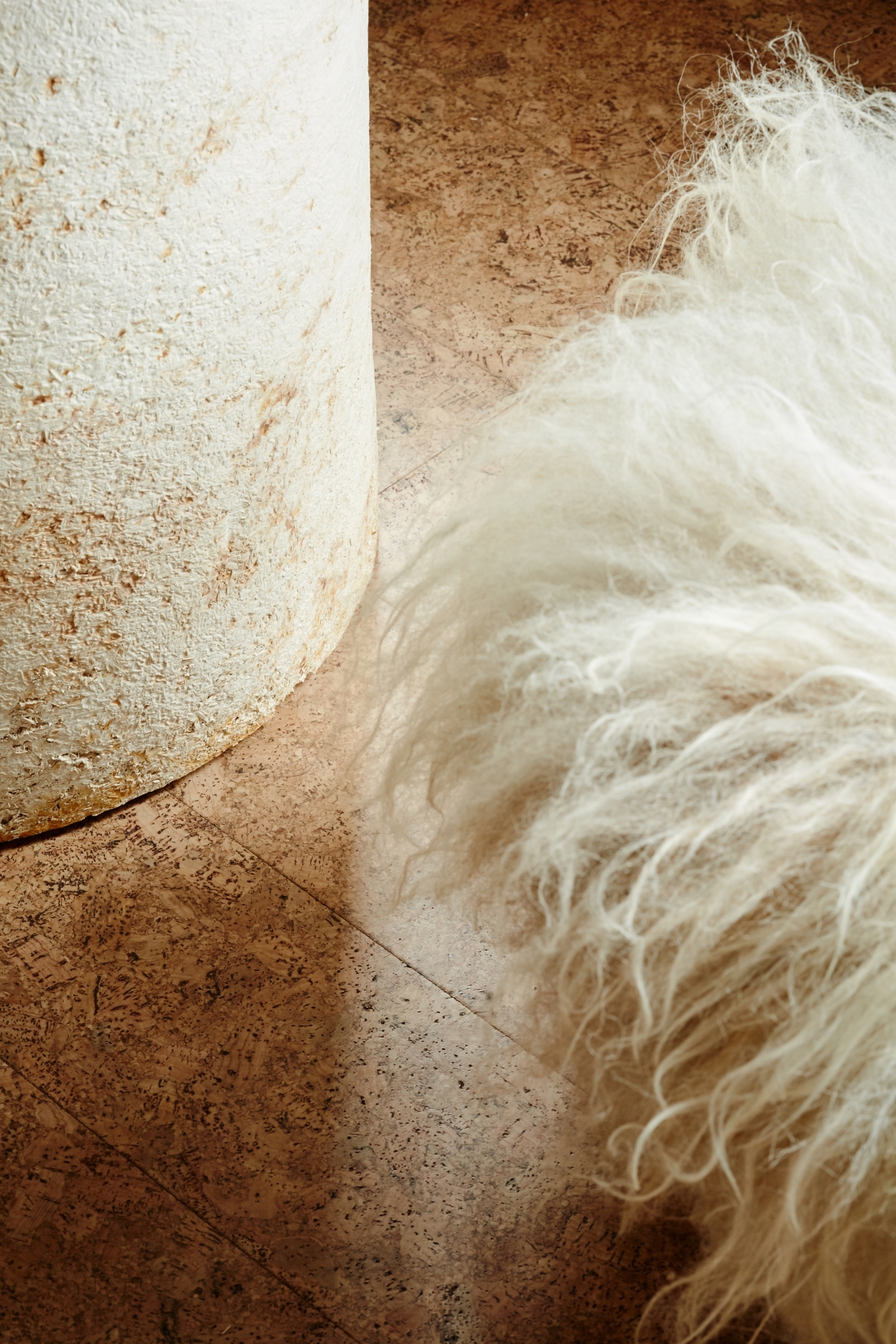 Housed on the upper floor of The White Building, Silo's interiors are designed by Nina+Co, an interior design studio renowned for its focus on sustainable design.
As guests climb the canalside cast-iron staircase beside the graffiti-covered bridge, they are invariably surprised by the contrast with the elegant, minimalist interior. The old cocoa roasting factory has large, steel-framed windows, exposed steel trusses, and netted sheep's wool roof insulation.
Working very closely with Douglas on the design, Nina says, 'a few pioneering and high-quality materials, an exceptionally crafted process, and a zero-waste mentality form the basis of the design. The aim is to close the loop, with an interior composed of waste or thoughtfully sourced, natural materials, that will either biodegrade or easily disassemble for repurposing in the future. Following Silo's post-industrial ethos, we opted to work with local craftspeople using age-old techniques and harnessing innovative materials and technologies'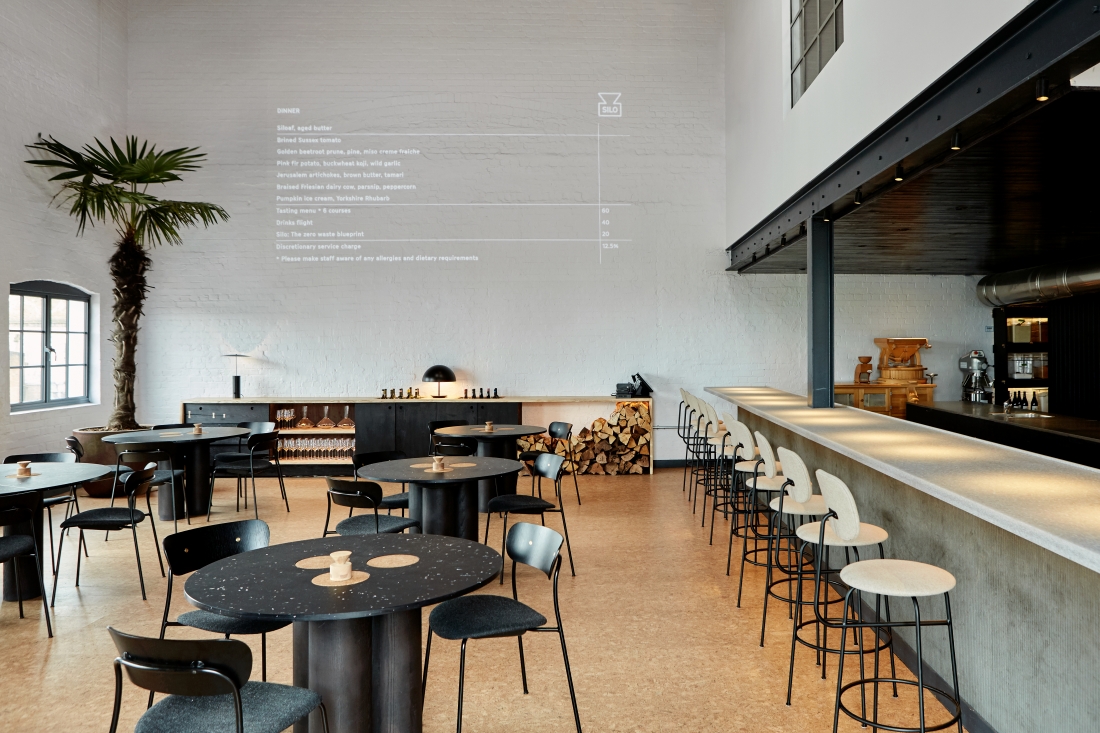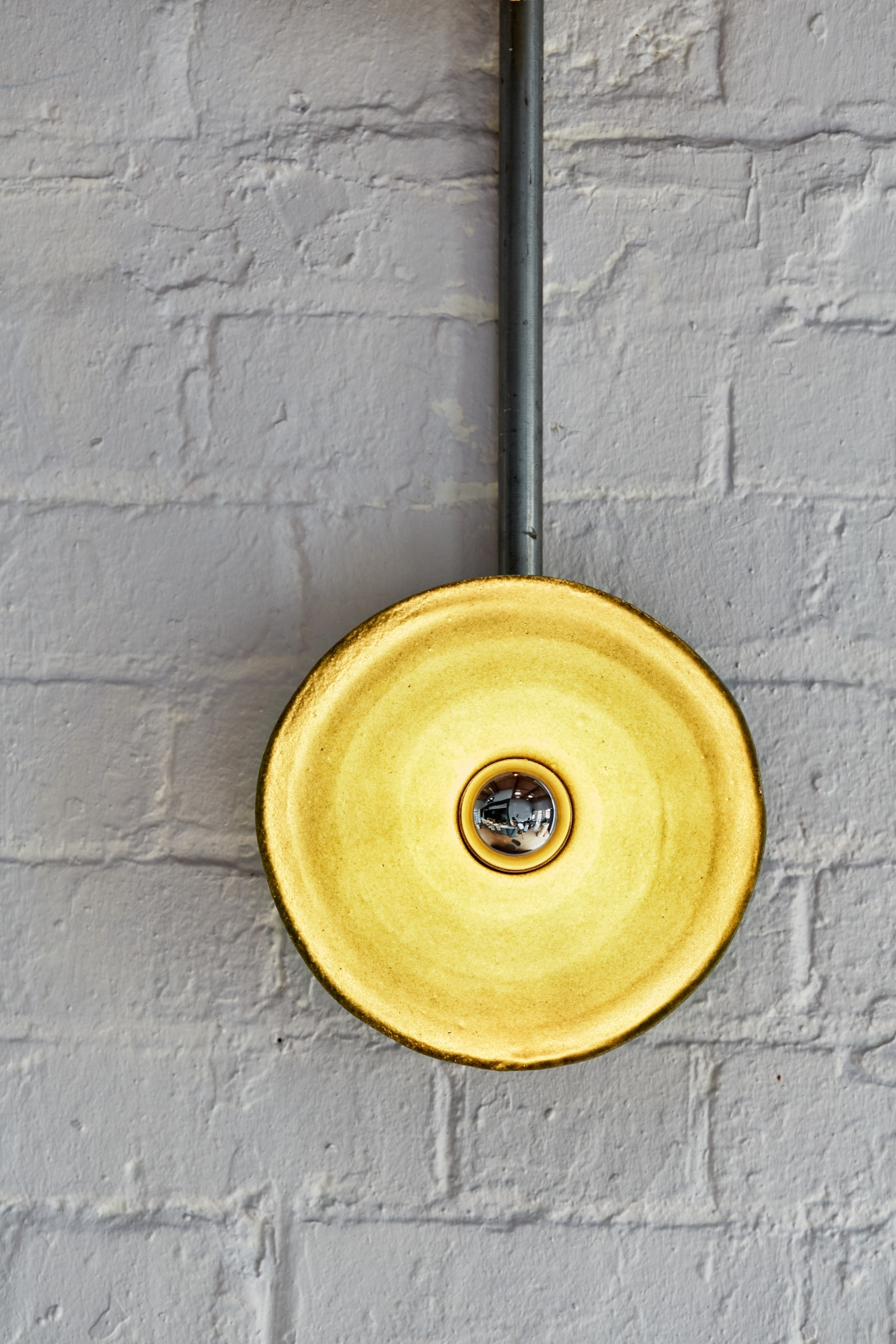 Guests are greeted at a host stand formed from offcuts and otherwise unusable timber parts that have been laminated together and then sculpted back into the likeness of a tree stump. Over this hangs a pendant light moulded from foraged seaweed.
The floor is a warm sea of pure, natural cork, harvested by hand from the cork oak's bark without harming the tree. A negative carbon product, the cork oak forests, capture five times more CO2 than is used in the flooring manufacture.
The long, eighteen-seater dining bar closely overlooks the kitchen worktop, forming an intimate connection between diner, chef, and the ingredients. The front of the bar is wrapped in recycled leather, and the dining counter is formed of polyester packaging waste, both of which have been hand-crafted into beautiful, elegant new surfaces. The 12-metre bartop, made by innovators Smile Plastics, can be recycled over and over again.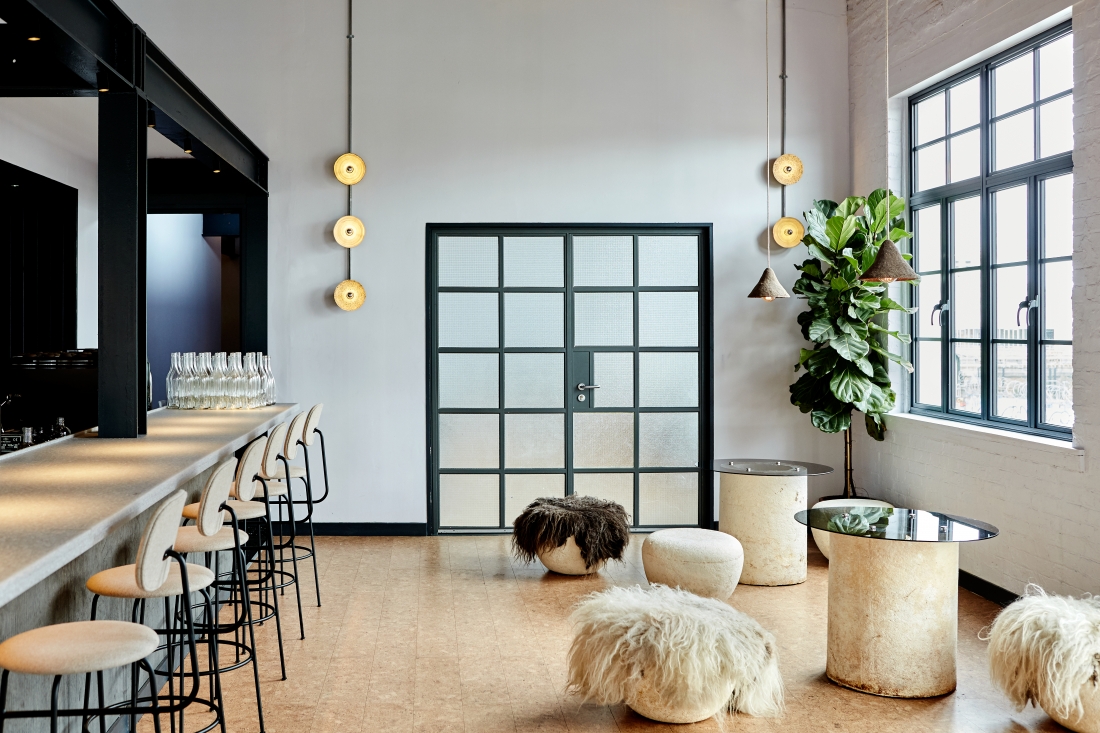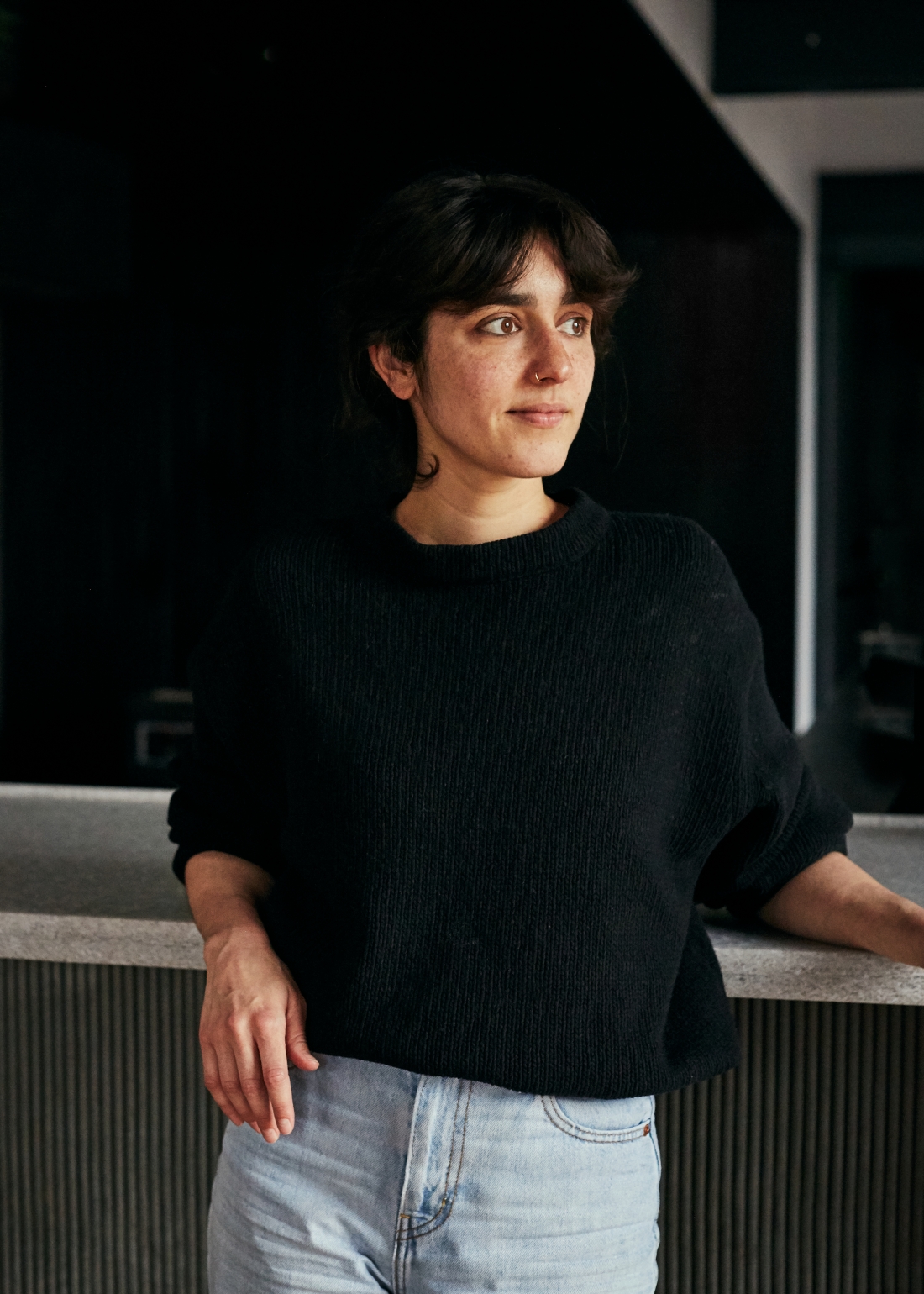 Distinctive, three-legged, round dining tables and a five-metre long waiter station were designed especially for Silo by Nina+Co and crafted locally by master craftsman Jan Hendzel in his Woolwich workshop sustainably sourced English ash.
Cocktail lounge furniture was grown to order for the project from mycelium (the main constituent of fungus), one of the most important organisms on our planet, super-sustainable construction material of the future. This magic mushroom is a renewable raw material with limitless availability and fully compostable at the end of its usefulness.
Thirty bespoke wall lights, specially designed for Silo by Nina+Co, were made by a local potter using crushed glass wine bottles from the restaurant. Through a unique, reduced-energy glass recycling process developed in-house by Douglas McMaster, the crushed glass is moulded and fired in a kiln to create stunning, textural objects. These can be crushed and recycled again and again.
Natural, biodegradable, woolen fabrics were chosen to upholster the seating, and linen for the wardrobe curtain; a super-crop grown with minimal water consumption, no pesticides, and every part of the plant is used.