Tactile Baltics: A focus on materials and innovation.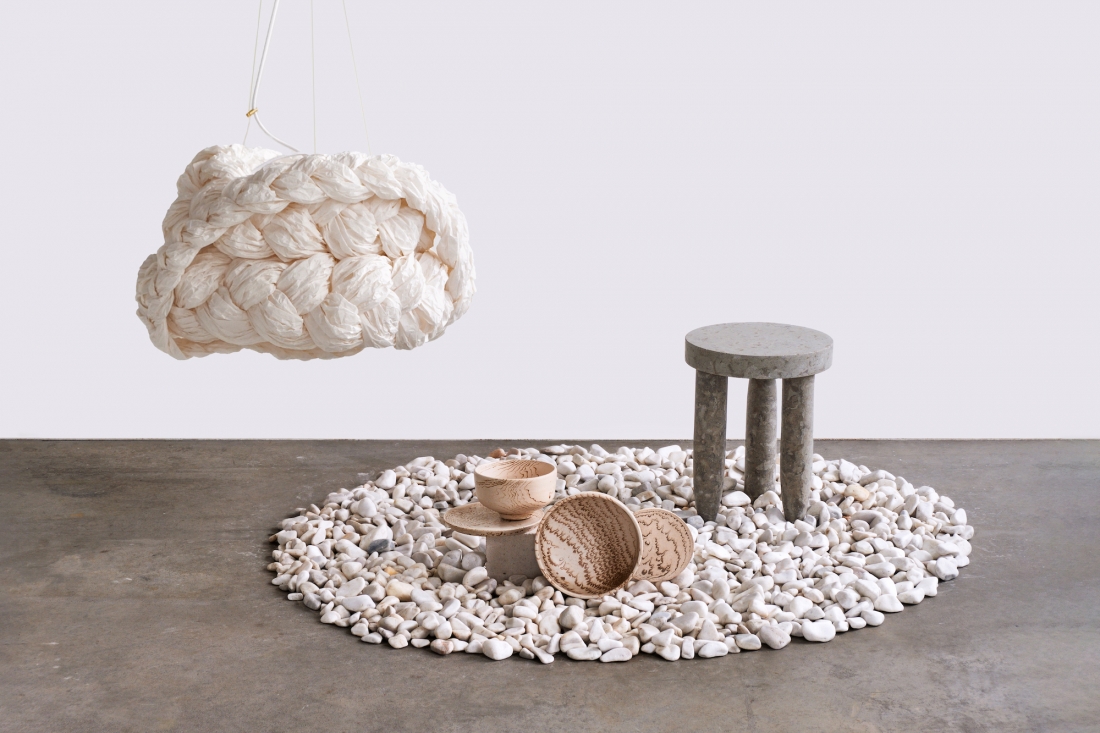 Historically, craftspeople and designers in Estonia, Latvia, and Lithuania, have enjoyed working with natural materials. With its roots in traditional craft, Baltic design is characteristically tactile.
The Tactile Baltics exhibition at London's Dray Walk Gallery, from 18 September–3 October 2021, will emphasise the importance of natural materials in design across the Baltic region.
Experimenting with various mediums and rethinking how we use materials, is a custom designers from Estonia, Latvia, and Lithuania have in common. At Tactile Baltics, visitors can expect to engage with uniquely imaginative Baltic design. Six of the show's exhibits, highlighted below, are examples of the innovative ways in which designers from the Baltic region are thinking creatively about important material issues, including: circular design, reusing industrial waste, combining materials in original forms, and transforming raw materials into covetable objects.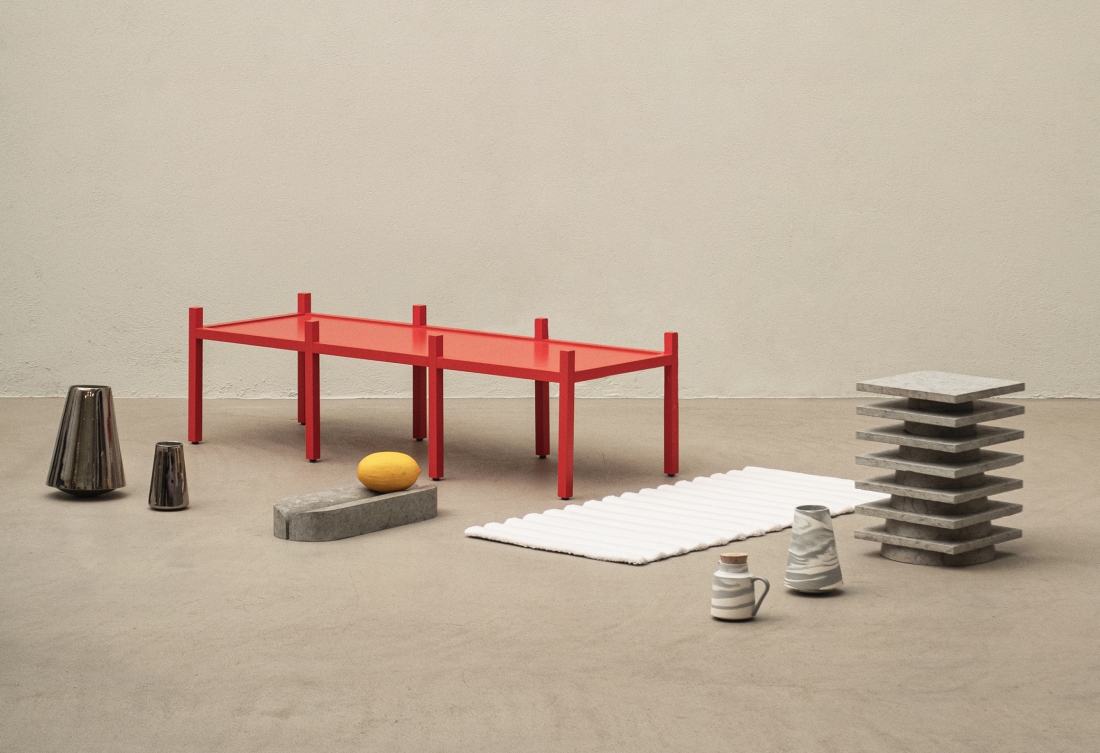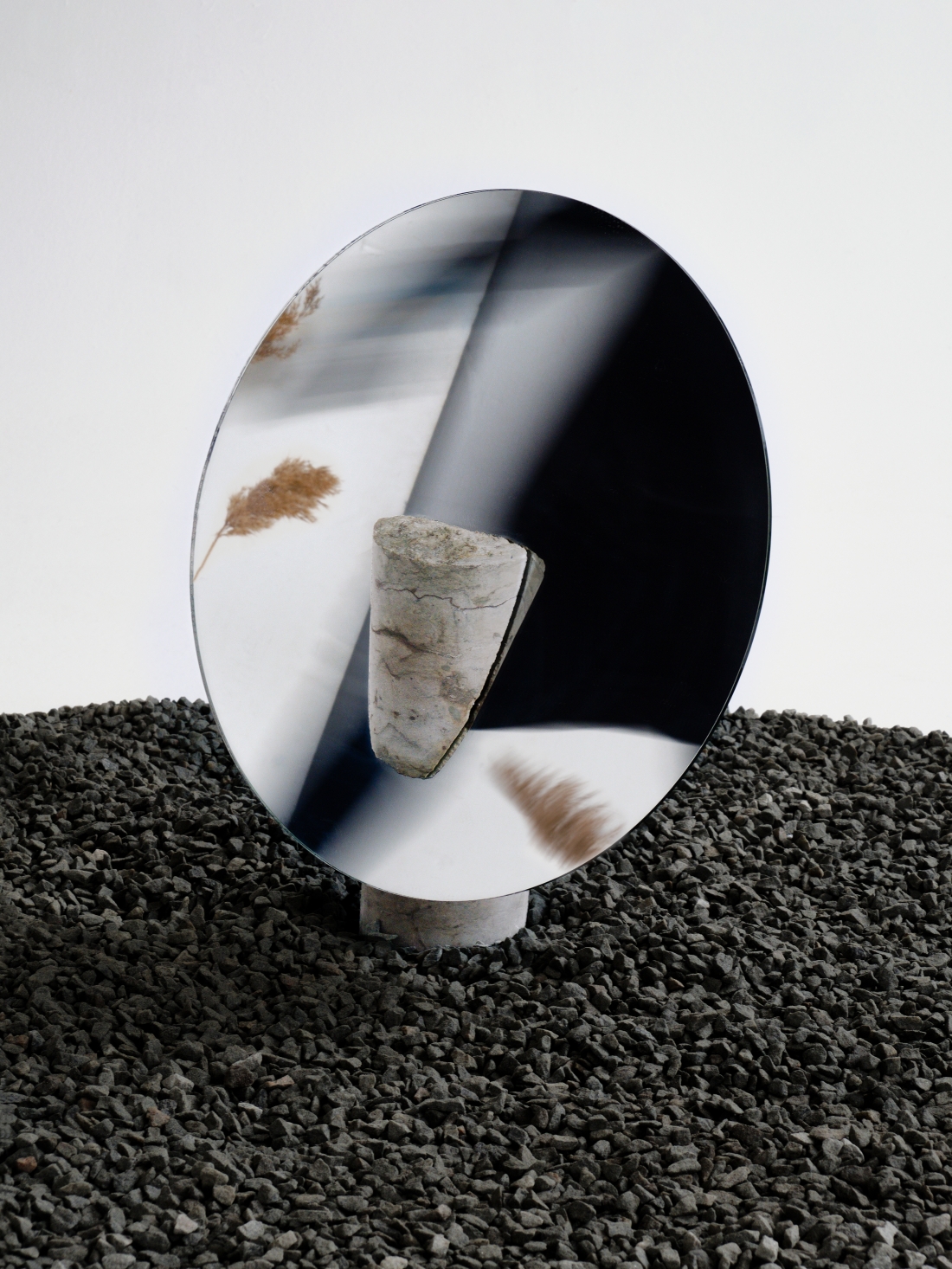 From Estonia - Estonian Academy of Arts: 'Dig Where You Stand'
'Dig Where You Stand' investigates Estonia's history of limestone production and processing. The project was devised and co-led by designer Nick Ross, at Estonian Academy of Arts. Students from the academy's Product Design Department were tasked with creating an exploratory collection of furniture and objects made from limestone. They were asked to consider the legacy of one of Estonia's largest dolomite quarries (Lasnamägi) and to contest the predominant use of limestone as a building and finishing material—for countertops, flooring, cladding, and facades. In 'Dig Where You Stand', the students attempted to reclaim limestone as a raw material.
Oliver Kanniste explored seating design through the aptly titled 'When the Shovel Hits the Stone'. By rummaging for stone and other discarded materials, Kanniste developed a typology of stone seat designs—while the designs might not necessarily resemble quintessential chairs, they can be used to sit on. Kanniste's stool 'Sample 4' is made using Lasnamägi limestone (from factory waste). Siim Simmermann designed 'Alus', a simple, organic table object made using the geological origins of limestone formations. An irregular object, 'Alus' is characteristic of karst topography, where limestone has been eroded by dissolution, producing ridges and fractures. It is made with hand-carved and polished Lasnamägi limestone.
Hanna-Liisa Haukka designed the 'Reflect' mirror. By conflating an everyday object, Haukka obstructed the individual's own reflection, and the mirror instead focuses attention on our surroundings. In particular, on water as a (scarce) resource and the way in which metabolic materials, including limestone, need water to be part of the ecological landscape. 'Reflect' is made using a drill core sample of Lasnamägi limestone and hand-sanded mirror glass.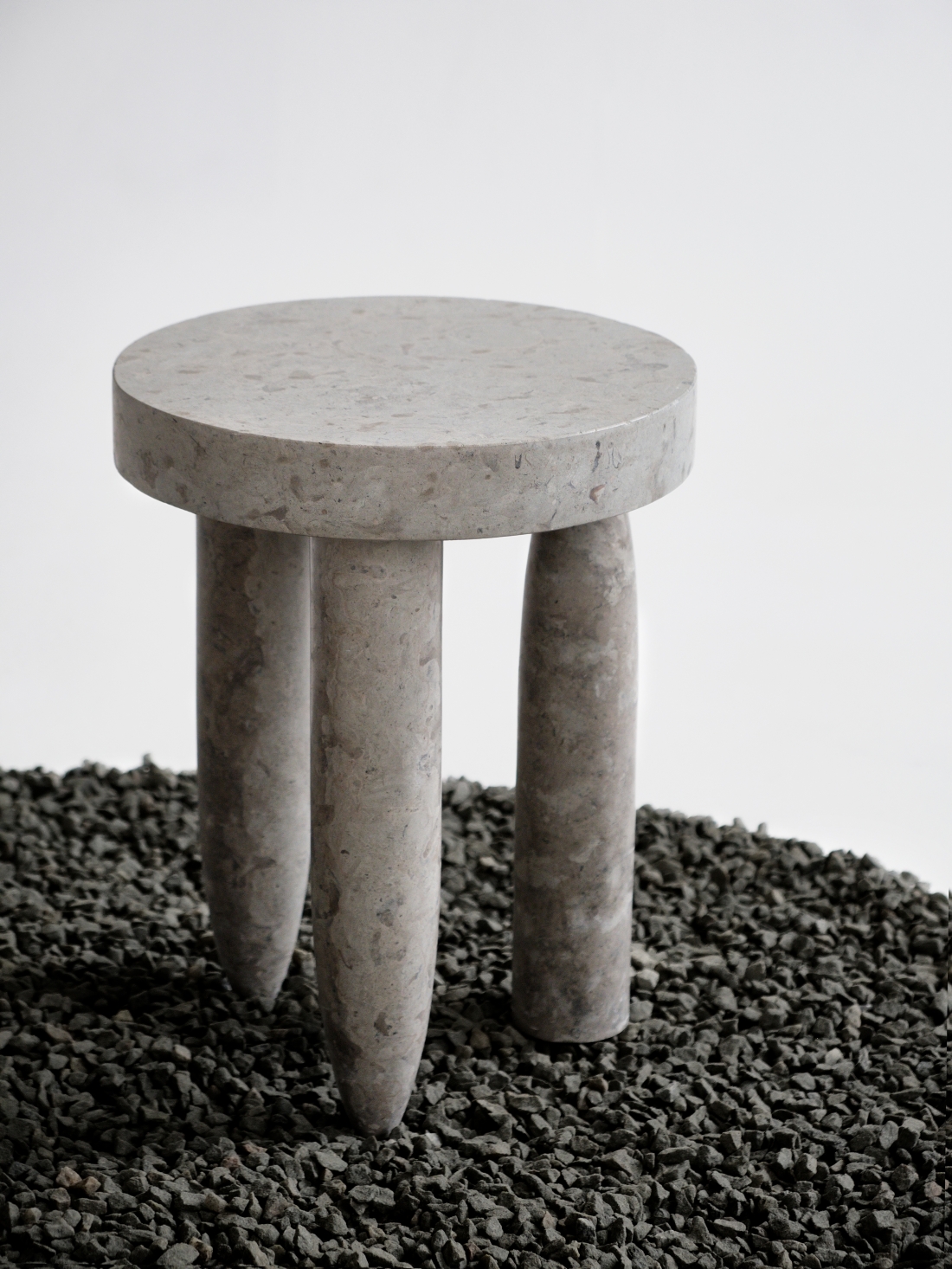 Studio Aine: Ashtrade
Annika Kaldoja, Kärt Ojavee, and Marie Vinter, are the team behind Studio Aine, a materials design and development research studio. With an emphasis on eco-design, the studio's explores environmentally sensitive materials, materials awareness, and cross-domain networking. Studio Aine's work re-evaluates local industrial waste: it investigates the possible material qualities of such waste as well as its implications and role on the prospect of societal and technological challenges, both now and in the future.
'Ashtrade' is a new research project by Studio Aine in which oil shale ash has been sourced from the residue of oil shale mining in north-east Estonia. The mining and processing of oil shale has resulted in the creation of large artificial ash mountains. Without protection, oil shale ash in the air is considered hazardous. For 'Ashtrade', Studio Aine has researched how oil shale ash is being repurposed, with carbon-neutral technologies able to extract minerals and metals from the ash. During Tactile Baltics, the studio will present: ash in its original state, protected between sheets of glass; a pile of safely treated, handmade oil shale ash beads; a necklace made from these beads; and a large format photograph showing the scale of the ash waste/landscape.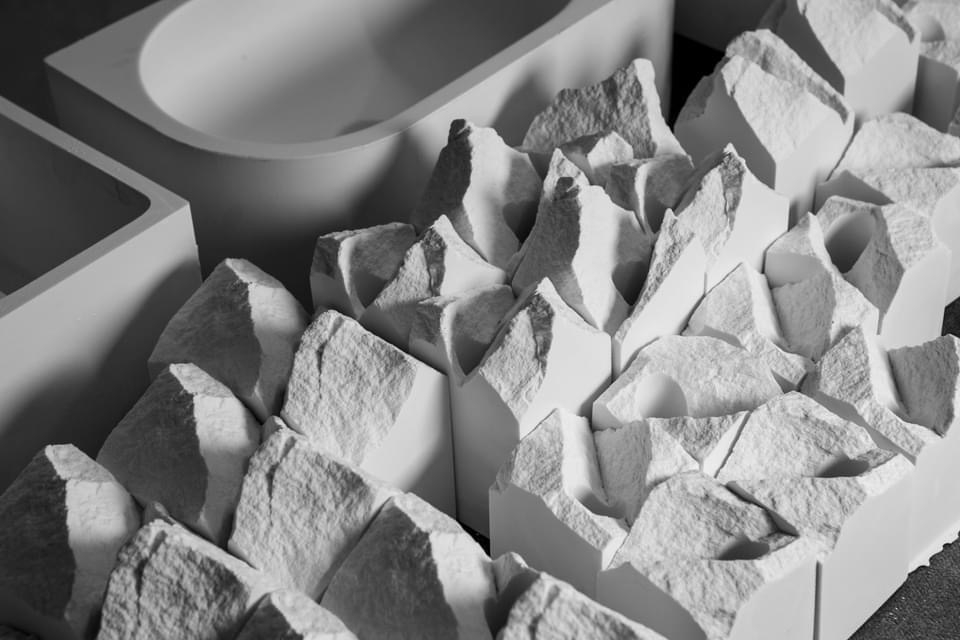 From Latvia - DETALES: Ieva Kalēja
DETALES is a design studio whose philosophy is based on the premise that we choose the things that surround us and the stories they tell. Established by Ieva Kalēja and Annija Mežgaile, DETALES is a playground for design tales, where emerging designers experiment with materials in the pursuit of a circular economy.
'Snow Tale', the first collection for DETALES, was inspired by snow-covered mountaintops. Designed by Ieva Kalēja, it includes a range of sculptural Ikebana vases, diffusors, candleholders, and a serving platter. The minimalist holders are crafted from leftover SILKSTONE material, used in the making of bathtubs. This innovative material is from Latvian bath manufacturer PAA.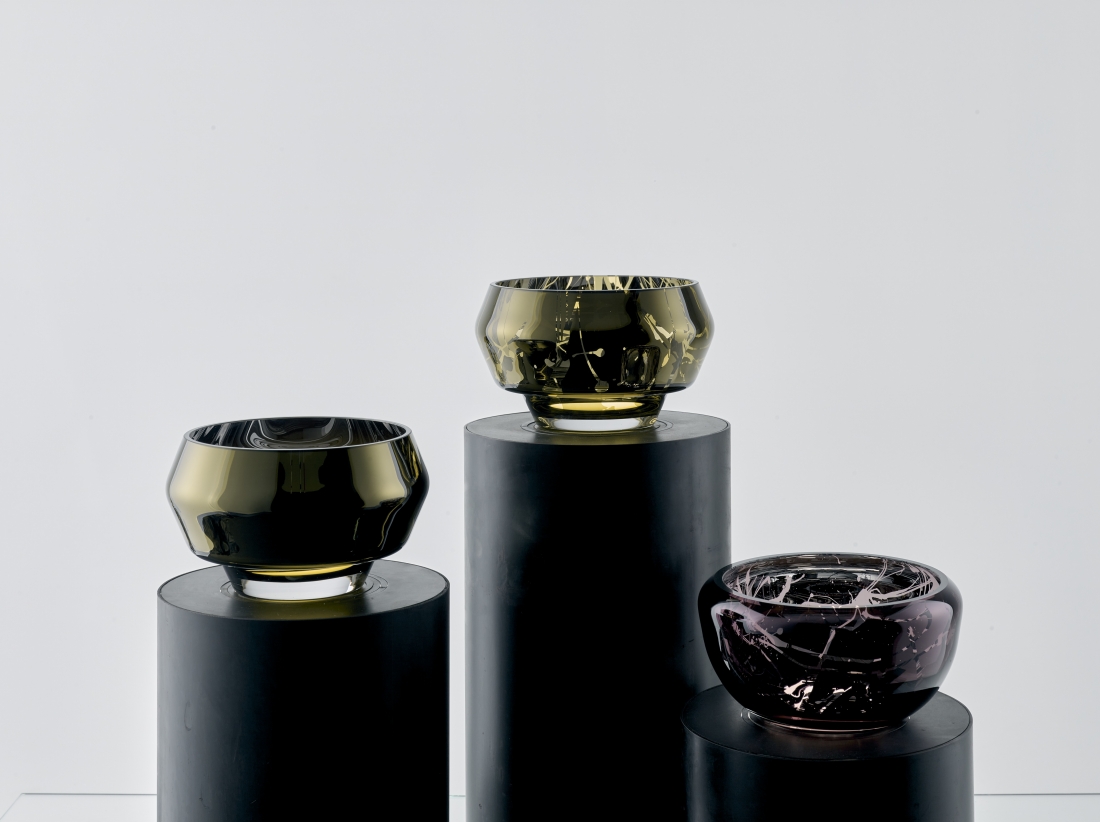 an&angel: Artis Nimanis
Founded by designer Artis Nimanis in 2004, an&angel is a brand of innovative, functional tableware, designed in Latvia and sold globally. The brand employs state-of-the-art methods in the creation of its high-quality bowls and vases, which are made with a combination of glass and metal.
The colourful cubism-inspired 'Cube Deco' collection was created using an&angel's unique production method. In order to combine metal and glass, the materials are treated in a high-vacuum environment: the metal (stainless steel or titanium) is transformed into a fog that settles naturally on the surface of the glass, and is then 'burned in' using plasma rays. A combination of geometrical forms with a mirror-like coating, acts to showcase the depth of colour in the glass, and creates a compelling play with light.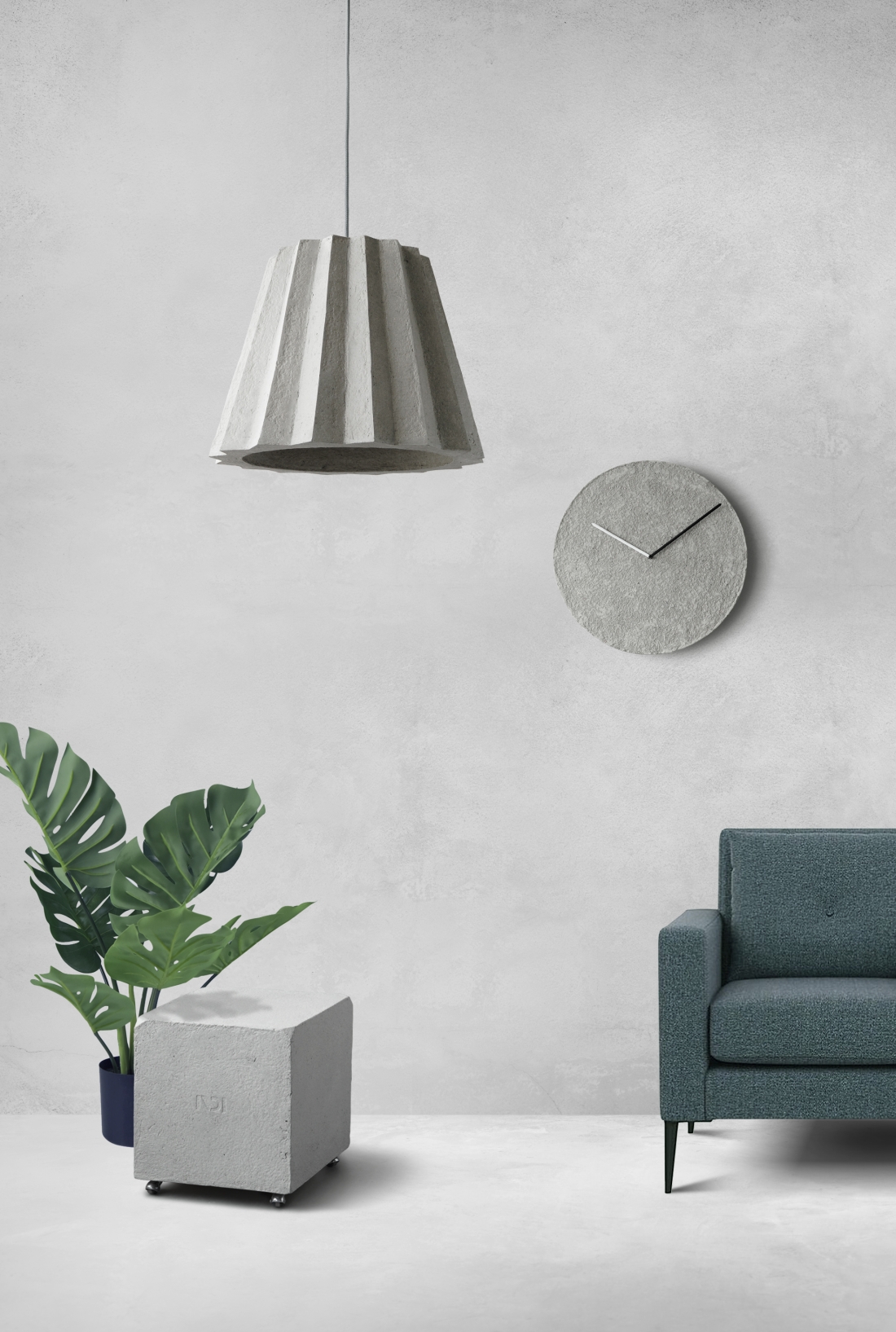 From Lithuania - INDI: Simonas Tarvydas
Lithuanian design brand INDI was founded by designer Simonas Tarvydas. With its unique use of recycled paper technology (known as REPAPER), INDI has created lightweight objects and lamps with an illusionary heavy, concrete-like appearance. The environmentally-friendly products can be recycled and reused, making INDI the first circular design brand in Lithuanian.
Designed by Simonas Tarvydas, the large 'Plise' lamp is a contemporary interpretation of a classic shade—its form was inspired by the rhythms found in 1970s fashion trends. Weighing just four kilograms, the paper-made 'Plise' has a deceptively concrete-like form.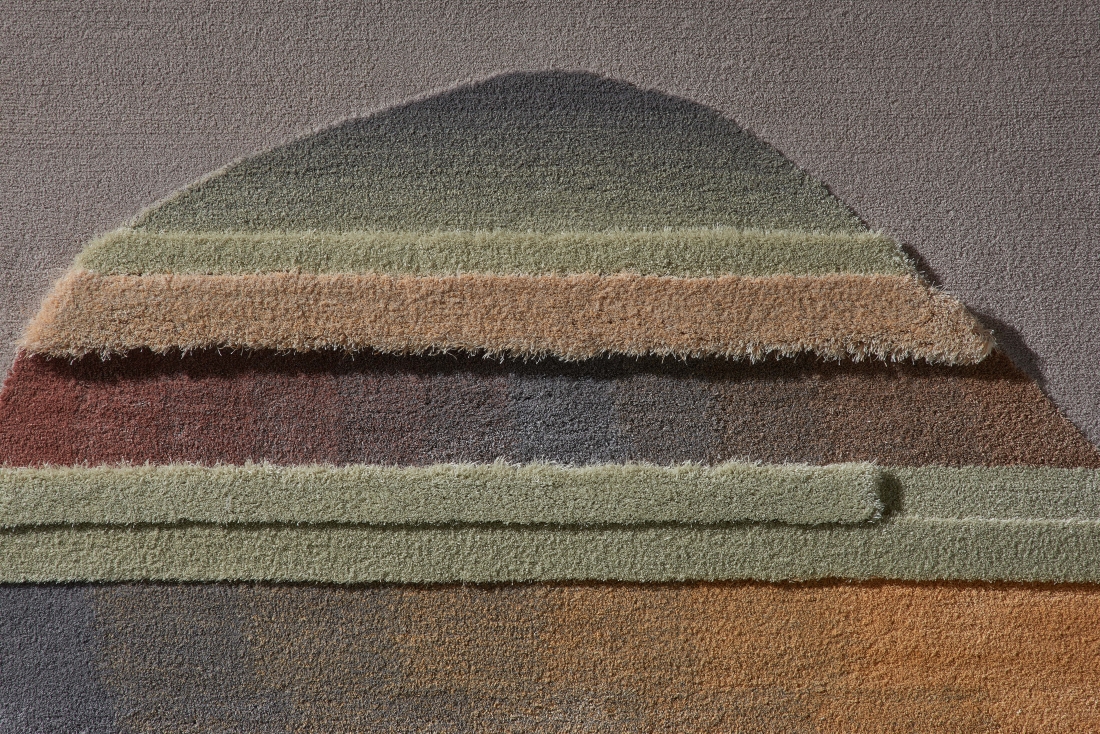 Agnė Kučerenkaitė: 'Ignorance is Bliss' 'Lutetia' and 'Juno' rugs
Designer Agnė Kučerenkaitė transforms raw materials into valuable products and systems, by exploring the interconnection between design, society, industry, and the environment. Motivated by historical and sociocultural contexts, Kučerenkaitė's approach to design is research-driven, experimental, and hands-on.
'Ignorance is Bliss' is an ongoing, sustainable research-based design project created by Agnė Kučerenkaitė. Through the repurposing of industrial waste, food waste, and secondary materials, 'Ignorance is Bliss' generates higher value interior and exterior products.
The 'Lutetia' and 'Juno' rugs are part of the 'Ignorance is Bliss' series. Made from linen, the rugs are coloured using upcycled textile dyes. These dyes originate from botanical and metal waste and by-products, such as the leftovers of organically grown plants. Agnė Kučerenkaitė partners with Jorus, a mid-sized farm in Lithuania, and the Lithuanian manufacturer Forest Energija, using their by-products to make textile dyes. 'Lutetia' and 'Juno' are hand-dyed with nine natural colours and hand-tufted by skilled artisans.
Tactile Baltic Design Exhibition, 18 September - 3 October 2021, London Design Festival