The Upper House, Hong Kong: Art Deco design for an inspirational dining experience.
In 2001, the Upper House opened in Hong Kong, quickly earning an international reputation as a luxury hotel and for its design created by the Hong-Kong based architect André Fu.
Now a decade later, the relationship has evolved to a new level, with the designer returning to this unique property for the launch of Salisterra, a multi-layered dining concept.
The new restaurant clearly showcases how André has developed his design language with a bold visual narrative to create an uplifting and dynamic harbourfront experience for his hometown.
Formed by the Latin words 'salis' for salt and 'terra' for earth, Salisterra will capture the richness of the Mediterranean with the warmth and familiarity of a neighbourhood bistro.
Helmed by London-based, Michelin Starred Chef, Jun Tanaka, the menu takes an expressive and seasonal approach with fresh, vibrant flavours that draw inspiration from the coastal cuisines of France and Italy. Classically trained, Jun's dishes are founded on the principles of French cuisine with a focus on simple, sophisticated and sustainable creations.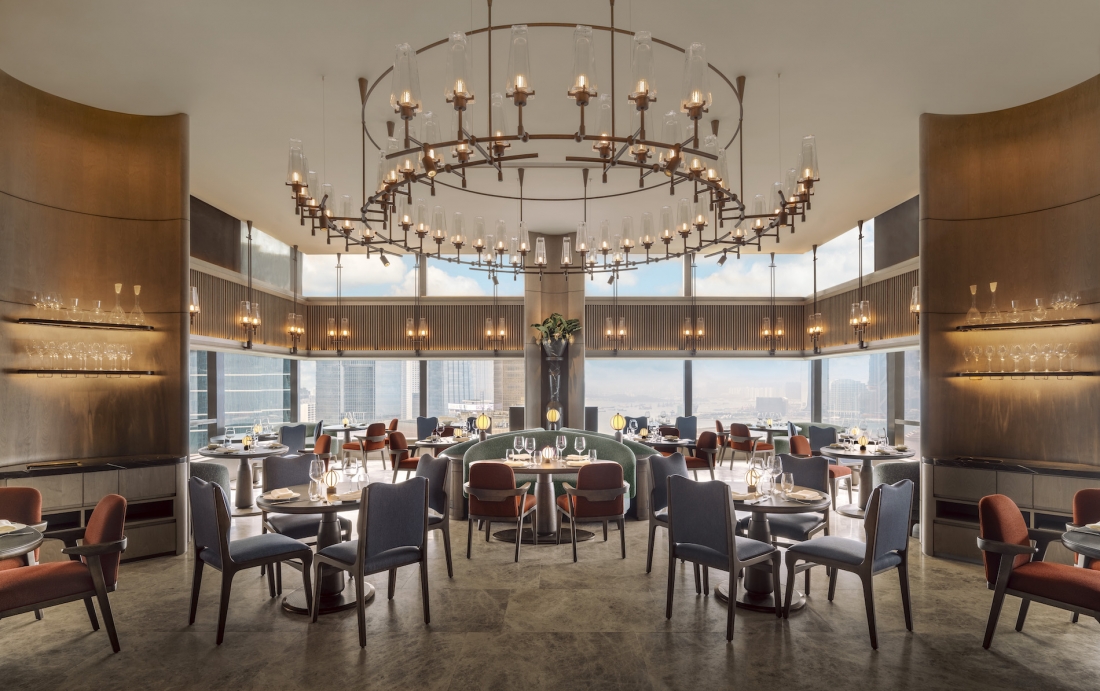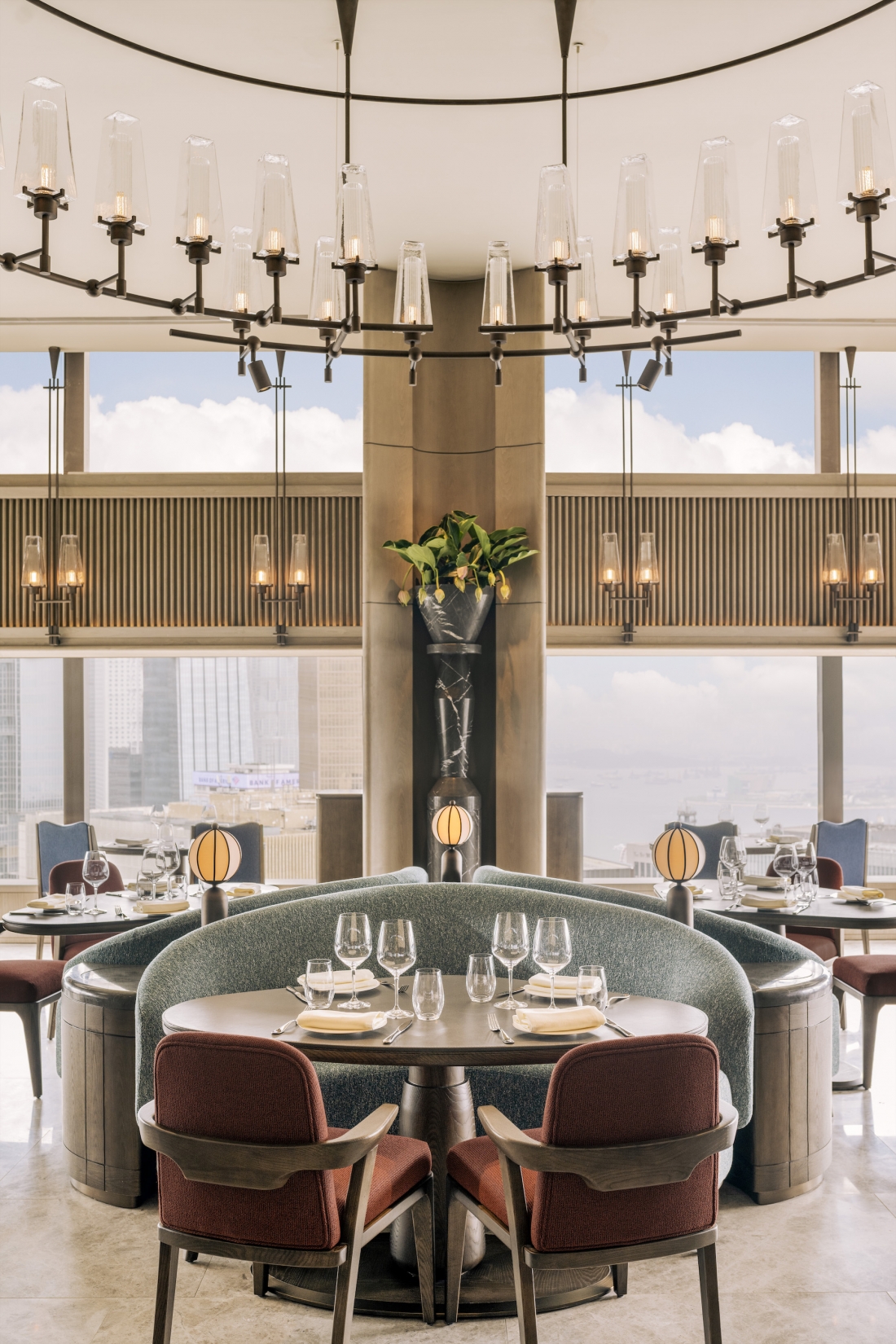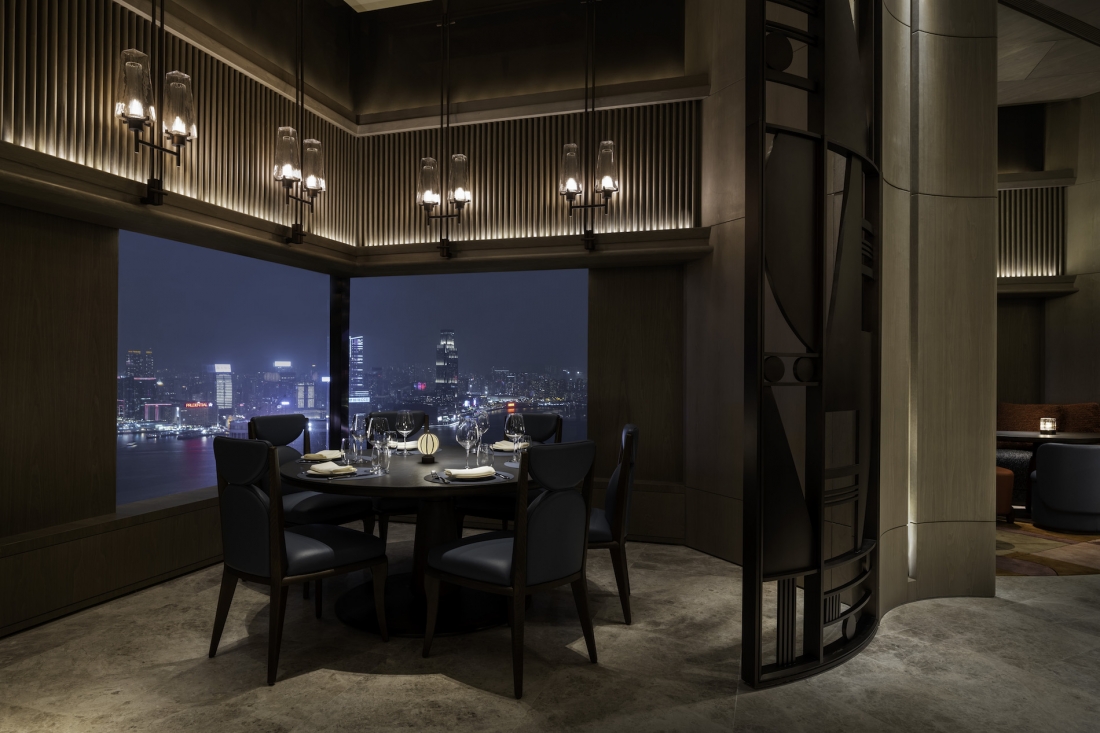 André Fu has taken the rich colours of the Mediterranean as his inspiration for Salisterra, complementing Jun Tanaka's cuisine, introducing vivid colours to the design. Earthy tones of terracotta orange, burgundy, mineral blue, dusty turquoise and golden caramel create five distinct spaces.
The whole dining experience has been devised into multiple wine and dine sections, each conceived with an integrated service style that allows greater interaction with guests. Fu has also ventured to infuse a new language of fluidity into the designs of Salisterra with an emphasis on organic forms and sculptural silhouettes.
"The journey of Salisterra is rooted in the notion of modern authenticity. It is a curation of experiences that is highly layered, with moments of bold revolution to transport our guests into a world of warm Mediterranean tones, intriguing textures and surprising geometries." says Fu.
Speaking about Fu's work, Dean Winter, Managing Director of Swire Hotels says: "It's great that we are able to continue working together, to go through such a landmark redesign for the level 49 space. This is the biggest thing we've done at The Upper House since the opening in 2009."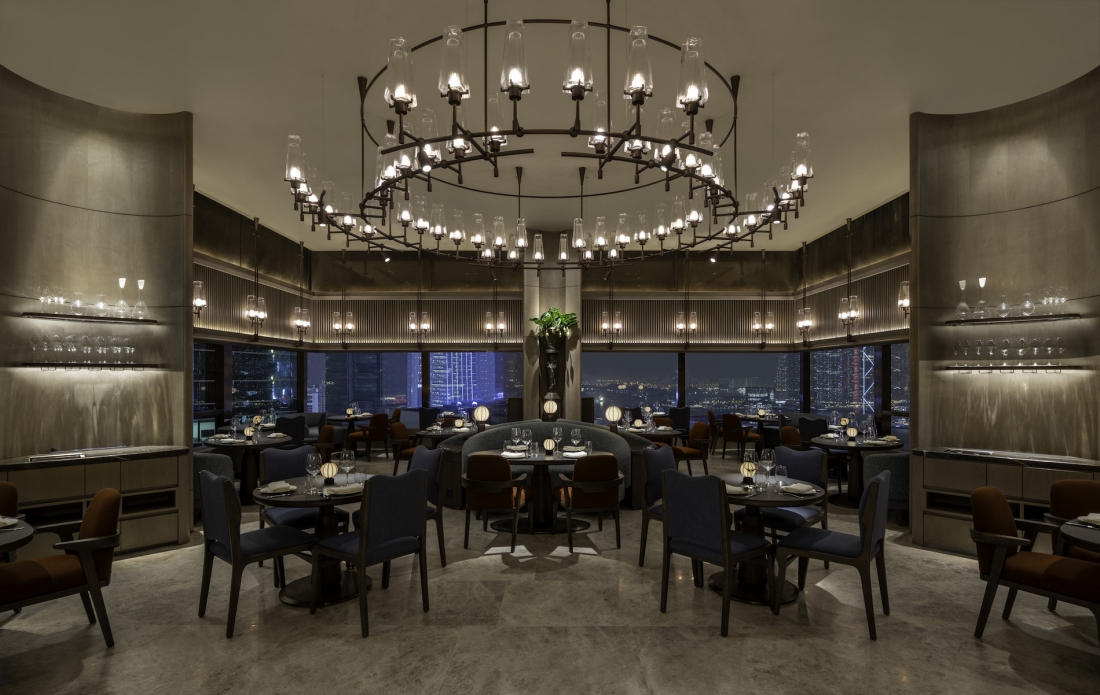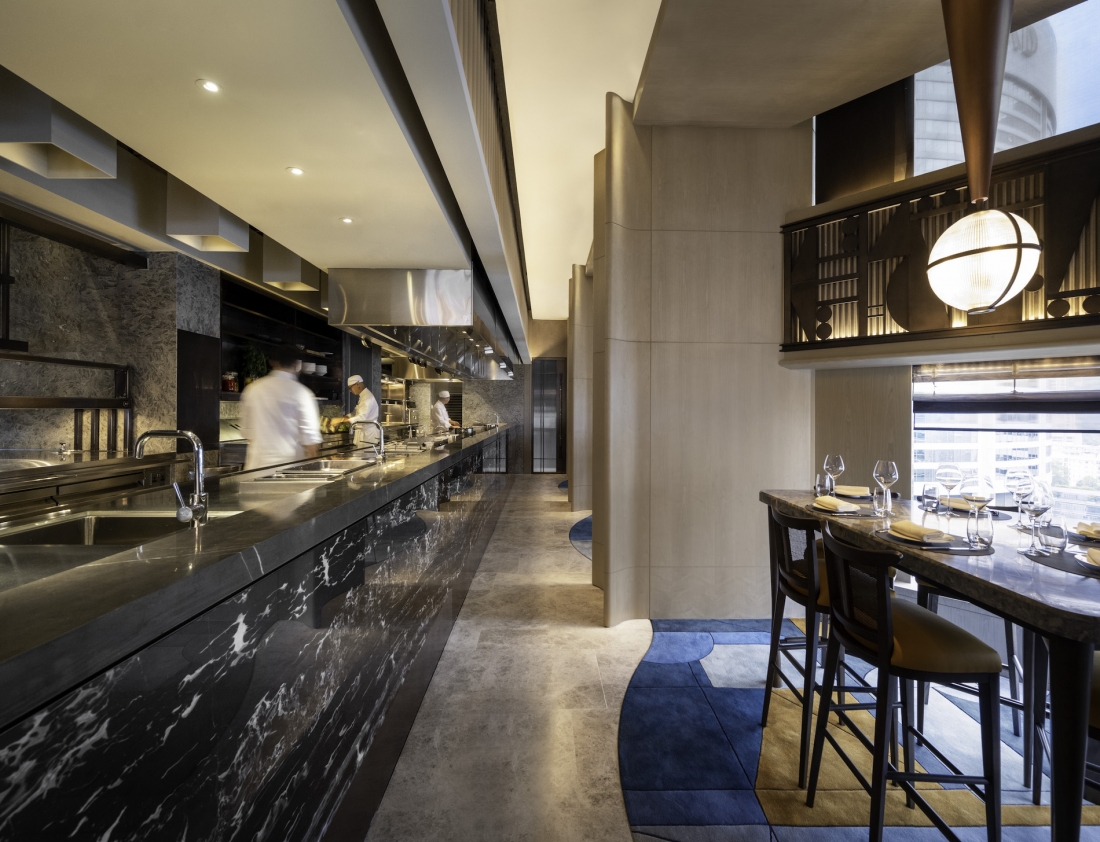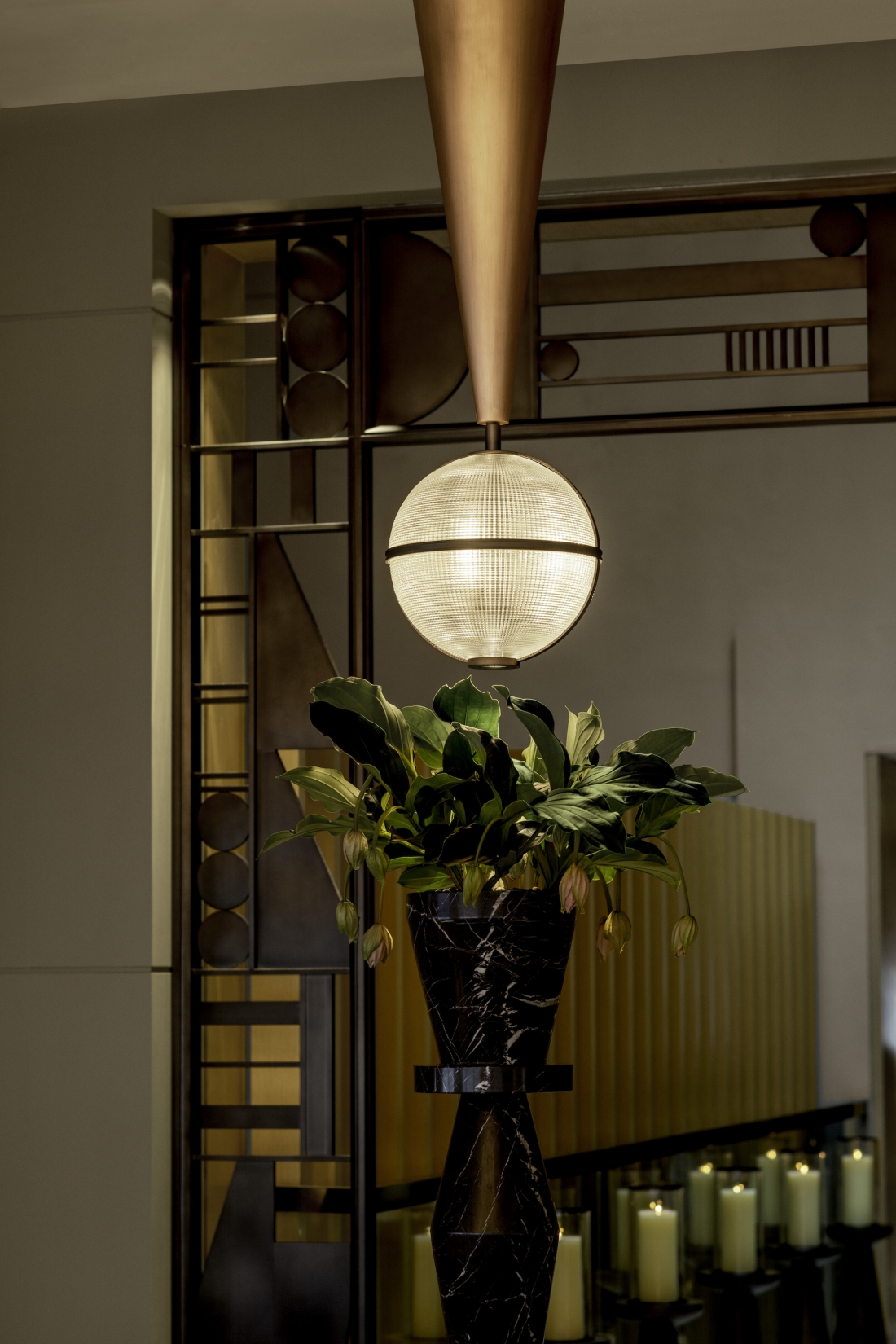 Upon entering from the iconic Sky Bridge, guests are greeted by a full-height bronze gate with bold forms that juxtapose Hong Kong's urban skyline with mid-century silhouettes. Incorporating a sense of geometry, the main dining room features a bespoke chandelier that measures 5m in diameter and is made up of over 80 glowing ripple glass lanterns reminiscent of the harbour below.
Adjoining the main social dining room, guests will discover three semi-private dining booths, each marked by an elevated counter table in Italian Azul Montelli marble and a cut-glass globe pendant hung by a vast upside down copper cone base. These tables foster a visual connection with the open kitchen as guests are presented with a specially created sharing menu.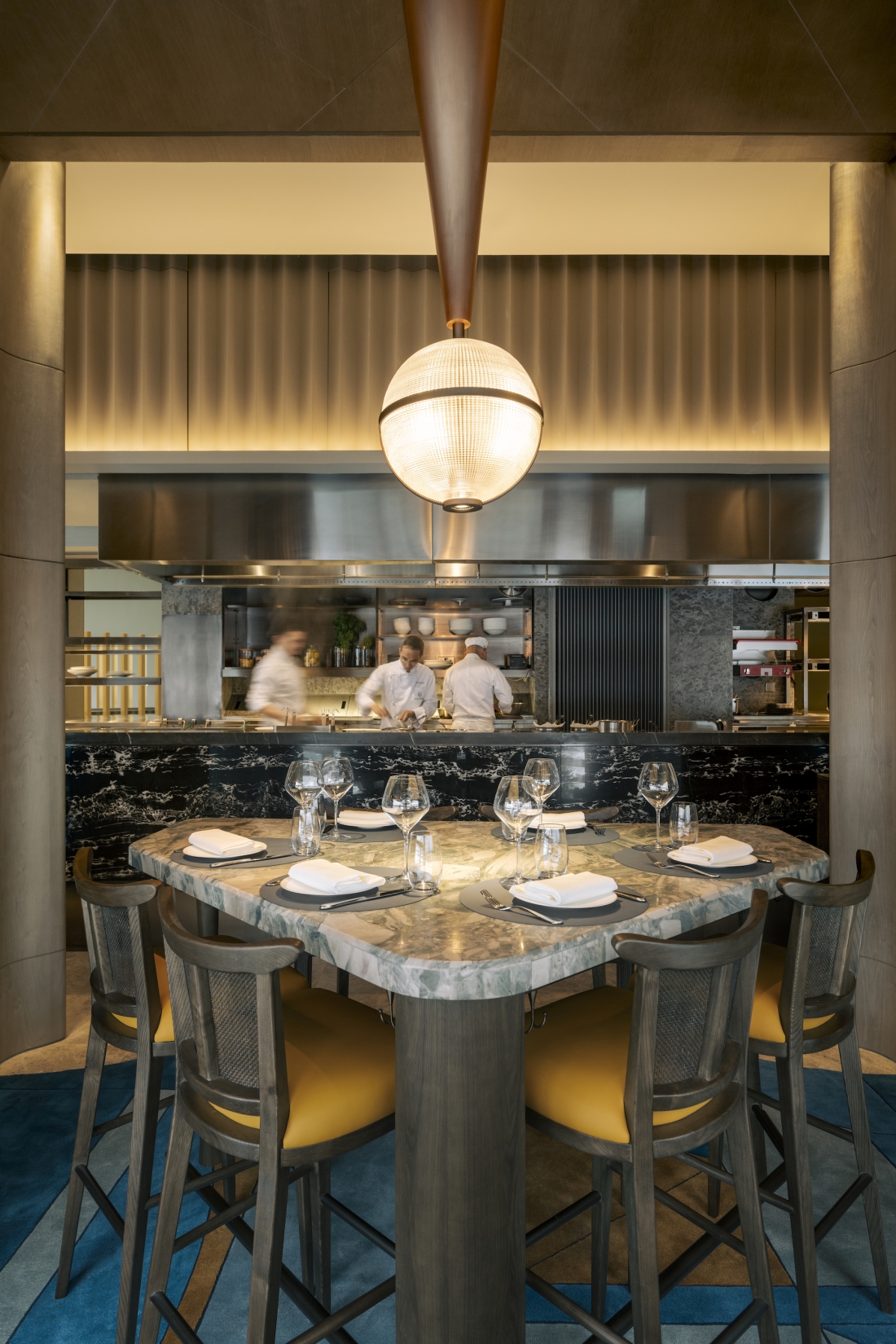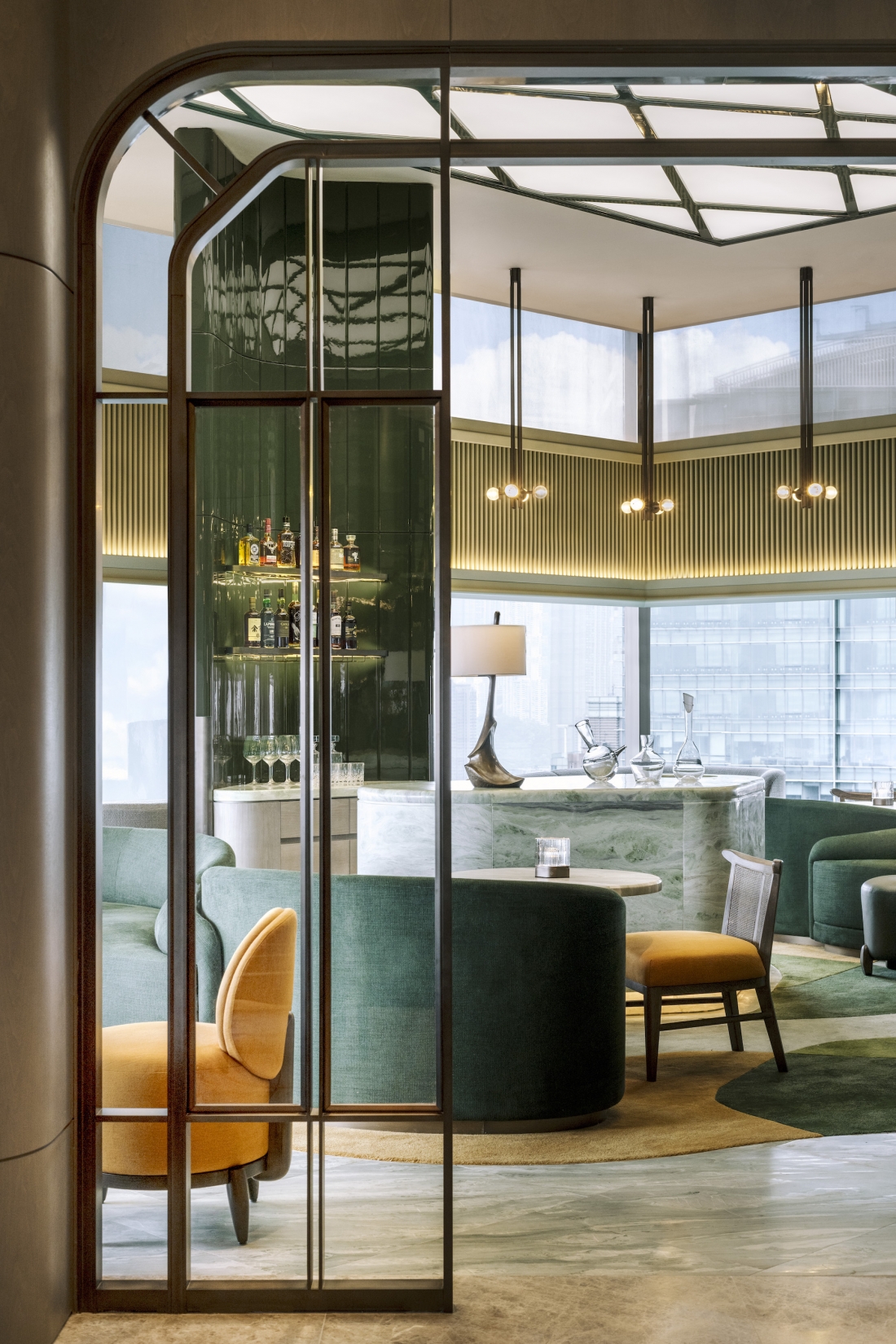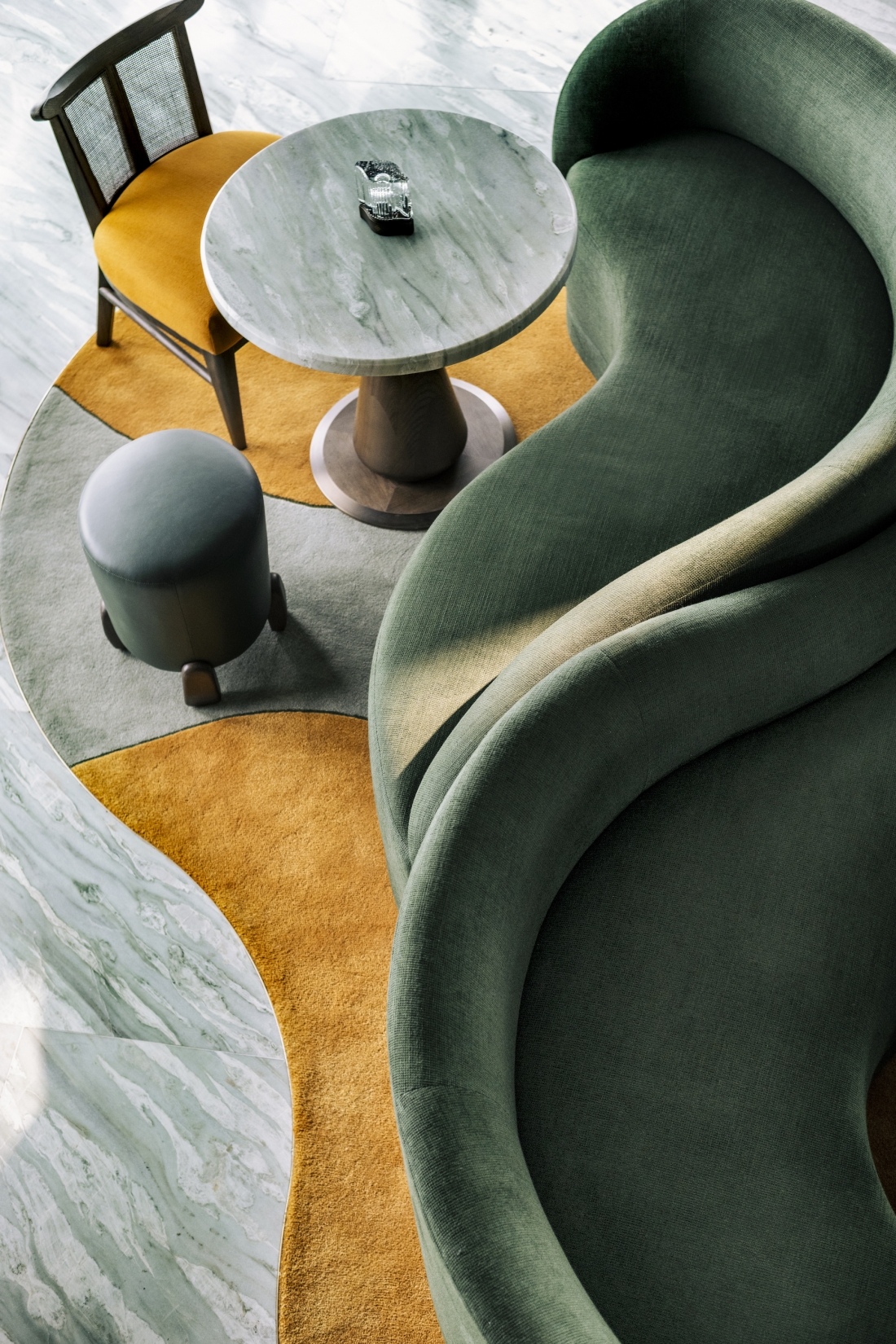 The private dining room at the rear is designed to present a chef's table experience. Conveying a sense of warmth at this gastronomic destination, the Calacatta marble cooking counter is adorned with rich handmade ceramic tiles in bronze patina glaze.
The backdrop of a wall replete with copper pans creates a sense of theatre between culinary artists and diners.
At the opposite side of the dining room is the long bar in rustic Brazilian burgundy marble, with an adjoining bar booth that both feature unique pendants composed of a vine of glowing half-spheres.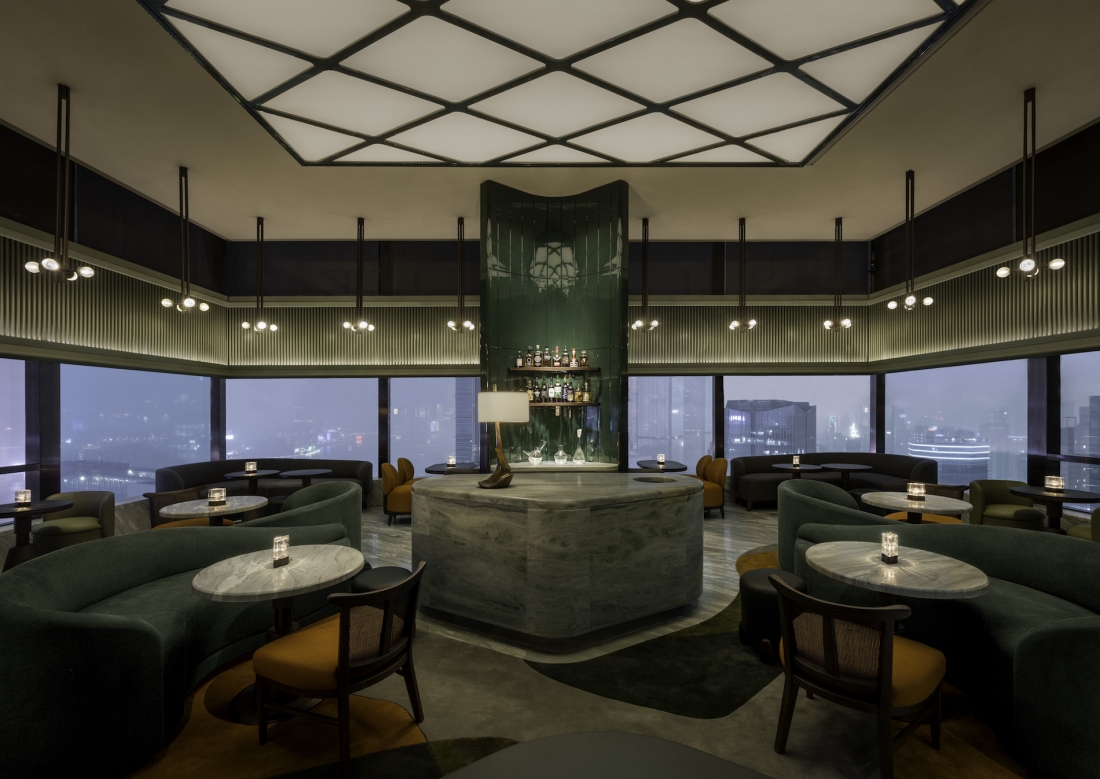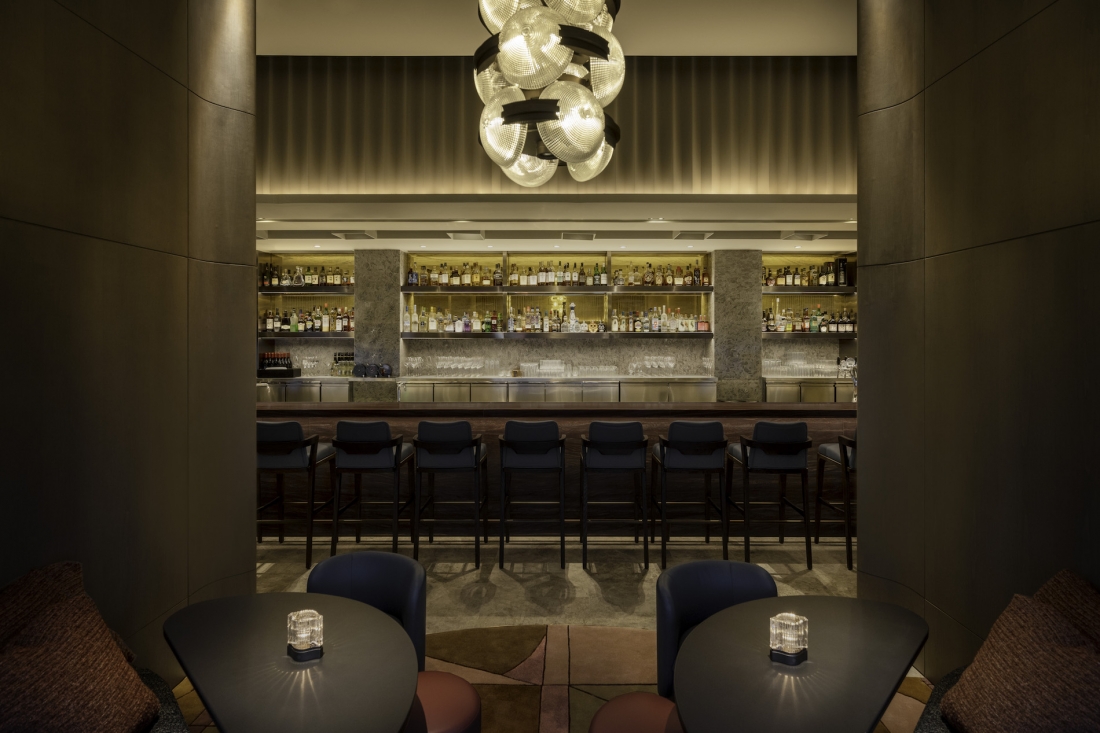 The final destination is the Green Room - a bar lounge designed to be an avant garde interpretation of an oasis nestled atop the House. It is inspired by a Mediterranean landscape of olive trees, pistachio and vine trellises that allude to a backstage 'green room' where actors unwind and entertain.
The additions of high gloss racing green lacquer and exotic Pevla Green stone evoke the abstract landscape scenography of Wes Anderson's films. It's simply stunning.