TP Bennett's BREEAM Outstanding 11 & 12 Wellington Place first outside of London to be accredited NABERS five-star design stage rating.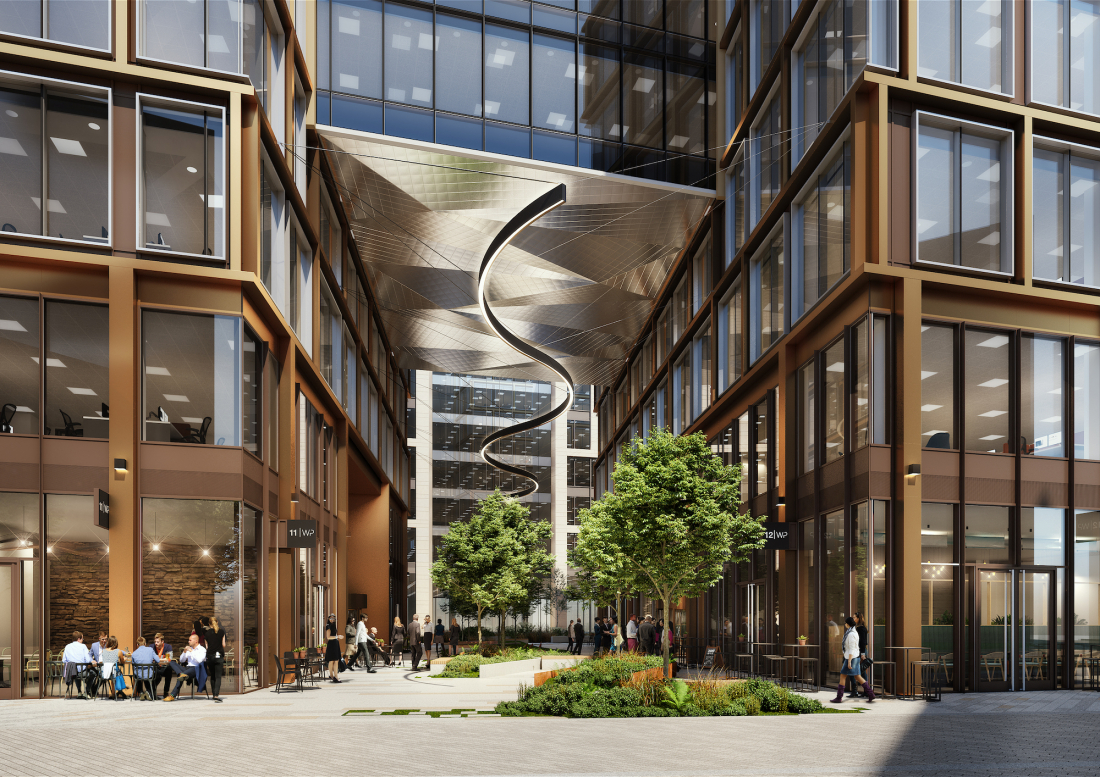 Global design practice TP Bennett is one of the frontrunners in flying the flag for sustainability.
The latest project by its northern team for MEPC, 11 & 12 Wellington Place, has received BREEAM Outstanding design stage certification and is the first development outside of London to be accredited a NABERS design stage five-star rating.
Here, architect, Jason Turner, and director, Andrew Leaver, talk us through how they developed and delivered such a trailblazing project.
How did the project come about?
Jason: "MEPC, which manages the Wellington Place estate in Leeds, was an existing client, and we were fortunate enough to be selected to enter a limited design competition to submit a proposal for plot 12, which was selected by the client".
"As the project evolved, a technical constraint arose requiring the diversion of a deep underground sewer, which couldn't be diverted. In the end, it was decided that plots 11 and 12 would be unified and delivered as a single phase."
Was sustainability a focus from the outset?
Jason: "Yes, sustainability was always a key consideration, however, as a result of the pandemic, the project was paused giving us time to think, how can we make it even better? So, it went from 'leading the way' to being a pioneer project - pushing the whole team to go to the next level. Following the review period the project was enhanced from being BREEAM Excellent to BREEAM Outstanding and Fitwel 2 Star."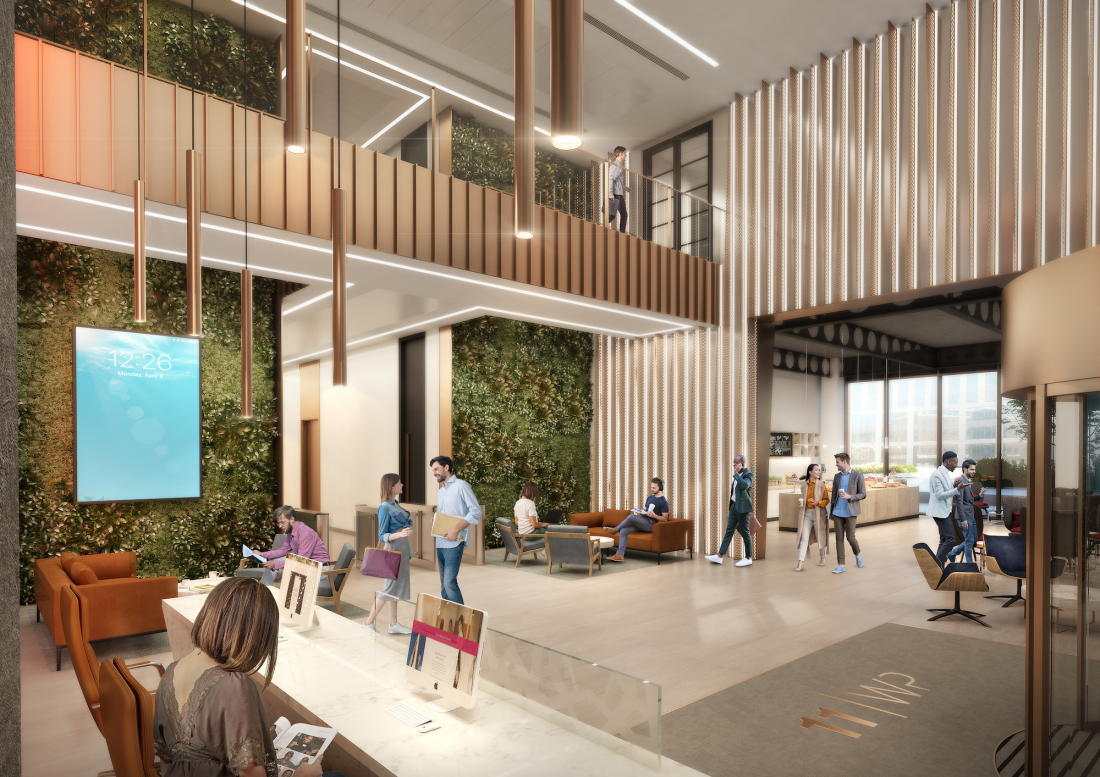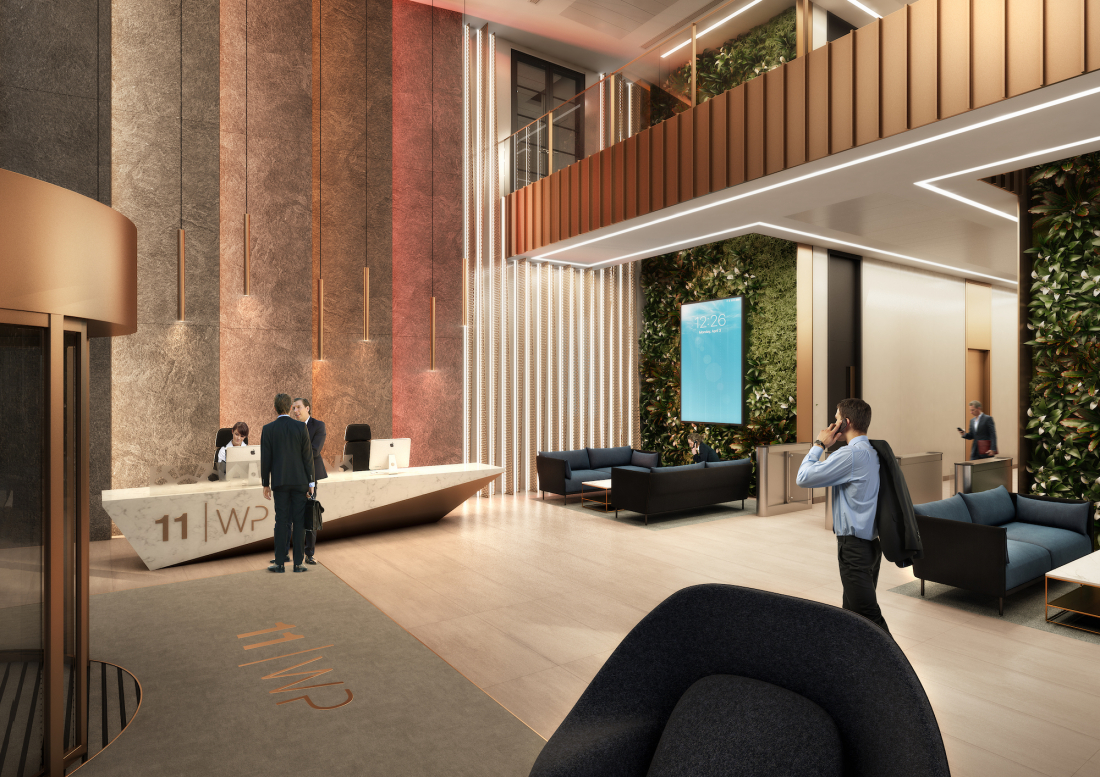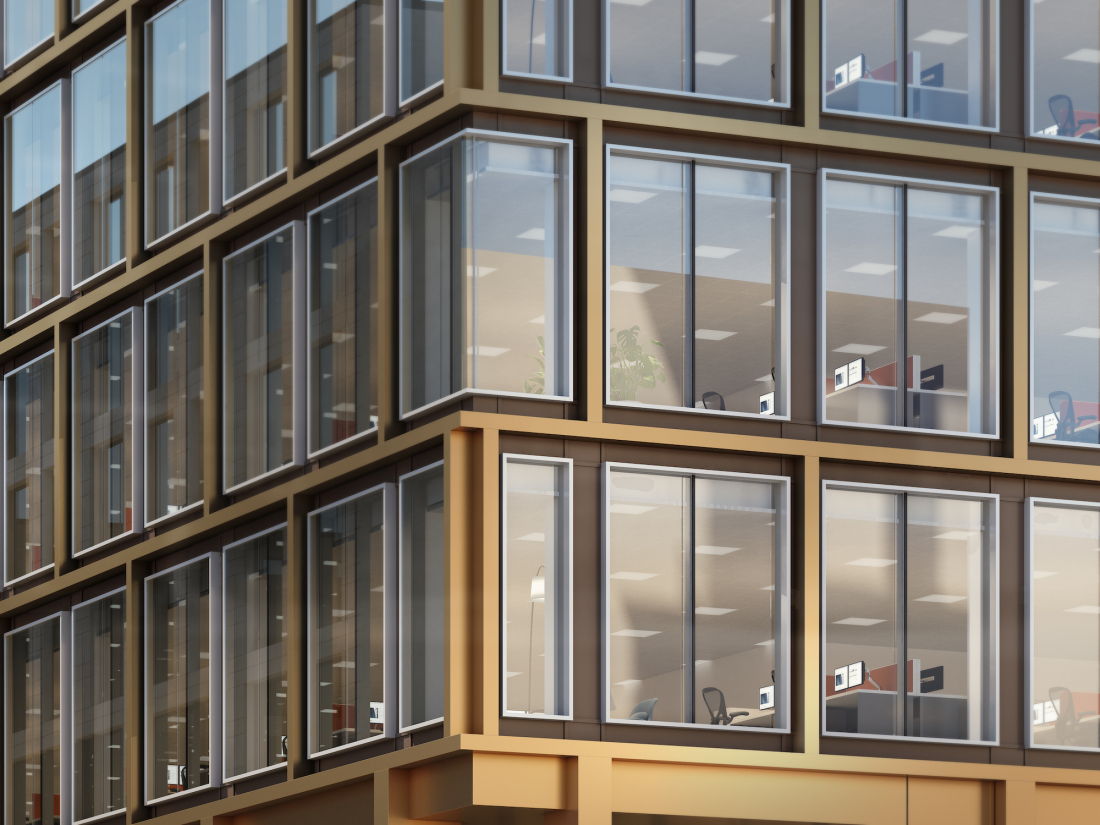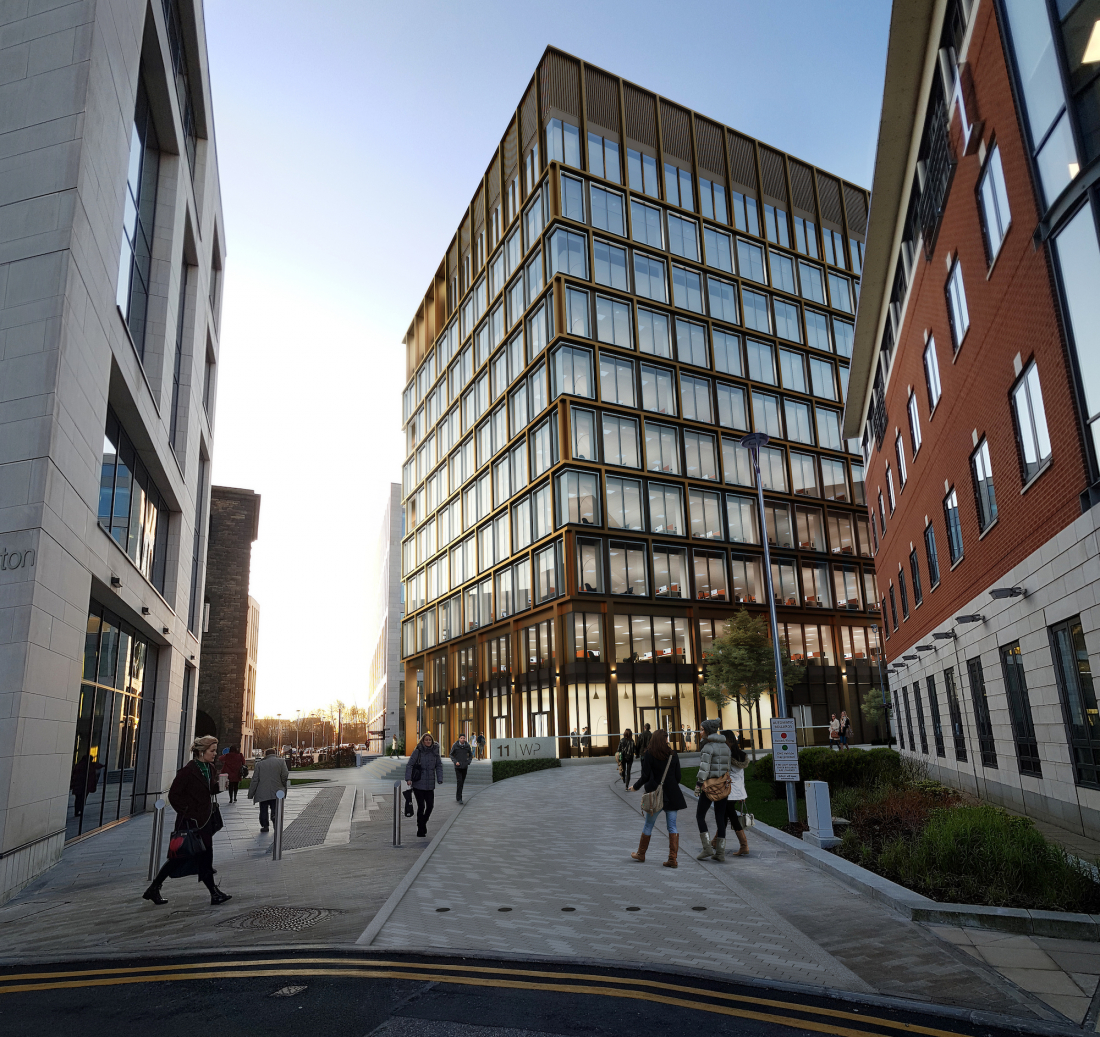 And was there anything else during the pandemic that changed the course of the build?
Jason: "We did a post-Covid study to understand whether there needed to be more fundamental changes to the design before proceeding with construction. At that time, the main contractor Wates, was excavating the basement, therefore, there was an opportunity to adjust things above ground. Fortunately there weren't any fundamental changes required.
"We looked at things like separating staircases, limits on lift numbers and sanitation stations, but, ultimately, much of this wasn't required and there are two sets of stairs in each building so you could do the loop up and down if needed. With the design, instead of being a corporate look and feel it moved to more of a hospitality feel. That was reflected in things like the changing areas and the selection of furniture for the reception areas. This even came through in our CGIs where we had people walking through the space that, rather than wearing suits, were wearing more casual clothes.
"We also considered the impact of embodied carbon, for example, we omitted a Cat A ceiling in favour of an exposed soffit design to minimise future wastage at fit out stage. We selected black for the fixtures and fittings to complement the silver pipework."
Can you highlight some of the project's key sustainability credentials?
Jason: "During the project, we jumped from BREEAM Excellent to Outstanding. The building is targeting 41% less energy consumption than the average building and will source 100% of energy from low carbon or renewable sources.
"We also went for NABERS (National Australian Built Environment Rating System) accreditation on this project. The big difference between NABERS and all the other accreditations is that it's a performance-based accreditation. So, you submit a design stage model where you commit to a certain amount of energy use in the building. But then to get the full accreditation you must report how much you actually use and reassess every single year. 11 and 12 Wellington Place are the first buildings outside of London to achieve a NABERS design stage five-star rating."
Being a resident of MEPC's NOMA district in Manchester ourselves, we know how important community is in their neighbourhoods. How did you factor this into the Wellington Place project?
Andrew: "The form of the building is essentially two blocks that are linked with a space in the middle. The decision was taken to open up the ground floor space so people could walk through, and it creates this unique space on the estate, forming a route from the development to the rest of the city.
"Reception spaces are activated by a direct link to an adjacent commercial unit which has large folding doors to suit a club space or a coffee shop. There is also space for a gym operator. We sought to maximise active frontage so there's as much interaction with the public realm as possible. We also included a lighting installation above the thoroughfare between the two buildings that helps to animate the space, and the colours can be changed to tie in with national events; red, white and blue, for example."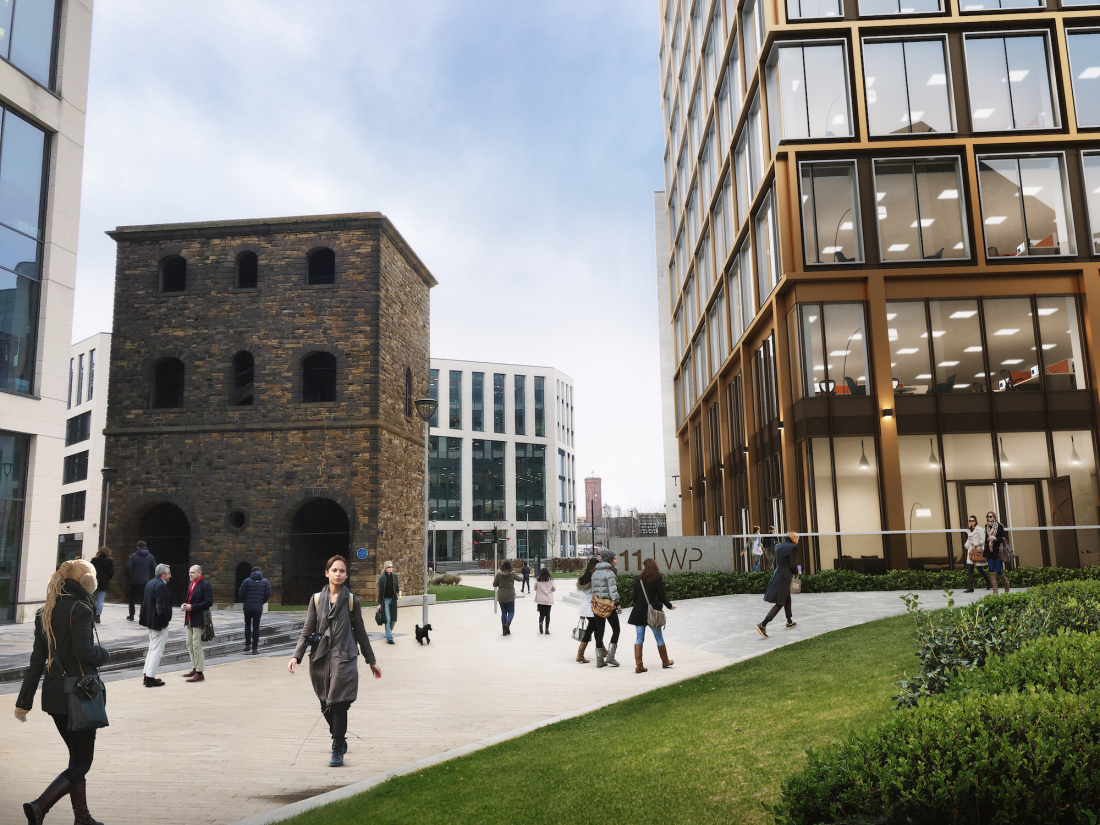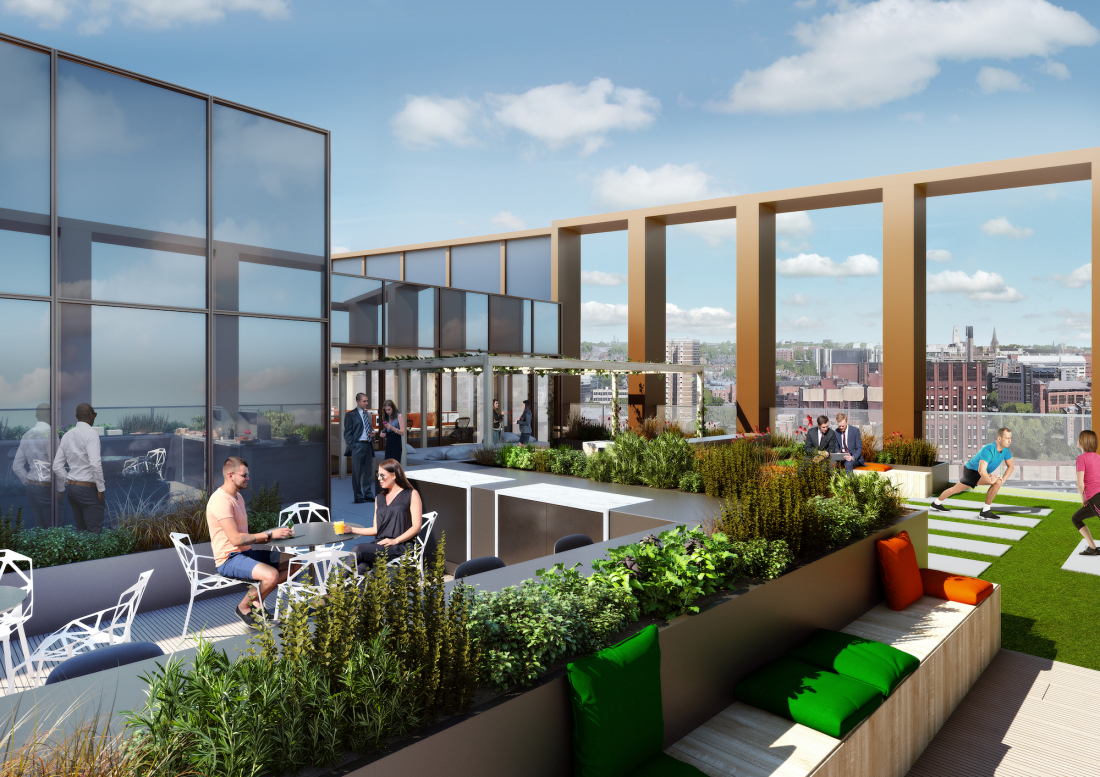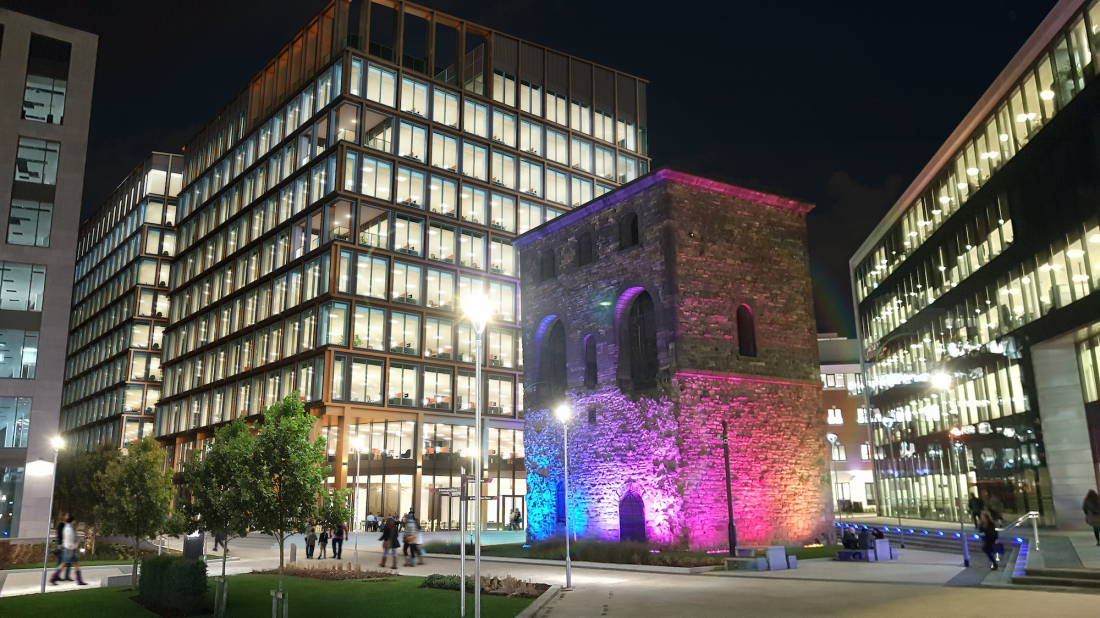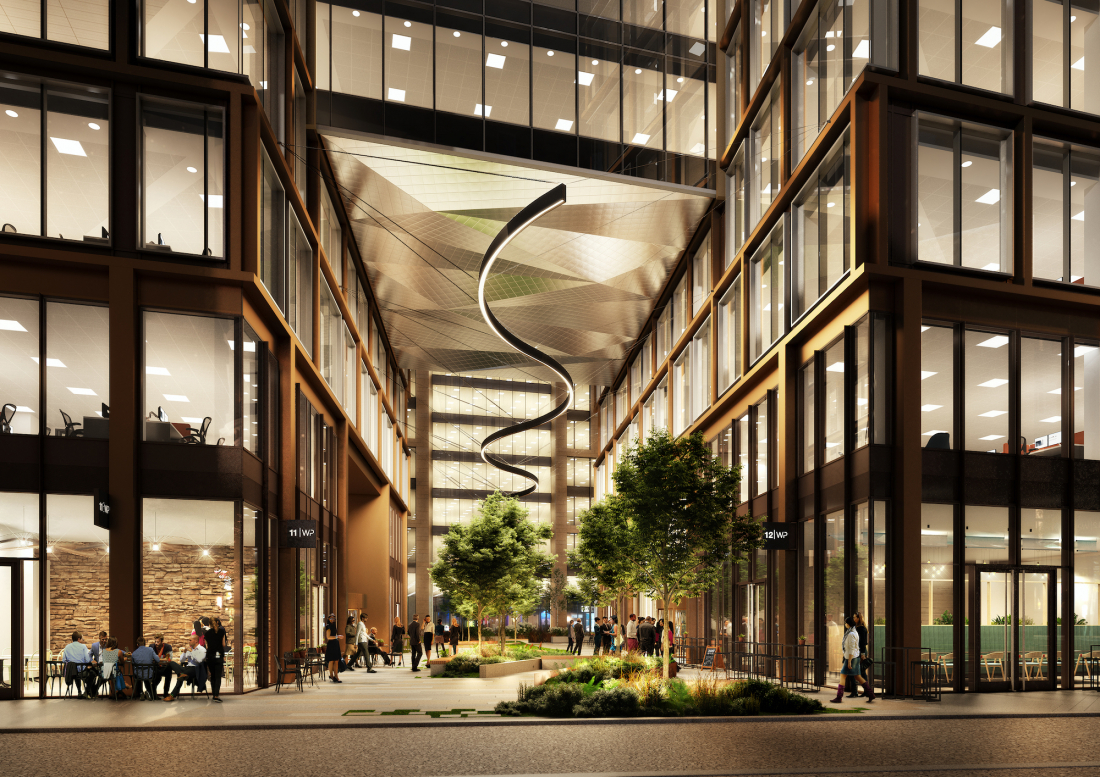 Wellington Place is located in Leeds – a thriving city. Did the location have an impact on the design?
Andrew: "The development is on an historical industrial site that used to be a railway terminal. There is a Grade II listed tower adjacent to the buildings which is central to the estate, 11 and 12 are the most central buildings in the development – the jewel in the centre you might say.
"We took inspiration from the nearby historical tower and from the surrounding character of the site using tempering metallic tones of steel for the façade - from red to bronze, then blue and silver. It was important to complement the existing buildings on the estate. 11 and 12 extend the language of these other buildings so they all very much feel part of Wellington Place."
What are you working on next?
Andrew: "Affordable low carbon housing. Numerous projects that look to reuse and repurpose commercial spaces. Rethinking old building stock in a sustainable way so it can fit into the market more easily. Other projects include office to residential conversions in a number of town centres. The common thread amongst all these things is sustainability.
"We have a dedicated sustainability focus group, which is a team of people pushing forward sustainability across the practice. We have certified Passivhaus designers who are applying their knowledge across different projects.
Jason: "We continue to upskill our teams to produce informed sustainable designs, which is reinforced by the use of analytical software, and we are excited about bringing this learning to our future projects."