2022 top commercial washroom trends.
In the home, bathrooms have attained a new status. Once a functional space for engaging in basic hygiene rituals, now, with numerous pandemic-induced lockdowns under our belts, our bathrooms have become sanctuaries.
And as we slowly emerge from our homes, returning to the other locations we once frequented – our workplaces, the restaurants we enjoy visiting, the local pub – we carry the same elevated expectation of what a washroom needs to be. Though the situation is changed, our desires for a private place of calm remains.
With this in mind, Concept Cubicle Systems shares some of the top, future-facing commercial washroom trends for 2022, and beyond.
Be bold: More is more when it comes to colour
Fortune favours the brave. Though in commercial washroom environments, there's a tendency to play it safe. Being bold doesn't have to mean brash. Colour can be applied confidently to make a statement that's playful but not overwhelming.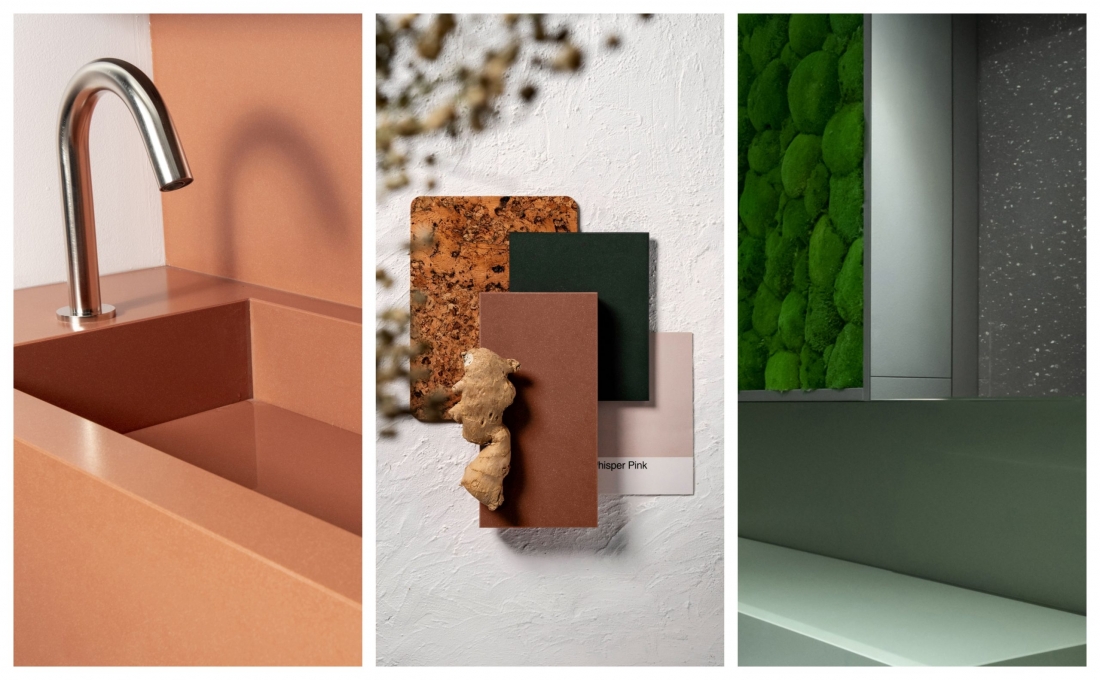 The Sunlit Days collection by Cosentino takes aesthetic inspiration from the Mediterranean. Arcilla Red sits beautifully against Cincel Grey. And Posidonia Green contrasts with Faro White, all comprising a contemporary, warming palette that evokes wellness. Not only is this collection of Silestone surfaces positive in its appearance, but it's also Carbon Neutral – tapping into something much more than a trend, but what now underpins specification for all future fit outs. With the above in mind, we now offer the Sunlit Days Vanities Collection in collaboration with Cosentino, combining this design tour-de-force with our expertise in providing seamless vanity solutions.
When opting for colourful washroom furniture, the temptation is to go for neutral pairings elsewhere. But it doesn't have to be so cut and dried. Although you may go for subtler shades on the walls, colour can still be used to contribute to the scheme's overall impact. Crown Paints offers ColourKey, a hand-held colour matching device, that allows you to either replicate, or complement, your material choices elsewhere. So, whether you go all out in one bold tone, or take it down a notch with a couple of complementary hues, don't be afraid to lean into colour this year.
Stay grounded: Rich, natural textures imbue a sense of calm
After the last 22-months, it's no surprise that people are craving connection and a sense of feeling grounded. With so much up-in-the-air, we're all keen for getting back down to earth. With this in mind, 'bringing the outdoors in' – a trend that's been circulating for a few years now – has taken more prominence.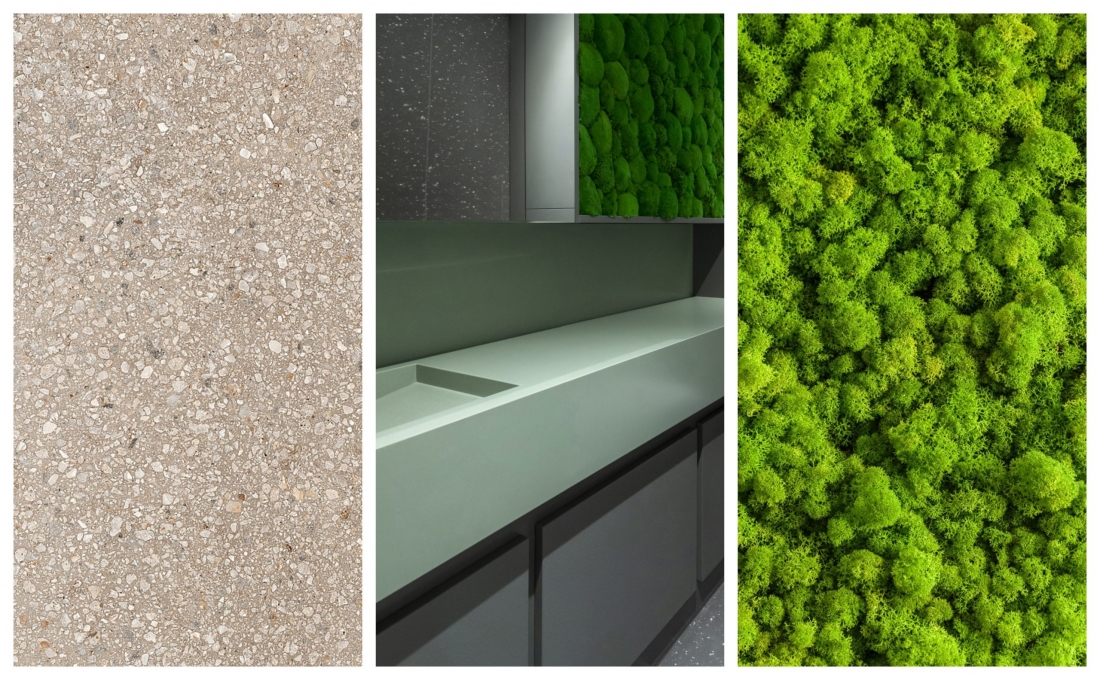 Rather than just using a nature-inspired colour palette though, we're increasingly seeing designers use 'live' elements in commercial spaces. Living walls, plants and foliage can all be used to contribute to a relaxing and calming environment. When setting the ambience, it's of course important to engage all the senses. And the addition of greenery does this in one fell swoop. In washroom schemes, we help clients embrace the trend through moss walls.
The installation of a moss wall (we recommend Oasis Plants) is a low maintenance and high impact solution that ticks all the boxes of the natural trend. As well as instantly brightening up a washroom environment, moss walls can also tie together a scheme through allowing the creation of a bespoke design – also touching on the trend for personalisation.
Continuing this natural theme, the selection of a flooring solution that takes textural inspiration from the patterns and hues found in nature – such as Cerim Match-Up by Casa Ceramica – will complete the look.
Hidden qualities: Be minimal on the mechanics
In some circumstances, it's good to see the 'inner workings'. But in washroom design, a simple, straight-forward set-up is best. Taps, hand dryers, soap dispensers, bins…washrooms can get a little overcrowded if attention isn't paid to organisation. And if there's one collective want to have come out of the pandemic, it's organisation and process.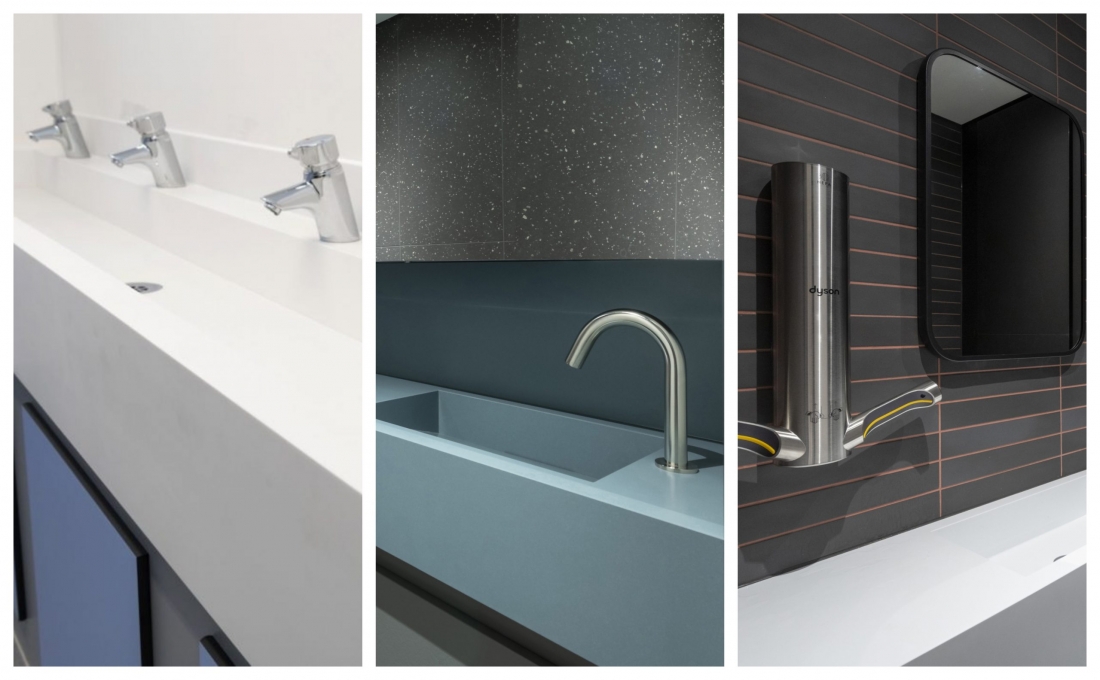 This has stemmed a dual trend: firstly, for integrated basins, made from the same material as the vanity top and secondly, for 'hiding' handwashing hardware. Soap dispensers and hand dryers can be built into our MirrorBox, allowing for a sleek, seamless user experience. This increasing popularity for integrated basins, and contactless hardware, not only comes from an aesthetic standpoint, but also responds to the need for optimum hygiene in a post-pandemic landscape.
When specifying our Solid Surface Vanities, Corian offers the ability to be thermoformed, making it a highly versatile material. Also available in a wide range of colours – from pared back neutrals and pastels, to bold brights, it can be adapted to suit any scheme.
While the trends for 2022 may cover a wide range of aesthetic styles, they all stem from one collective feeling: the desire for calm in an otherwise chaotic world.
To experience these trends in-situ, visit Material Source Studio, where Concept Cubicle Systems has teamed up with like-minded brands to showcase its brand new Superloo products created with the needs of the contemporary user in mind. You can also experience the Washroom Workshop – a more sustainable way to seek washroom inspiration.