Agne Kucerenkaite on why ignorance is bliss, the importance of context & re-identifying waste.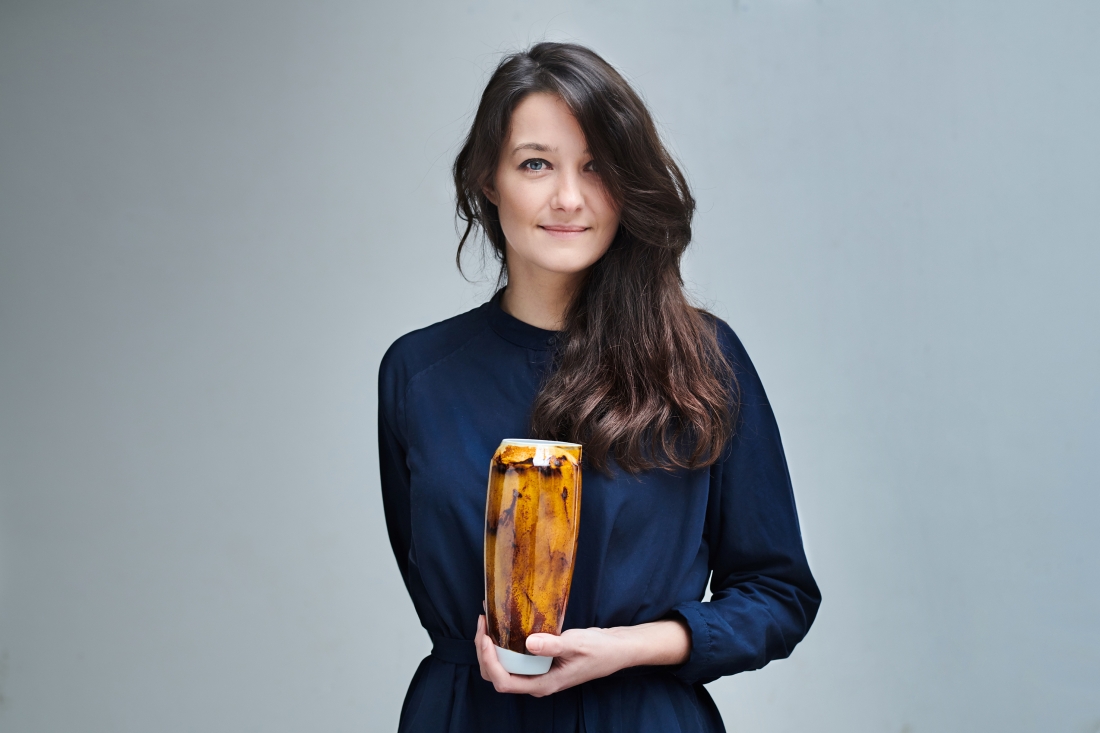 Designer Agnė Kučerenkaitė transforms raw materials into valuable products and systems, by exploring the interconnection between design, society, industry, and the environment.
Motivated by historical and sociocultural contexts, Kučerenkaitė's approach to design is research-driven, experimental, and hands-on. Her ongoing 'Ignorance is Bliss' sustainable research-based design project explores the repurposing of industrial waste, food waste, and secondary materials, to generate higher value interior and exterior products.
Currently exhibiting at London Design Festival as part of Tactile Baltics, and shortlisted in the Dezeen Awards, it's safe to say Agnė has a lot on at the moment. However, she kindly took time out of her schedule to chat to us about her innovative research.
Firstly, can you please tell us about yourself? How did you get started in design?
"As far as I can remember, since my childhood, I wanted to study interior design. I did a Bachelor of Interior Architecture for four years at the Vilnius Academy of Arts. It was great, but I wanted to work more conceptually and independently, which led me to the Netherlands to study at Design Academy Eindhoven.
"I arrived from quite a rigorous educational system, however, Dutch studies have shaped me: presence in an international environment as well as liberation from the rules, learning to work by hand and think critically. I discovered all the materials, as I worked with ceramics, glass, metal, wood, textiles, organic materials, etc. Besides, I chose classes more oriented to research methodology.
"The starting point of a project for me is a raw material and I prefer working with waste or secondary materials. Context or history is also essential. I am driven by the challenge to transform them into something unexpected and with a higher value. I can say that my projects adopt the holistic framework by a comprehensive study of materials and their footprint. The complexity can only be understood through collaborative working, transparency and ongoing dialogue throughout the disciplines."
You work mainly with fabric and ceramics. What drew you to these materials?
"Actually, I work with a broad spectrum of materials, but I have a lot of experience working with ceramics and my ceramic projects are developed the most. During my studies in 2015, I was chosen to participate in a three-month exchange programme in Arita, Japan. It was one of the first sites to produce porcelain in Japan. As soon as I came back to the Netherlands, I used the gained knowledge in my Ignorance is Bliss project.
"Ceramics is pure chemistry. Metal oxides are the main sources of colour in ceramic glazes. I replaced the industrially produced pigments with the ones I made from waste. I also combined metal waste with glass and textiles. At that time the outcome was a limited-edition homeware collection.
"Over time, the project's complexity grew into in-depth theoretical and material research of diverse waste, leading to small and large-scale design applications. Ignorance is Bliss is an umbrella term for ongoing experimentation and disruptive cross-disciplinary thinking, which gradually develops into techniques and products that can be applied as architectural building materials and interior surfaces.
"One of the products is the collection of ceramic tiles, that are fully developed and can be produced in any quantities. Ignorance is Bliss ceramic tiles are glazed using pigments solely derived from industrial metal waste and by-products. In 2020 the tiles project won the Red Dot Design Award, Best of the Best."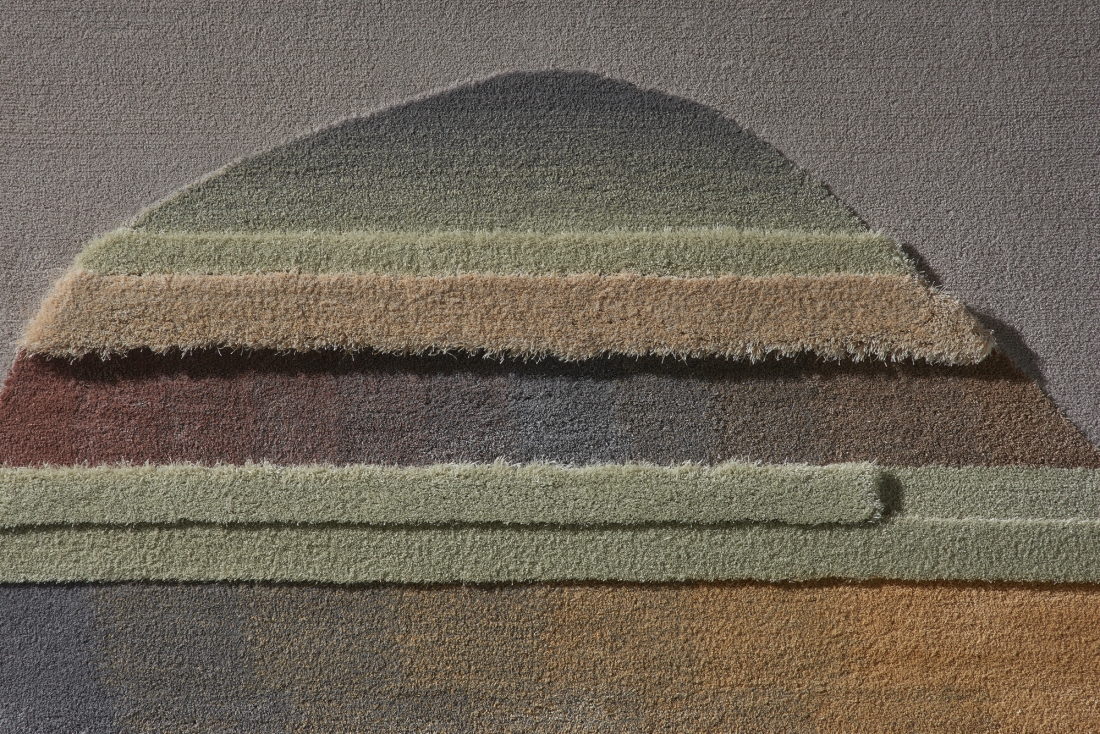 The rugs from your Ignorance is Bliss collection have been shortlisted for a Dezeen Award - congratulations! Can you tell us more about this project?
"Linen rugs 'Lutetia' and 'Juno' are coloured using upcycled textile dyes that originate from botanical and metal waste and by-products. Commercial textile dyeing causes a significant amount of environmental and health problems due to the chemicals used in the process whereas natural dyeing is rarely employed on an industrial scale. Drinking water supply and agriculture industries are the main waste suppliers for the collection. Leftovers of mostly organically grown plants do not contain toxic additives as they are intended for use in the food and pharmaceutical industries.
"The 'Ignorance is Bliss' rug collection is made from linen; a deliberate choice as it is a durable, resistant, and hypoallergenic material. Flax is versatile, cost-effective, resilient, and its cultivation requires far less water and pesticides than cotton. At the moment, yarns are hand-dyed with 9 natural colours that have been developed from waste.
"The research-based project utilises industrial waste and secondary materials (such as hemp, mustard, evening primrose, and iron), and reuses them to dye linen rugs, thus creating a higher value.
"The Lithuanian partner 'Jorus' is a mid-size farm and cultivates approximately 364 hectares of land. In 2020 Jorus processed around 2 tonnes of hemp for food and pharmaceuticals. They accumulated around 800 kilograms of hemp shells waste. Even though those partners grow sustainably, they are facing difficulties with the residue. A part of this by-product can be sold as livestock feed, but there are no clear regulations and understanding of additional potential use. Shells are spread in the fields, but with a continually growing business, they admit, that it will be neither logical nor economical.
"Conducted research with various waste streams shows that most can be repurposed in creative ways and become a part of circular models, such as making textile dyes. For the rugs 'Lutetia' and 'Juno', a total amount of 19.77 kilograms of waste was used."
Your work involves upcycling would-be waste materials - how do you go about this? And where do you source your waste materials?
"One can argue that when waste is used, the word loses its meaning. I'm giving a new identity to waste. Waste still has a negative connotation in our society, but I visualise and utilise it as a raw material for opportunities, rather than limitations.
"Since the Industrial Revolution, ignorance and negligence have generated environmental pollution on a mass scale. Production facilities worldwide are calculating residues by tonnes and are facing difficulties with their disposal. The conducted research with various waste streams shows that most can be repurposed in creative ways and become a part of circular models.
"Ignorance is Bliss solutions substitute factory-produced substances with waste or create completely new formulations and materials. Ignorance is Bliss projects primarily focus on industrial waste and by-products as these are usually consistent, ensuring a reliable qualitative supply.
"Typically, secondary raw materials don't meet the 'industry standard' or are contaminated and are therefore dumped or downcycled. Reusing waste decreases the need of natural resources, reduces environmental pollution and allows materials to be used to their fullest extent.
"At the moment drinking water supply, soil remediation and agricultural industries are the main suppliers of waste and by-products for Ignorance is Bliss projects. They are located in the Netherlands and Lithuania."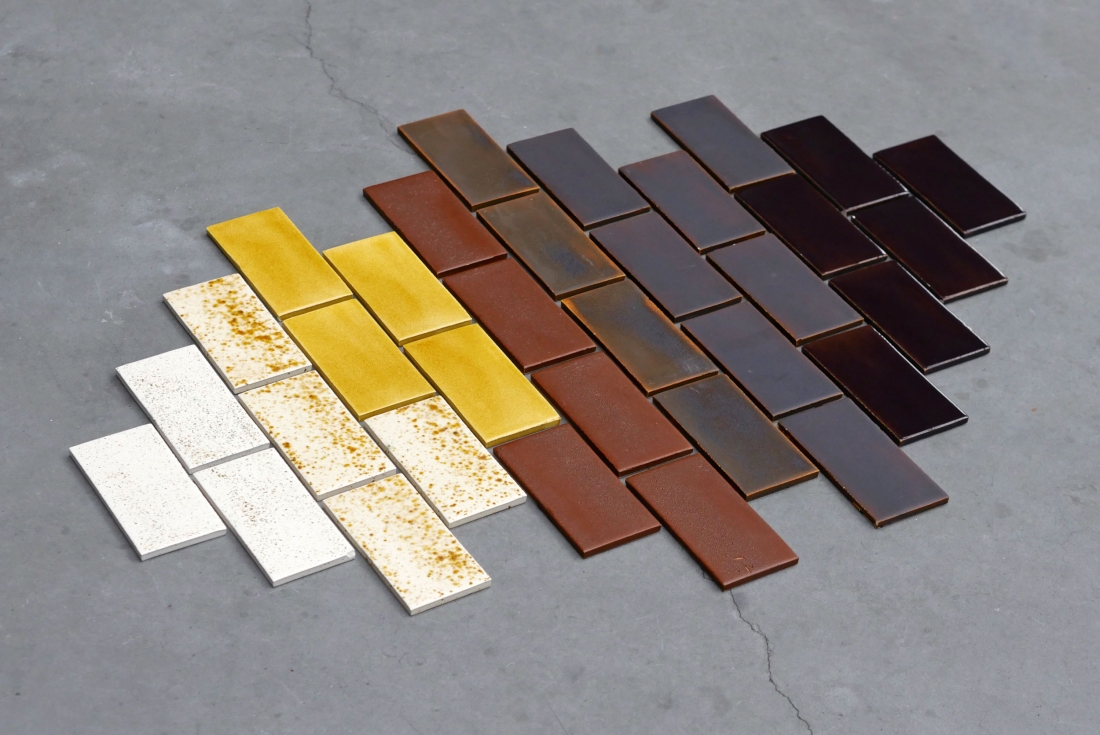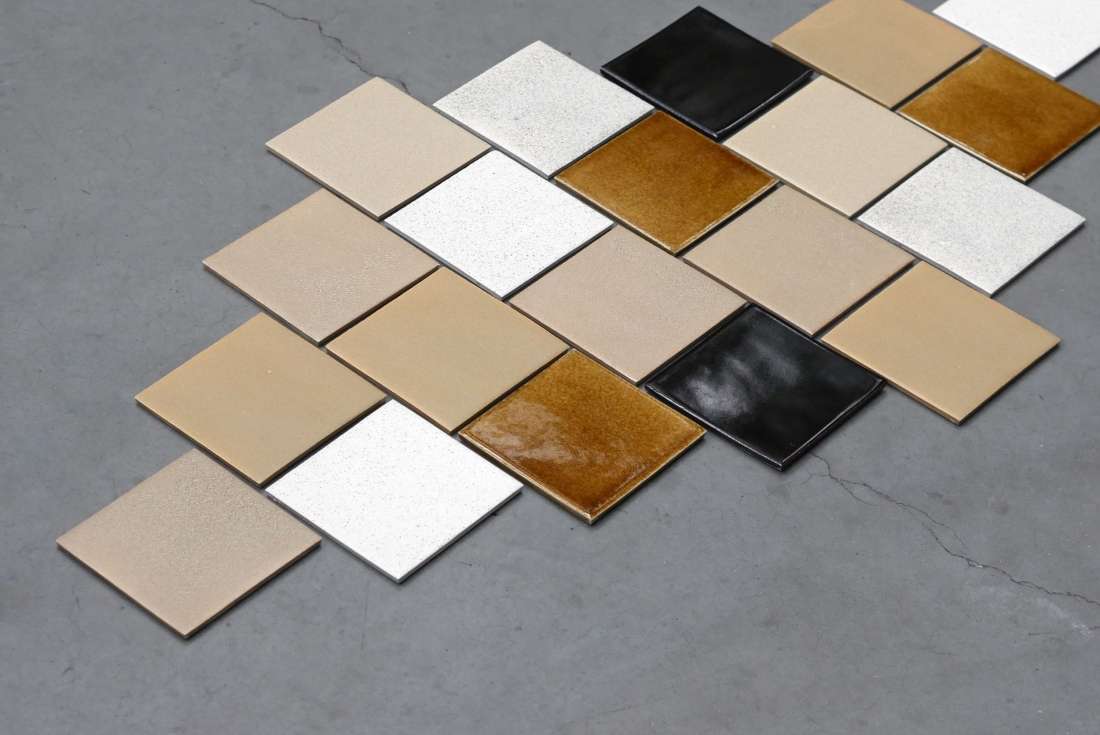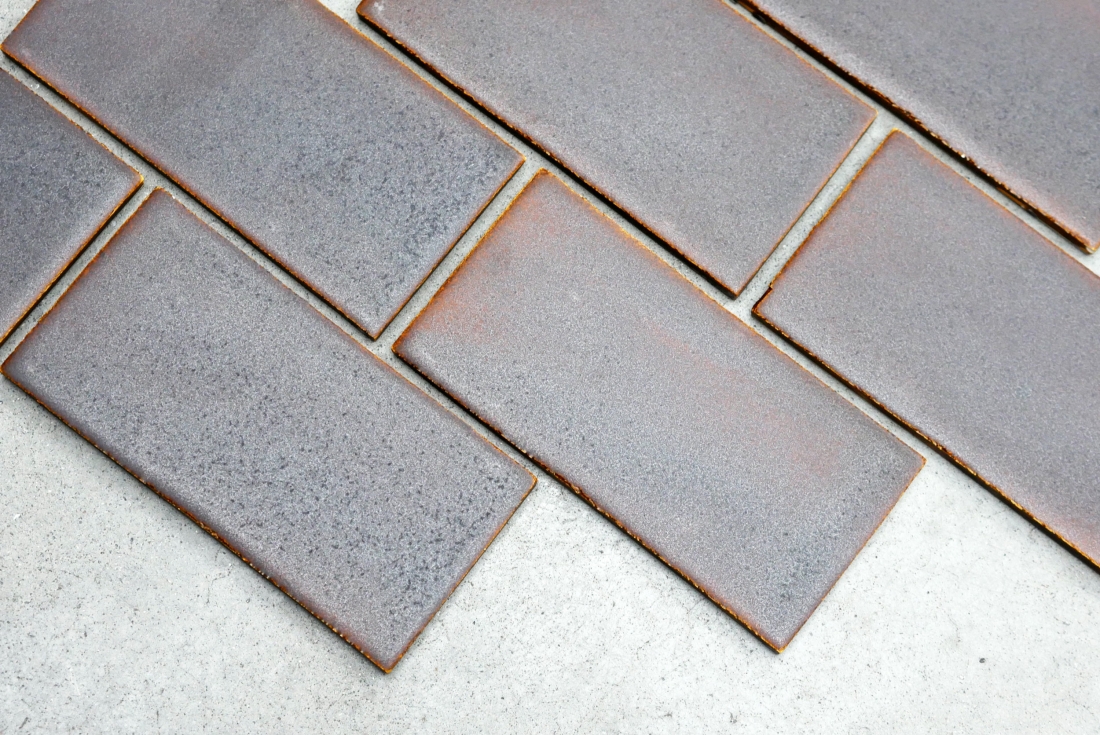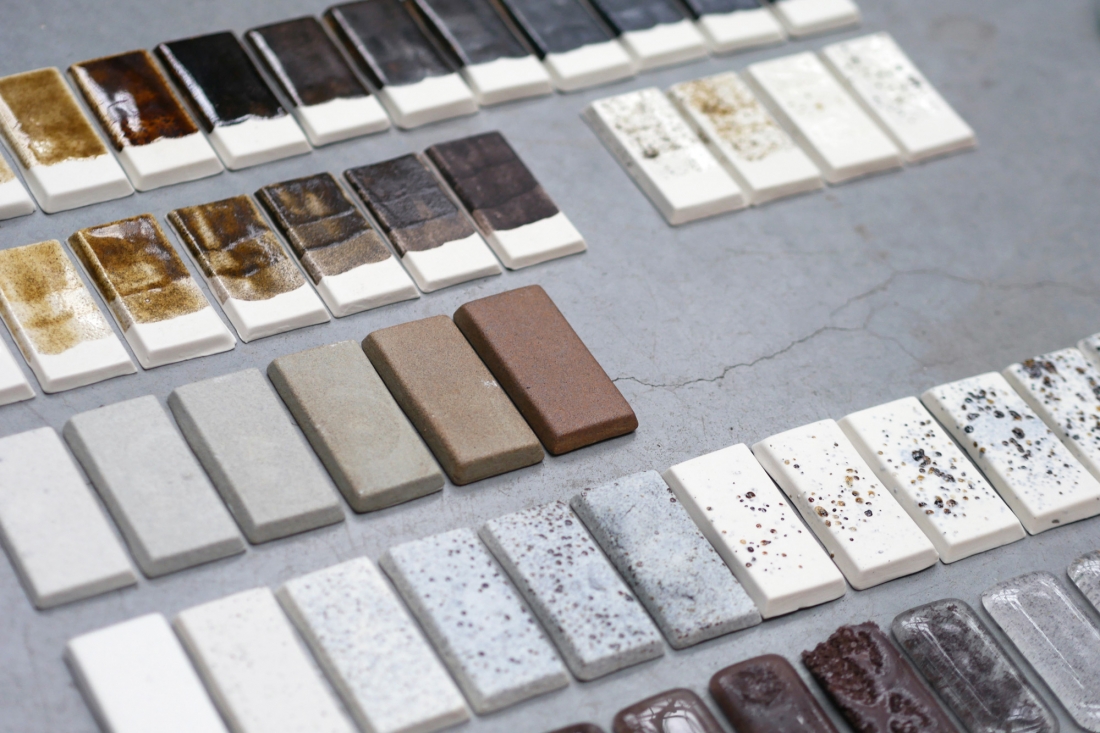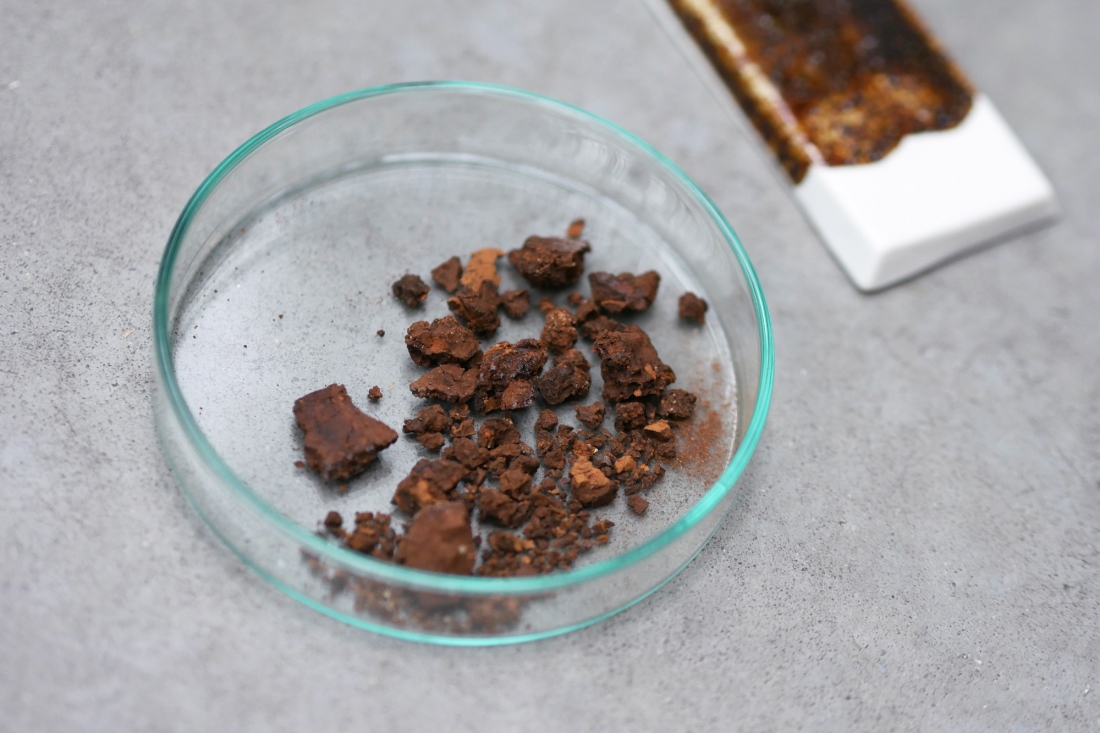 Colour seems to be an important element of your work. Can you talk us through your process when it comes to colour selection/creation?
"Indeed, I work with pigments and dyes. My starting point is the waste material that has colouring properties, but I am limited with my waste sources. Different material applications require different methods and formulations. There is always a possibility to alter the colours, it just depends how much time you spend on such experimentation. E.g. In the Ignorance is Bliss ceramic tiles project, the amount of waste in the glaze is up to 40%, as ceramic glazes are a combination of base transparent glaze and pigments.
"Thorough research is conducted in several directions, such as adding waste pigments in clay and glaze, applying to flat and three-dimensional surfaces, using glazes on different clays (earthenware, stoneware and porcelain), firing within diverse temperature ranges, working with various firing programs and types of kilns. Each change requires different chemical formulations.
"Since the beginning of the project in 2016, unique know-how is collected through extensive research and experimentation. As a result, my personal ceramic samples library contains hundreds of tests. The current tile collection of 20 colours has a distinctive look and feel and is intentionally formulated without poisonous lead and barium, which typically are common choices for bright colours."
Who or what inspires you?
"Most of my inspiration comes from science as a whole. I am personally fascinated by biomimicry and microbiology. Scientists are increasingly looking to nature for technological innovations. I really hope the shift to sustainable solutions will achieve a larger momentum."
What does a typical day in the studio look like for you?
"Half of my time I work with my hands and the other half is spent sitting behind my laptop. The most exciting part is, of course, doing material experiments and making things. I love working in my ceramic workshop. It has a great climate there and you need a certain balance working with ceramics. Patience is required and it's very meditative. But not all days are in the ceramic studio, a significantly big portion of time is spent on communication, either digitally or travelling with exhibitions and shows."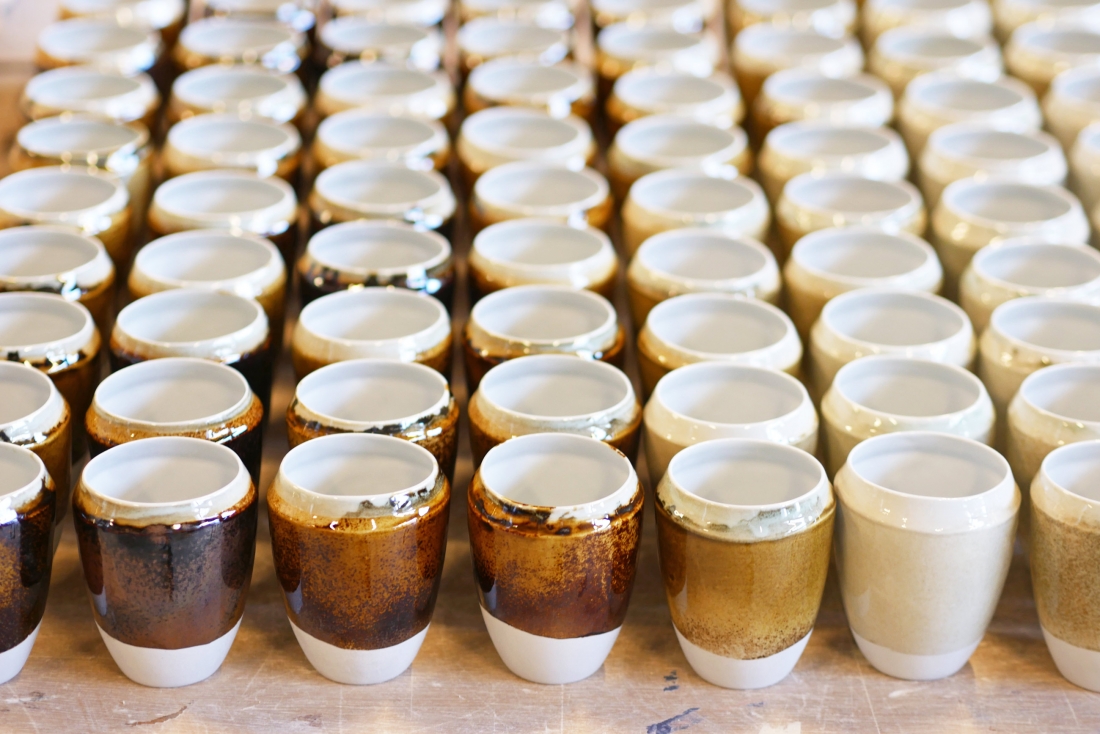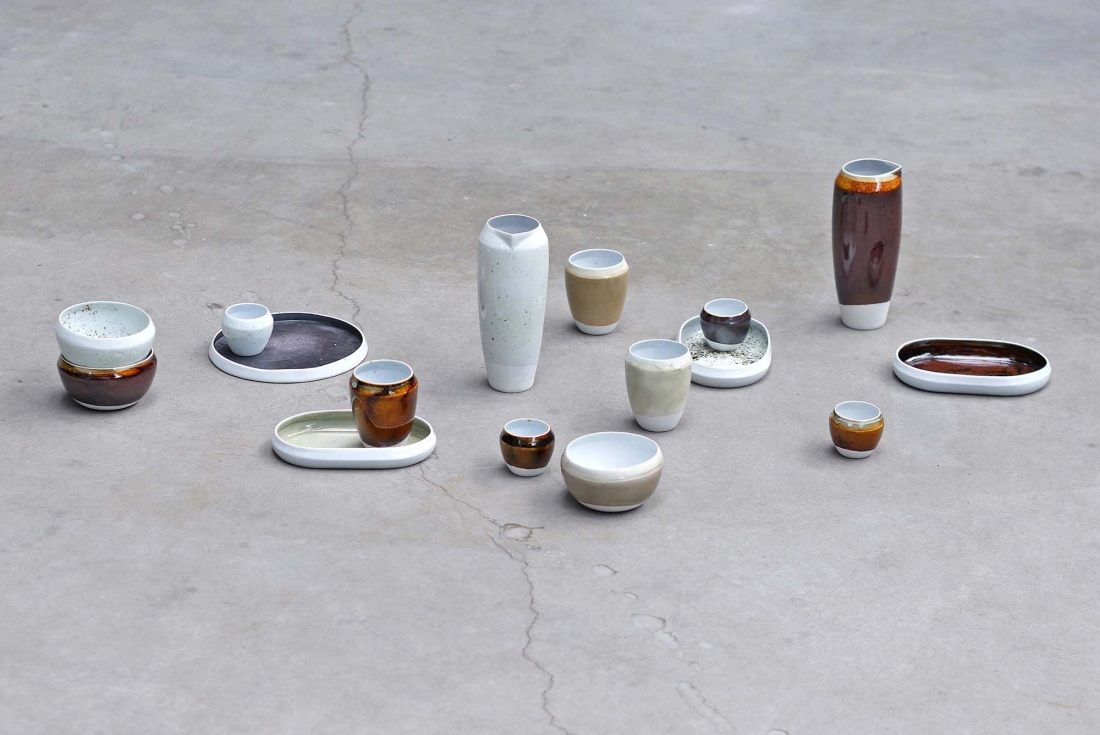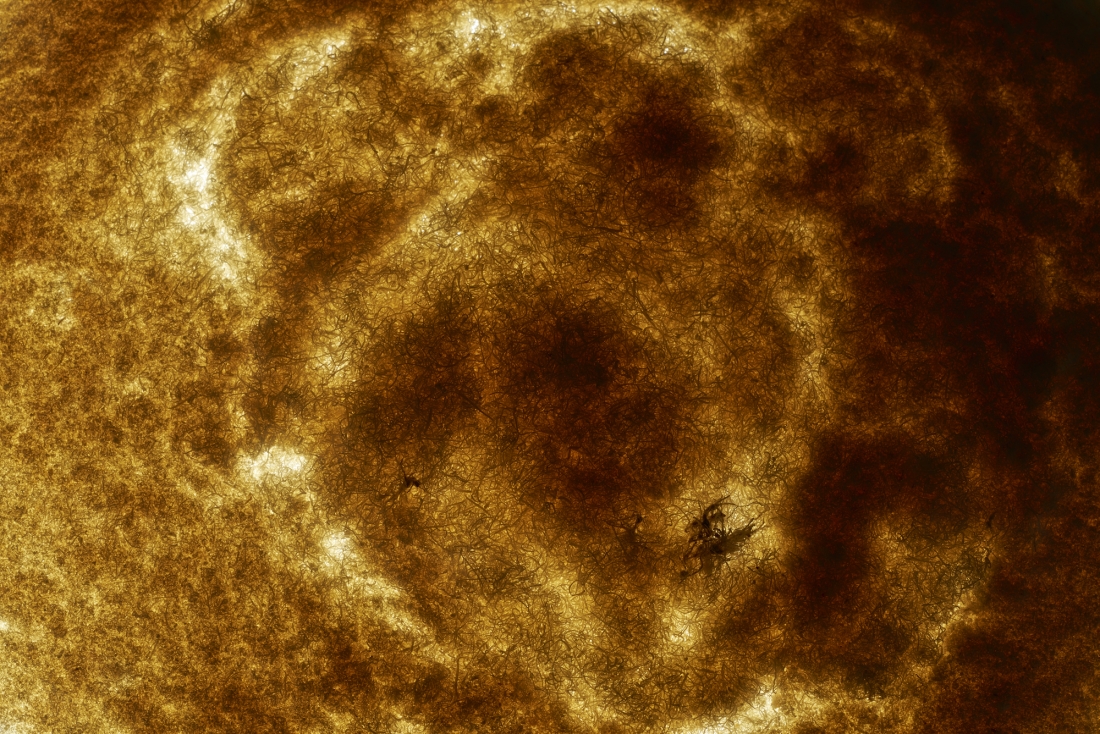 What are you working on currently?
"I am most comfortable engaging in long-term projects and I am not focused on the end. For me this brings depth to the project, especially working with such topics, you cannot be fast, but the opposite – patient and devoted. There are so many possibilities of the new applications and perfecting the existing ones using my waste streams.
"For a couple of years now I've been working with a new amber material. Amber is fossilised tree resin derived from extinct resin-bearing trees. Fossilisation of the resin takes millions of years. Although deposits of amber occur throughout the world, amber from the coast of the Baltic Sea is the best-known. Because amber floats on saltwater, many pieces wash ashore on the beaches of Lithuania.
"Today around 90% of the world's amber comes from the Baltic region. The production of jewellery and carving is usually done by hand with tools such as saw, fine-toothed files, drills, diamond disks, and sandpaper. After crafting amber there is a huge amount of by-product and waste called amber dust. It can accumulate in tonnes and just a small amount of it is being sold. Mostly because it is contaminated with sandpaper and thus the value is lost. It is disposed into dumpsters or even sewage.
"Amber is a multilayered material in terms of its historical, geological, and scientific value but also its composition and formation as a raw material. A distorted market and the black market is a serious problem because it comes with environmental damage. For this project, I take amber dust and conduct a full scope of material research by softening and melting the amber dust, creating methods, analysing properties, deconstructing it by adding new biomaterials and binders, altering its properties, and changing colours. Amber is transformed into completely new materials and I aim to create a range of usable more cost-effective interior products."
And what's next for the future of sustainable design?
"As we know, the European Union aims to be climate neutral by 2050. For such goals to be achieved, all states have to get involved at a political level and encourage various sectors to rethink business strategies.
"In my opinion, design's role in this is big. Even single designers and studios such as myself are crucial in the stimulation of new approaches to sustainable innovation. It is imperative these ideas are adopted on a large scale to truly benefit the environment and contribute to the circular economy."