Aimee Holloran of Samsung Climate Solutions on being amongst the 2% of women in plumbing.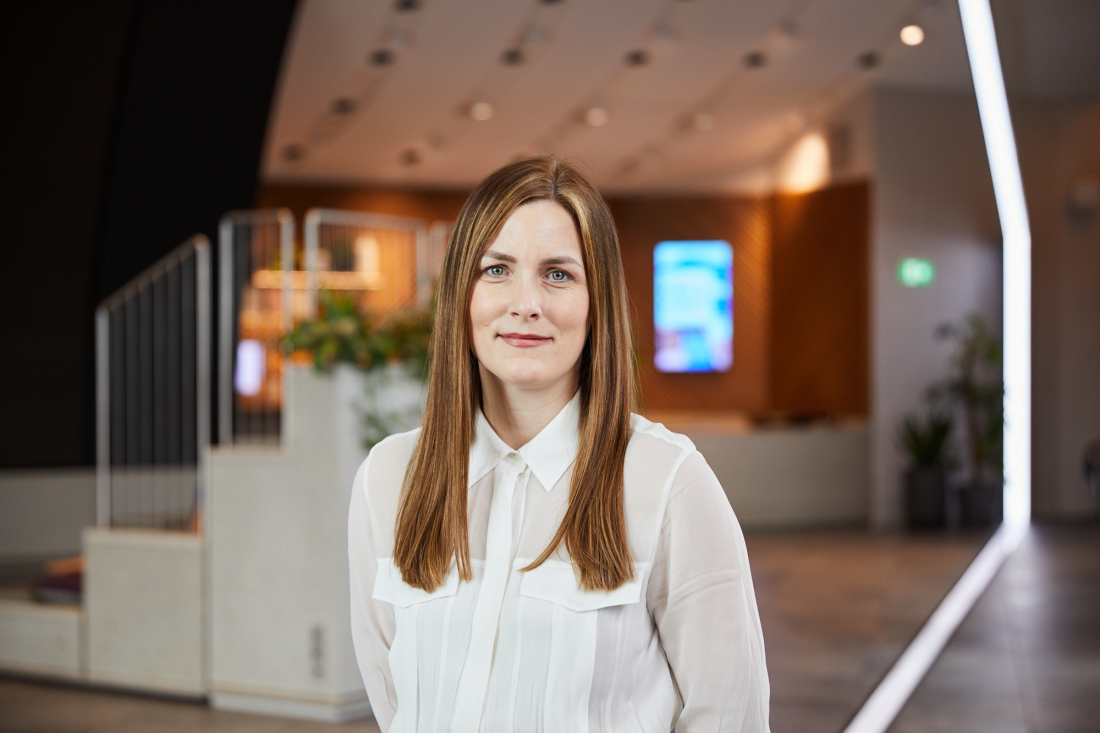 An article published in June on the BBC reported that - according to data from the Office of National Statistics (ONS) - the percentage of women in the plumbing sector totalled to just 2.4% in 2022.
Considering that Statista reports "the overall Construction industry in the United Kingdom is forecast to increase to a revenue of 476.6 billion British pounds until 2027", and the Plumbing and Heating Merchant Index reporting market growth in terms of sales for 2023 compared to the previous year (up 13.4% year on year), the sector itself is clearly booming. So why the gender imbalance?
Keen to learn more about the experience of the women within the 2%, we caught up with Aimee Holloran - a trained plumber with a specialism in heat pumps working in B2B business development at Samsung Climate Solutions - a partner at our Manchester Studio.
Here, Aimee fills us in on her background, experience, and the initiatives being actioned to address sector underrepresentation.
Firstly, can you please give us an overview of your professional background?
"After my GCSEs, I decided to do my first year of A levels, but after the first year studying PE, IT and Graphic Design, I decided I wasn't enjoying learning like this. My mum suggested a plumbing apprenticeship and I managed to secure an apprentice scheme with a company called Integral.
"I completed my course with them and then moved into air conditioning. I then made the move into low carbon heating, which I became really passionate about - at Alpha Heating Innovation working in Sales, then over 11 years at Vaillant. I went back on the tools for 6 months and helped my husband with his business before joining Samsung Climate Solutions earlier this year."
Your focus is plumbing, and more specifically, air source heat pumps – how did you come to specialise in this?
"I became introduced to renewables at my time at Alpha. When I joined Vaillant, I spent 3 years on boilers before spending the rest of my career looking at heat pumps.
"Having the cross over with air conditioning helped have the technical understanding of the product, enabling me to be more effective in my job. For me, what excites me about heat pumps is that it's an emerging market so it's a great time to be in the industry, but also it's about doing the right thing and contributing to decarbonisation targets to safeguard our futures."
Did you always know you wanted to go into plumbing as a career?
"No not at all, during school I was unsure what I wanted to do. I loved the idea of being a midwife or an architect. I was always hands on and practical as a child. My father had his own double glazing business so I would help him on the weekend, and he also has a lot of classic motorcycles so I was always in the garage helping him restore or maintain his bikes. My mum suggested the plumbing course as at the time there was a shortage of plumbers, and it really suited my practical nature and so I hit the ground running."
As women in plumbing are in the minority – the BBC reported this year only 2% of the profession is made up by women – have you found a peer group?
"I've noticed during the course of my career, the voice of women in the industry has been getting louder and louder. There are some groups of female plumbers, and there are some great advocates in our industry now promoting for more diversity in our sector. We are currently working with one of them, Leah Robson, who founded Your Energy Your Way, on a mentoring scheme for their apprentices and trainees, helping the next wave of plumbers and heating engineers."
Did you encounter any challenges when first getting into the industry?
"No, when I undertook my apprenticeship, all my colleagues were great and very welcoming. I always had a can do attitude and would try anything. I built my strength up over time and also learnt about how to apply my body weight correctly, as well as getting the best leverage when I had a fitting to do up or undo.
"I had some great teachers at college and was always supported and even though I was the only girl in my class, all the boys treated me the same. The college also did some work in Gambia, so I got to go out 3 times to work in the local community and also at a school and it was such great life experience.
"Occasionally I do still experience gender stereotyping in the industry but I get great satisfaction of proving that women can do anything and that we're not defined by stereotypical roles."
Is the gender in-balance something that's being addressed on an industry-wide scale do you think?
"I can see more woman coming into the industry and I would like to help encourage more females into looking at the construction sector, tech, and also apprenticeships. For me having my trade behind me is always a skill I will carry and fall back to if I need it.
"After my third baby I went back on the tools for 6 months helping my husband with his construction business. It can always lead onto other roles too. Having my technical background is also so helpful when talking to plumbing and heating engineers who are looking to diversify into renewables. I have a very supportive husband and we have an equal balance with the school and home life."
What is your role at Samsung, and what does it entail?
"I look after business development for South Wales and the South West for our EHS (Eco Heating Solution) Products. I spend a lot of time up at our SmartThings Home London, which showcases SmartThings. It links all the Samsung products along with many other smart home devices to automate life.
"I also help with onboarding installers, specifiers and developers into Samsung as a business and helping them diversify and develop. In my spare time, I enjoy spokesperson work, mentoring and advocating for women in the industry."
Who do you typically work with/alongside?
"I work closely with my colleagues in the Samsung Climate Solutions team, as well as the One Samsung team across the Samsung product ecosystems, and the PR and marketing teams.
"Outside of Samsung, I'm in regular contact with all my customers, potential customers across installers, developers, specifiers and consultants to spread the word about Samsung's low carbon heating offering. I'm also working with a network of local colleges to train the next generation of Climate Solutions installers."
What are you aspirations for the plumbing sector's future?
"The plumbing and heating sector is a great industry to be a part of and there is a shift now to the electrification of heat.
"We have some challenges with a skills shortage but I'm excited by the challenge to help shape this exciting sector and upskill the next generation.
"If we can bring more diversity in that would be my main aspiration to empower woman with the confidence and ambition to join this growing industry."