Concept Cubicle Systems X Cosentino Sunlit Days Vanities collection.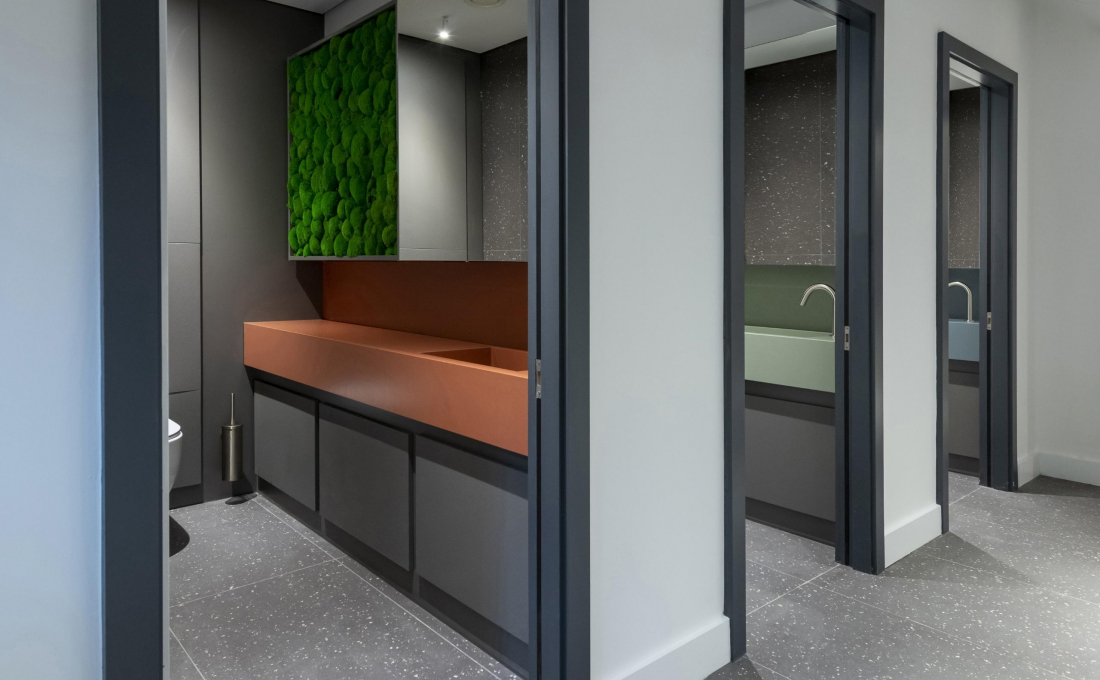 Concept Cubicle Systems and Cosentino launch the carbon neutral Sunlit Days Vanities collection, which the keen-eyed amongst you may have spotted in our Studio's washrooms.
The Sunlit Days Vanities collection combines Concept's expertise for creating bespoke washroom concepts, with Cosentino's proficiency in producing beautiful, sustainably sound surface material in trend-leading tones and textures.
Together, they have transformed the highly revered Sunlit Days range of Silestone® into a series of unique vanities that can be built exactly to designers' requirements, through the application of Concept's advanced fabrication techniques.
"The Sunlit Days bespoke vanity units in the bathrooms at Material Source Studio are a collaboration between Concept Cubicle Systems and Consentino and the results are stunning. Their seamless, sleek and minimalist design create a unique feature; finished in a muted green, this understated elegance really captured my attention." – comments Jose Kennedy, Director, Auric Design Studio.
Trend-leading design
As highlighted by the recent interior trends, integrated basins are increasingly becoming a popular choice for contemporary washroom schemes. In reflection of this, Concept Cubicle Systems offers multiple basin options, including a sleek drainage solution, facing front, side or centre.

Bolstering the structural aesthetic of the Sunlit Days Vanities collection are five warming, wellbeing-boosting shades, inspired by the Mediterranean. Faro White, Cincel Grey, Arcilla Red, Cala Blue and Posidonia Green each encapsulate a visual narrative influenced by the people and place from which they were inspired.
If you've visited Manchester's Material Source Studio, you may have spotted three of the Sunlit Days vanities in situ as part of the Superloo installation.
"Rich mineral tones of the natural world influence the colour selection of the new Sunlit Days collection. Arcilla Red, a striking yet soft earthy shade of red evokes a sense of warmth and welcome. Cala Blue, a down to earth and elegant blue, feels incredibly calming and grounding. Posidonia Green is lush and uplifting, its fresh tone promotes a sense of wellness." – adds interior designer Claire Long on the Sunlit Days Vanities palette.
Optimum material health
With strong emphasis now placed on creating healthier environments, few surface materials can match the credentials of Cosentino's Silestone®. In addition to being carbon neutral, Sunlit Days is manufactured using 100% renewable electricity and 99% reused water. Any additional emissions are offset through UN-backed carbon removal schemes.
The culmination of countless benefits across form and function, the Sunlit Days Vanities collection, created by Concept Cubicle Systems in collaboration with Cosentino, is precisely positioned to meet the aesthetic and practical needs of the contemporary washroom environment, here, now and into the future.
The Sunlit Days Vanities collection is available to order exclusively through Concept Cubicle Systems. See it in situ at Material Source Studio Manchester.