Discover the themes and features of Material Matters at London Design Festival 2023.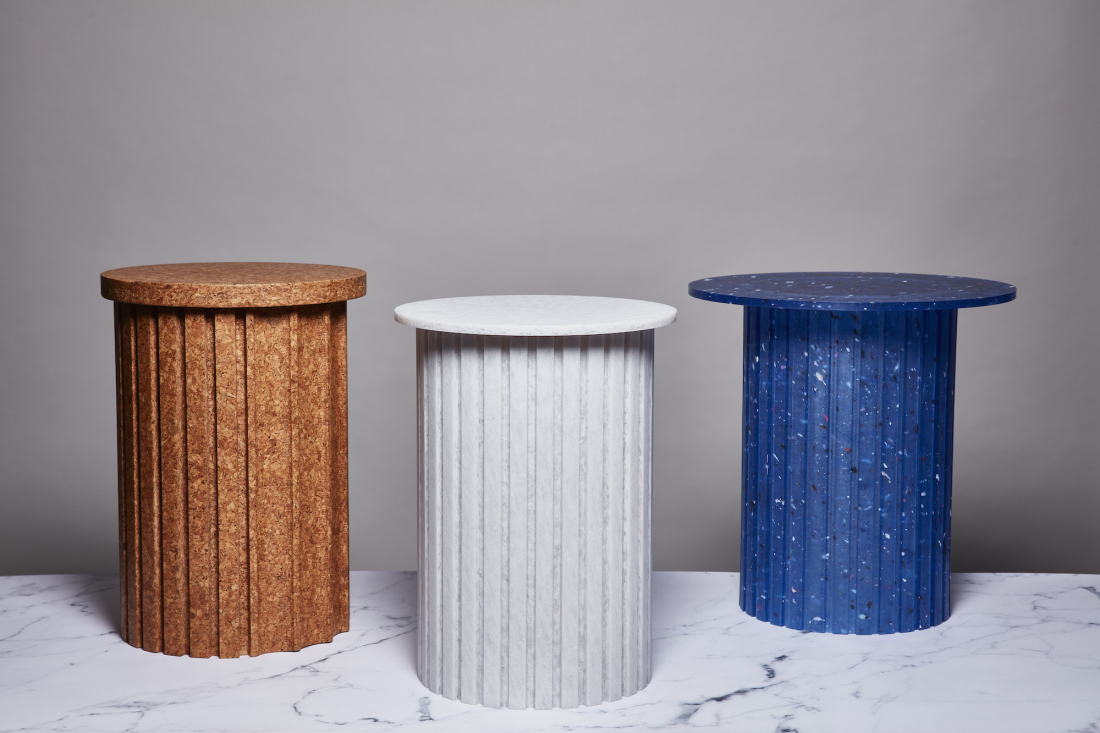 This week, Material Matters returns to Bargehouse, Oxo Tower Wharf as part of London Design Festival.
The fair, which runs from 20-23 September, promises to bring together world-leading brands, designers, makers, and innovators to investigate and celebrate the importance of materials and their ability to shape our lives.
Here, ahead of the show's opening, we share some of the top things to look out for.
New ways of working with waste
There will be a plethora of designers and brands re-evaluating materials and finding new ways to work with waste. On the top floor of the fair, for example, emerging designer BC Joshua will be showing a seat (created with designer Ella Doran) and lighting (designed in collaboration with Purva Kundaje) made from a newspaper pulp blend. Hagen Hinderdael and Novavita Design have joined forces to develop a new product collection made from coffee waste, milk packaging, and fermented sugar.
Planq will launch Rezign® materials – a new collection of materials made from textile waste such as post-consumer denim, army clothing, suits and white denim. This is combined with bio-based resources like flax and jute coffee bags to create veneer, multiplex board, and flex sheet materials.
Solidwool returns to the fair and will showcase composite materials made from the Herdwick and Welsh Mountain sheep. It will also display a new Hembury side table. Elsewhere, Yair Neuman repurposes discarded lenses from the eyewear industry to create a new material for his products. The designer is set to unveil an assortment of pendant, table, and wall lights, alongside his Delerex® sunglasses frames.
On the fair's second floor, Hydro will be illustrating the untapped potential of recycled aluminium, showing Bello!, a new lightweight bench manufactured from nearly 90 per cent of the material and designed by Lars Beller Fjetland. Around the corner, The Tyre Collective is a clean-tech start-up spearheading the capture and monitoring of tyre wear, accelerating the shift towards true zero-emission mobility. Tyre wear is the second-largest microplastic pollutant in our oceans and a major air particle matter pollutant. The studio is developing the first on-vehicle device to capture particles at the source. Once captured, this pollution can be upcycled into a variety of applications, creating a closed-loop system.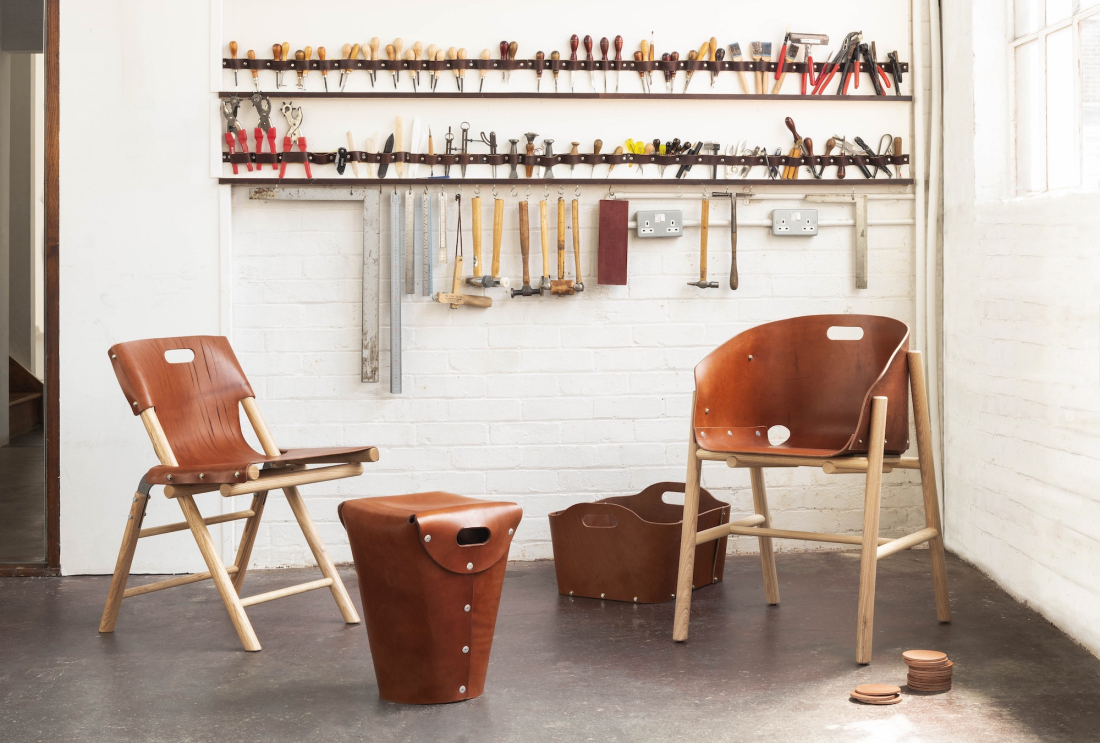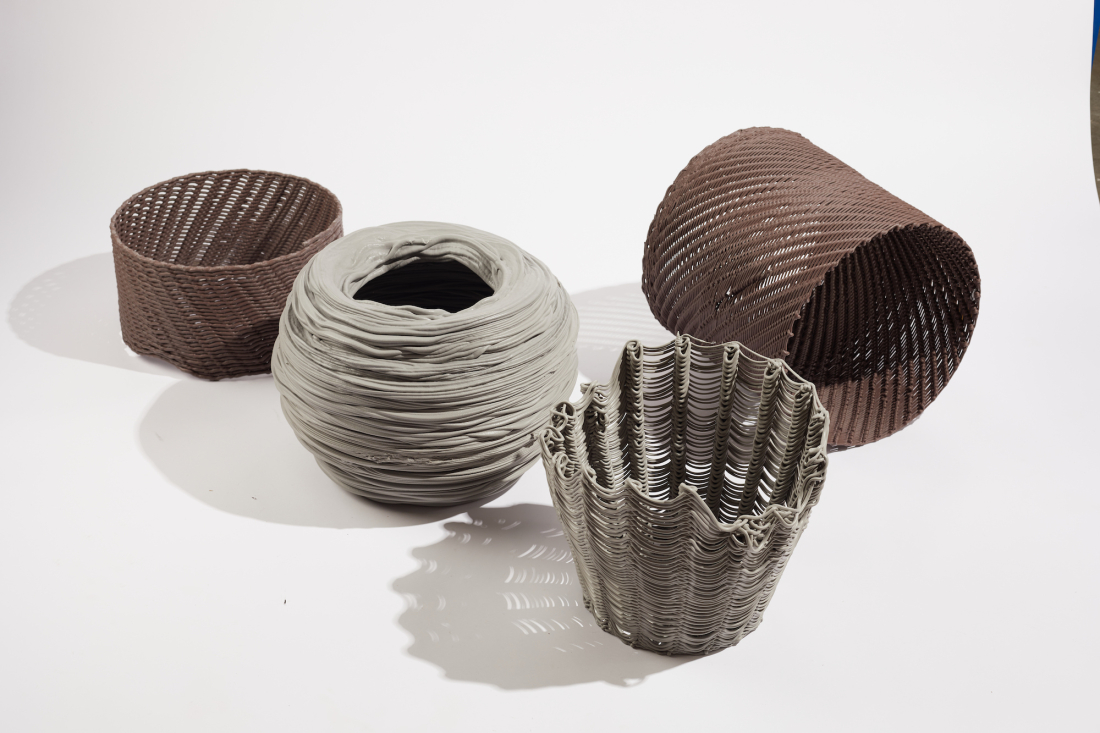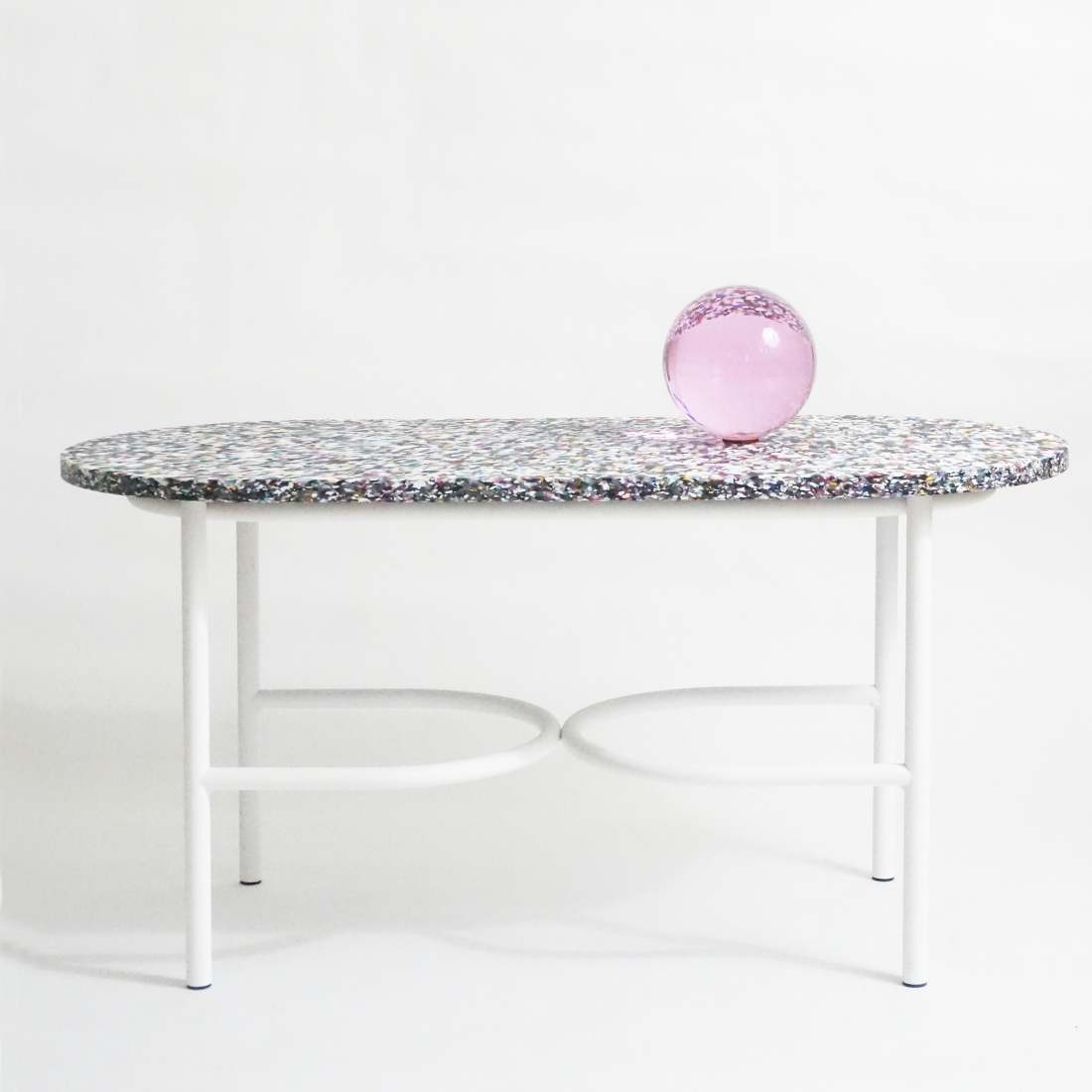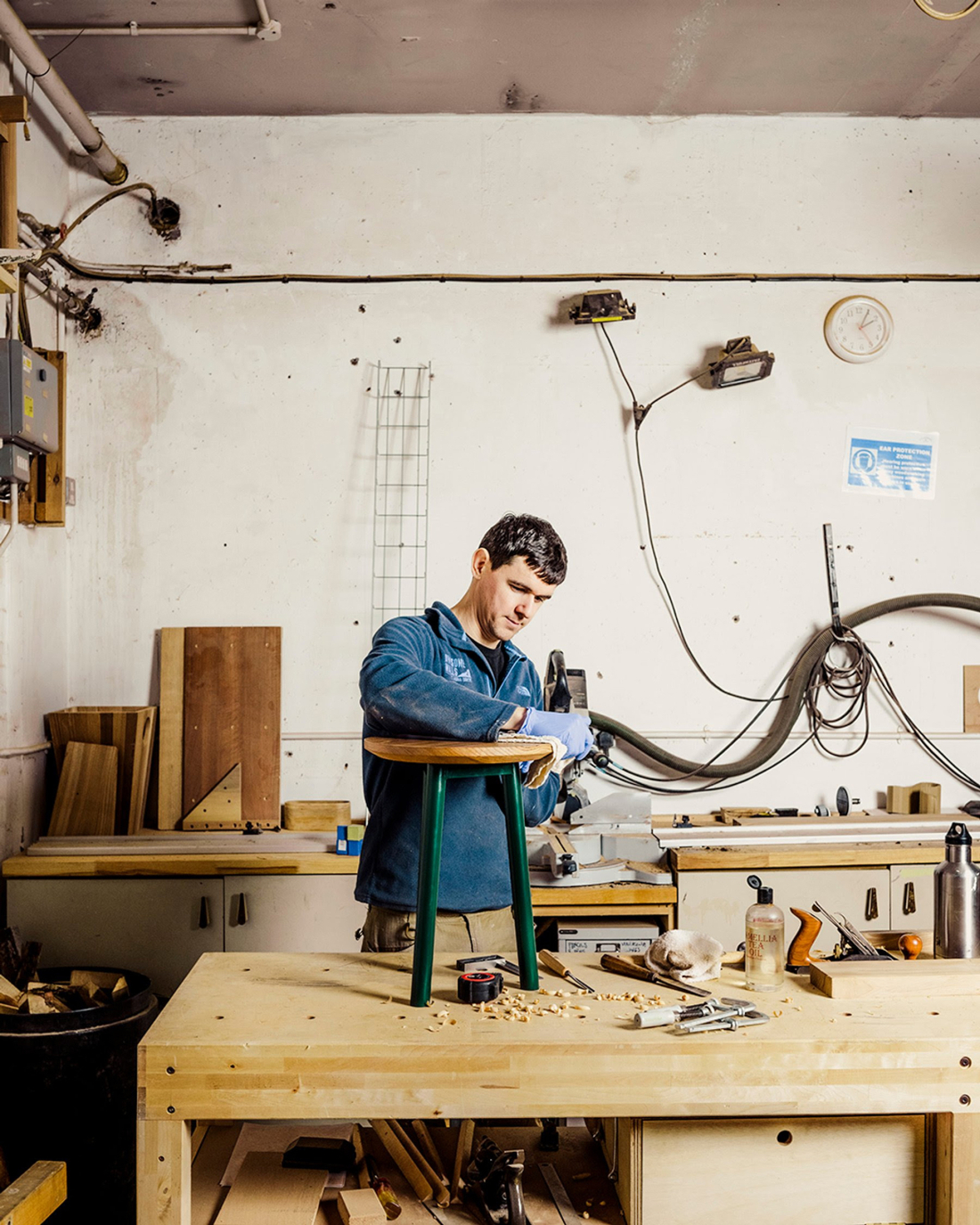 Working with nature
There is an array of designers and research studios finding ways to work with nature at this year's fair. bioMATTERS, for instance, specialises in 3D printing and robotic fabrication techniques for living materials. It develops solutions for 'grown-living design' for product design and architecture applications, and fabricates a wide range of biomaterials using clay, mycelium, and microalgae and bacterial based dyes.
Silklab is an interdisciplinary materials science lab from Tufts University, in Greater Boston, which focuses on the potential and properties of silk fibroin. The studio will be displaying the possibilities of its material.
Material Magic comes from the Innovation Hub East-Groningen and Dutch designer Jack Brandsma. It investigates how binders like magnesium and potato starch can be combined with hemp fibres to create products.
And on the top floor, Mycelium Lab creates highly sustainable, bio-based wall covering panels using mycelium. Each wall panel showcases unique textures captured at different stages of the mycelium growth cycle, resulting in some fascinating designs. The company will be presenting part of its inaugural collection, Fumo Panels.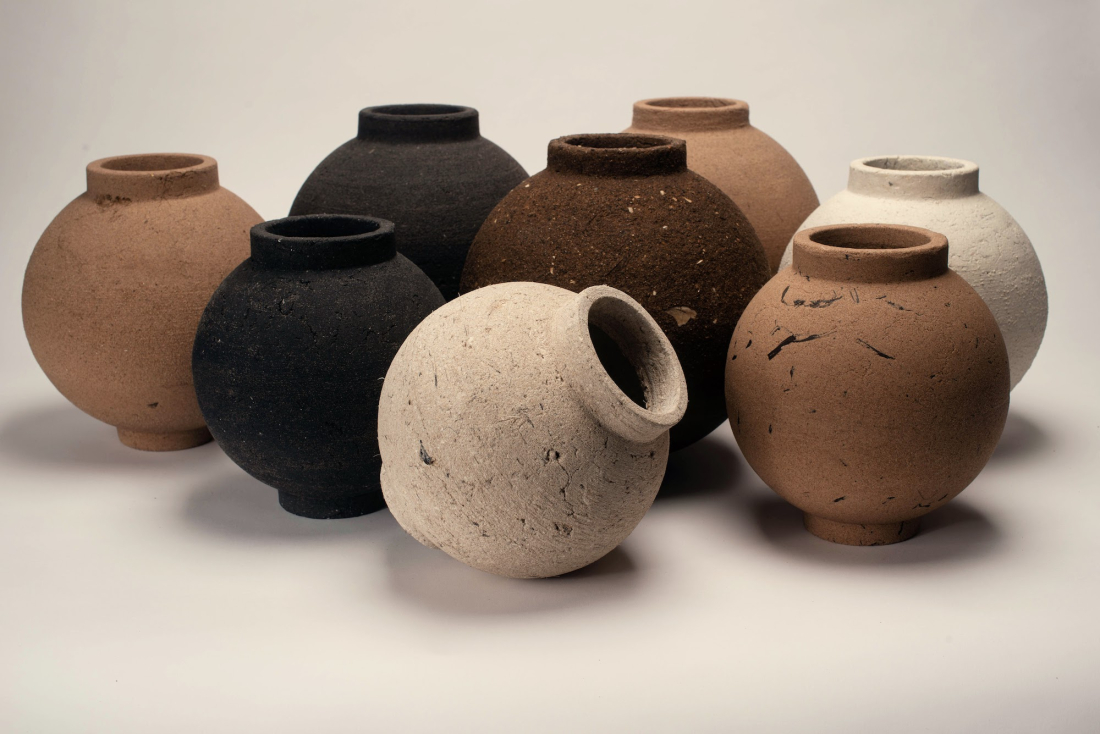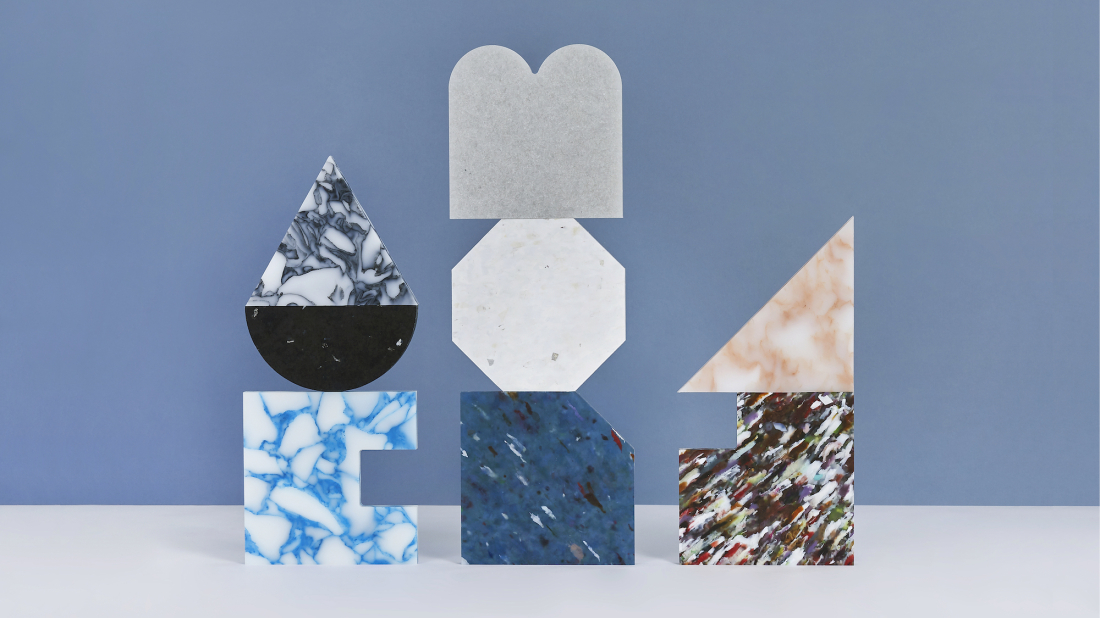 A sense of craft
In many respects Material Matters is concerned with the importance of making. Craft is a thread that runs through the fair, starting with this year's headline sponsor, the high end, British lighting manufacturer, Bert Frank. The brand will mark its tenth anniversary with new product launches that celebrate the considered use of exceptional materials, created from its factory in Birmingham. It will also celebrate its birthday by joining forces with the fair to throw one of the biggest parties at this year's London Design Festival.
On the top floor, designer-maker Ana Bridgewater (also known as Abalon) creates extraordinary lighting sculptures from Corallo porcelain, while Mixed Metals – a a collaboration between leading metal artists Juliette Bigley and Simone ten Hompel – is back at the fair with an interactive installation.
Goldfinger is an award-winning social enterprise that designs and crafts timeless furniture and homeware, using reclaimed and sustainable materials. Its profits support the Goldfinger Academy, which creates pathways to design and craft careers for young people in the local community, and the People's Kitchen, a monthly community meal cooked from surplus ingredients.
Craftsmanship has always been vital to Gareth Neal's practice but its definition has often stretched beyond the handmade into the digital. The studio will be showing ODC 3D on the fair's first floor. The work, produced in collaboration with The New Raw and funded by The Better Factory though an EU grant, promises to push the boundaries of traditional 3D printing and uses a three times recycled polymer.
Bill Amberg Studio has long been one of the most important names in leather. Last year, it teamed up with the Knepp Estate, renowned for its ground-breaking rewilding project, to design and manufacture a sustainable furniture collection. The pieces use materials sourced from the estate – leather produced from the longhorn cattle and the deer roaming the Sussex-based project.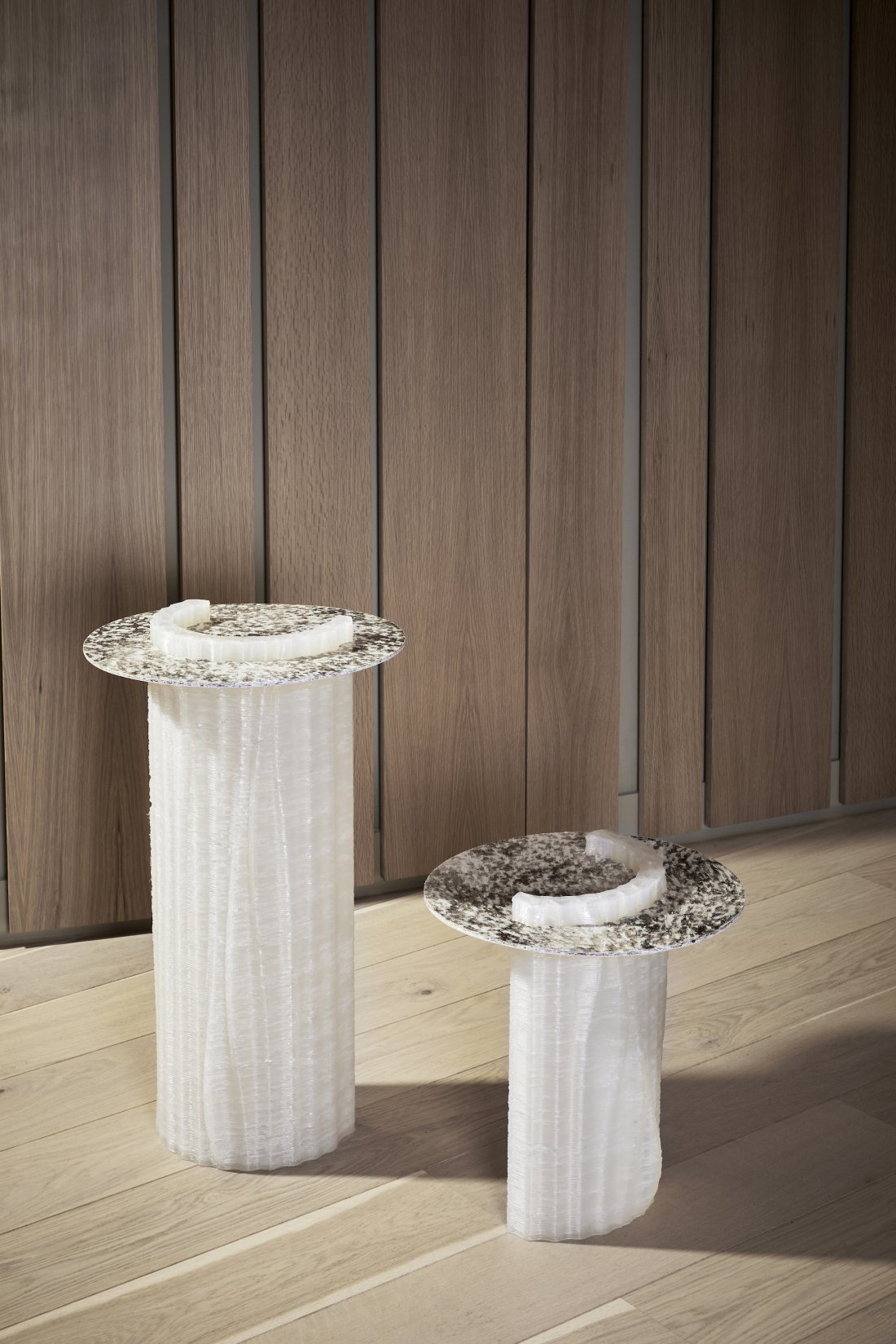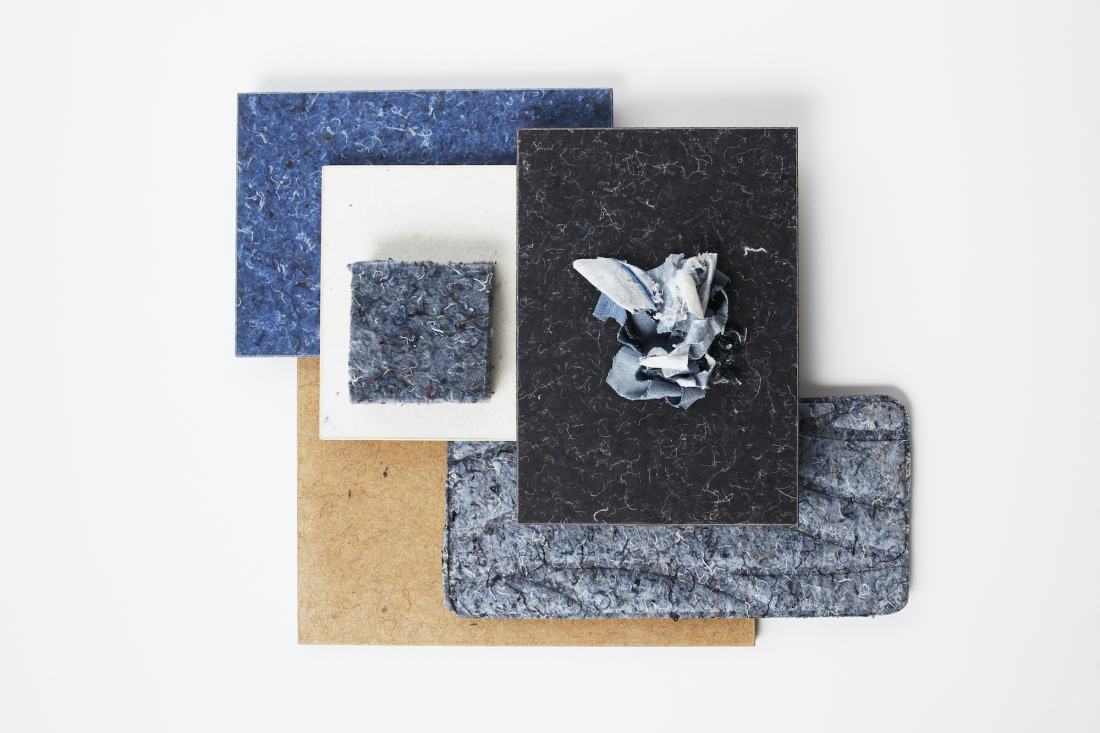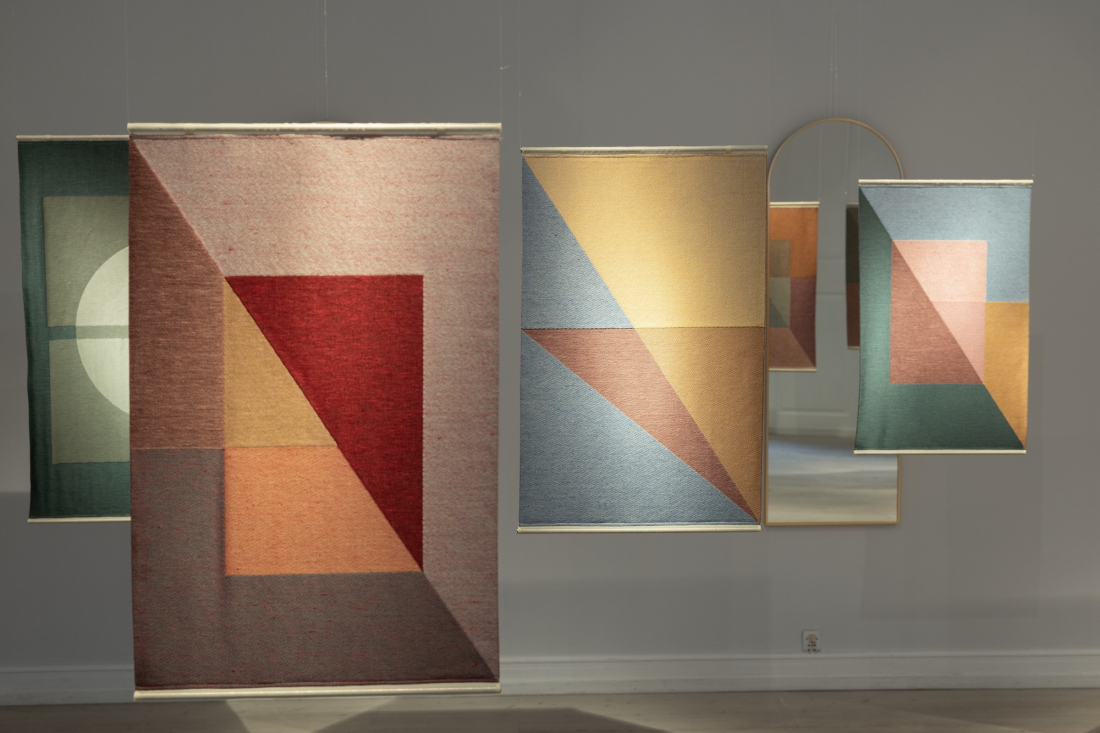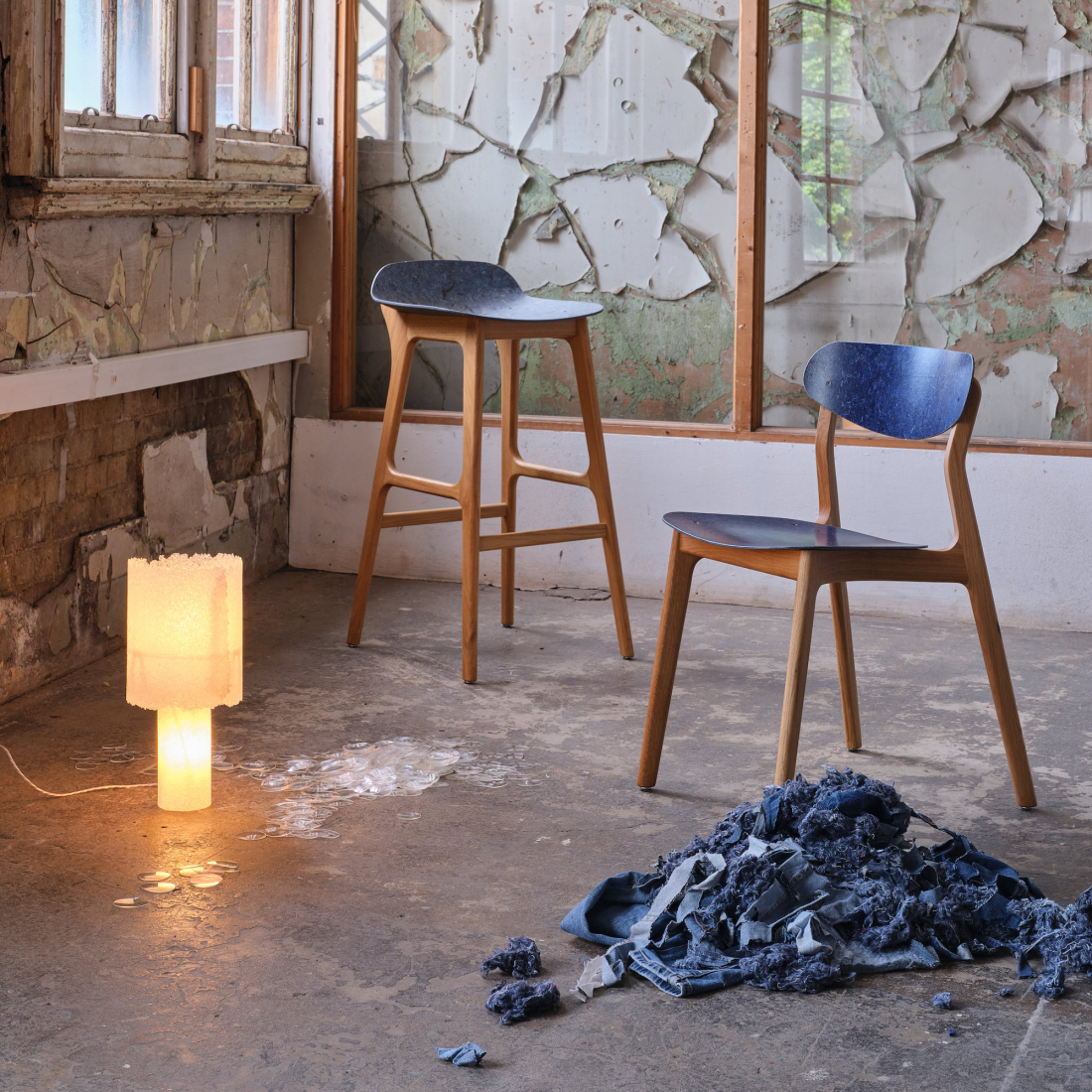 Features
Pearson Lloyd
In each edition, Material Matters throws the spotlight on a particular designer or practice. For this installation, Pearson Lloyd is 2023's practice of the year.
As part of studio's ongoing research to improve circularity of the mass-produced products for which it's responsible, Pearson Lloyd has conducted a review of the material palette of its projects in recent years.
Founders Luke Pearson and Tom Lloyd were struck by how different they were compared to a decade ago. The pair hope that this exhibition, featuring projects in collaboration with Howe, Modus, City of Bath, Batch.Works, TAKT, Profit, Senator and Yorkton Workshops, will inspire more designers to make commitments to circular design principles, with the confidence that they can be achieved at scale.
Tanja Kirst – Planted
Danish designer, Tanja Kirst, has created this year's entrance installation for the fair. She asks the simple question: can oranges, seaweed and hemp be transformed into textiles without compromising aesthetics?
Wood Awards
Once again, the Wood Awards will unveil its shortlist at gallery@oxo – directly adjacent to Bargehouse. The installation will feature exceptional wood-centric work from some of the UK's most important architects, designers, and makers across nine categories.
The Works Place
Material Matters has joined forces with Insight Publishing, one of the world's leading brands for workplace news, commentary and features. It will create The Works Place, a space that showcases the latest and most innovative thinking on sustainable office design, circularity and innovation.
Isola – Nothing Happens if Nothing Happens
Isola, the Milan-based design platform, will host a new exhibition on the third floor of Bargehouse. Nothing Happens if Nothing Happens will feature emerging designers using regenerative resources and repurposing waste materials.
Talks
Material Matters 2023 contains a lively and informed talks programme that will include some of the most dynamic figures from the worlds of design and architecture tackling topics that really matter. See the full line-up here.
For more information, and to sign up for your ticket to the fair, click here. And stay tuned for our faves.