Experimental ceramic and porcelain tableware by Coralla Maiuri that is entirely hand-decorated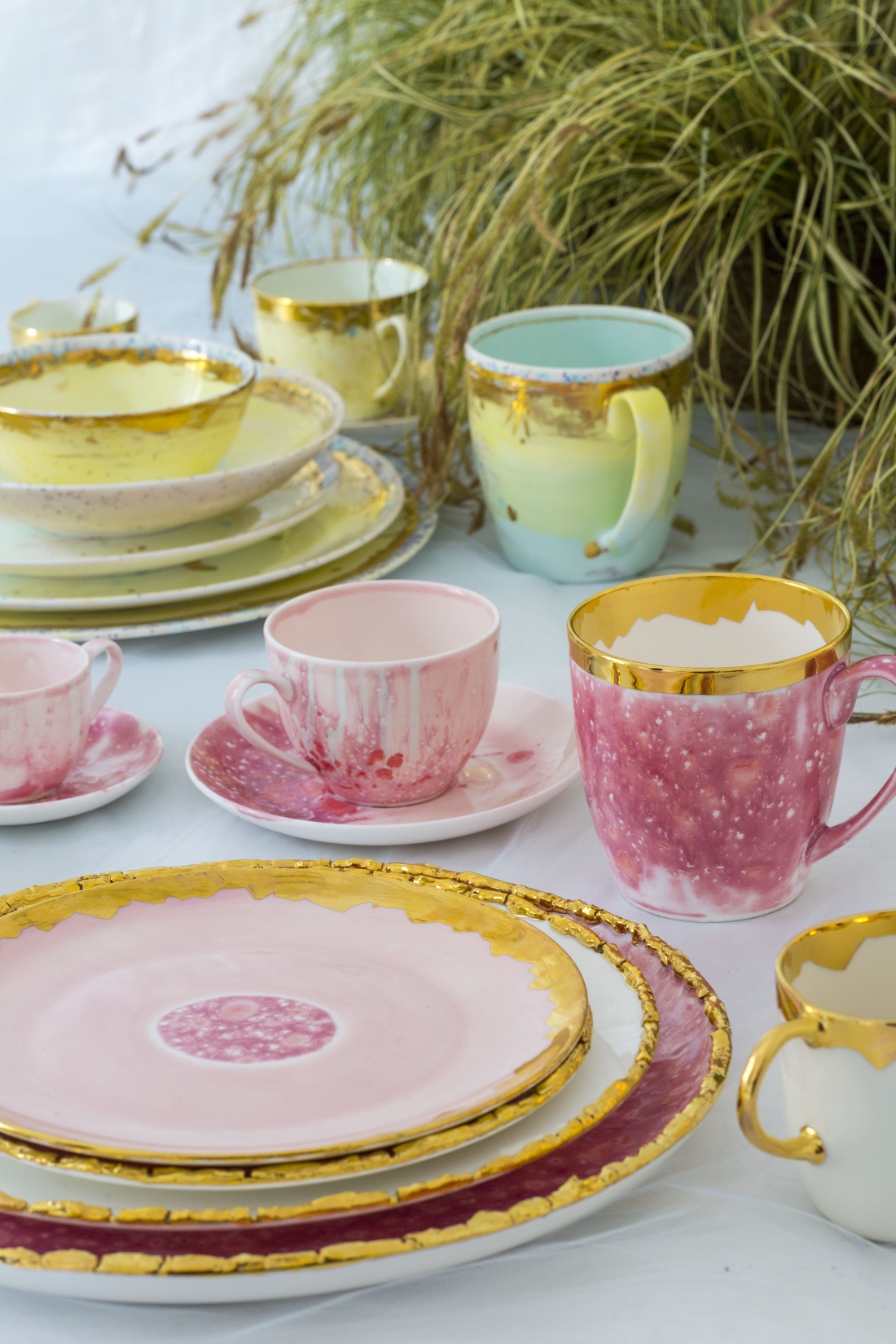 We're big fans of Coralla Maiuri. The Italian designer creates ceramic and porcelain tableware, tea sets and vases that seem dreamy and familiar all at the same time.
It is as if plates, bowls, cups, vases, sculptures and jars were small universes. Experimentation of materials and decorations never stops in a swirl of creativity with each of her objects entirely hand-decorated. For her latest tea sets, revealed at Milan Design Week 2019, Coralla offers teapots, teacups, cake plates and bowls in blues, reds, yellows and greens – alternating between bold and delicate brushstrokes.
The shapes and surfaces of her Bottega d'Arte vases, on the other hand, are a result of her experimentations. The Alba vases are decorated with mother-of-pearl lustre and decoration around the neck; pearl and iridescent effects coexist with relief surfaces that seem to have dried up after a volcanic explosion. The Dust & Light vases are drop-shaped and distinguished by opaque splotches of clay, alongside shifting mother-of-pearl lustre areas.
Last but not least, Coralla's Piazza del Popolo collection now includes two new lines – Celestial, presented at this year's Maison & Objet Fair in Paris in January 2019, and Berry unveiled at Milan Design Week. Both are inspired by traditional, simple Italian artisanal pottery decorated in a personal and elegant key with original croquelé golden rims.
Coralla Maiuri is a multifaceted artist who has been creating works and installations for over 20 years, taking part in exhibitions in international galleries. She also designs furniture, lamps and fabrics in which she expresses the "enchantment of a dreamy aesthetic together with a practical sense of use". Her fabrics are included in a collection of brass furniture designed with Giorgia Zanellato.