Makers 3 - Glasgow: Celebrating creative craft.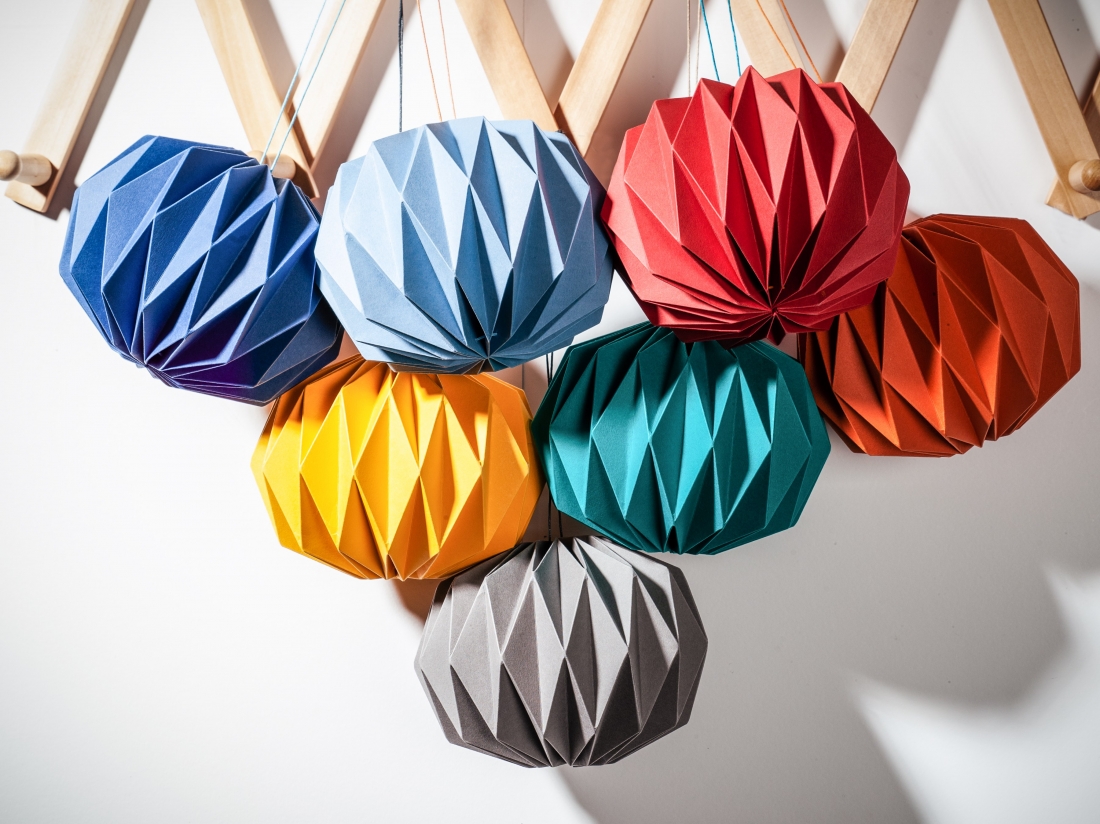 For the latest instalment in our Craft series, we turn our attention to Glasgow.
A true gem of a city in so many ways - from a thriving arts scene to jaw-droppingly beautiful architecture at every turn, we were extremely keen to meet the makers that call Glasgow 'hame'. Here are our favourite designers flying the flag for their heritage skill.
Kate Colin
Kate Colin is a designer/maker based in Glasgow who works with paper to create handmade lighting, wall art and installations. Inspired by origami and geometric forms, Kate's bold and sculptural work emphasises the interplay between light and shade.
She is interested in colour, tonal variations, shadow and geometric form and uses her work as a vehicle to explore how they interact with one another. Each piece is scored, folded and assembled by hand and when illuminated, their appearance is radically transformed: folds, creases and angles become emphasised while an intensity of colour is brilliantly revealed.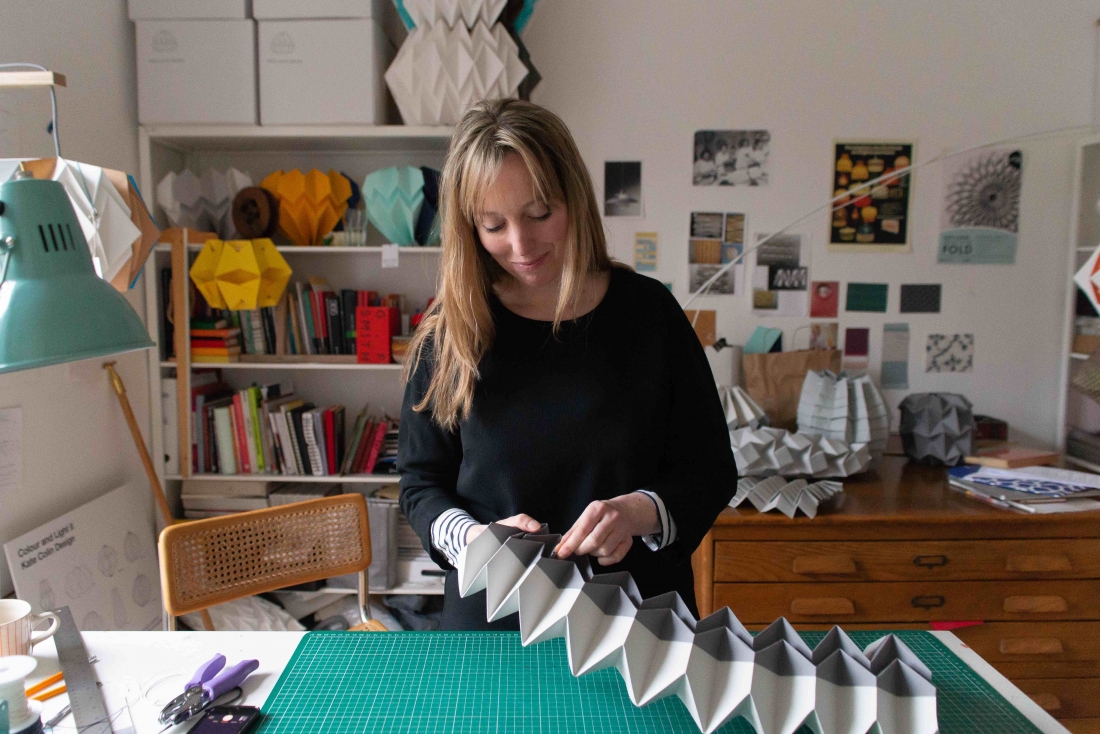 How did you get started?
"I have always been interested in three dimensional design and was inspired to start paper folding through my father's hobby of making colourful polyhedra models from cardboard. He was a mathematician and I must have inherited some of his passion for geometry, clean lines and precise angles. I was interested in working with paper as a raw material as well as exploring geometric form and what could be created from a flat piece of paper. I soon discovered the possibilities were endless and I became increasingly fascinated by how the slightest alteration in angle, fold or measurement could completely transform the final result.
"Combining good design with functionality is key to my practice and as I started to incorporate more colour into my work, I began to experiment with how paper and folded forms reacted to light. I was pleased to discover that illumination radically transformed their appearance: folds, creases and angles became emphasised while an intensity of colour was brilliantly revealed. At this point, I knew that light and colour would be essential elements in my work and that my pieces would have function as well as colourful and decorative appeal."
Can you briefly explain your making process?
"My making process involves a lot of experimentation. I rarely use computers and prefer to work mainly by hand throughout. I usually start with rough sketches and a vague idea of what I want to create in terms of function and size (but this inevitably morphs into something else as soon as I start to work on it). My process is full of surprises and I often end up with folded forms and constructions I didn't expect due to a slight variation in angle or measurements.
"After sketching, I select a design or folded form that I've been working on recently and would like to explore further. I work through several versions and play with scale and complexity until I reach a final form I am happy with and think would work within an interior space.
"When developing a new collection of lighting I put a lot of thought into the colour palette as well as the type of paper I want to use. For domestic commissions, I tend to use mainly white (to maximise emitted light) with accents of carefully selected colour to give each piece its own identity. I am often inspired by the work of other artists and their use of colour - at the moment I am especially interested in the watercolour drawings of furniture designer Finn Juhl (1912-1989) whose work I first came across while visiting the Design Museum in Copenhagen.
"Once I have selected the colours I want to work with, I source the nearest shades and suitable weights of paper which are available. Some papers work better than others depending on the project I'm working on and I also have to consider how the paper reacts with light and to a particular folded process and design.
"One of my favourite parts of the making process is seeing the final piece installed in new surroundings. The addition of light can often also brings unexpected results - I never tire of seeing how the colours and textures of paper transform when lit from within. It can be truly magical to see the appearance of a shade completely change as day turns to night."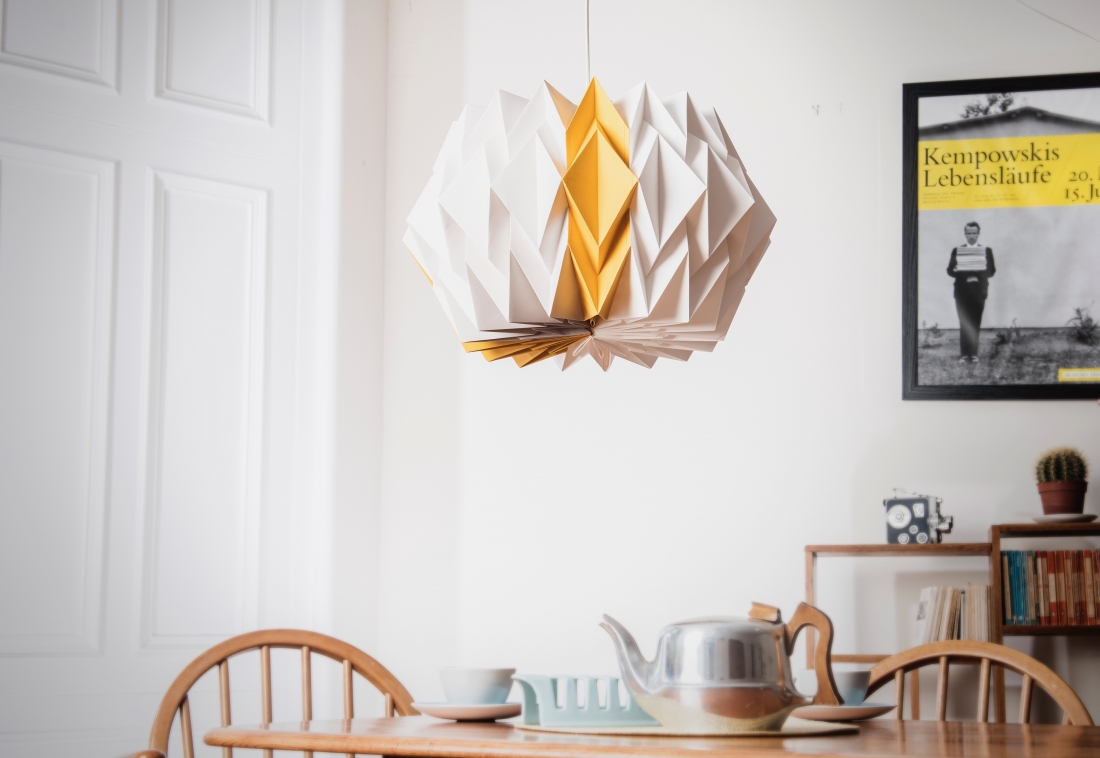 How important is material research and sourcing to your end product?
"Thorough research into the paper I work with is key to my end products. I try to use recycled and sustainable FSC certified paper whenever possible and often source paper from different manufacturers in the UK, Spain, Germany and Italy.
"Each paper has its own special feel and texture which I match to the project I intend to use it for. I love working with all types of paper - there's nothing like the feeling of taking out a brand new, clean sheet and being faced with possibilities of what it might become once folded. It's such a versatile material and there are some amazing varieties, colours and textures available on the market. I often try making the same design in different papers just to see how the end result alters.
"Being relatively inexpensive, it's also a perfect material for experimentation and is accessible to everyone. Each has its own special feel and texture which I match to the project I intend to use it for."
How would you describe Glasgow's creative scene?
"There is a thriving creative scene in Glasgow. Artists, designers, makers and musicians seem to be drawn here due to affordable studio spaces, its historic artistic reputation and ample possibilities for cross-collaboration. I grew up in the city but I know many other creatives who came here either to study at GSA and decided to stay on afterwards or were simply attracted by the vibrant scene as well as affordable studios and living spaces. There is an extremely supportive network of makers and artists who regularly host events and exhibitions and is something I'm very proud to be part of."
Made by HAME - Lewis Mcleod
HAME is a craft-focused and design-led independent furniture and homeware business. "Everything we do is designed and made by human beings right here in our workshop in Glasgow. Now and then we get a little help from the occasional robot, such as in our near-zero-waste Lambda Range."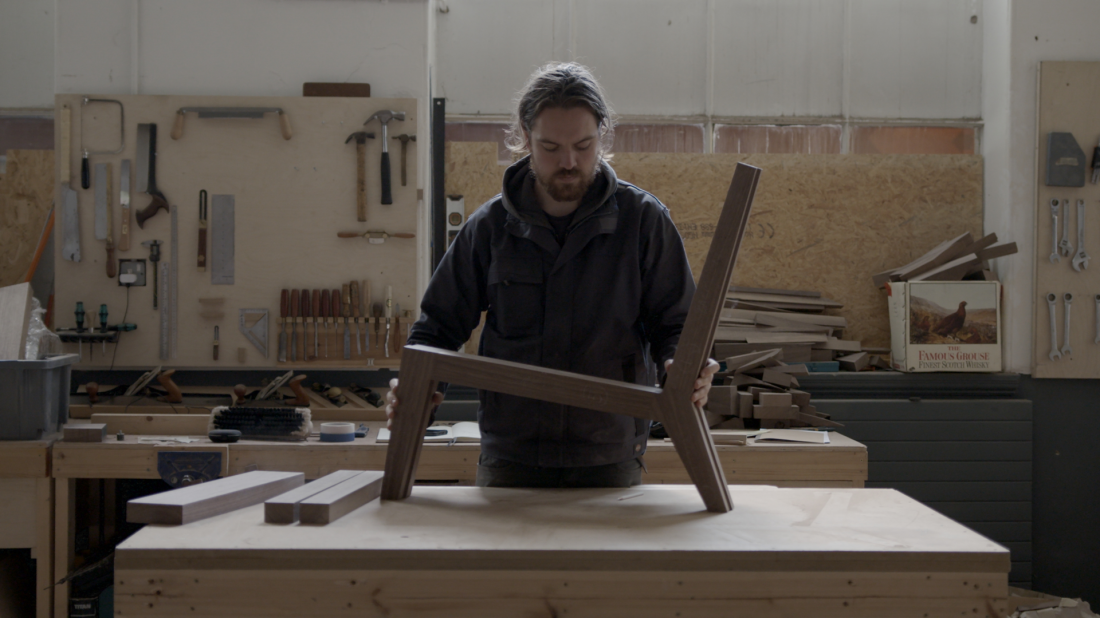 How did you get started?
"I was really into skateboarding and punk as a teenager. Being from a smaller town, we didn't have much in place to support any of that, so if you wanted to skate you found a place to do it, if your band wanted to play a show we'd go out at 14 and rent a hall and put one on. I put most my interest in art and creativity down to that DIY culture we had back then.
"I then studied product design at Edinburgh Napier and spent a year on foreign exchange in Oslo, where the approach to teaching design was very hands on. It was a couple of weeks of 9-5 lectures, then for the rest of the semester we were just pointed at these amazingly well-equipped workshops and just told "go put what we've just talked about into practice". So it was out there that I fell for the actual hand-work and got familiar enough with woodworking machinery to think I could really give this a go."
Can you briefly explain your making process?
"We work on a pretty wide range of products and projects, so the process can vary a lot, between making a batch of 100 coat hooks to send out to resellers, and making a one-off bespoke piece of furniture and bringing it straight into someone's home.
"There are, of course, certain approaches and ideas that run throughout everything we make. While designing I try to think in decades or centuries, to make work that will improve with age and stay well clear of the fast furniture cycle. We only work with certified and sustainably sourced timber and try hard to minimise waste. And once the tools come out we simply try to make every single object to the very best of our ability."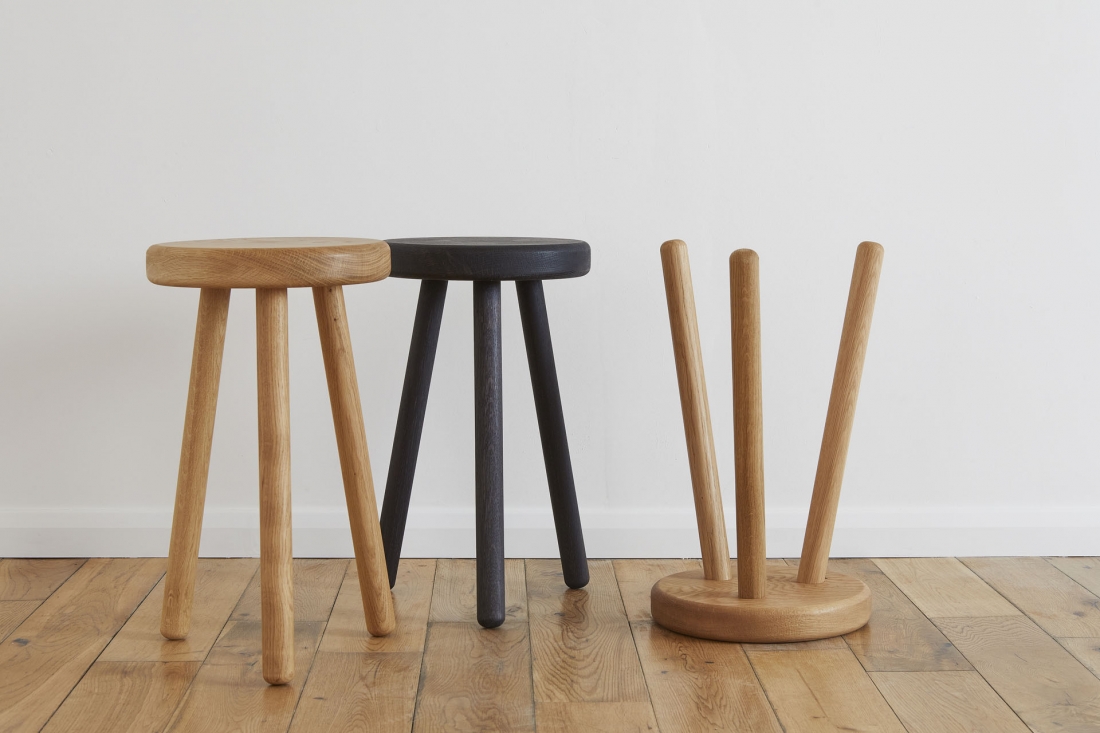 How important is material research and sourcing to your end product?
"Hearing about new materials / finishes / techniques is often what gets me excited to start designing a new project, like I'm looking for an excuse to try whatever it is out.
"For the more day to day stuff, the materials we work with really are everything. I try to design in such a way, and to select finishes that really expose and celebrate the nature of the materials being used. That means every piece of wood we use has to be carefully chosen to be best suited for its particular role within a piece.
"Luckily we have a couple of fantastic timber suppliers nearby who let us come down and dig through their huge stacks of wood to find the perfect boards."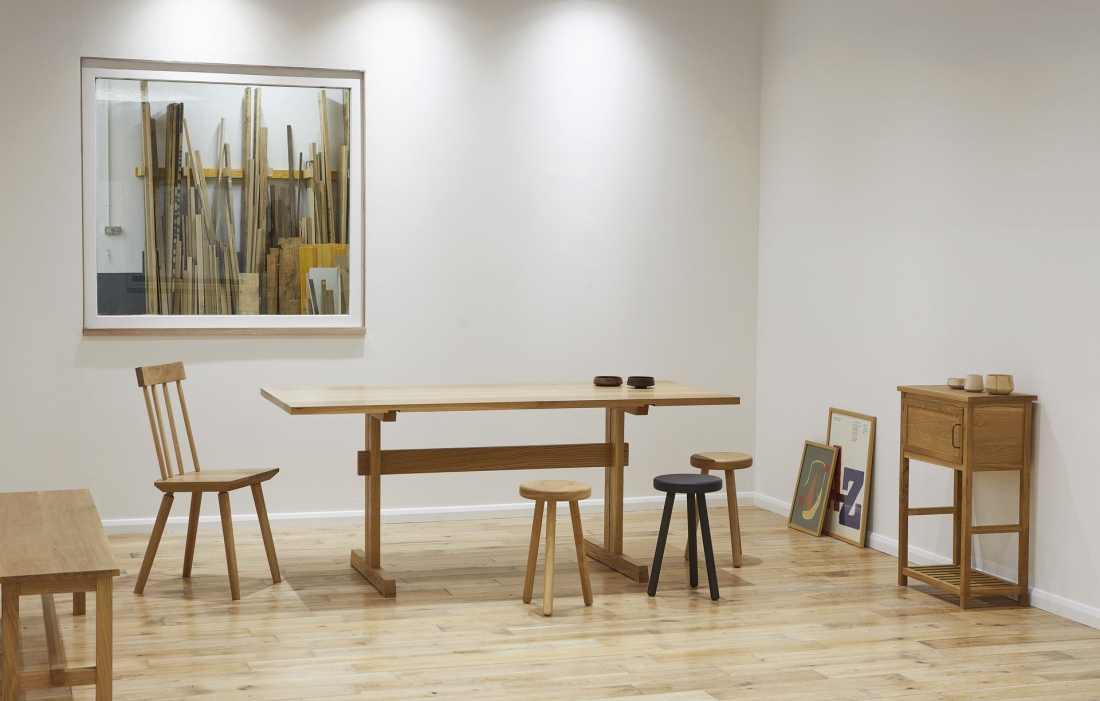 How would you describe Glasgow's creative scene?
"Generally buzzing but obviously fairly quiet over the last year! But looking forward to things opening up again. Glasgow is a great balance between big enough that there's always something going on, and small enough that when you hear about something really cool, you probably already know someone who knows someone, who knows someone who's a part of it, which makes everything feel really accessible and welcoming. And live music. Again. Soon. Please!"
Katie Rose Johnston
Working from her garden studio in South Glasgow, Katie Rose Johnston crafts small batch, sculptural ceramics that are influenced by the natural world that she encounters everyday.
Fascinated by prehistoric artefacts and the raw, windswept landscape of her birthplace, Shetland, as well as the tactile, ancient process of hand building stoneware clay; every M A N I F E S T O product is a completely unique, functional artwork that aims to bring the rustic beauty of nature into the modern home.
How did you get started? And can you briefly explain your making process?
"Since I was a young child my mother has taken me mudlarking for pottery sherds washed up in the silt of old middens and harbours. The treasures we found were precious remnants of worlds which had long since passed and were the first conscious experience I had with the properties of clay.
"I began working with clay in earnest back in 2016 whilst studying sculpture at The Glasgow School of Art and after I graduated, M A N I F E S T O began. Over the years, M A N I F E S T O has developed into a space where I craft sculptural ceramics that are inspired by archaeological artefacts and the natural world.
"In the studio, I work solely with hand-building and coiling clay as the process is slow and tactile, giving the opportunity for play and experimentation before settling on a finished form. Because of this approach, every M A N I F E S T O product is completely unique in scale, appearance and personality."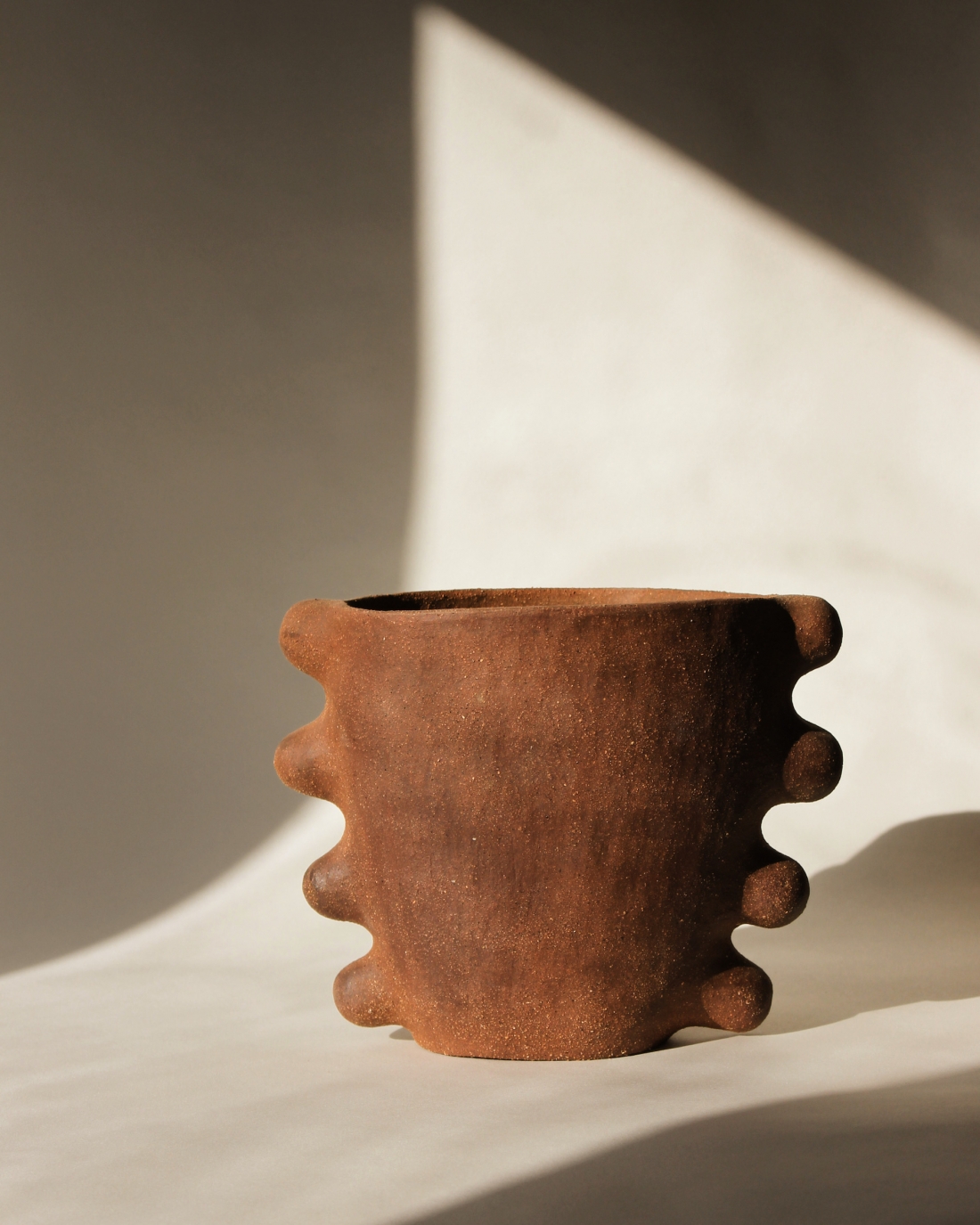 How important is material research and sourcing to your end product?
"Experimenting with new materials, ideas and processes is a vital part of my daily life in the M A N I F E S T O studio. From mudlarking and fossil-hunting for treasures that inform my next series of ceramics to pigment hunting and playing with new clays or glazes, I'm always curious to find ways of integrating these materials and ideas into my ceramics.
"Sourcing good quality materials is important to the ceramics I craft as often the surfaces are left unglazed or minimally glazed to highlight the natural properties or texture of the clay. Currently I'm working towards harvesting and processing my own Scottish clays and inclusions which is an exciting step to take in the future of M A N I F E S T O."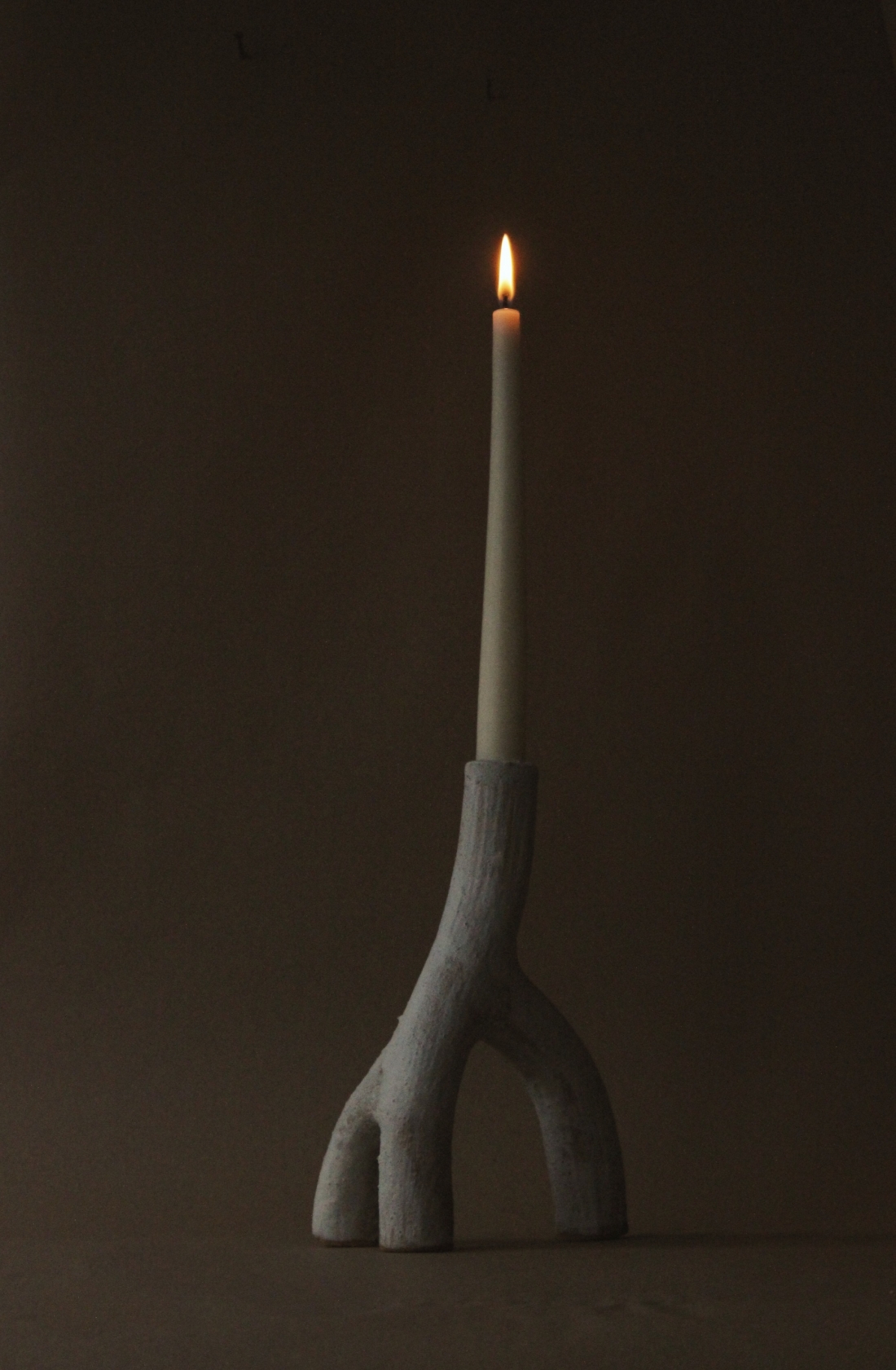 How would you describe Glasgow's creative scene?
"Glasgow has a diverse creative scene that spans art, theatre, craft and music throughout the city. It's a city where independent boutiques, creative studios and Scotland's leading markets have flourished, creating a supportive space with lots of opportunities for collaboration and experimentation.
"With the growing interest in owning handcrafted objects and favouring small businesses, Glasgow has a rich craft scene of artisanal furniture, ceramics, textiles and print to name a few, which can be seen through Spot Design Market, a curated market that brings Glasgow's artisans to an international audience each year.
"We also have Glasgow International, a visual art biennale that draws artists, visitors and ideas from across the world, as well as galleries and institutions that keep Glasgow growing as a cultural and innovative city."
SHY Design Studio
SHY is a Glasgow-based design studio creating furniture and interior products that are beautifully understated but engaging interpretations of traditional archetypes. Utilising natural materials, strong forms and quality craftsmanship, sustainable pieces are delivered that inspire long lasting user-object relationships.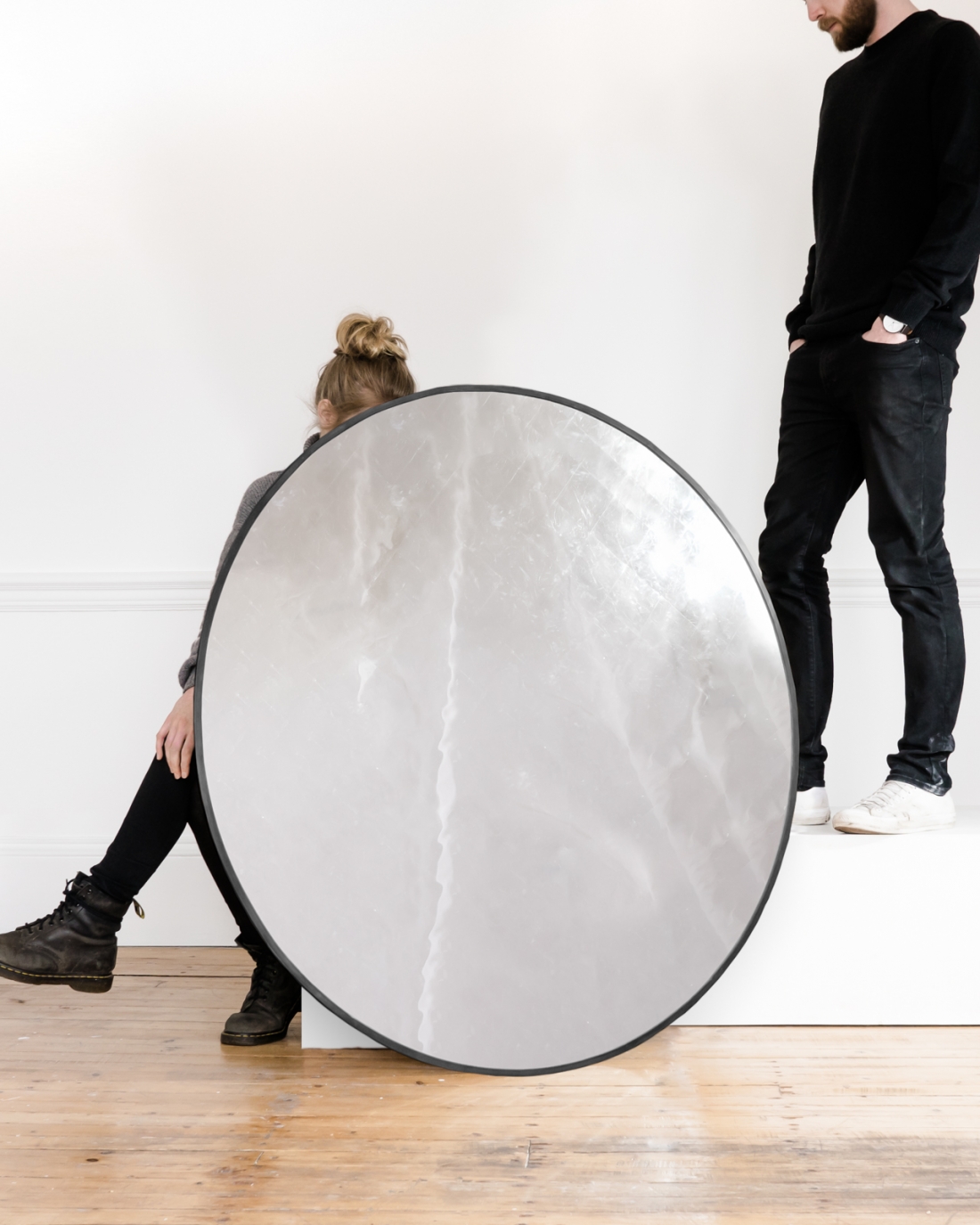 How did you get started?
"Initially in London, whilst working for an art and design gallery in the collectible furniture niche, I took on some freelance work in the same capacity, designing and managing the production of some pieces for another local designer. This work slowly evolved to supporting just a few other studios, primarily in the realm of collectible and limited edition furniture, building a wealth of experience in a variety of mediums and materials. Generally we couldn't share much of the work we were involved with, hence we quickly became the SHY design studio.
"A couple of years ago I had the opportunity to move to Glasgow, a city I love, and where I felt there was great opportunity to explore our own creative direction. We started producing our own pieces under the SHY brand, which somehow perfectly captures our own style and ethos."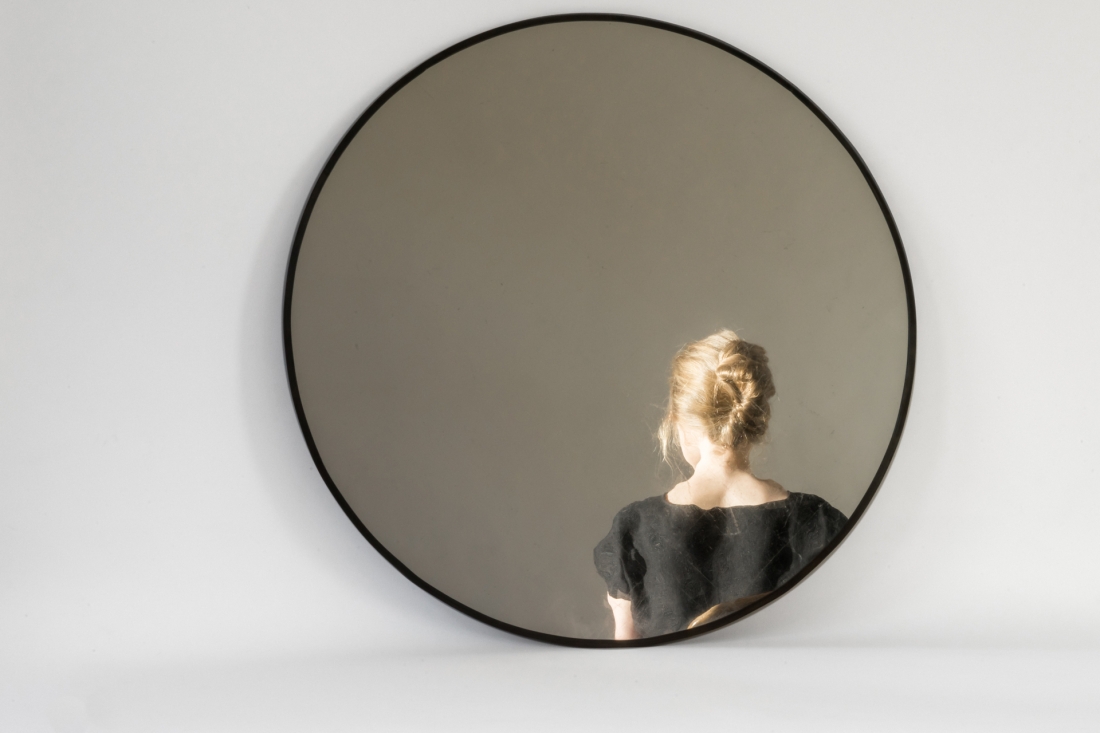 Can you briefly explain your making process?
"Our process is usually quite project specific, often we start with a conceptual idea or narrative, but not necessarily a map of how we translate that into finished objects. Typically a lot of back and forth takes place between design ideation, prototyping and experimenting, so we're not confined to any given material or making process, it's variable and in constant flux.
"We might take a piece of furniture and let the history of that item inform our research and exploration with ideas, materials and processes. A good example is our Perlucio piece, where both the mirrors earliest conceptions, its varied material and production throughout history is all reimagined in our final product.
"For our reinterpretation of a classic candleholder we first designed a strong, refined form which still referenced those of old, then we developed a method to cast them using natural soot and charcoal as pigmentation which further strengthens their product identity.
"My own background lies in furniture design and cabinet making so wood is where I'm most experienced, but even then we find ourselves working the material in unorthodox ways. In the past we've ended up completely reconfiguring an industrial metal lathe in order to slow the machine enough to cut complex and accurate threads in large oak stock (to the slight annoyance of the workshop technician)."
How important is material research and sourcing to your end product?
"Material research and experimentation in manipulating and processing it are hugely important in telling the story of a product, emboldening its presence and achieving the desired aesthetic. Between material and process there's constant innovation to be had. If you can translate that narrative into finished objects you can encourage an emotionally engaged, long lasting relationship with its user, this in itself contributes to sustainable design.
"We focus on utilising natural, high quality, ethically sourced and environmentally friendly materials, again this all contributes towards long lasting and sustainable design."
How would you describe Glasgow's creative scene?
"One of the reasons I was pulled to Glasgow was the creative scene. I'm still a relative newcomer but I've got to say it's incredibly abundant, rich and diverse across design, arts and manufacturing. After last year's lockdowns, we especially can't wait to keep exploring and making more connections with other creatives in our city.
"Only last week I learned Scotland's creative industries now employs more people than the energy sector, and contribute over £5billion to the economy. Over 80% of these creative business are small enterprises of less than 5. I think that's certainly something to celebrate."
Viv Lee
Viv Lee makes vessels as a response to exploring the materiality of clay and the metaphor of "body as vessel". Working with stoneware and terracotta, she utilises slow hand-building techniques like pinching and coiling in the process of making.
Drawn to the meditative properties of these techniques and influenced by Zen Buddhism, the analytical mind is put aside in the moment of making in favour of the intuitive body and the phenomenological experience of clay. The tactile nature of clay lends itself to the exploration of form, allowing Viv to observe thoughts and sensations that arise in her own body, translating subtle experience into material qualities in the works.
The vessels are glazed in a palette of whites, natural earthy tones or left unglazed to show the body of the clay. Adopting a neutral palette allows the formal aspects of the pieces to stand out, emphasising the primary connection of both body and vessel to the primordial body, Mother Earth.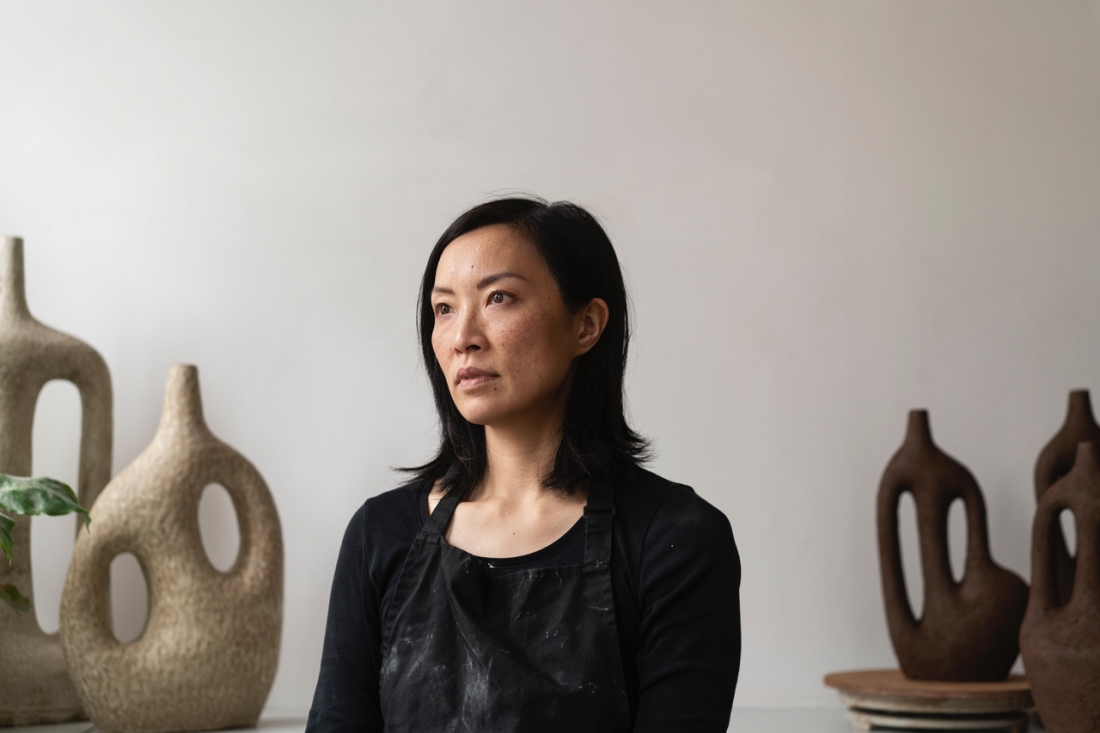 How did you get started?
"Essentially self-taught in ceramics, my interest in working with clay began while studying for my fine art sculpture degree at The Glasgow School of Art. In my second year at art school, a visiting professor from China came to our department to teach us to sculpt a head in clay.
"It sounds clichéd but as soon as I touched clay, I fell in love with the tactile and expressive potential of the material and the fact that it has such ancient roots. I knew at that point I had found the material I wanted to work with. After graduating in 2017, I set up my own studio and began working full time as a maker in 2018. My background in sculpture gives me a strong leaning towards material exploration and sculptural forms which I think is evident in the vessels I make."
Can you briefly explain your making process?
"Working with stoneware and terracotta, I am drawn to the meditative properties of slow making techniques like pinching, coiling and press-moulding. When it comes to making coiled vessels, I try to put aside my analytical mind in favour of taking a more intuitive approach to clay.
"Sometimes I begin work with a loosely formed idea of what I might make, but as I begin the process of coiling, I am drawn into another direction. I try to remain fluid in this process allowing my intuition to guide my making. Working this way does not always yield the 'right' results the first time.
"It can be incredibly frustrating too and I have squashed many pots in the process, but eventually something begins to feel right and a form emerges. Some of the forms that I create using this intuitive and exploratory approach are later developed into limited edition press moulded pieces."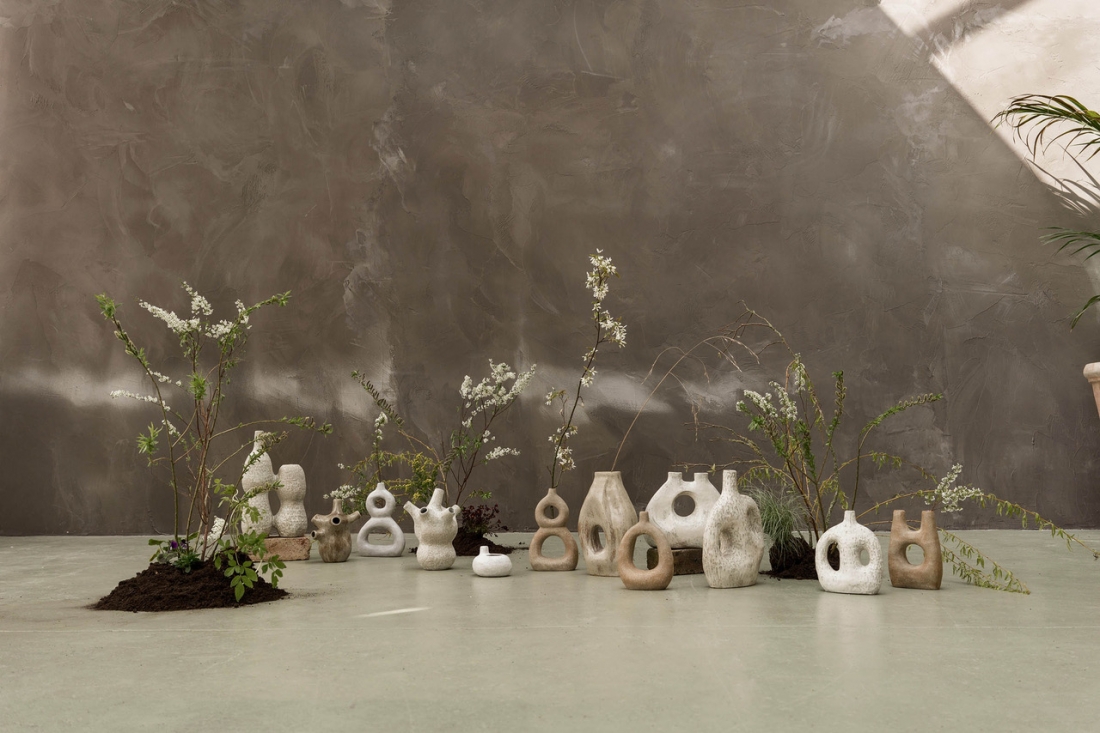 How important is material research and sourcing to your end product?
"Material research is a very important part of my making process - especially when it comes to ceramics where there are so many possibilities and outcomes. Working out how different clay bodies react to the underglazes, glazes and stains, and recording the different results can be a very time consuming but essential part of realising a finished piece.
"Increasingly, I am interested in adding other locally sourced organic materials into my clay bodies and making my own slips from wild clay. Not only is this a very exciting process as it yields unexpected results, but it feels particularly rewarding to have a connection to a place where the materials comes from."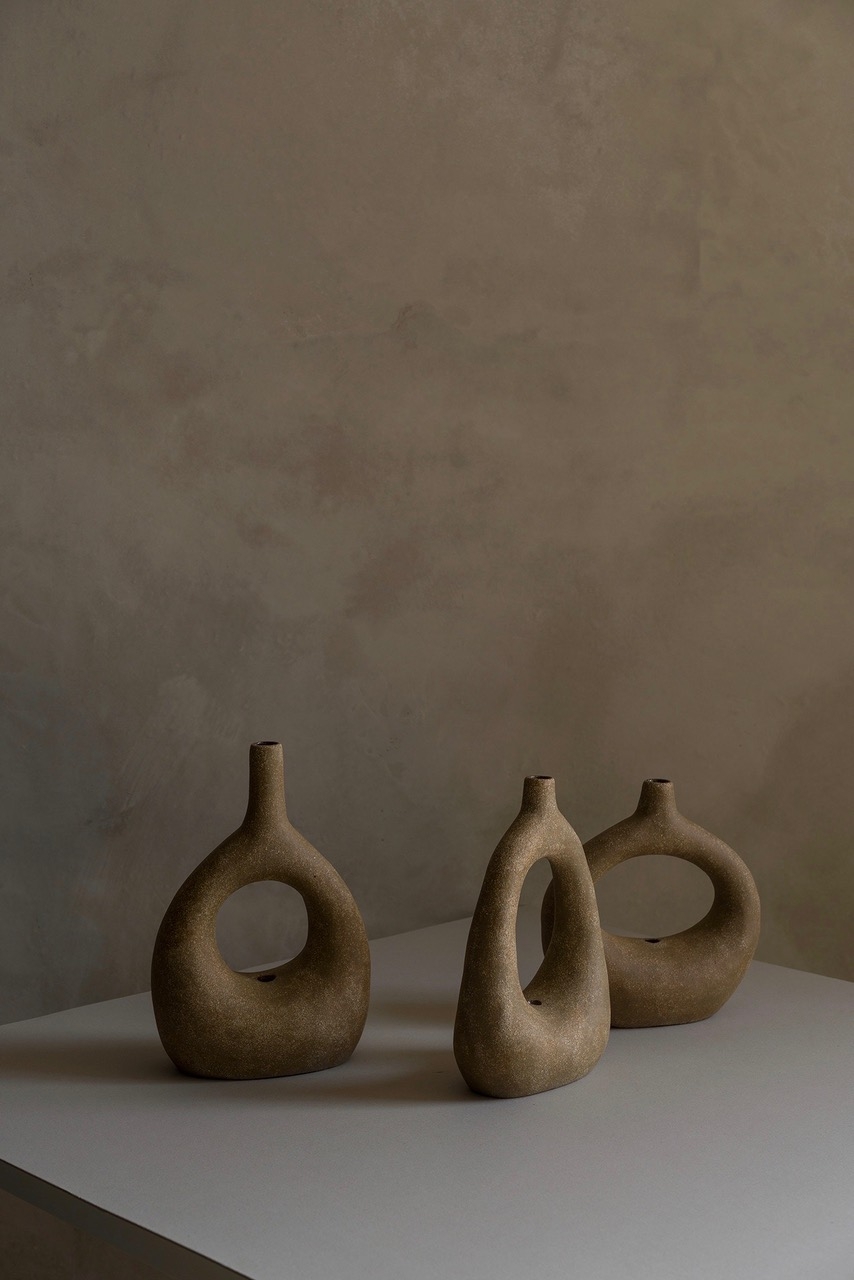 How would you describe Glasgow's creative scene?
"I think the art school in Glasgow really contributes to the creative scene that is so unique to Glasgow. Friendships and connections that form at the art school often continue well after graduation, with students often staying in the city following graduation to set up studios and collaborate with fellow practitioners, which creates a real sense of community.
"Organisations such as Craft Scotland and Creative Scotland also serve the local creative community, providing opportunities and resources to make it more feasible to work in a creative practice. One of my more memorable experiences as a maker has been collaborating with photographer Gabriela Silveira on a joint exhibition at The Briggait in Glasgow.
"I think it's not uncommon for creatives of different disciplines to work together and this cross-fertilisation of ideas makes for a very dynamic creative scene. Beyond that I would say there is certainly a cultural openness and a sense of possibility in Glasgow which perhaps simply comes down to its people."
Warped Textiles
Warped Textiles was established in 2014 by Chantal Allen, a Scottish woven textile designer / maker living and working in Glasgow. With over fifteen years experience studying and teaching weaving, she wanted to use her creative passion to start up her own bespoke textile business in Scotland.
Inspiration for Chantal's signature geometric patterns stems from structural forms and graphic shapes whether man-made or natural. Resulting in woven fabrics that are designed in a timeless and contemporary style. Production takes place in the UK and the fabric is woven in small batches on Chantal's computerised hand weaving loom in her Glasgow based studio or using local mills in Scotland.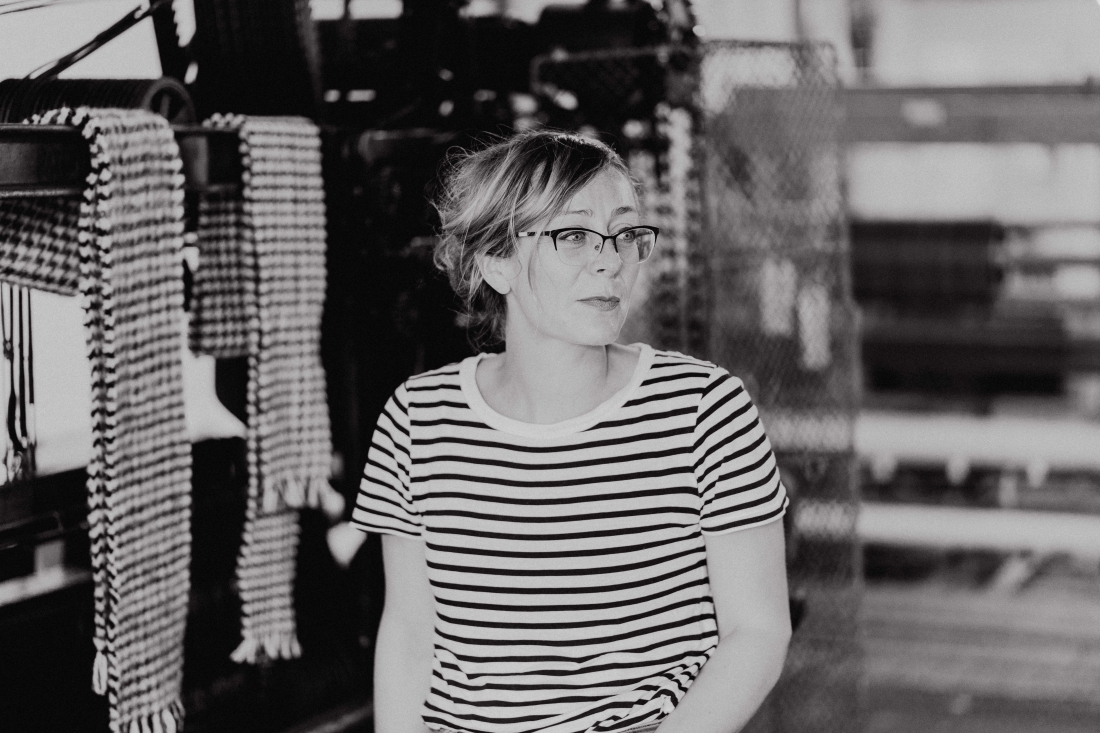 How did you get started?
"I was always interested in fabric from a very young age, colouring and design was all I wanted to do and I spent most of my time creating little catalogues filled with fashion drawings and found fabric samples. I always thought that I wanted to be a fashion designer, not realising that one could be a textile designer and specialise in the fabric itself.
"After a period of work experience in the Weaving Shed at The Glasgow School of Art, I was captivated by the looms and wanted to learn more. My heart was set on designing. The precision, patience and commitment required to create a piece of cloth from a few cones of yarn was fascinating and soon became addictive - and so in 2001 I went on to complete a BA Hons degree in textiles.
"After graduating I went on to teach textiles and spent a year in Bangalore, India learning about jacquard woven fabrics and developing a range of interior textiles for the European and American market. And in 2014 I set up my own woven brand called Warped Textiles where I specialise in small batch production of hand and mill woven fabrics from my Glasgow based studio."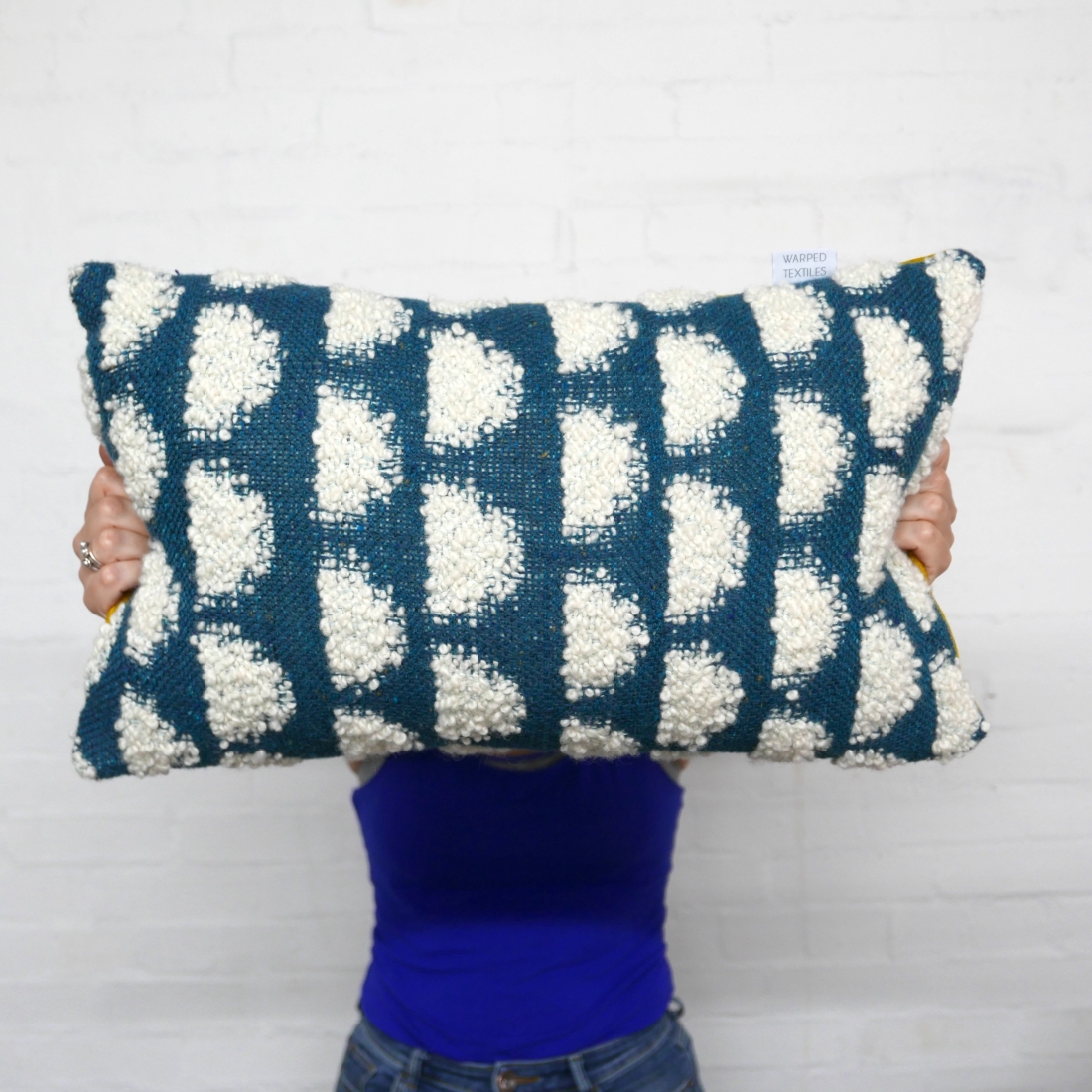 Can you briefly explain your making process?
"Inspiration is everywhere and my work begins with photographs, found images, objects and collage. I like the traditional method of planning my designs with a pencil and square paper, this often gives me a better understanding of the cloth I'm trying to create. Several calculations then need to be completed to ensure the correct density of yarn is chosen and the correct number of threads are wound onto the back of the loom. Each warp thread needs to be handled with care and precisely aligned in the correct position within the loom before weaving can begin.
"My weaving loom is computerised which means it still needs to be manually dressed with yarn however the pattern is controlled with specialist textile software - this means the process of weaving can be speeded up and patterns can quickly be changed or altered allowing for limitless design possibilities."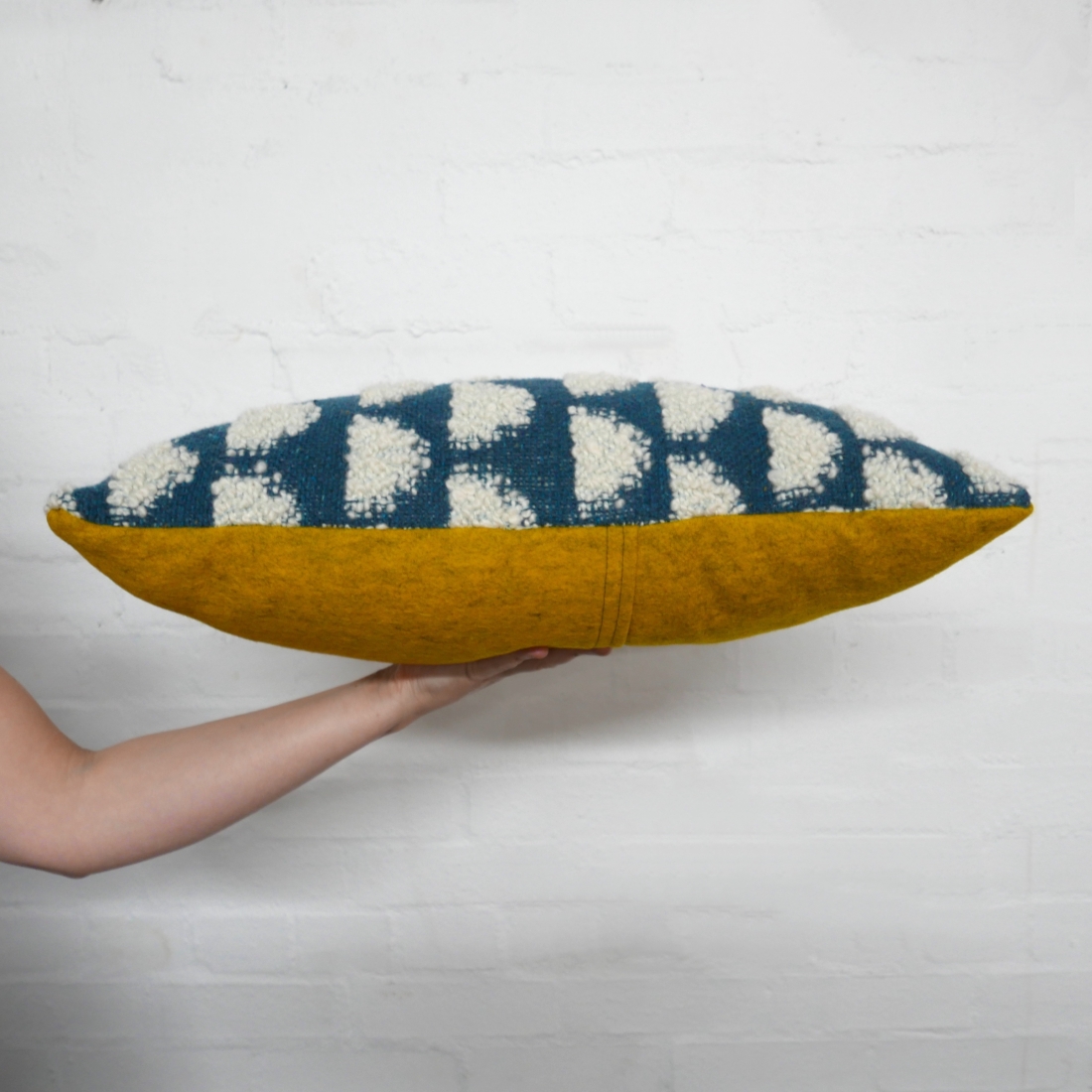 How important is material research and sourcing to your end product?
"Material sourcing is a predominant part of the design process for me and something I am continually researching to ensure the end product is as durable and biodegradable as possible.
"Currently my fabric is woven with wool or blended with cotton and other plant fibres, however moving forward I'm keen to work with British suppliers who champion yarn that is grown and produced more locally."
How would you describe Glasgow's creative scene?
"Glasgow is a city which is abundant with creativity and steeped in a history of making that undoubtedly inspires artists and designers to create opportunities for themselves. I believe that the slower pace of life in the city allows creatives more time to develop ideas and collaborate with one another.
"With new businesses such as Vevar, Gulabi and Wildgorse opening there has been a resurgence towards the independent makers and specialists that the creative community of Glasgow are keen to support."