Makers 4 - Bristol: Celebrating creative craft.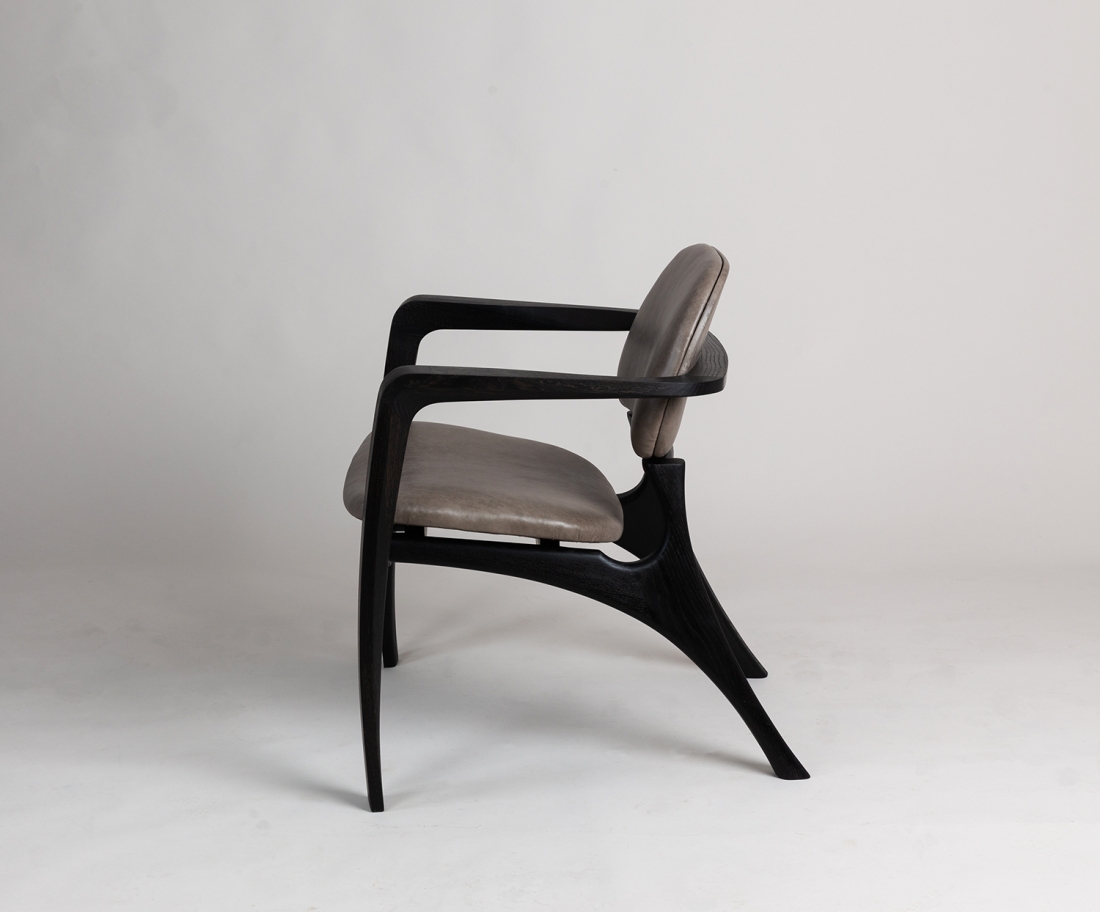 For the latest post in our Craft series, we head to Bristol.
With art and creativity embedded in the city's DNA, it's no surprise that the crafts scene is full to the brim with vibrant, innovative makers operating across every discipline, from furniture to ceramics. Here we showcase some of our favourite designers flying the flag for their chosen heritage skill.
Alan Flannery
Alan Flannery produces carefully considered, well-designed furniture pieces and household goods that are handcrafted with great care and precision. The maker's aim is to create furniture that stands the test of time physically and stylistically.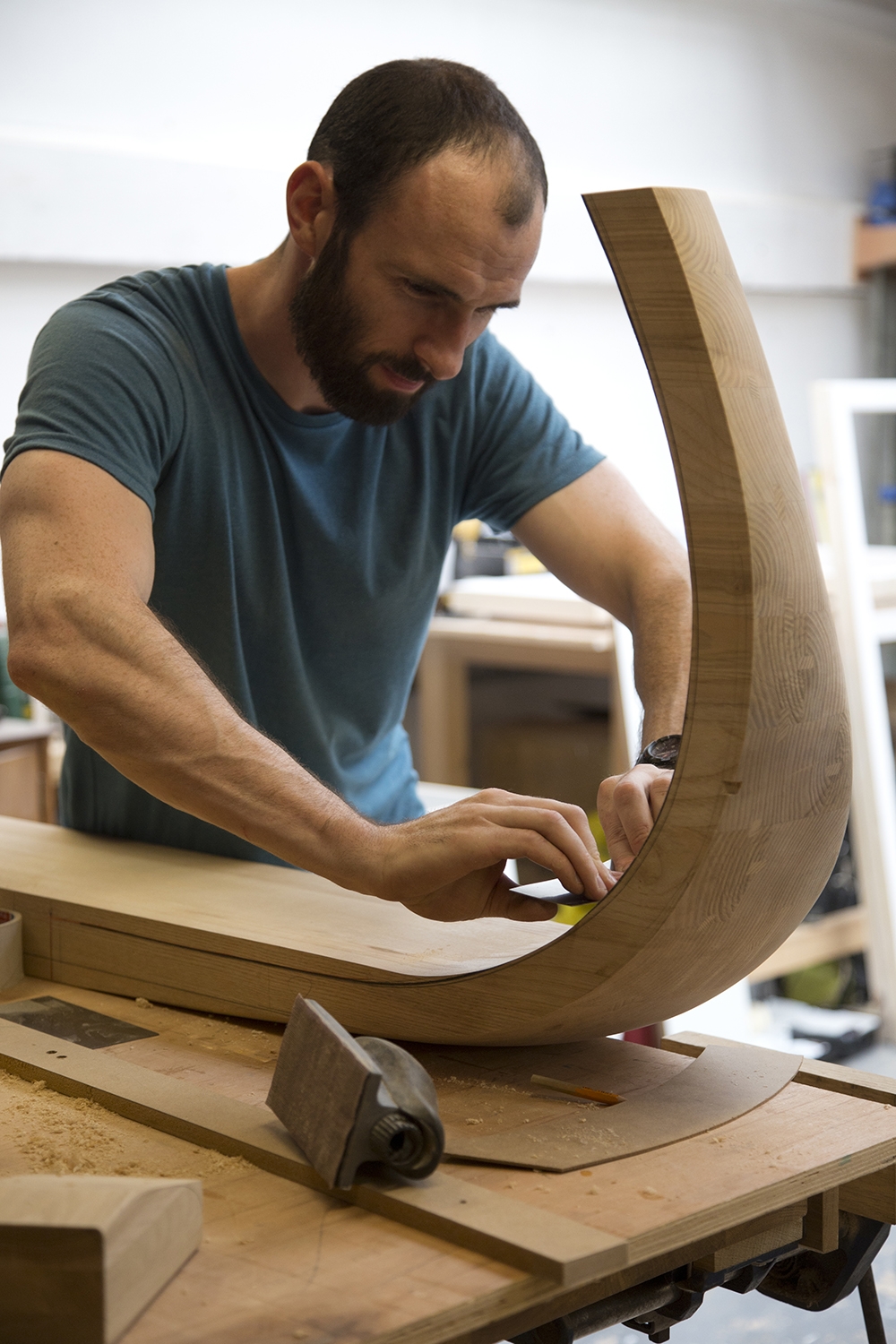 How did you get started?
"Furniture design and making always seemed to be the space where all my hobbies and interests converged. After leaving school I studied for four years at the Letterfrack Furniture College in Connemara and this furthered my interest and passion in design and making.
"After working for a number of years and learning lots at Axion furniture makers I decided the time was right in 2016 to set up my own practice. I felt that this would allow me to follow my own creative path, allowing me to design and make pieces with flexibility and freedom."
Can you briefly explain your making process?
"The pieces I make are pretty varied and the making process can be too. Various processes however run through each project. Each piece begins by generating lots of sketches, these are free and loose concept drawings which provide lots of new ideas.
"The best of these ideas are explored further, improved and refined which transforms the concept from an initial idea to a makeable item. If the piece is a commission this process is done alongside the client and their input and opinions are considered, ensuring the resultant piece is exactly what they are looking for. Before the actual making process starts the materials are carefully selected to suit the project. The wood once selected is machined, jointed and processed so that the piece can be dry assembled. Sometimes it is then taken apart to be sanded and finished before being reassembled and carefully glued together.
"In other instances where carving or shaping is employed the piece is glued together and then shaped, often using a mixture of power carving and hand shaping tools until its shape is formed. The piece is then smoothed, sanded and finished."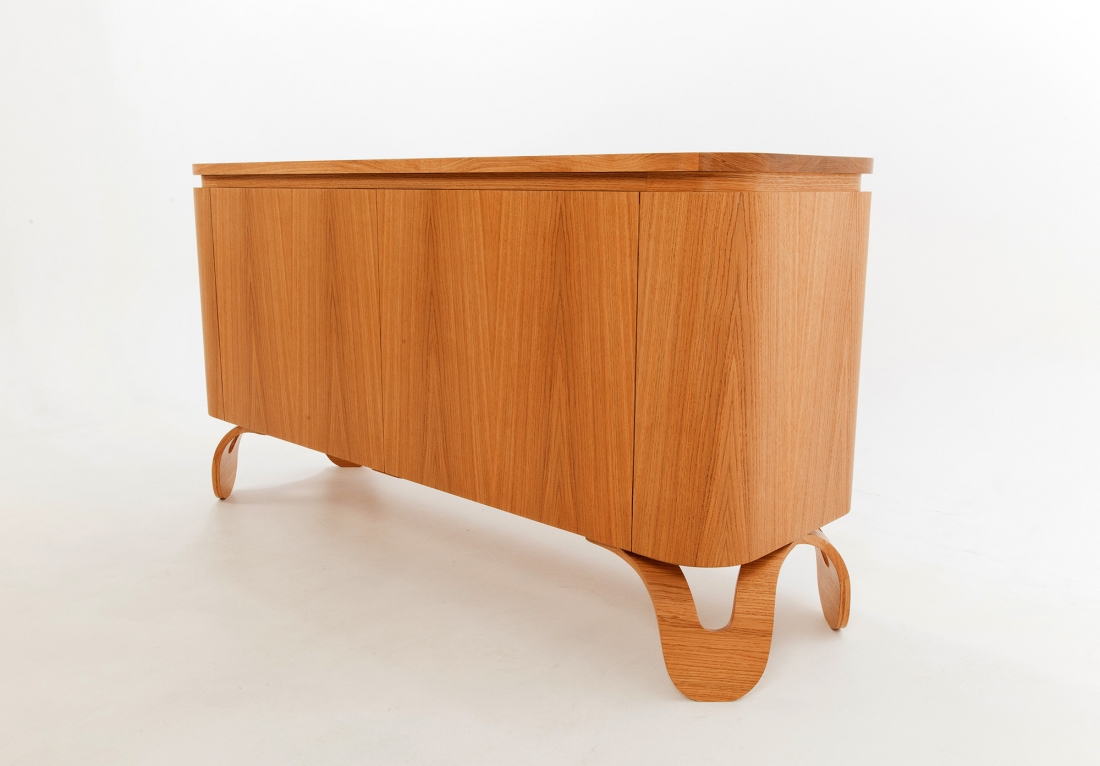 How important is material research and sourcing to your end product?
"The choice of material is very important, the material used is a crucial factor in the making of any piece. The texture, colour, physical properties and aesthetic of the piece are all dependent on the material choice. The same piece created from two different materials could have a completely different look and feel."
How would you describe Bristol's creative scene?
"I would describe Bristol's creative scene as thriving, diverse and a hotbed of creativity. It is a great place to work as a creative, there are so many people doing interesting things that it is impossible not to be inspired. There are lots of shared workshops and creative hubs like the one I work from that give a great opportunity to young businesses getting off the ground."
Angie Parker
Angie Parker established her business creating distinctive and intricate rugs and textile art in 2014, specialising in hand-weaving using long established techniques, such as Krokbragd.
After being taught rug weaving by the late Susan Foster at art college in the 1990s, Angie pursued a career in costume for a number of years whilst continuing to weave on small scale collections. During this time she developed the original style for which she has become known since setting up her business.
How did you get started?
"I trained in rug weaving at Art College in the 1990s under master weaver Susan Foster. I then had a separate career in costume whilst weaving in my free time to improve my expertise to develop my original style.
"In 2014 I finally took the leap to turn my passion for weave into a business, and with the help of the UK Crafts Council training program came up with a realistic business model."
Can you briefly explain your making process?
"I generally start with a rough idea about what I'm hoping to achieve and once I've set up the loom I lose myself in the design and making process. The weaving techniques I specialise in leave a lot of scope for designing at the loom and the yarns themselves tend to show me the way. The process changes when I'm working to a brief but my designs are generally informed by this playful approach to making."
How important is material research and sourcing to your end product?
"The materials I use are pivotal in shaping my end product although it is often the colour of the materials over other properties that appeals to me. I'm not a typical weaver and have no issue in combining materials that generally wouldn't be used together. I source many of my materials from factory outlets which give me access to unusual fibres and fabulous colours. This also ticks the box for sustainability which is an important consideration."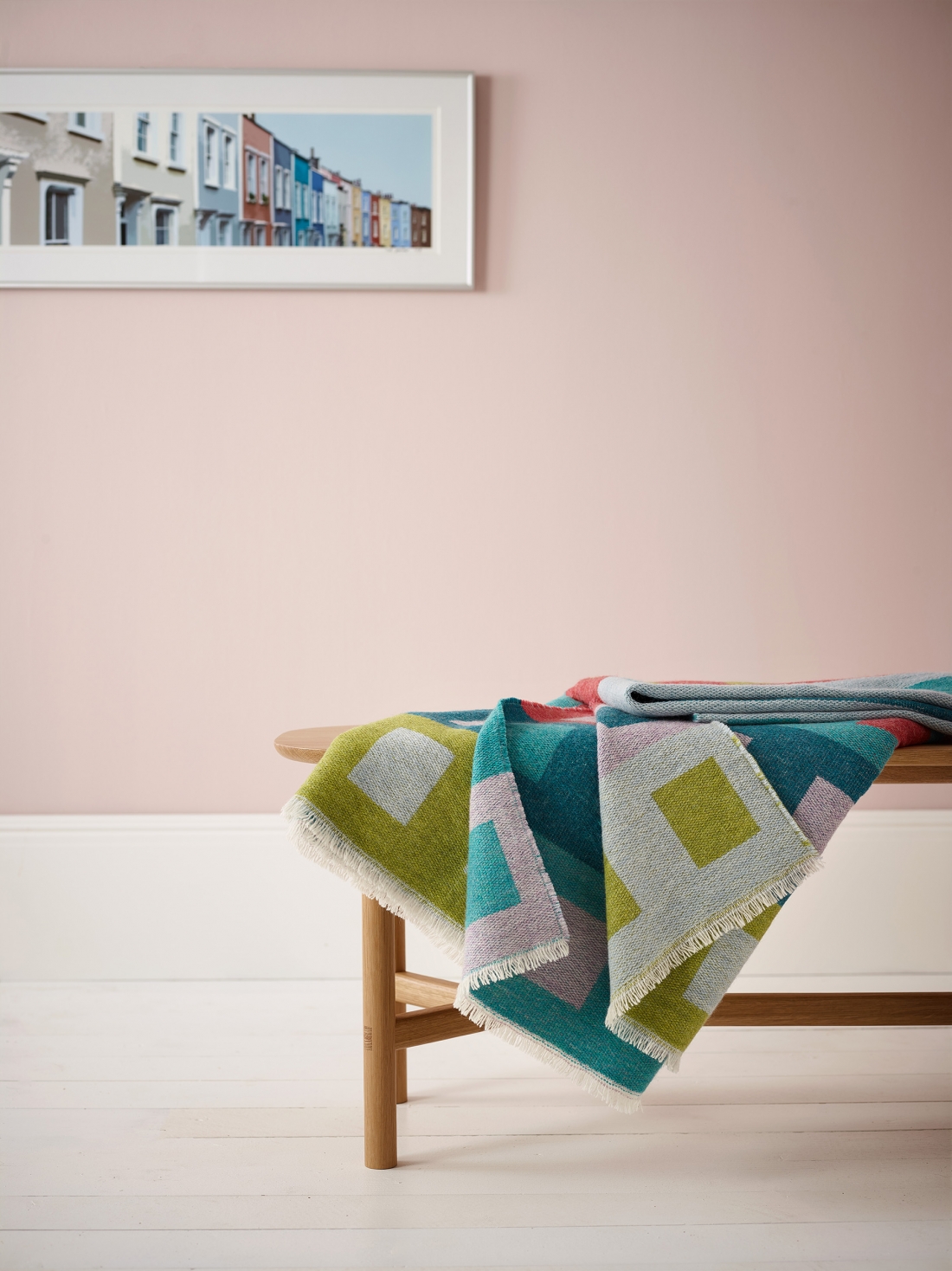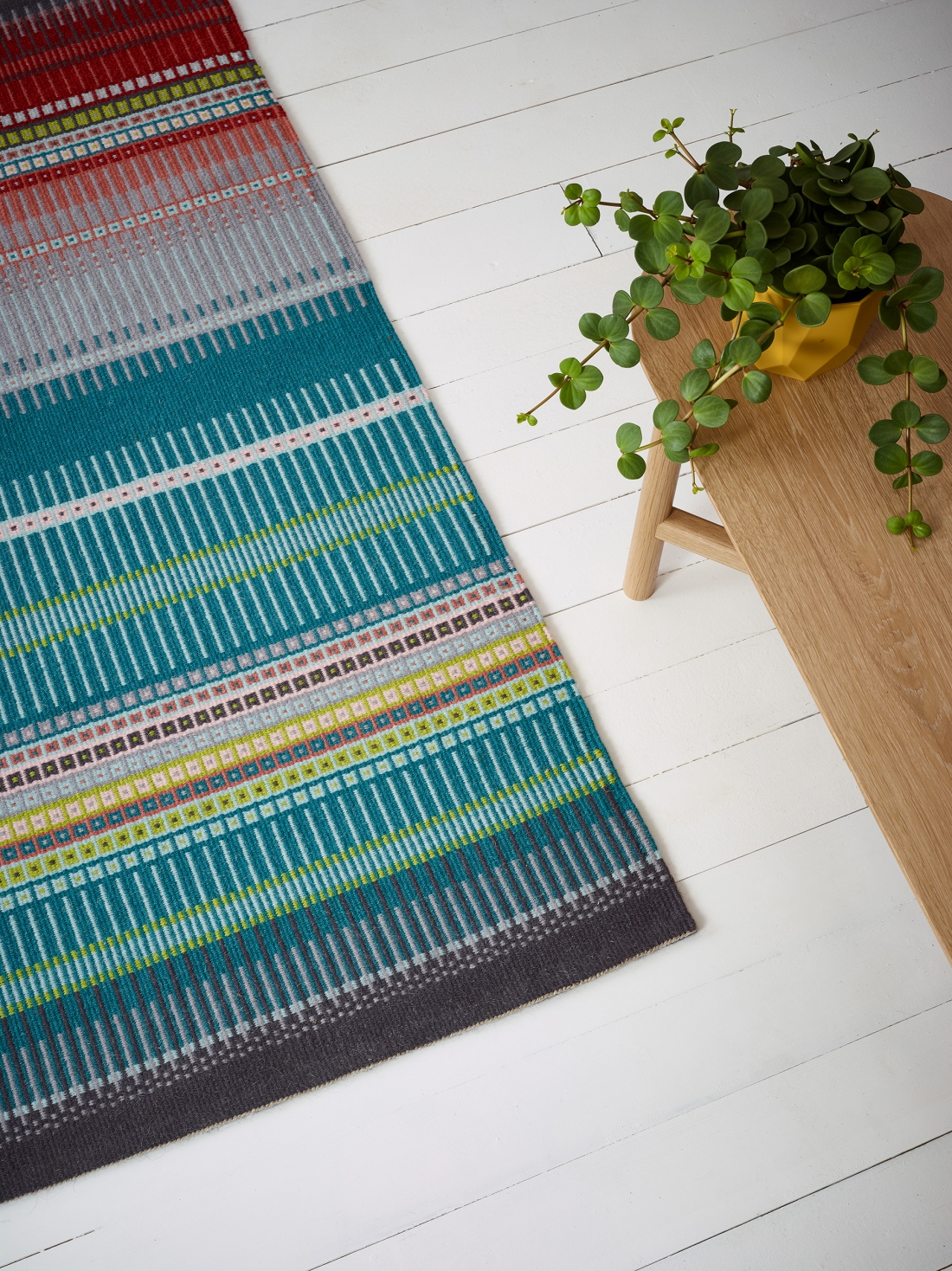 How would you describe Bristol's creative scene?
"Bristol's creative scene is as vibrant, edgy, and original as it has always been. So many creatives are attracted to this city because it's a place that dances to the beat of its own drum.
"The great thing at the moment is that as a result of moving everything online during lockdown, the marketplace is no longer focusing only on London for fresh ideas. Alongside this, Bristol's designer/makers are benefiting from having a strong client base on our doorsteps as people move away from the Capital. It's an exciting time to be a creative in Bristol."
Elizabeth Vidal
Elizabeth Vidal makes functional ceramics and unique one off pieces using stoneware clay.
Her pottery is made to be used and enjoyed everyday. With a focus on utility, she aims to create very tactile forms which sit comfortably in the hand. The process of creating pots spans two to three weeks and differs with each season; the slightest change in temperature or humidity alters the rhythm of making.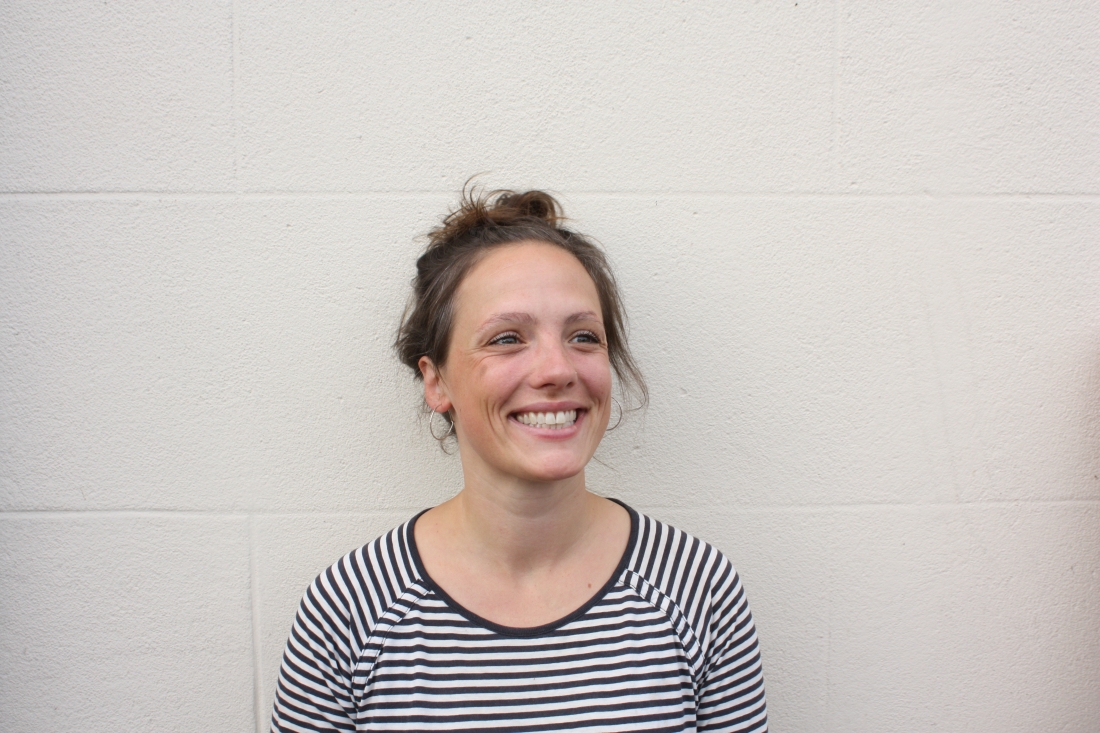 How did you get started?
"I first used clay at school and, like so many people are experiencing at the moment, I was instantly drawn to it as a material. I went on to study 3D design in Manchester, specialising in Ceramics but I think my real education was as an apprentice after graduating. Working at North Street Potters in London taught me so much about the day to day running of a studio: how to process clay, how to make glazes, how to make pots that people want to buy and more."
Can you briefly explain your making process?
"I use stoneware clay and create all of my own glazes. Clay can be quite demanding as a material in that it requires your attention at very specific points.
"My process of making starts with wedging the clay (removing air bubbles and creating a smooth consistency) before cutting & weighing specific size balls for whatever object I'm making. Everything I make is thrown on a pottery wheel and the process spans 2 to 3 weeks, depending on the time of year. Freshly thrown pots are left overnight to firm up before being placed back on the wheel and turned (trimmed) to refine the outer shape and foot ring. They are then left to slowly dry, fired to 1000c, glazed and fired again to 1260c. Opening a glaze kiln is always a treat - the transformation from grey clay to a colourful piece of ceramics is incredible."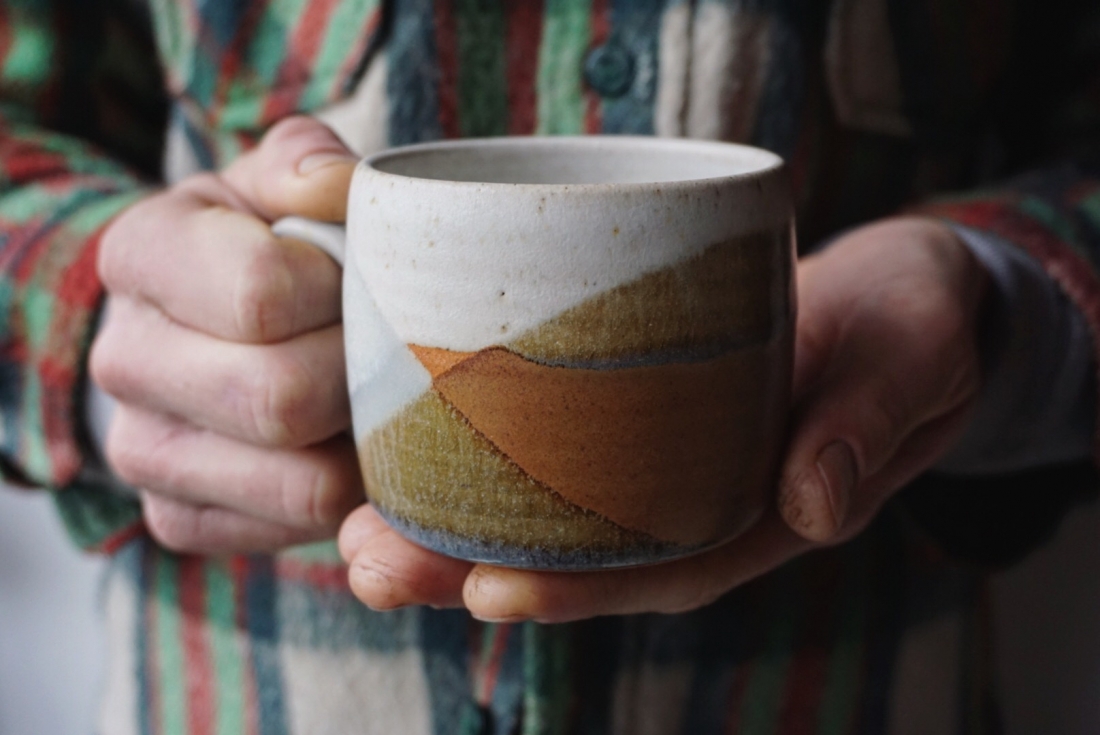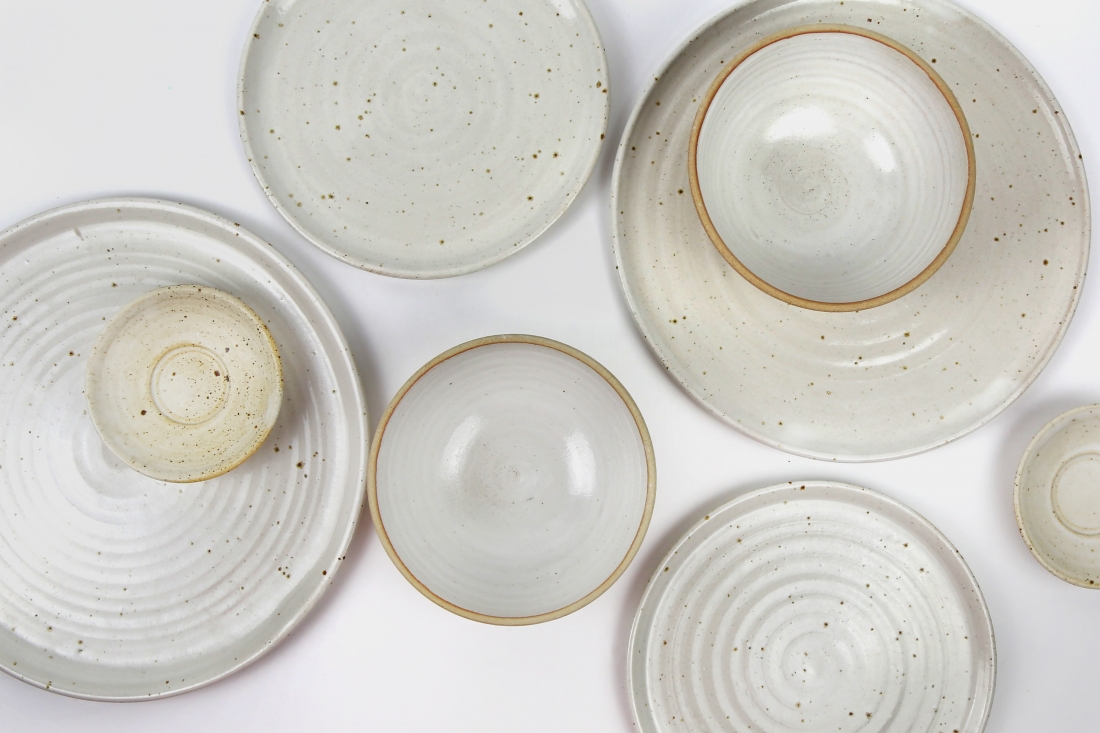 How important is material research and sourcing to your end process?
"I think glaze research is particularly important as it is a way to make your work unique from other's. Working with raw materials and metallic oxides to create such a range of different colours and finishes is fascinating and developing new recipes is a full time job in itself - the possibilities are endless.
"My clay is made in Stoke on Trent and I blend a few different types to create the perfect speckle! If time / money were no object I would love to work with wild clay and foraged glaze materials. I think that the end results can be so much more exciting."
How would you described Bristol's creative scene?
"I think it's very eclectic and vibrant, it was definitely one of the reasons I moved here. I don't think you can visit Bristol without noticing the street art on every corner and the iconic colourful houses. There are tons of independent shops providing outlets for local makers and artists. The demand for handmade ceramics has remained high throughout Covid and it's amazing to know that the local community still want to support small creative businesses."
Liam Barclay
Liam Barclay is a furniture designer that makes by hand in a small workshop, using traditional and powered handtools, while also believing that technology such as CAD and 3D printing has its place.
"For me, there's just nothing more satisfying than being covered in dust seeing a finished item and knowing the time and effort that's gone into it."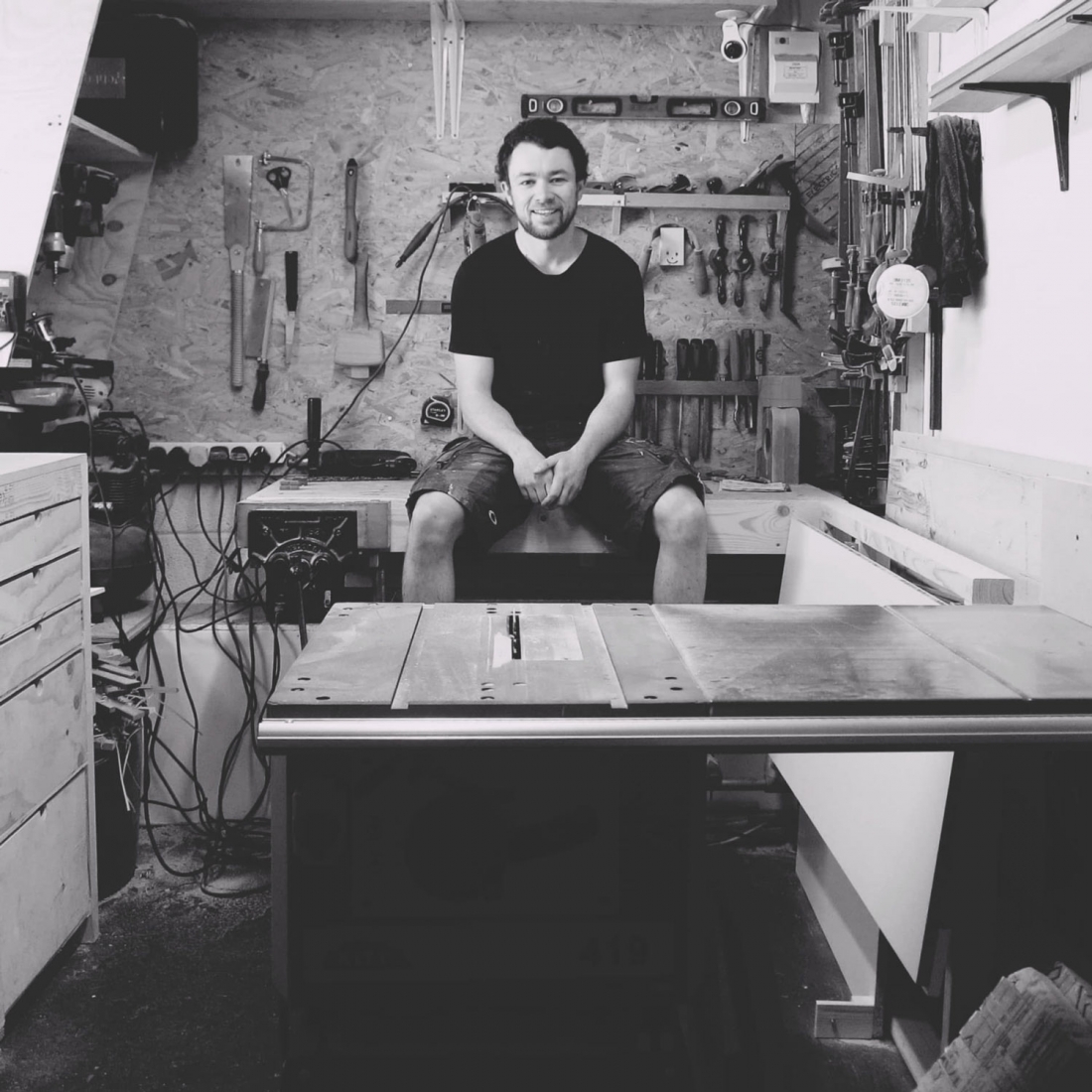 How did you get started?
"I've designed and made things my whole life. I grew up in a small village near Edinburgh and had a childhood filled with making dens in the woods, Lego and helping my Dad with DIY around the house. Through high school; art, maths and tech became my subjects of choice, eventually leading me to studying Product Design Engineering. This is a course run jointly between the Glasgow Art School and University of Glasgow combining mechanical engineering with product design, it suited me perfectly.
"After graduating I moved to Bristol, a city I quickly fell in love with, to start working as a Design Engineer at Dyson. Dyson was good and I learnt a lot about designing consumer products for mass market production. However, feeling somewhat creatively constrained with the day job I began designing and making furniture for myself from the spare-room of my flat. I only had a small set of tools and not very much space, but the creative freedom and getting back to working more with my hands was exactly what I needed after a day mainly sat behind a desk dealing with emails.
"At the start of 2019, after 5 years of Dyson, I decided to leave to pursue being part of something smaller, slower and getting back to being more hands on; designing more of what I want and seeing where that takes me... Come spring of 2020 I'd found a small workshop space to rent and started working to turn a woodworking hobby into a small business."
Can you briefly explain your making process?
"My process always starts with a pen and pad of paper; lots of quick concept sketching until I think I've got some ideas that look promising. From there, I progress into 3D CAD models, starting with low resolution models to better visualise the initial ideas I've come up with and then developing a chosen concept to a final design.
"This final CAD design will be as detailed as I can make it; accurate dimensions/tolerances, consideration for materials, how it will be assembled etc... It's a lot of work prior to actually making anything, but it allows me to head into the workshop with a detailed set of plans so there's no surprises as I make it, hopefully! In the workshop, everything is made by hand. I use a combination of traditional hand-tools and modern powered equipment, they each have their benefits for particular tasks."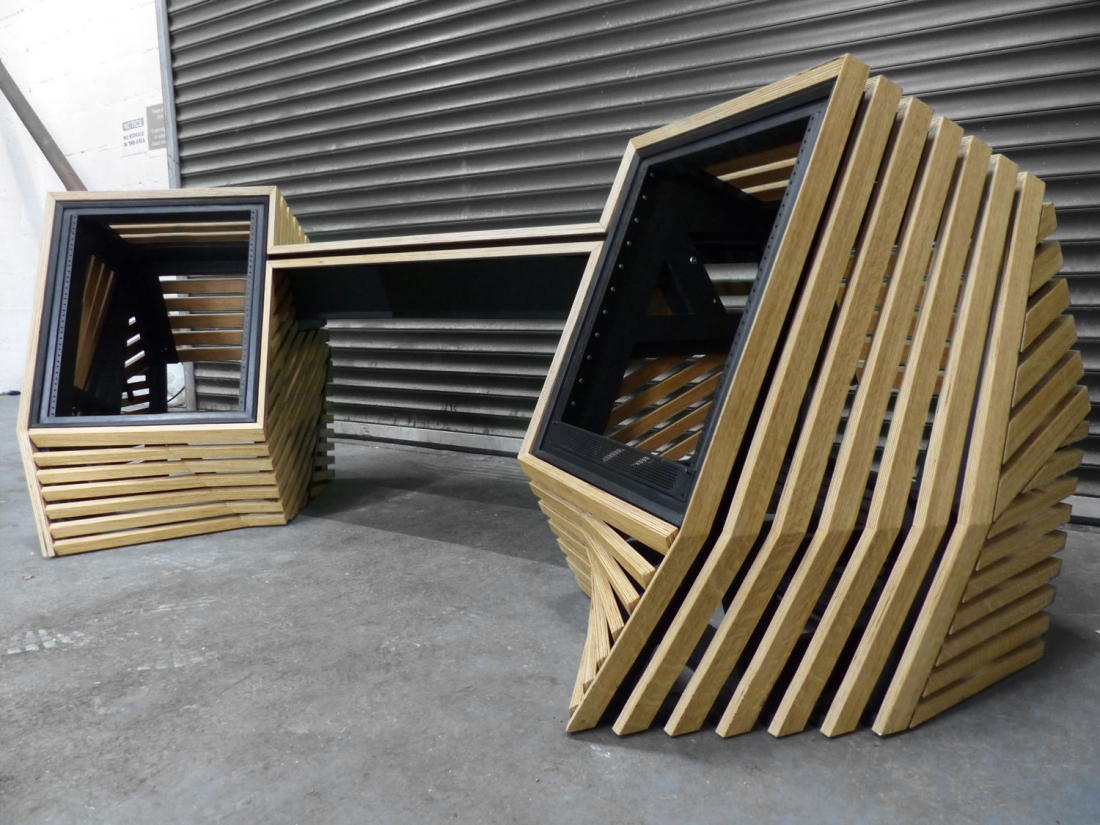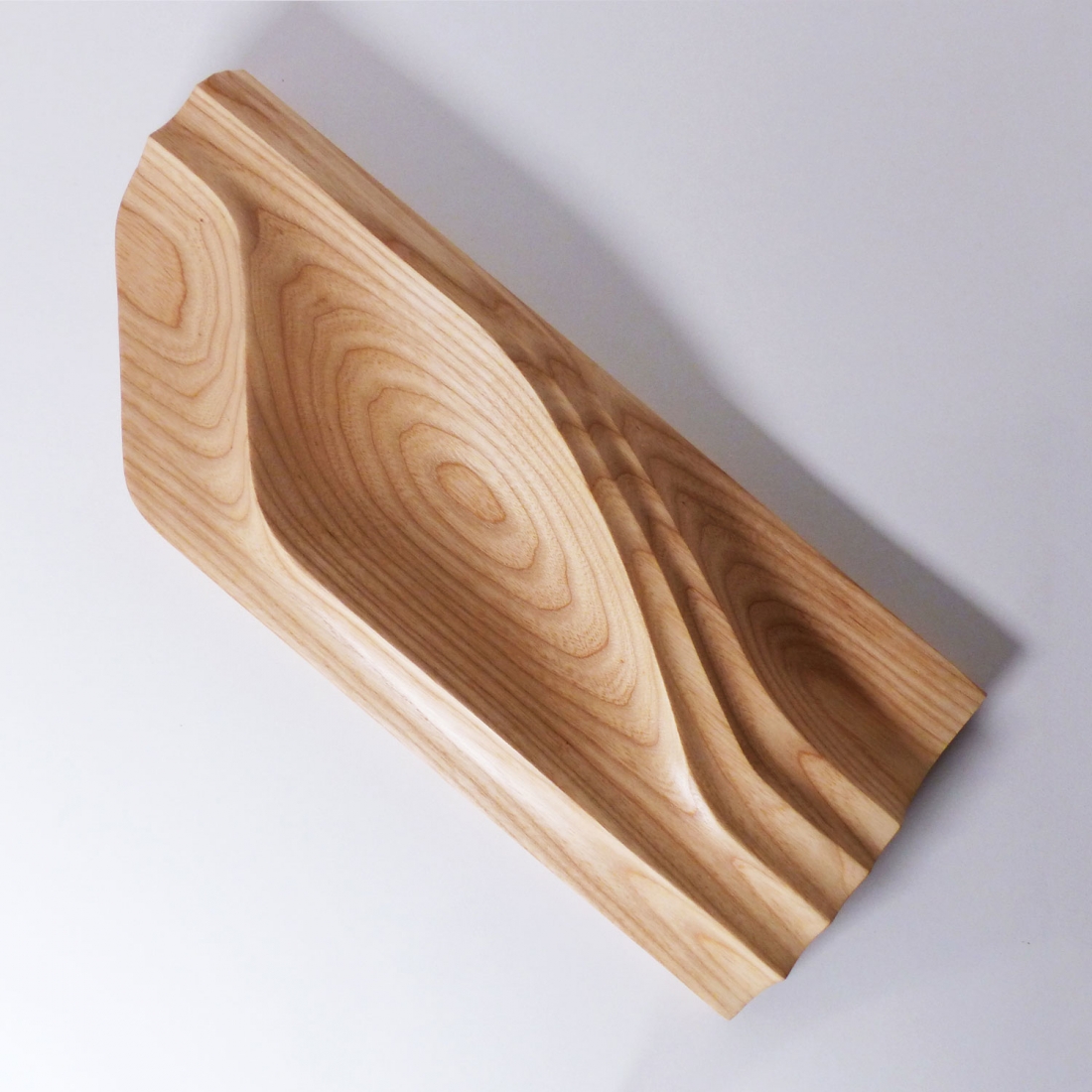 How important is material research and sourcing to your end product?
"Materials play a big part in the piece of furniture or item. I work predominantly in wood, but within that one medium there's such a vast array of choice. Naturally light to dark coloured options, but also the ability to treat and finish the wood to alter its natural state. Wood can be sanded smooth or worked in a variety of ways to leave it with a textured surface: rough sawn, charred, carved etc. And, in most cases, project budget is a driver. With so many options I like to use the smaller items I make (vases, trays/bowls etc) as a bit of a playground for experimentation.
"The wood I use is, a much as possible, sourced from suppliers local to Bristol and is from sustainably managed forests. Whilst the environmental benefit of sourcing my raw materials this way is a big consideration, forming a relationship with these suppliers and supporting other local businesses is also a big part. In some circumstances however, I've needed to research and source materials from further afield in order to deliver on the clients vision.. one of my latest commissions saw me using raw cork bark from Portugal for a very natural looking set of office furniture!"
How would you describe Bristol's creative scene?
"I think Bristol's got a great creative scene; you can see that from just walking around the place.. street art everywhere, lots of independent shops selling works from local artists and makers, even just the colours people paint their houses!
"And whilst there's a great creative scene in the traditional sense; artists/galleries, makers, musicians/gigs etc... there's also all the independent breweries/pubs, cafes/restaurants and events like the hot-air balloon fiesta all adding to that unique Bristol culture. Whenever I have family/friends come visit, they all fall in love with the city!"
Reesha Zubair
Reesha Zubair is an artisan potter. From her studio in Bristol, she produces small batches of pottery, both wheel thrown and hand built. Pieces vary from stand-alone art to more functional tableware.
Her inspiration is from her native home of the Maldives: the beach, sea and nature influence the maker's work and this can be seen in the shapes and the glaze colours she uses.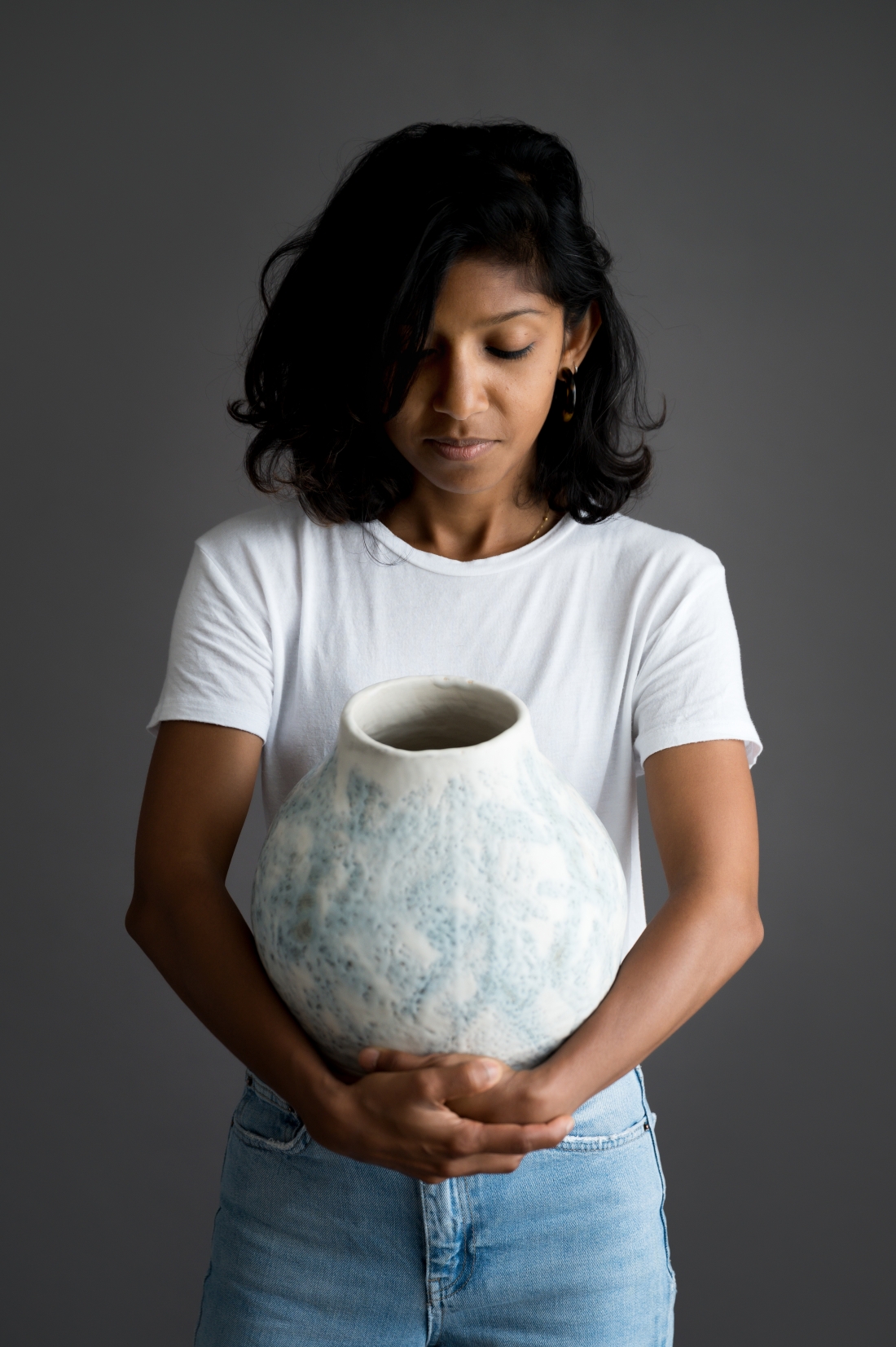 How did you get started?
"For many years now I have wanted to do something creative, but didn't quite know how to get started. Four years ago I did a "one day hand building with clay" workshop and instantly knew I had found my medium. I then did a six-month internship in a gallery/ceramic studio in Oxford and did other short courses learning to throw and hand-build with clay. When my six-month internship finished, I invested in a wheel, and ever since, I have been making with clay."
Can you briefly explain your making process?
"Often the making process starts with an idea or a feeling. I make notes, scribbles and sketches of how to translate those ideas and feelings through clay and often think about what type of form, clay, texture and colour would best express them before I physically start making.
"In the last year I've been doing a lot of hand building with stoneware clay, using coiling and/or slab. Once a form is constructed, I like making marks and creating texture on the surfaces of vessels, and then either leave the clay raw or decorate with slip before firing.
"Making pots with clay, especially hand building, takes time. So patience is part of the process. There's always a lot of trial and error. My work pattern and speed is quite irregular sometimes, often linked with how motivated I feel. However, continuous practice and making is important."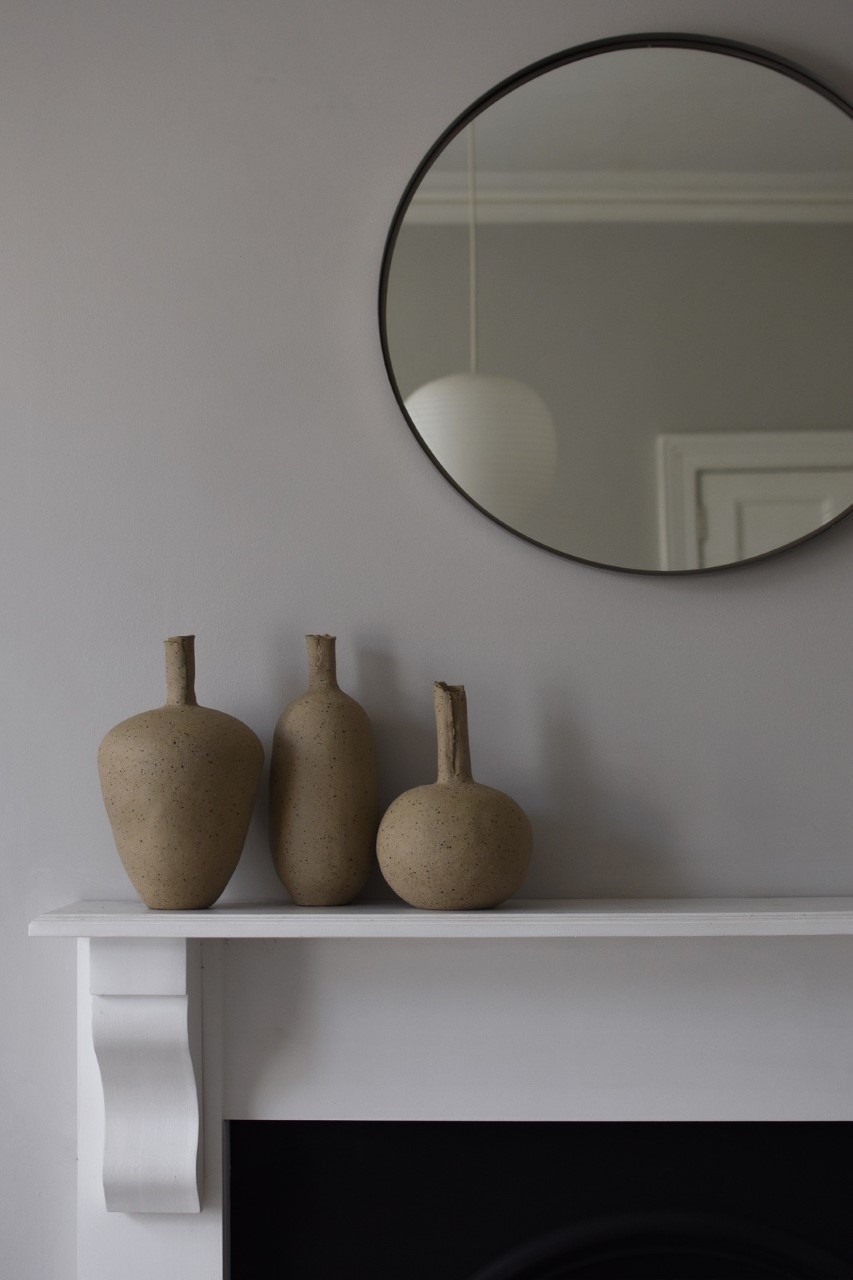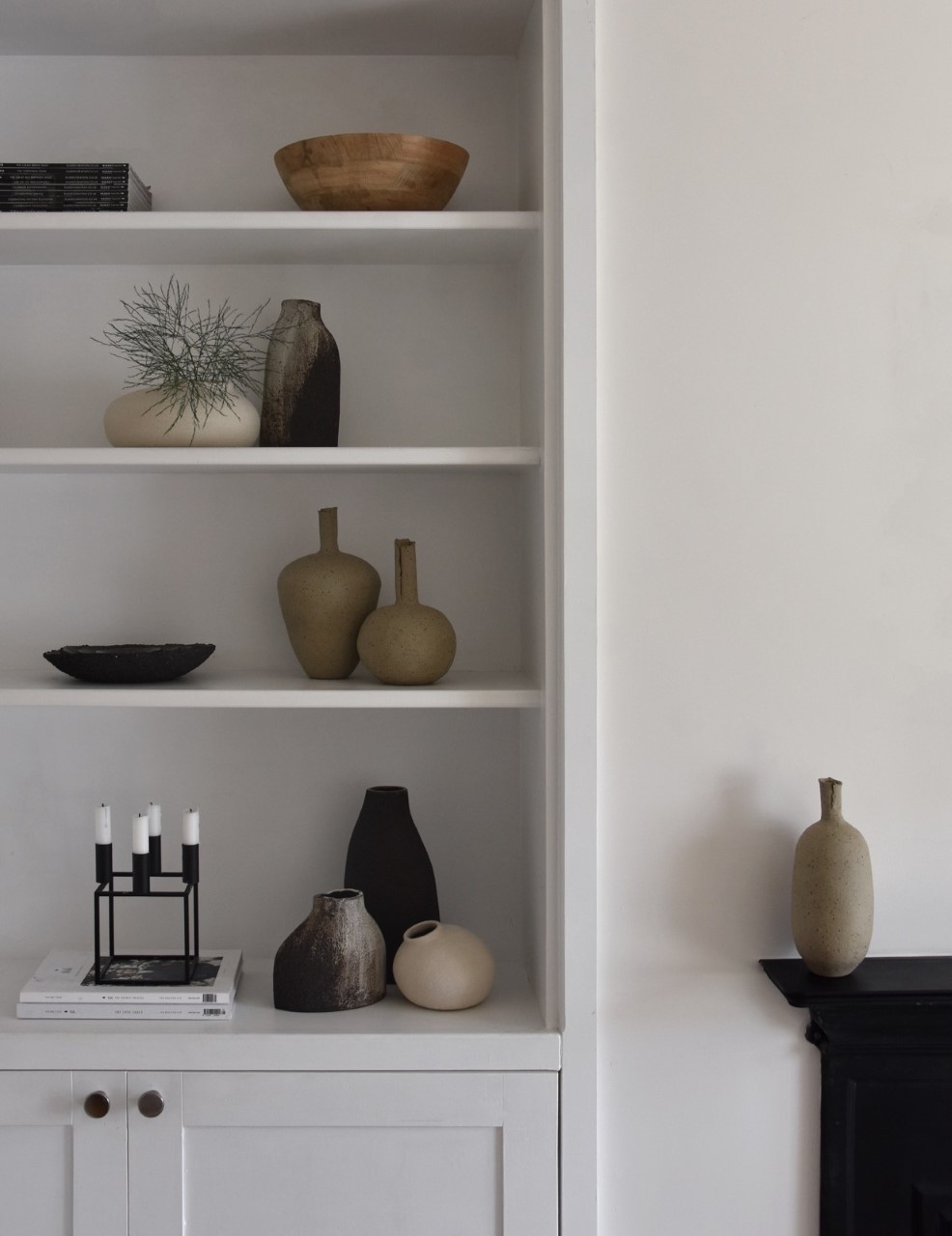 How important is material research and sourcing to your end product?
"I am still relatively new to the discipline, so research (and learning) in every aspect of the process is essential for me. I do research to find the best clay that will work for a particular vessel, and the type of glaze that will work best on the clay, and what the best temperatures would be to fire the clay or glaze.
"Recording information goes hand in hand with research – and I keep note of clay type, quantity, tools used, firing temperature and length etc. And YET, with pottery I have found that there's always an element of unpredictability and surprise, which can be both stressful and exciting in equal measures."
How would you describe Bristol's creative scene?
"Bristol is a vibrant and diverse city, filled with art, culture, music and amazing food – all expressions of creativity. Over the years, I have met so many amazing people who live in Bristol because of its inspiring creative atmosphere. Moreover, the diversity of Bristol lends itself to its creative scene. The creative energy in Bristol is both prolific and ubiquitous."