Masquespacio's lush Japanese-Brazilian interiors for Valencia's first tropical sushi restaurant, Kaikaya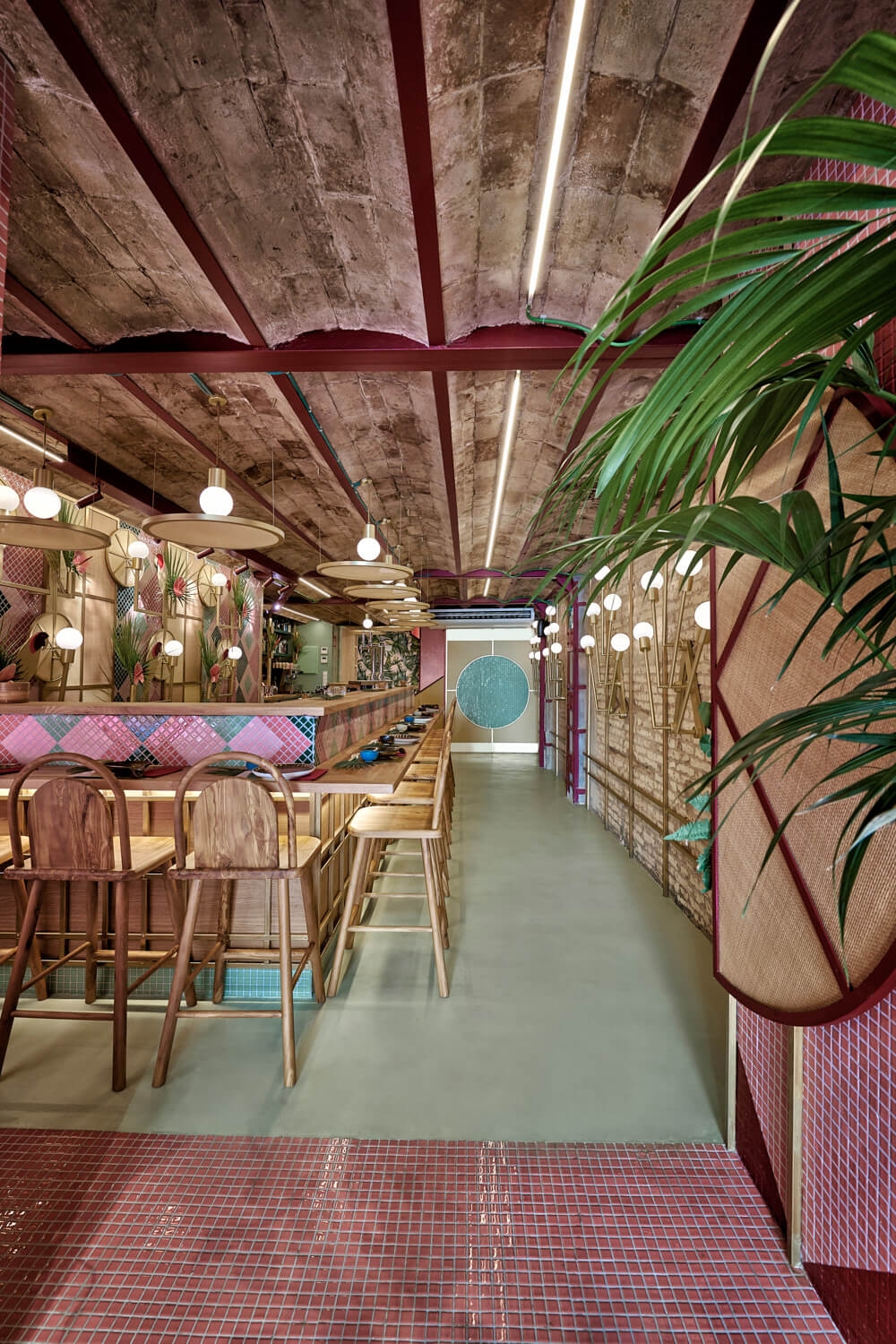 Valencia-based creative studio Masquespacio has designed the interiors for the city's first tropical sushi restaurant, Kaikaya. The unusual establishment fuses Japanese food with Brazilian cuisine, a unique mix that is clearly present in its design.
Merging traditional and methodic Japan with the contemporary, tropical and exotic Brazil, Masquespacio started with the foundation of the restaurant space – the vaults, metallic beams and original bricks, highlighting their beautiful imperfections amongst the décor – before throwing in strong splashes of colour and an eclectic overriding style.
Where the design really comes to life is through its use of materials. To pay tribute to Japan, Masquespacio chose wood and raffia. Whilst for Brazil, it introduced tropical and "samba" elements such as colourful patterns made from mosaic tiles, bespoke parrot lamps and an overwhelming use of plants and foliage.
"Immediately when entering the restaurant, you can see the raffia circles that represent the hats used during the rice collection in the Land of the Rising Sun, merged in an explosive way with the colorful mosaic tiles and tropical plants of Brazil," explains Christophe Penasse, one of the co-founders of Masquespacio.
"Once reaching the bar, again you encounter the mix between Japan and Brazil through the traditional Japanese wooden patterns on the bar itself and the coloured patterns inspired by Brazil in the 1970s."
Upstairs, the theme continues but with a softer approach, with round seating corners that pay tribute to the traditional heritage of both countries. Discover more at www.masquespacio.com.