Michele Bianco on her love of the outdoors, natural materials and her journey into ceramics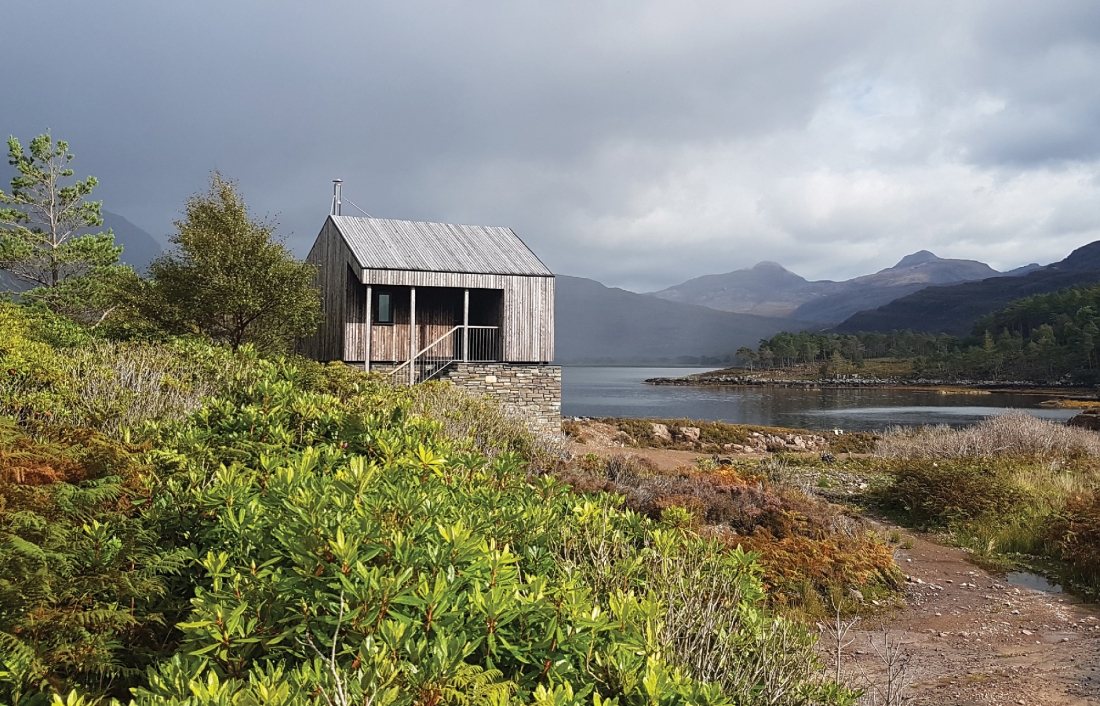 With a base in the stunning Scottish Highlands, it's no wonder that ceramicist Michele Bianco gets her inspiration from the breath-taking landscapes that surround her studio.
From eroded rock faces to the intricate structures of leaves, petals and branches, the forms, patterns and textures of nature are a clear influence on her work with stoneware clay. All of her beautifully crafted pieces are hand-built using a range of techniques; pinching, coiling and slab building, before going through a series of manipulations; smoothing, paddling, refining.
We spoke to Michele about her choice of materials, her creative process, and her passion for the environment.
Tell us how your journey into ceramics started?
I studied architecture at University but then realised I wanted to do something more hands-on and went to art college. After that, I set up and ran an art gallery for 10 years showing work by emerging and nationally renowned artists. I gradually became more and more interested in the ceramics and sculpture that I was exhibiting and started doing various courses in those disciplines.
Eventually, I made the decision to close my gallery to allow more time for my own making, spent a year studying glass and ceramics and the National Glass Centre before setting up my own ceramics studio and making full time.
Your studio is in the most amazing setting, how does the environment influence your work?
I've always loved to be outside in wild and empty landscapes, and always take my backpack containing sketching materials with me on my walks.
I sketch outdoors in any weather and am inspired by nature – the patterns, the textures, the colours. From my studio, I can look out onto the amazing landscape and translate my sketches, ideas and impressions into three-dimensional forms. The process is intuitive and very absorbing.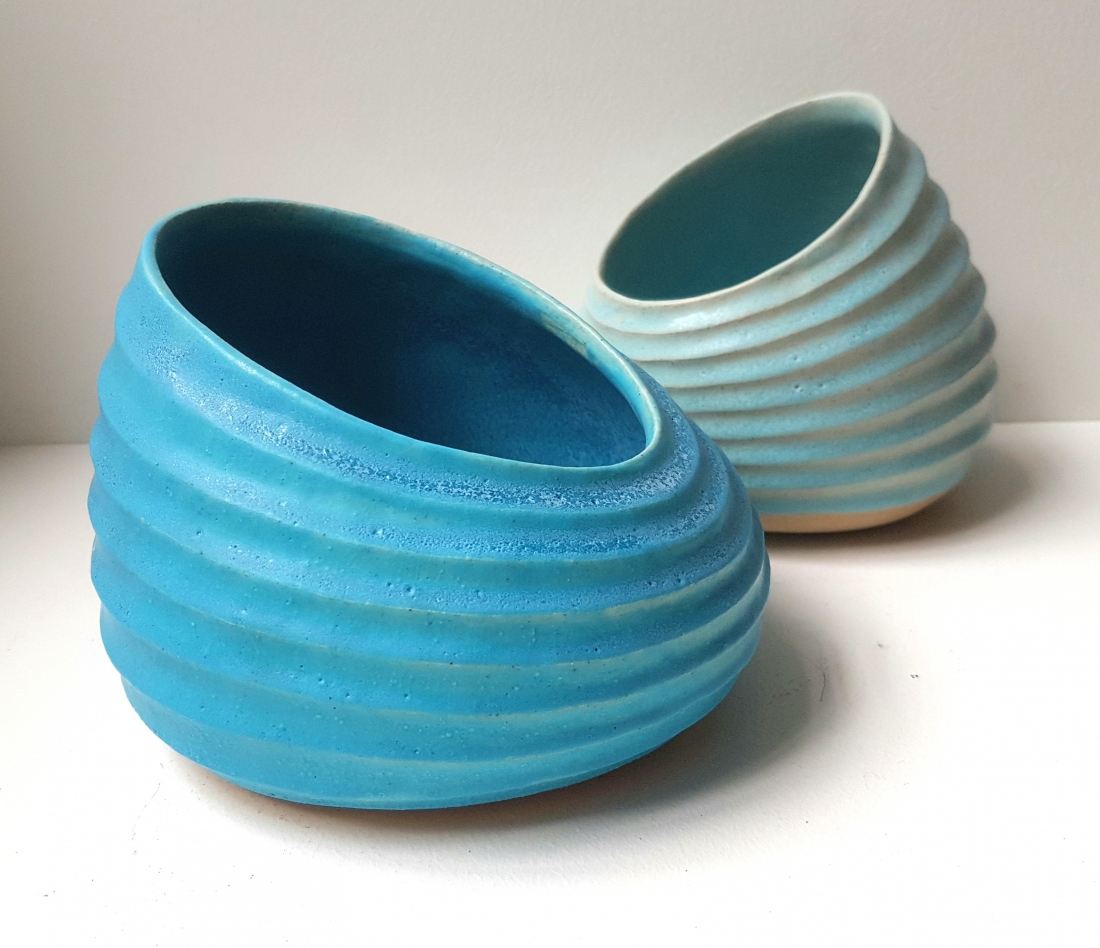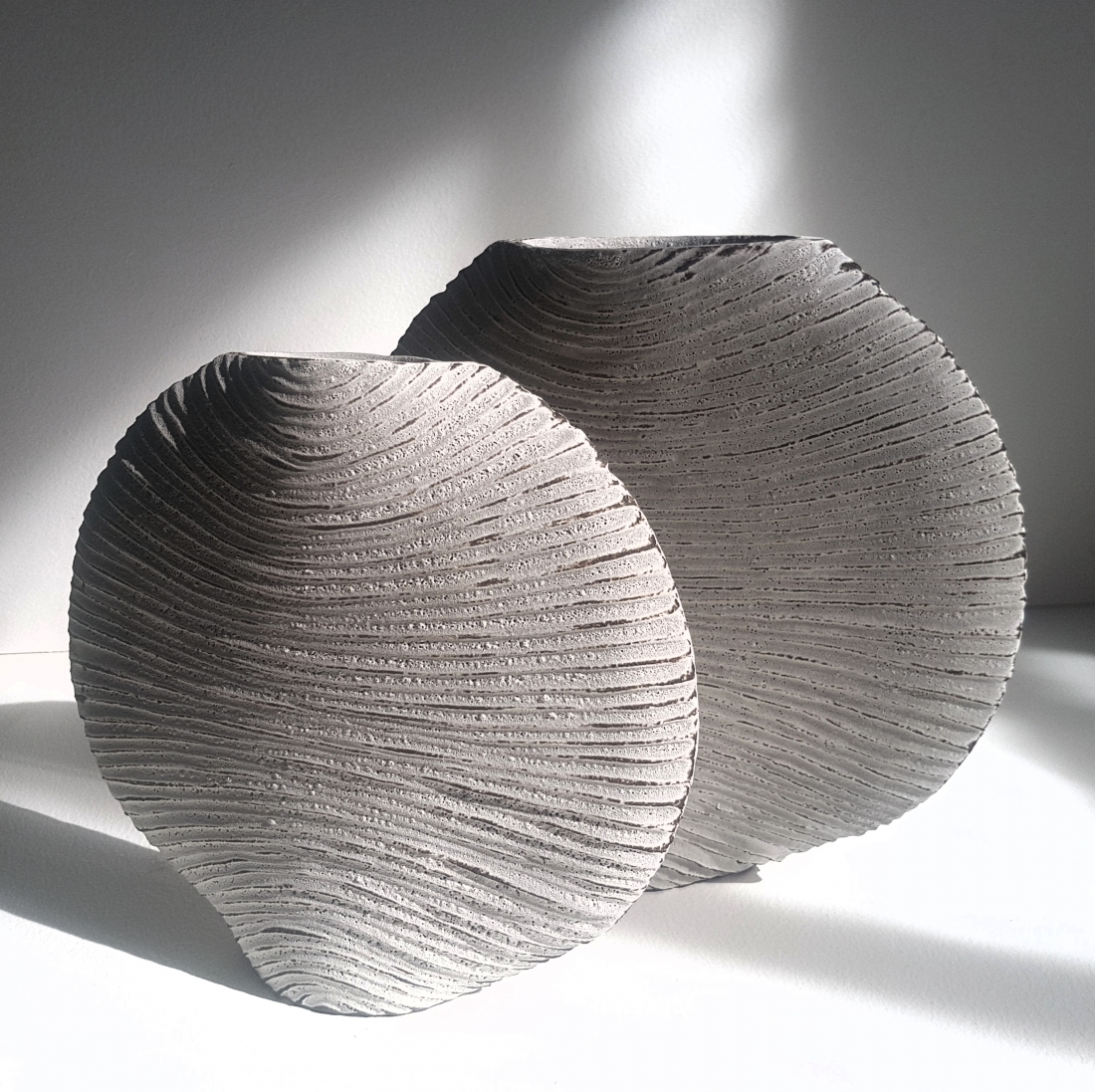 Speaking of influences and inspiration, creatively who do you admire? and why?
The work of Eduardo Chillida is a huge inspiration to me. I love the architectural forms and also the textures that he used. I find the positive and negative spaces within his sculptures fascinating.
I also love the Japanese aesthetic and the more sculptural Japanese ceramics, such as those by Kayoko Hoshino, Yukiya Izumita and Mihara Ken for their interesting forms and surface textures. The textural, sculptural work of Claudi Casanovas and Paul Philp are also strong influences.
Tell us about your choice of materials and glazes, and how this process works for you?
I'm constantly experimenting with different clays and glazes and my search continues! In terms of clays, I enjoy earthiness and roughness and prefer to use a more textured stoneware to a smooth porcelain.
I use various colours – red, black, buff – depending on the ideas I'm working on. In terms of the glazes I use, I mix my own from raw ingredients and am constantly tweaking my recipes to adjust the opacity, gloss, runniness and depth of colour. I also enjoy using decorative, textural glazes and am looking for different qualities in the glaze depending on the form I am working on.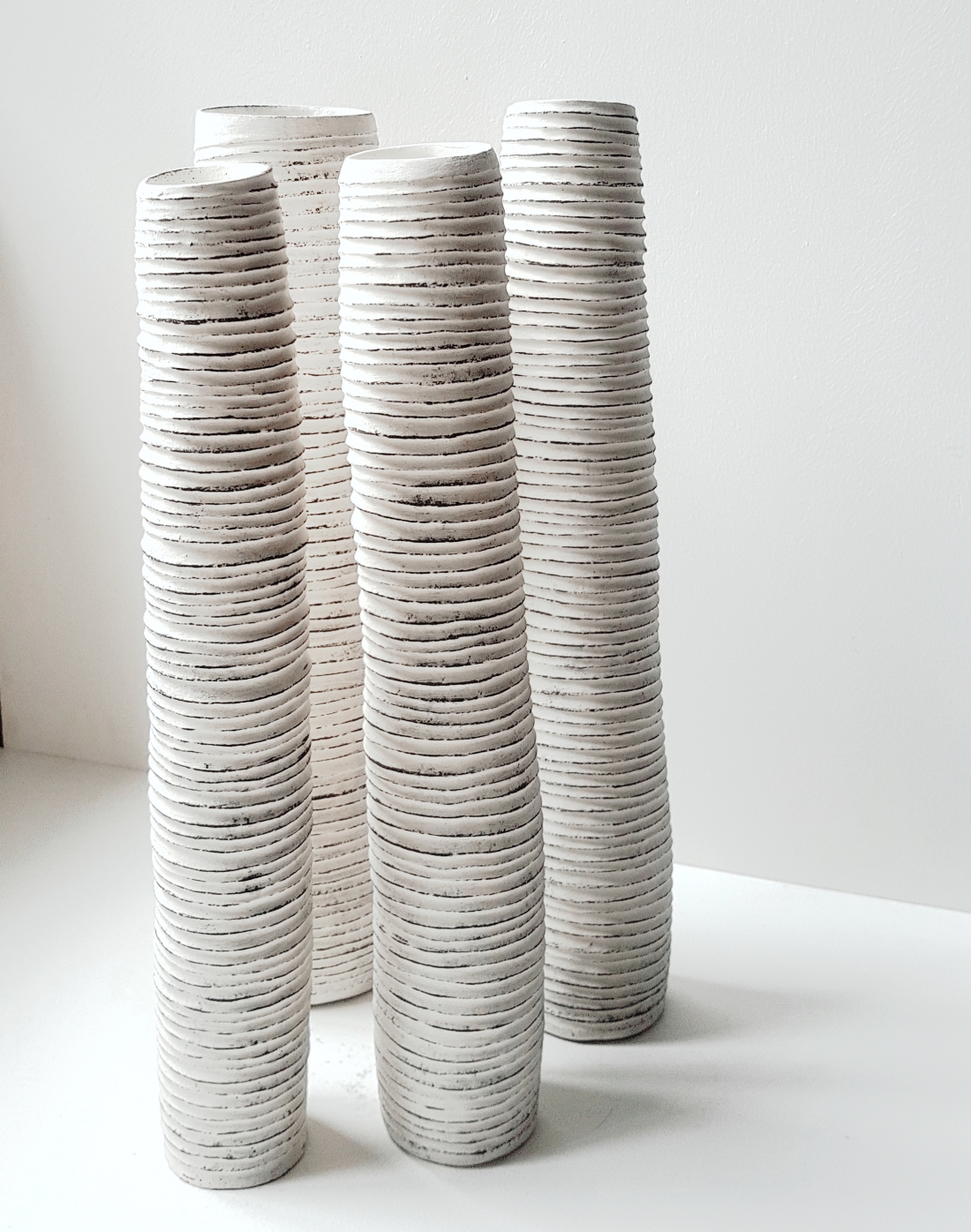 Your products have a very tactile quality running through them, how do you create this?
For me, the feel of my ceramics is extremely important. I think because my forms are all hand-built, not thrown on a wheel, the shape and texture of the surface evolve gradually over a period of several days and is greatly affected by how the form feels in my hands as I work on it.
The form is made initially by pinching and coiling clay, then refined as it dries by beating, smoothing and scraping. Once I'm happy with the basic form, I hand-carve into it – the shapes I carve are informed by the curves and outlines of the form itself.
What interesting new products or techniques are you working on?
At the moment, I'm still investigating different clays and mixtures of clay to alter the colour and surface texture of my ceramics, and I'm developing new glazes. I'd like to do more work on some textural, lithium-based glazes.
I'm also making some one-off Christmas decorations in black stoneware to sell at my Open Studio in aid of the John Muir Trust and Torridon Mountain Rescue team. I'm currently perfecting my gilding technique to add a bit of seasonal bling!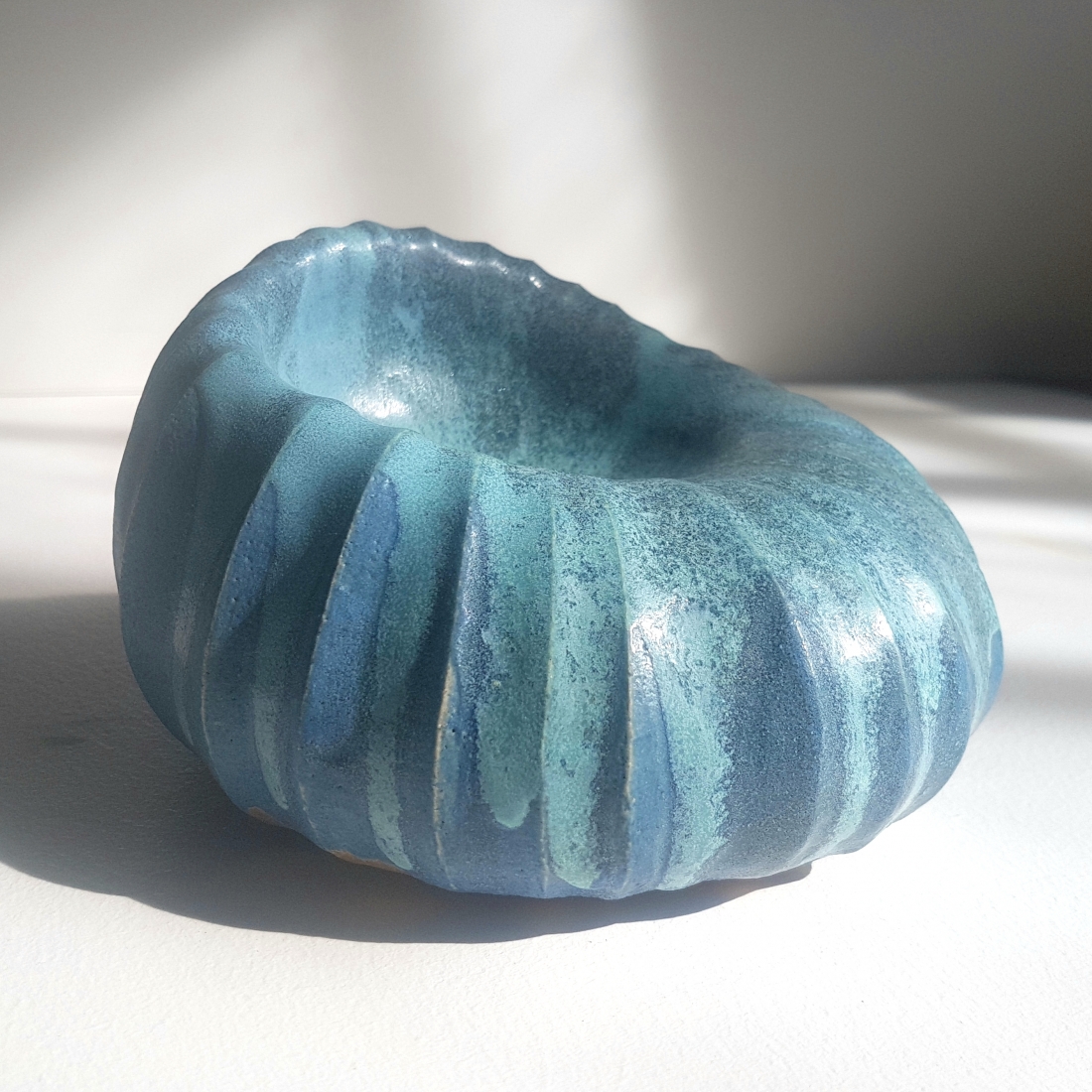 What's next for you?
I'd really like to try wood firing and also do more experimentation with the use of natural materials in glazes. I'm interested in incorporating natural materials from around my studio into both the clay bodies and also in my glazes – organic materials burn out during firing and can create interesting voids in the fired form.
Next year, I'm planning to experiment with combining my ceramic forms with some found natural forms. There are wonderful pieces of bleached wood, rusty metal and twisted roots around my studio.