Rebecca Finney, creative director at Jasper Sanders + Partners on Total Design, function before form & why more is more.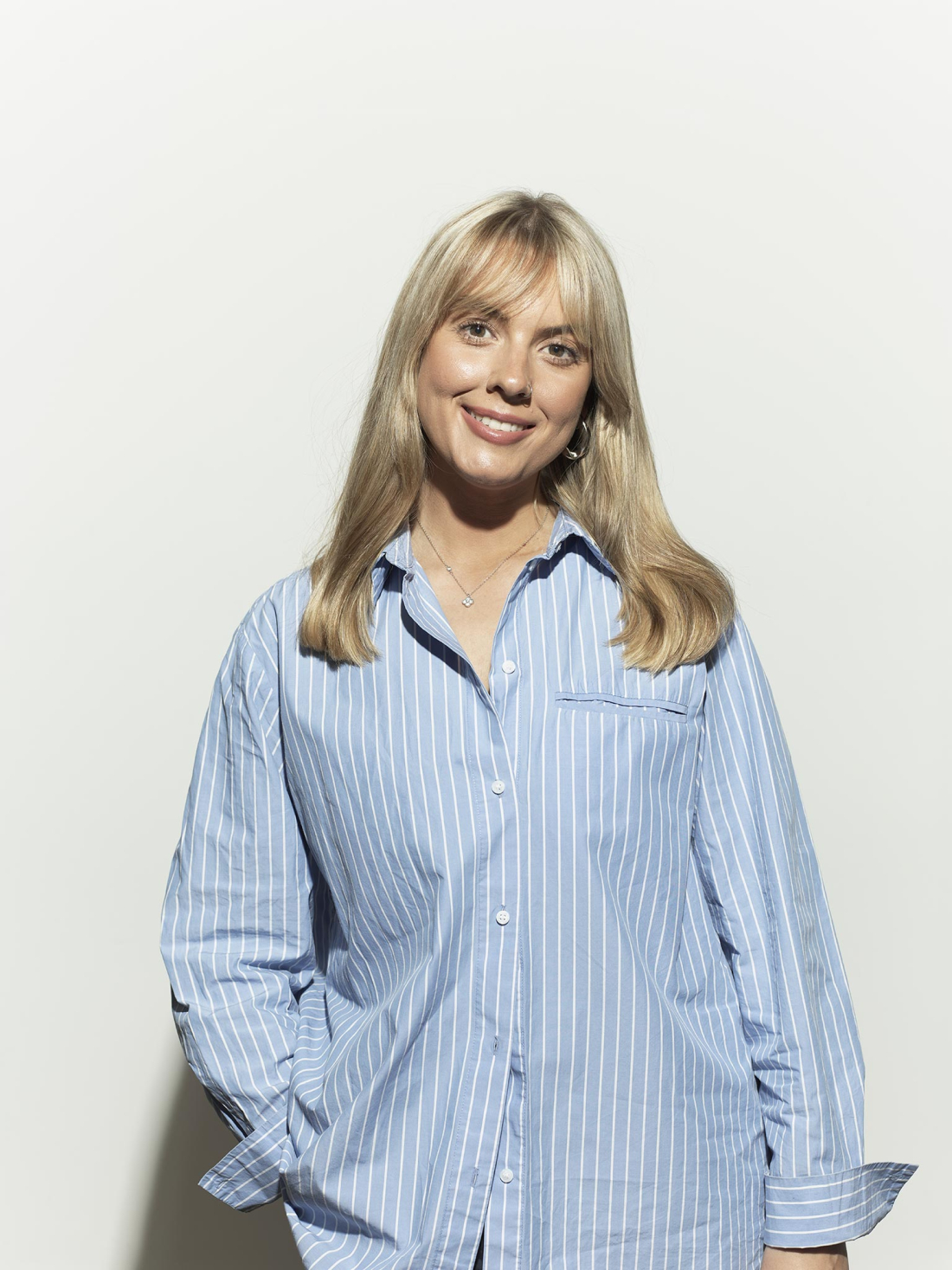 Jasper Sanders + Partners' new creative director, Rebecca Finney discusses the studio's developments and their core ethos of 'Total Design'.
Celebrating 10 years this autumn, and having gone through a period of significant growth, which has seen the studio evolve to encompass what they call 'Total Design' (more on this later), we were keen to catch up with Rebecca on how her new role as creative director will impact the future evolution of JS+P, plus talk more about the team's recent projects.
We got the low-down over a coffee and chat at our Manchester Studio...
Firstly, congratulations on your promotion! – please tell us more
"Thank you, it's very exciting! My new role as creative director is a natural progression as the studio continues to grow, so will consist of a continuation of the roles I currently take on, while strategically supporting and leading the studio's creative vision and working collaboratively with our clients to achieve intellectual, prosperous spaces.
"I've been with JS+P for almost five years, and over the course of this period have worked closely with founder and director Jasper to mould the studio's culture and embed Jasper's vision for the studio into the day-to-day workings of the team."
How is the studio evolving?
"Over the last five years, we've had a clear vision for the way in which we run the studio. Jasper and I share the same philosophy and have refined our design approach over this period, something we've more recently begun to call 'Total Design' – which is an all-encompassing approach that aims to shape space and make life better.
"The culture of the team is crucial to the quality of our output and so decision making is evenly distributed across the team with a 'best idea wins mentality.' This is something Jasper and I were particularly keen to emphasise as the studio grew, that no matter how long you've been with the team, if you have a great idea then that's what we run with.
"The studio has evolved significantly and we've grown a team of 10 working on some landmark projects."
So what is Total Design when you break it down?
"Total Design is an all-encompassing philosophy of life. It's a set of rules that we play by that is sustainable but still allows us to have fun.
"People often refer to 'the less is more approach' when it comes to sustainability, but we believe 'more is more' and having what you want is normal, but also having what you want and being sustainable is even better. The '+' in our logo signifies 'positivity', bringing a sense of community and prosperity for our clients and end users, bringing more to space, super-charging purpose and maximising function.
"Making more from less has always been important to the studio since its beginning; it's a deeply rooted ethos which we're reminded of daily in our branding.
"Our Total Design ethos means that we focus on what people do and how they do it and it means we're always thinking about the human experience and how we can create better prosperity and a more sustainable world."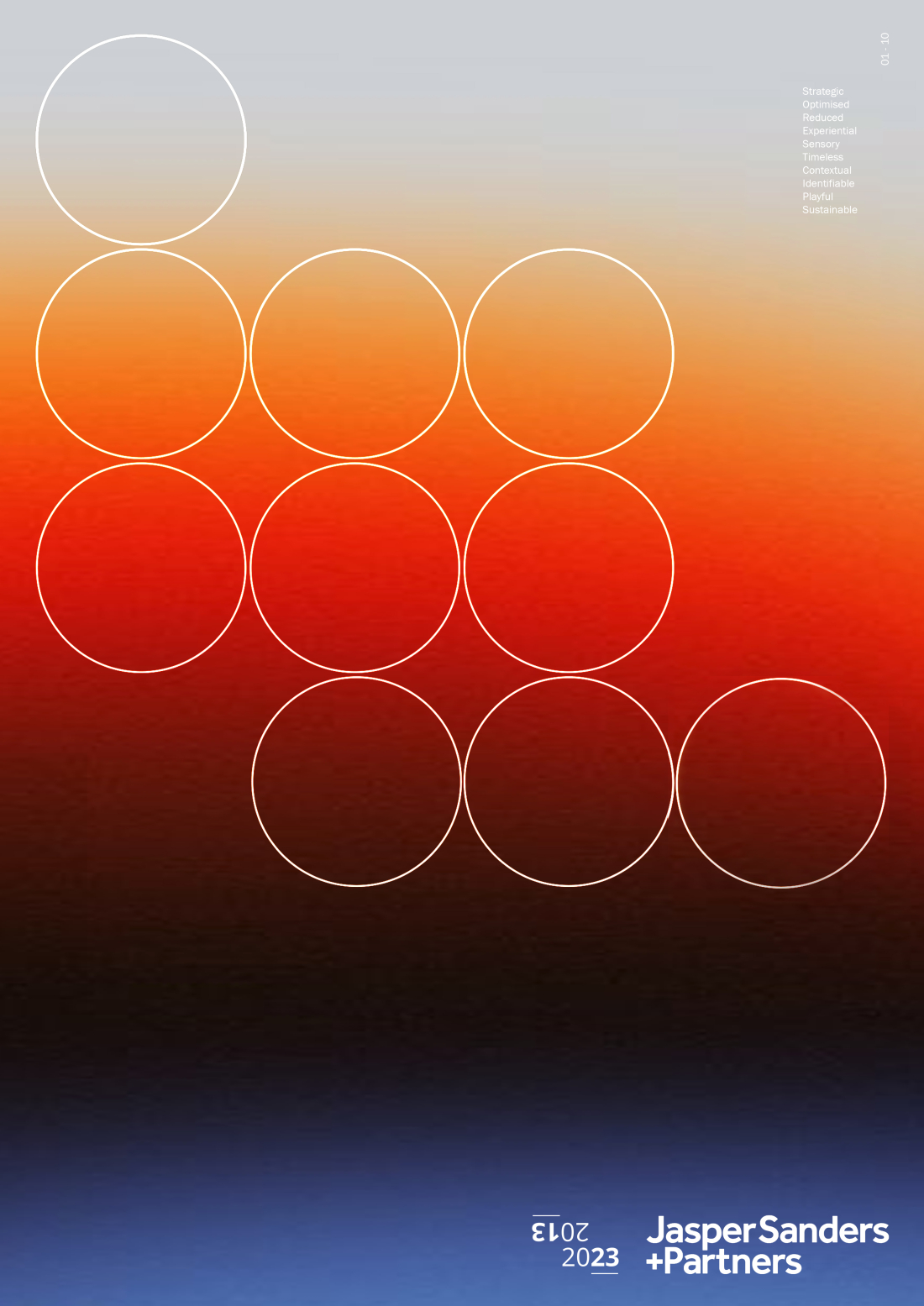 Jasper Sanders + Partners is known for considering 'optimisation of space' in all its projects. Does form follow function?
"I think a lot of people consider interior design as a monolithic aesthetic exercise, but our 'look and feel' is driven by the result of the process and problem solving. The answer normally finds itself, which means it will feel more authentic. We often think about how a space might have flavour, soul or how it sounds. Design must be playful to lift the spirit and this can so often be through colour, but also light is so important too – these are functional elements that affect how we perceive space and affect us emotionally. The true essence of good design is determined though in the none aesthetic issues around spatial organisation and how a building can become vibrant.
Good design should be embedded from the off and delivered through form and function - maximising purpose and creating experiences and identity.
"I think there's a clear and consistent approach to each of our schemes because of our approach. When you sit them side by side, you'll see there's not really one scheme offering the same aesthetic, but importantly the underlying approach and 'house style' is a tailored holistic experience, with each scheme connected to its location and the architecture, each with a clearly defined identity.
"Each scheme is a unique departure from the next visually, each is bold and yet they are all connected by an approach aligned to our rulebook of design that we've cultivated. This is a timeless strategy and one that importantly means longevity in a world where we need to be more mindful of the earth's resources."
How do your material choices impact how you create these spaces that are good for everyone?
"Materials are obviously extremely important - they contribute to the overall feeling and atmosphere, the acoustics, how it aligns with a brand, the architecture, and the tangible human-centric experiences of the places we create. Robustness of finishes and the longevity of the scheme needs careful consideration, and are factors we always rate highly.
"When we begin a project, we work with a 'white card model' which is a monochrome mass and form of the scheme. Back to 'form and function,' we're focusing on maximising settings and making the best use of the interior architecture when creating a layout, the zoning and settings within, which in turn contribute to the overall design. There is no focus on materials at this stage, it's purely to understand how we can get spaces to work and coincide together, with materials applied after to enhance the narrative of the place.
The material choices should always enhance the purpose of the space.
"Settings can be slow and calm, or fast and upbeat, with function and purpose being highly influential on our behaviours, experiences, and the amount of time we spend in one setting. The way we operate in these settings is influenced by the form and materiality in equal measures. If you're looking for a calm, quiet place to sit and socialise with friends of an evening then the lighting levels, comfort of the seating, acoustics and tactility of the space needs to be carefully considered. Warm lighting grazing a tactile finish, for example, will help provide comfort and assist acoustically, while also visually create a calming and inviting setting. It seems obvious, but if the form or materiality is off then the setting isn't working as hard as it can to help facilitate a purpose and create maximum visual appeal.
"The other consideration is how it works with the brand or the wider building strategy. Often clients will ask about longevity and if the material is easily maintained, particularly in high traffic areas.
"We have an initiative called 'workshops of innovation' where we research and develop ideas, products, or theories. We've been thinking more about the effect of the sensory experience and its huge contributary factors upon the success of a space. What does it smell like? What does it feel like? Is it loud? Quiet? We always think about the properties of a material first, how they act to not only visually enhance a space but contribute to the function."
Sustainability has always been a key consideration for Jasper Sanders + Partners - can you talk a bit around that?
"Sustainability is everything and without being mindful means we've failed in our mission. We consider many things, including the materials we're using and thinking about how where it's made, how far it's travelled, is it the right material for the space? For example, in our scheme at Building 1, Exchange Quay Manchester we retained the existing ceramic floor tile. It was in great condition and was a conscious choice to avoid throwing another material into landfill for the sake of change. We enhanced that scheme with lighting and the introduction of a timber wall-panelling to create depth and warmth, and the existing tile looks great, by the way!
"Brands/materials we particularly like are UltraFabrics, NaughtOne, and Forbo. We love marmoleum and use it so often, it's very diverse!
"Sustainability runs side by side with function and aesthetic for the studio, we're always striving to improve and take time out to think about our material choices. For the last two years we have been independently researching into how we can make the studio more sustainable and have a Head of Sustainability role to continually work on this. We're always striving to improve, with an end goal of becoming carbon neutral as a business."
What projects are you working on currently?
"Finishing on site is a boutique student living scheme in Edinburgh - 16-18 Potterrow. The creative direction for this is influenced by the juxtapositions of the city; the jagged yet beautiful landscapes, Scottish whiskey and cream, the beauty of the thistle and its thorns. The interiors present a rich and immersive experience, which, led us to develop a palette of dark and light, the whiskey and cream, creating a series of interconnecting spaces with opposing materiality and atmospheres. It's a landmark project for the studio and we're very excited to share this once complete!
"We're also working on an exciting build-to-rent scheme in Liverpool's Fabric District. Our vision for this came from the process of quilting, millinery and the weft and warp of fabric. There is a bold and monochromatic approach to this scheme, which is equally playful and mature and links to the wider context of the site.
"And in Oxfordshire, we're working on refurbishing a cottage, set within a beautiful hamlet town.
"All of our projects, no matter how varied take on the same rigorous design process. It's iterative and layered, and each is considered and balanced."
And what's next?
"There's a lot of exciting things going on at the studio currently. Personally, I'm looking forward to really shaping and taking on my new role as creative director, collaborating with the team and continuing to work closely with our client base.
"We have some new and exciting projects in the pipeline with brand new clients, so we're all looking forward to these! As we head into the final portion of 2023, I'm keen to get out to industry events, it's often a time where we will begin to reflect, but I can't wait to see what the future holds!"