Run For The Hills injects an urban artisan aesthetic into Yeast Bakery's new East End location.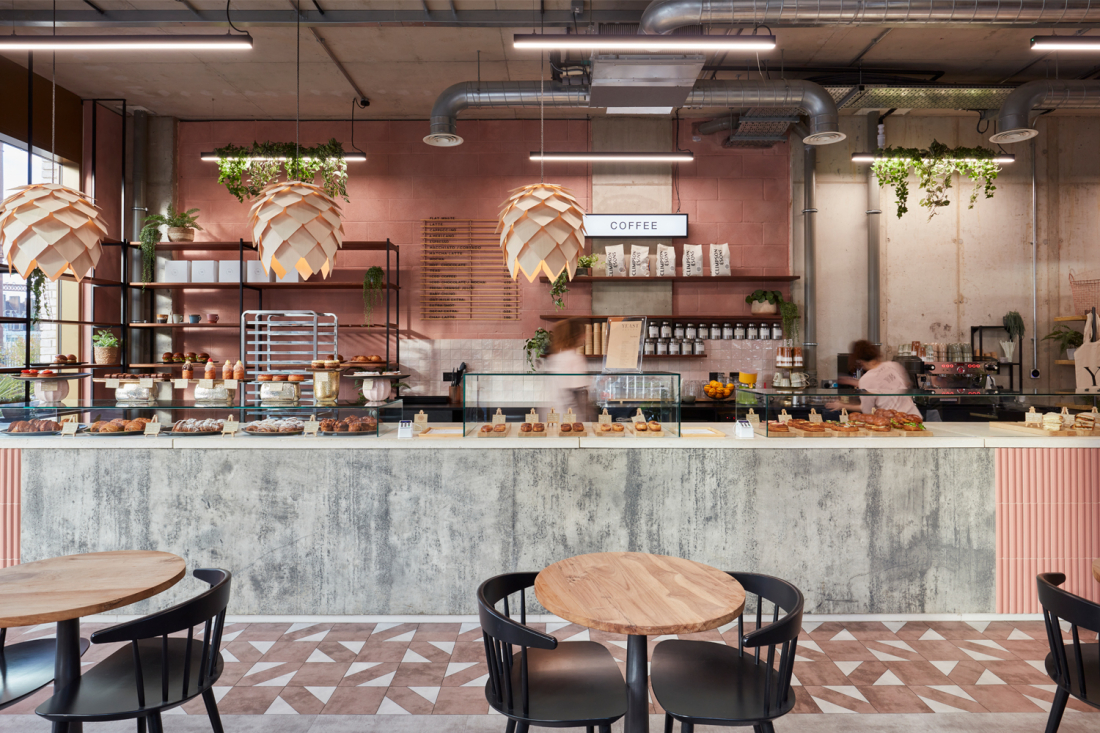 Award-winning design studio Run For The Hills recently completed the interior and brand makeover of East End treasure, Yeast Bakery. Much loved by locals, the bakery is now based in a brand-new location near Broadway Market in East London.
Specialising in the production of high quality, hand-made viennoiserie, the team bakes fresh pastries, cakes and other indulgent treats every morning, and delivers seven days a week to boutique coffee shops, restaurants and delicatessens across London. The bakery cafe is open for lunch and brunch, and, by evening, offers live music and a lifestyle boutique.
Run For The Hills co-founder Anna Burles comments: "Ben and Angela came to us when they were looking at taking on this larger venue, which looks directly onto the Regent's Canal. Our brief was to create 4 distinct zones within the large open plan space, with areas for the Bakery counter, a Cafe zone, Lifestyle & Deli and the all-important nerve-centre Kitchen/Bakery. The venue itself was a large, glazed industrial style space, and our creative brief was to soften things, injecting more of an urban artisan vibe."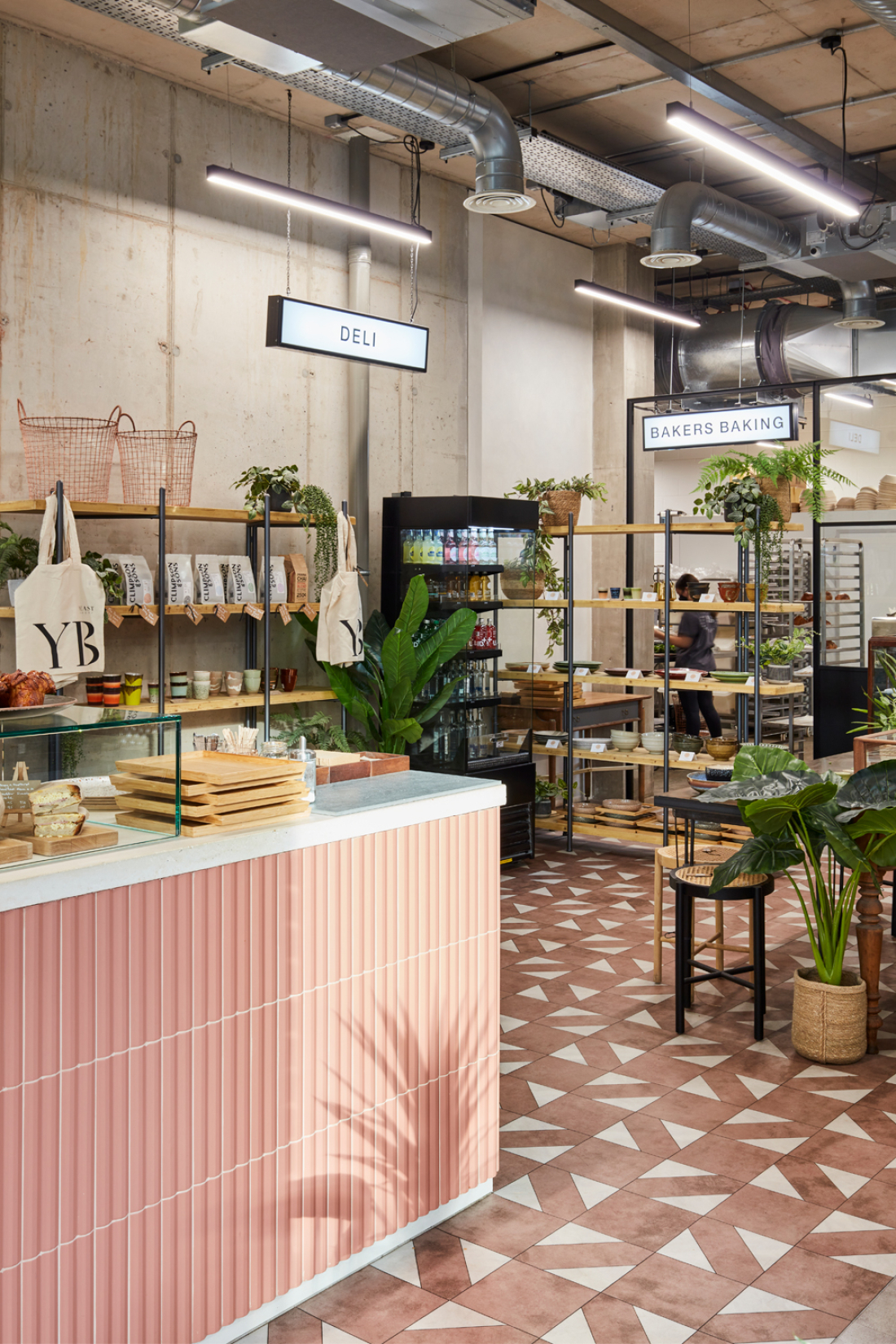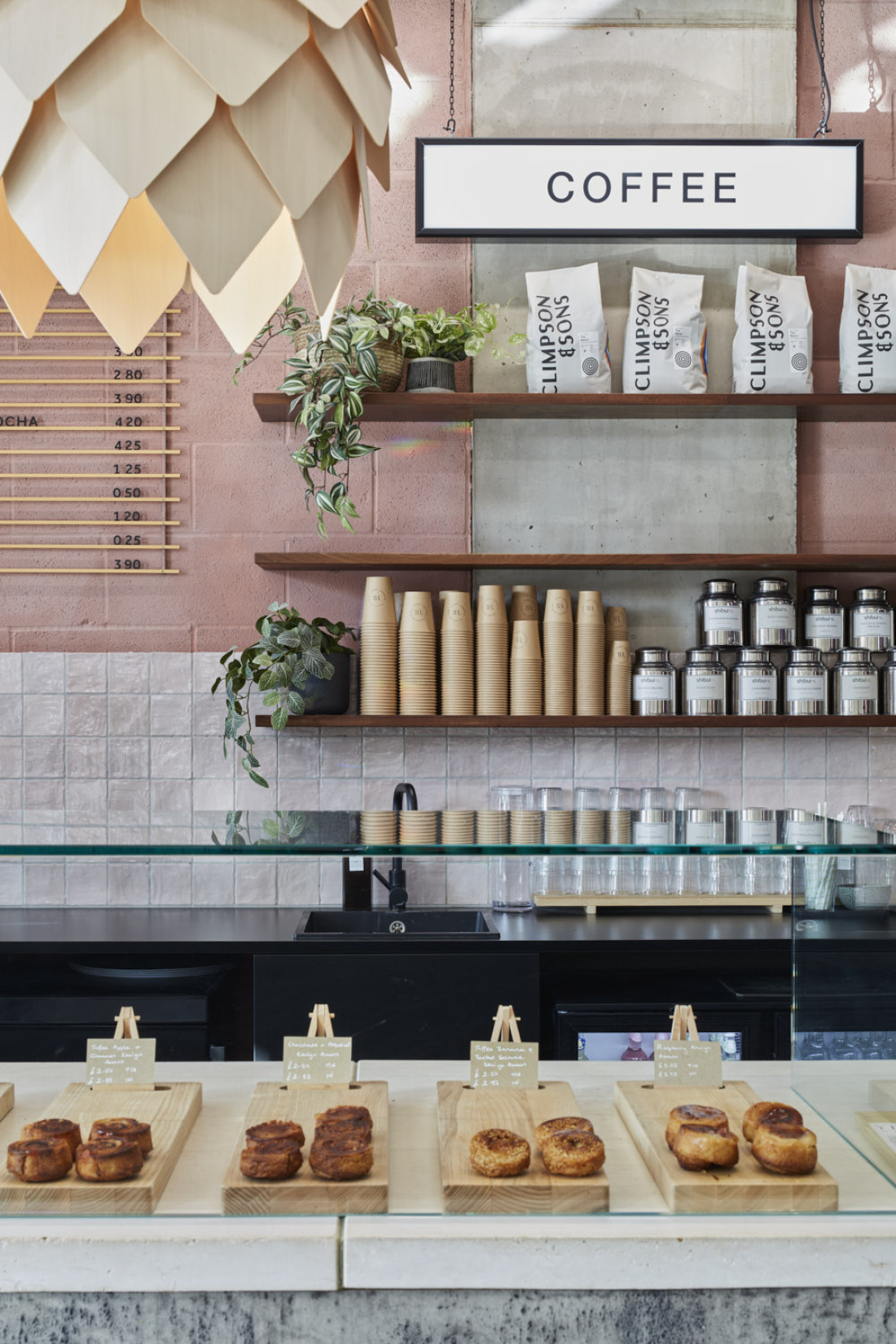 The design concept
The designers used the idea of 'broken plan' within their new spatial design concept, to allow for a smooth customer flow and openness, whilst creating distinct zones. Each area was designed to feel part of a family design language, but each had their own identities (not just from a graphical perspective, but also in terms of the materiality used). Run For The Hills used largely loose furniture to help differentiate these zones, which have a double purpose, allowing the clients to use the space for event hire, easily transforming and reconfiguring it for live music performances and specialist gatherings.
Ahead of the move to their new canal-side premises, Run For The Hills' graphics team gave Yeast Bakery a clean and simple brand refresh. Creating a new bespoke logotype that is both timeless and elegant, with two minimal lettermark roundels.
For the exterior, they designed two fresh white projecting signs with the new lettermark, and creative white brand decals on the windows. Not just to add messaging for passersby, but to also create a cosier, more intimate feel for their customers inside. For in-venue graphics, the design team created a series of blackened steel framed lightboxes hanging on metal chains to help zone each space.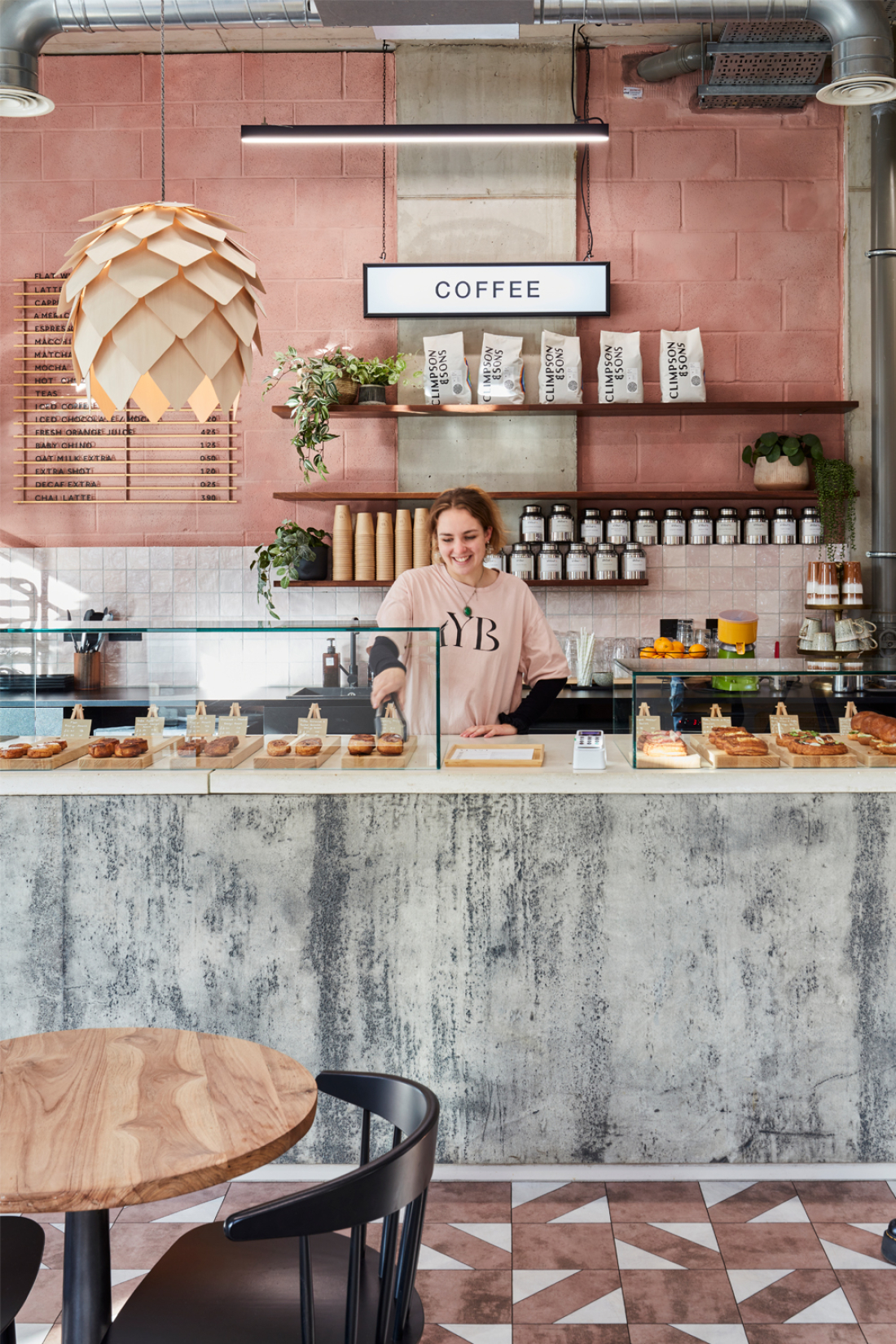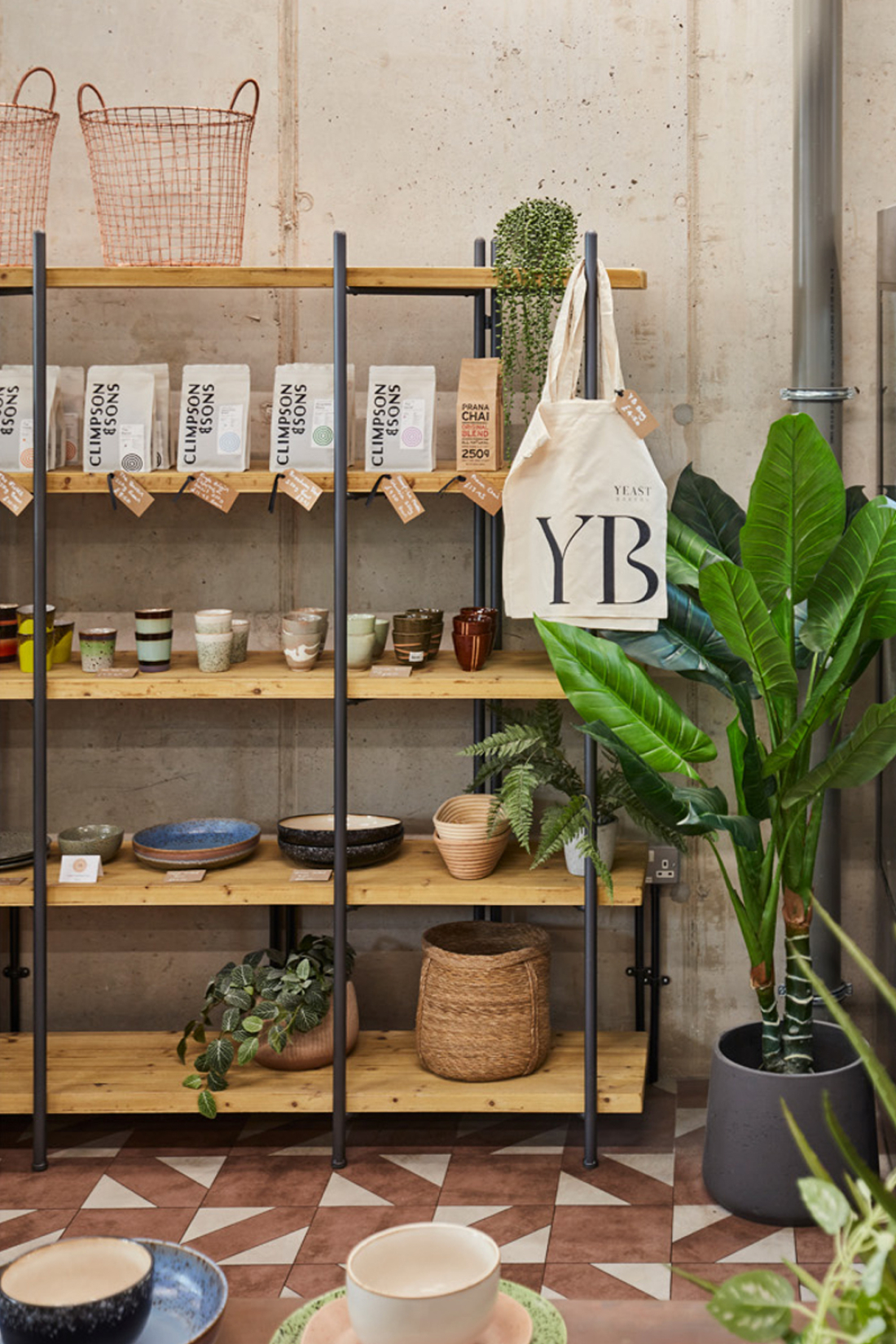 Interior finishes
The design team specified Bauwerk Limewash to add a vintage, lived-in look to the previously stark white walls. Choosing a rich plum tone in the cafe seating area and a dusky soft pink behind the main bar counter. The colourful, sophisticated decorative palette plays well against the industrial exposed ceiling and galvanised extraction pipework, adding a much softer feel to the unit overall.
The bar
The cafe/deli counter is topped in solid concrete, with a textured concrete front, and soft pink 3D porcelain tiles. Beautiful frame-less pastry display cases showcase products at counter level, with artisan tiered displays above, allowing for maximum view of the tracks of breads displayed behind. Bakery display shelving made from rich timber and blackened steel wraps in an L shape around the back of the bar across the full height of the main front window.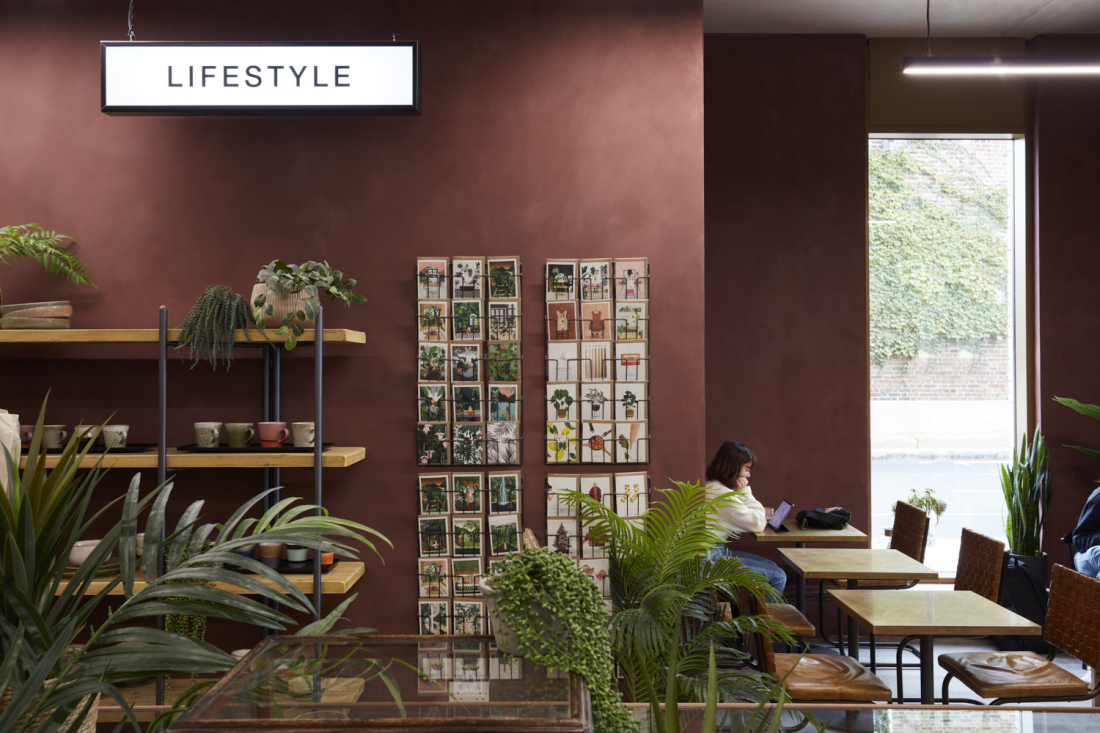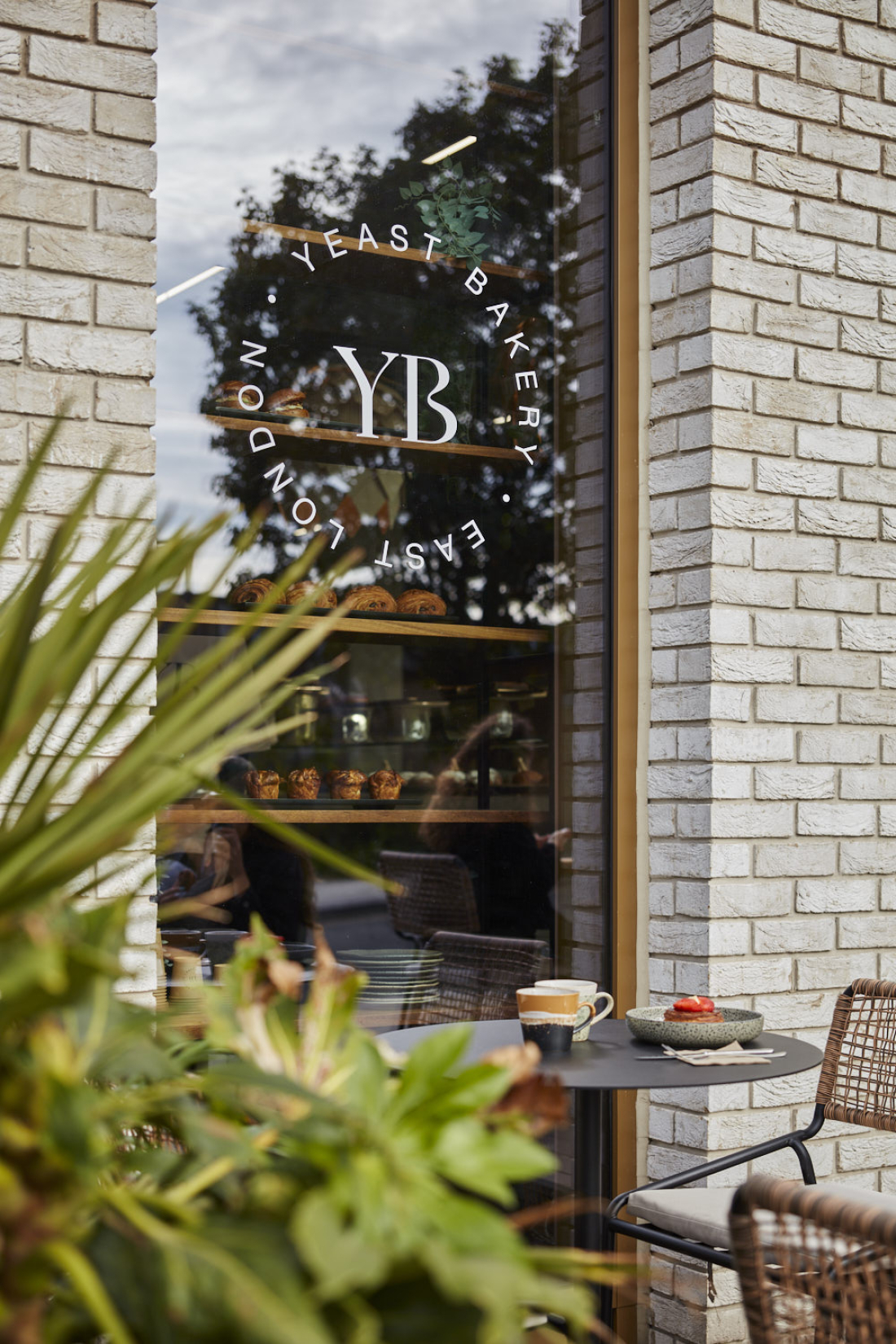 Dining
Customers can enjoy coffees, pastries and light bites at a mixture of carefully considered seating set ups, including a timber high bench table, tactile, leather topped tables with timber frames and a mix of zinc and black tables with eclectic dining chairs. Rattan and woven bohemian furniture was selected for the outside terrace to soften the glazed box shopfront.
Shop space
Industrial timber and metal shelving units were designed to display coffee beans, chai tea and handmade gifts, cards and accessories. Retail display space is also used as a key part of the zoning between cafe and working bakery.
Lighting
As with all bakeries, much of the lighting was created through architectural lighting and integrated lighting within display cases. The interior designers added some extra layers of decorative fittings to bring light levels down whilst injecting more materiality.