SpaceInvader completes interior design for One Victoria Street, Windsor.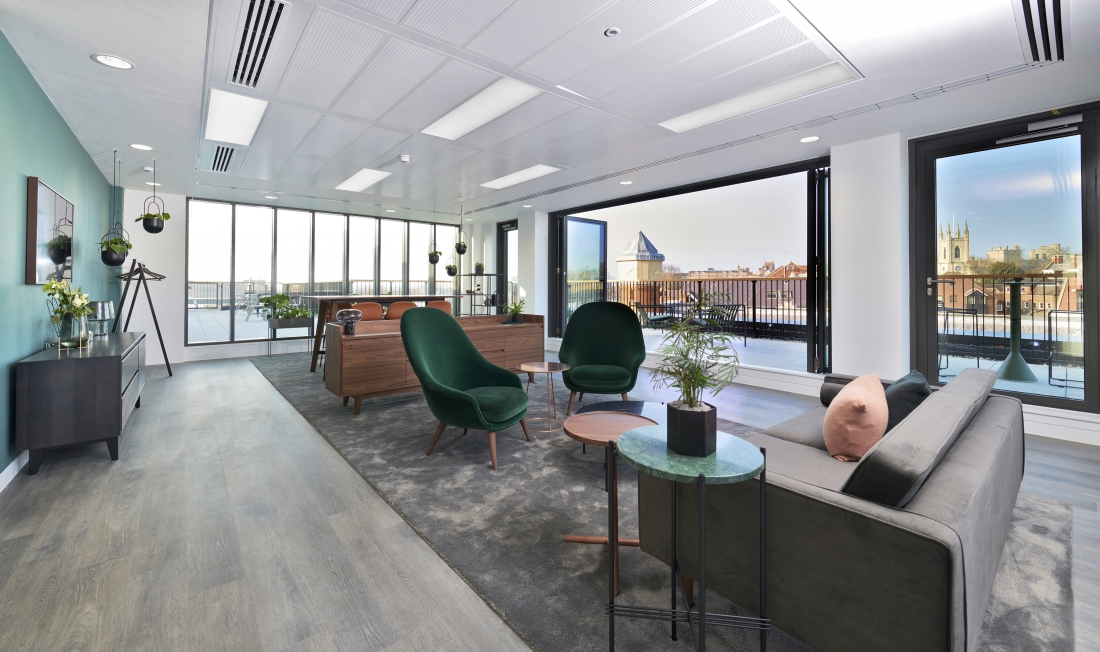 Manchester-based interior designer, SpaceInvader, has created a series of elegant, nature-inspired spaces at One Victoria Street in Windsor for its client, Legal & General.
The new, 43,000 sq ft, five-storey development - by Rolfe Judd architects - offers tenants a range of floorplate sizes and terraces and is the first new Grade A development in Windsor for 20 years.
SpaceInvader was responsible for the scheme's Cat A interiors and wayfinding, with a remit that encompassed the design of the reception and ground floor business lounge, the circulation area lift lobbies, all public area signage and two roof terrace areas on the building's 3rd and 4th floors, plus wellbeing facilities including an internal garden, showers and changing facilities.
The new building at One Victoria Street has been designed to sit comfortably within the elegant fabric and great historical surrounds of Royal Windsor. Directly inspired by Windsor's woodland surrounds and history, SpaceInvader's design concept for the One Victoria Street development sought to create an environment with a natural emphasis, so that the scheme's tenants would feel inspired, motivated and energised by their surroundings.
The design scheme included, for example, an internal garden area with live planting within the ground floor lounge. Here, users can be immersed in an ultra-green space for reflection, relaxation and reading. Natural textures here include moss, wood and stone, creating a space that appeals to all the senses.
"This is a really forward-looking scheme", SpaceInvader Founder John Williams commented. "It's great to see a landlord using net lettable area in order to provide wellbeing-focused flexible space for tenants. The prioritising of better air quality, natural connections, roof terrace space and a really delightful ground floor biophilic garden shows a real commitment to and understanding of the changing needs and views of tenants, especially in our post-pandemic world."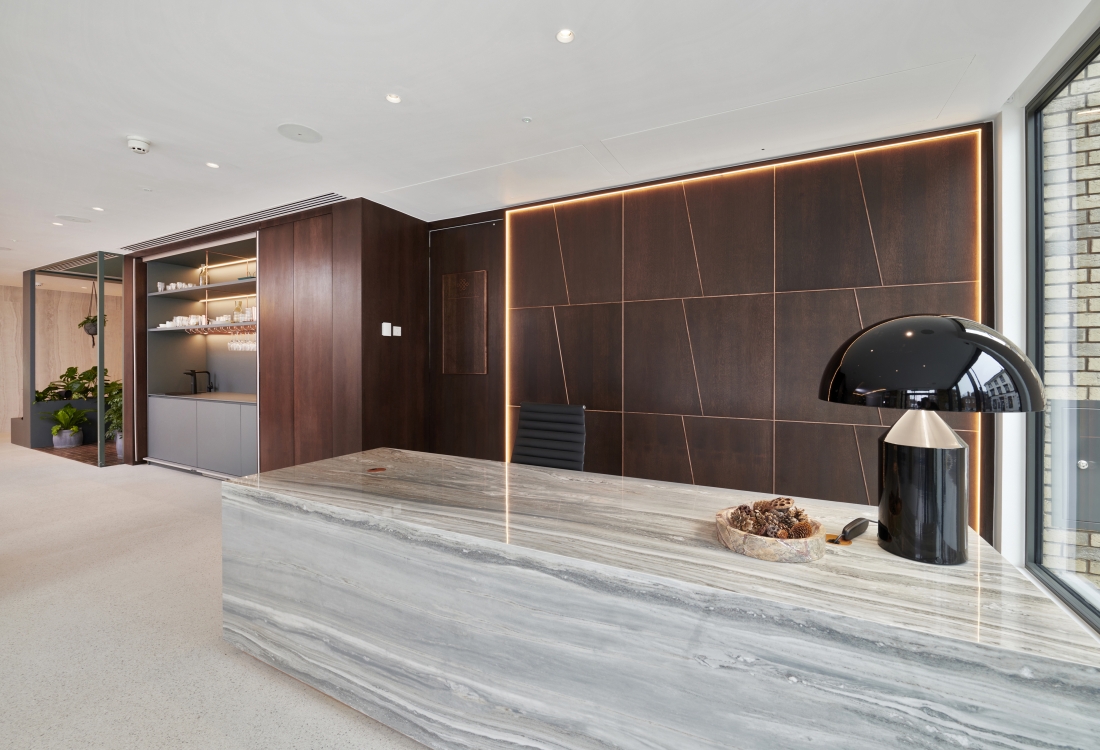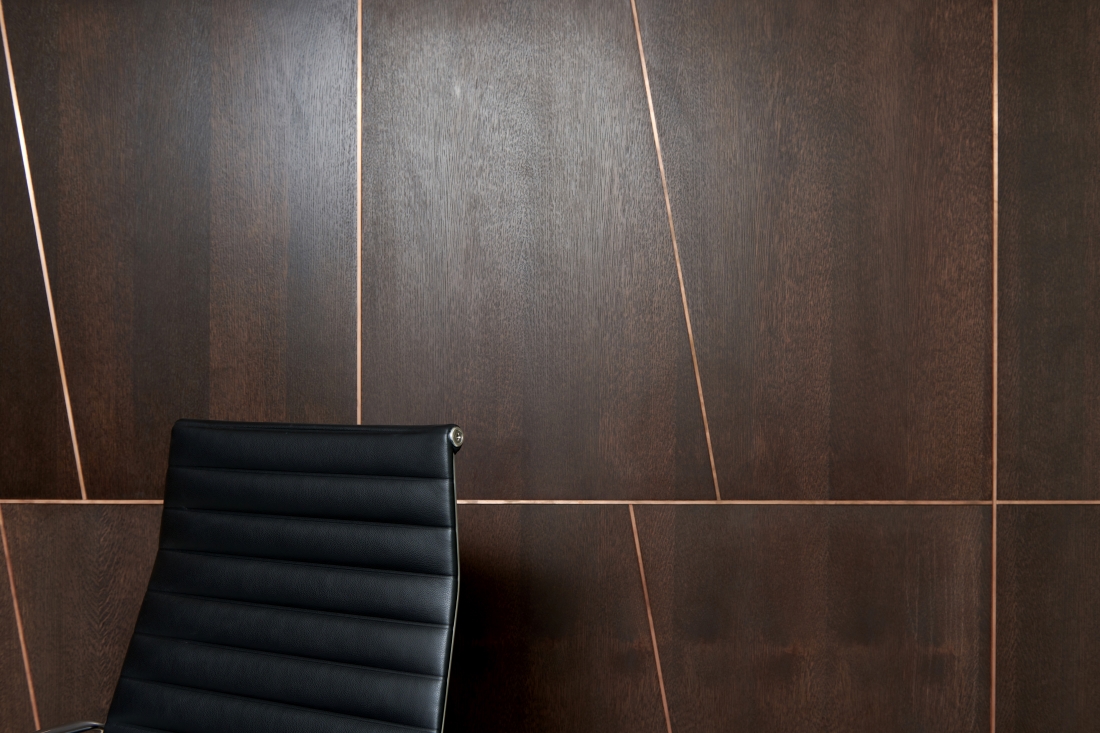 The scene-setting ground floor lounge needed to be a highly flexible space to accommodate many different moods and missions, as well as serving as a marketing suite for potential tenants. Visitors are first met at reception, which features a striking, bespoke reception desk with a printed porcelain, marble-effect finish, dressed with an Atollo 233 Table Lamp from Oluce.
Directly behind is a halo-lit, timber-finish feature wall with brass inset lines in an angled, geometric pattern. A waiting area opposite includes emerald velvet high-back lounge chairs with dark timber legs by Gubi, introducing the lounge's nature-inspired jewel tones.
The material palette of the overall space has been chosen to give an impression of warmth, welcome and elegance. Copper detailing and tan tones, inspired by bark, lichen and autumnal falling leaves, add warmth, whilst the rich greens of the upholstery are inspired by tree canopies in the woods. Soft velvets and eye-catching accessories underline the scheme's luxurious feel. A resin floor in the entrance lobby creates a seamless finish, with a change in treatment to rugs denotes the business lounge area. A ribbed raft ceiling over the business seating area with integrated and dimmable lighting is inspired by sedimentary folds of rock geology.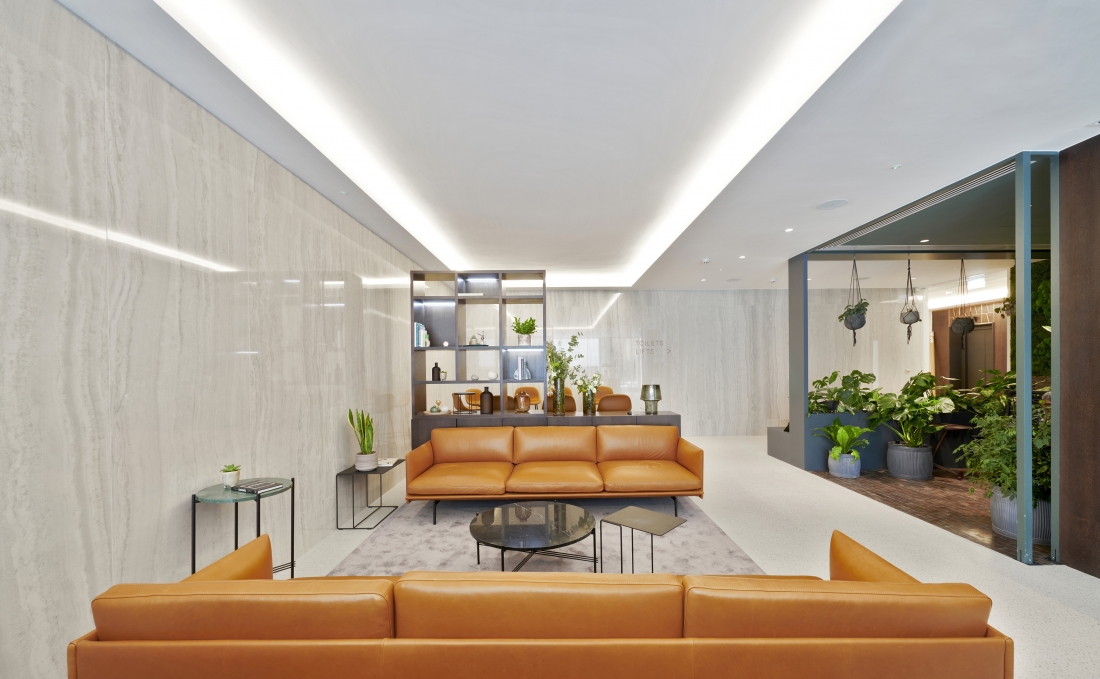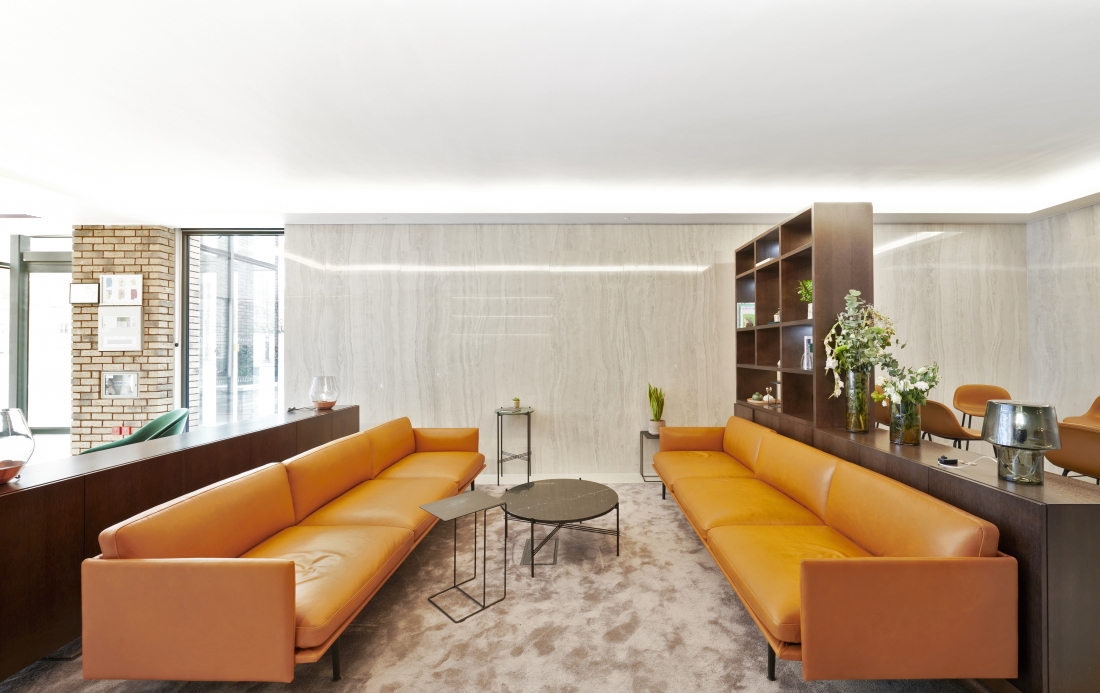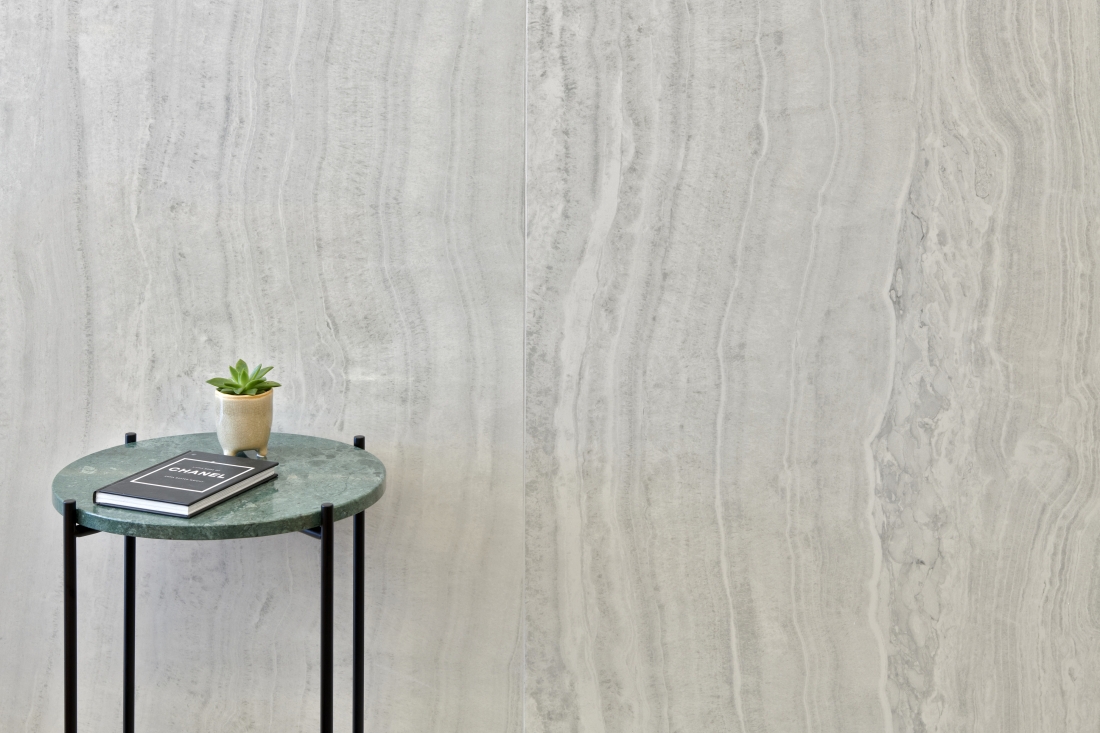 Directly beyond reception on the right-hand side, a concealed bar, cloakroom and kitchen area offers a 5-star hospitality service for visitors. The internal garden area follows on directly, featuring a living wall on two sides and large-scale planting throughout. Furniture here includes a green leather built-in bespoke banquette, a Maia Relax Chair from Kettal and two small incidental Knot tables by Naughtone, whose timber tops and green metal bases offer a perfect greenhouse furniture feel, with various decorative palm and fern print cushions completing the look. The garden's grey structured joinery also includes an outward-facing bench at the rear of the space.
To the left, a business area includes two credenzas which zone off two low-slung Muuto sofas in cognac leather. The left and rear walls are clad in a luxurious porcelain wall tiles, creating a material link to the marble-effect reception desk. Just beyond, a full-height joinery bookshelf and room divider creates screening to separate off a high-bench gathering point. The high work bench to the rear, with six Muuto bar stools, provides a communal setting for social gatherings, flexible working and informal meetings.
The lift lobby leading off the lounge features a bespoke joinery treatment with brass detailing similar to that of the rear reception wall. There is also a change to the floor finish in the lift lobby, as well as a coffered ceiling mirror. The scheme's elegant brass wayfinding system stands proud of the walls and references both the brass used throughout the scheme and the development's brand identity. The materials palette from the lounge design also extends to the showers and WCs, which feature marble-effect finishes and timber locker fronts.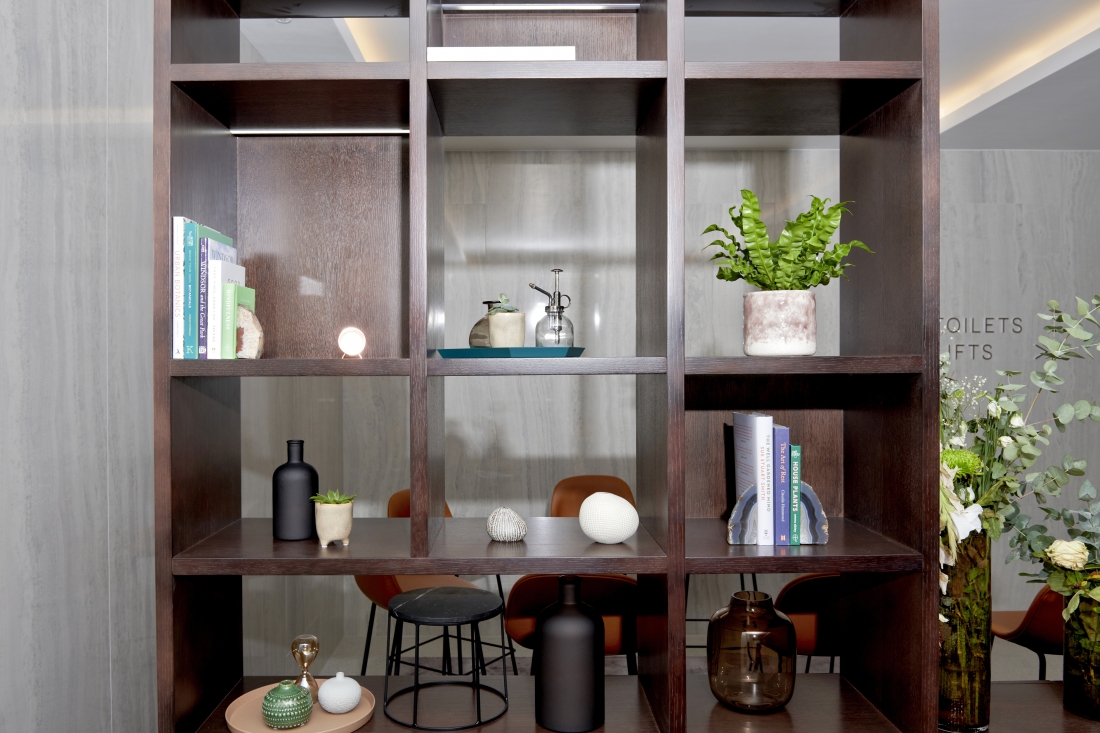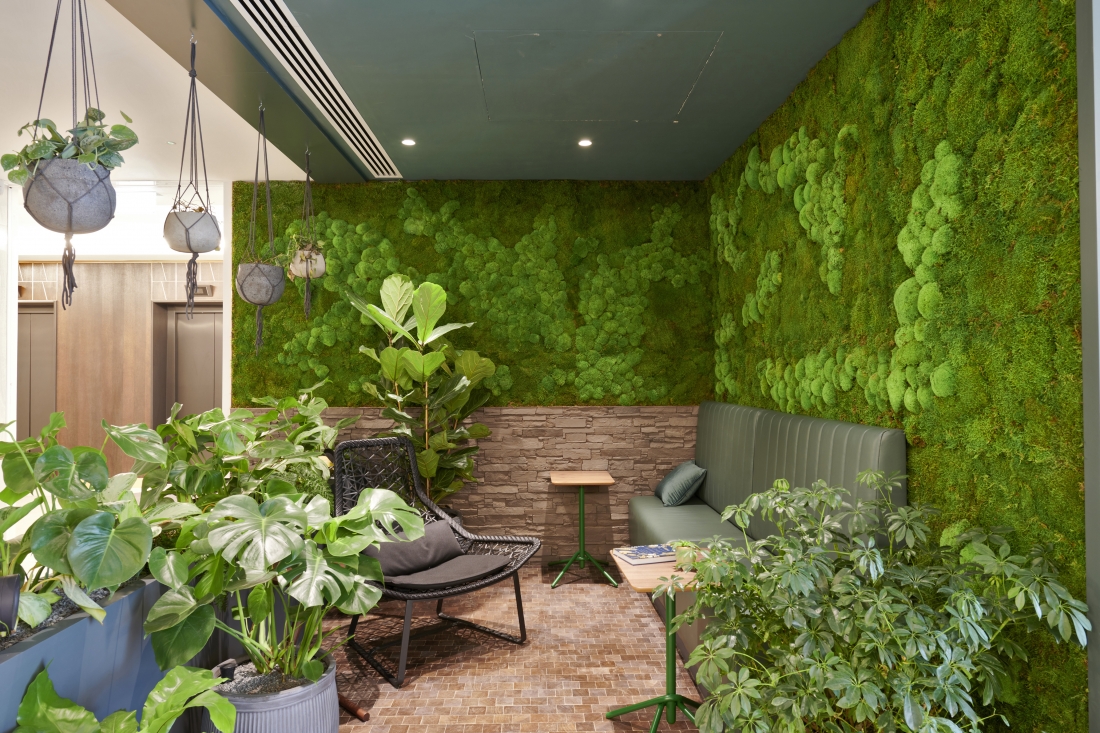 On the scheme's third and fourth floors are two lounges with adjoining roof terraces, creating a unique connection to nature for tenants to work, take a break and recharge. The technology-enabled spaces provide access to fresh air and natural light and offer the opportunity for other activities such as yoga classes. The terraces also provide alternative working environments, with a high work bench in the lounge section, as well as lounge chairs. Outdoor seating in a green metal finish is also available on the outdoor terrace sections, whilst integrated planters and hanging greenery continue to underline an indoor-outdoor connection.
Nida Rehman, Senior Development Manager at Legal & General Investment Management Real Assets, commented: "We are delighted with the results of SpaceInvader's interior design. With a real finger on the pulse of occupiers' needs and workplace trends, they have delivered a design that blends all the attractions of the Windsor location with highly flexible and functional spaces to create an extremely attractive and ergonomic place to work. The SpaceInvader team has delivered against our sustainability, cost and time objectives from concept and through to the details of every last element of dressing."