Cities of Green: Imagining a more eco-friendly future for city-centre buildings.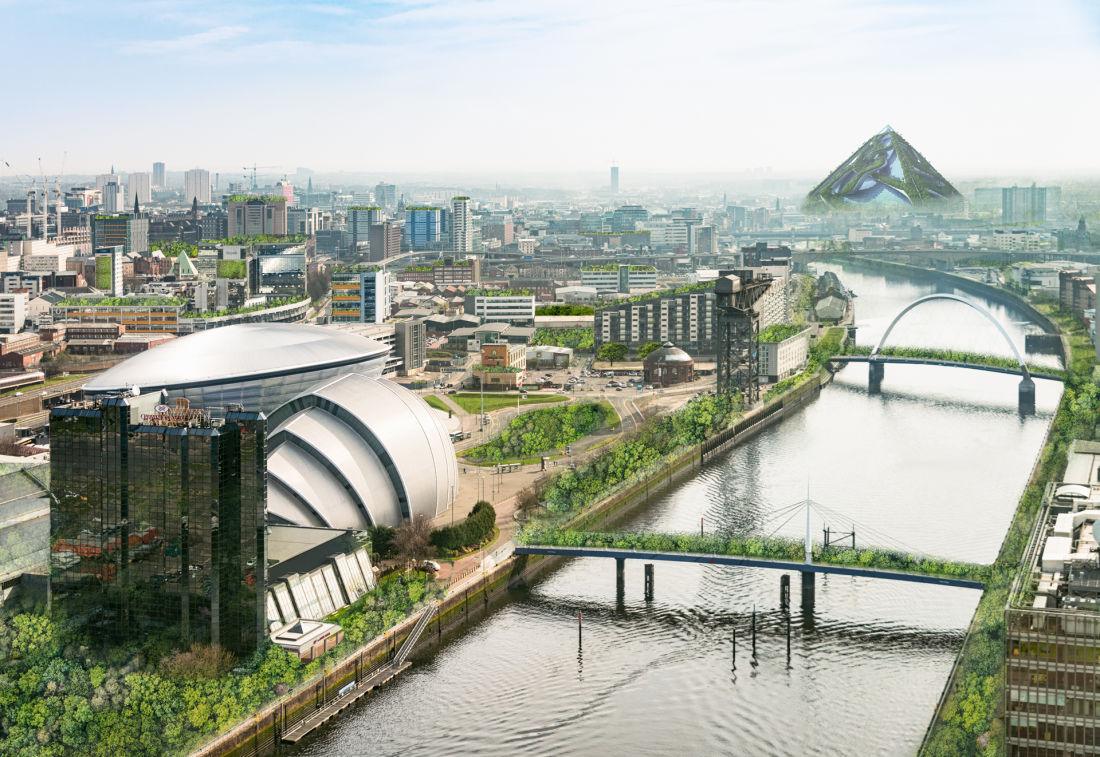 As the world becomes more urbanised, with cities getting larger and towns growing at an exponential rate, nature is being pushed to its limits.
With this in mind, hard landscaping manufacturer Marshalls looks to shape the further development of the UK's buildings and environments, by exploring how much emphasis should be put on incorporating ideas of biophilic design to adopt more urban greenery.
Taking inspiration from its 2019 Future Spaces research into the emerging themes that will change the nature of our built environment, Marshalls has envisioned how four major UK cities could look if they embraced the ideas of biophilic design and urban greenery.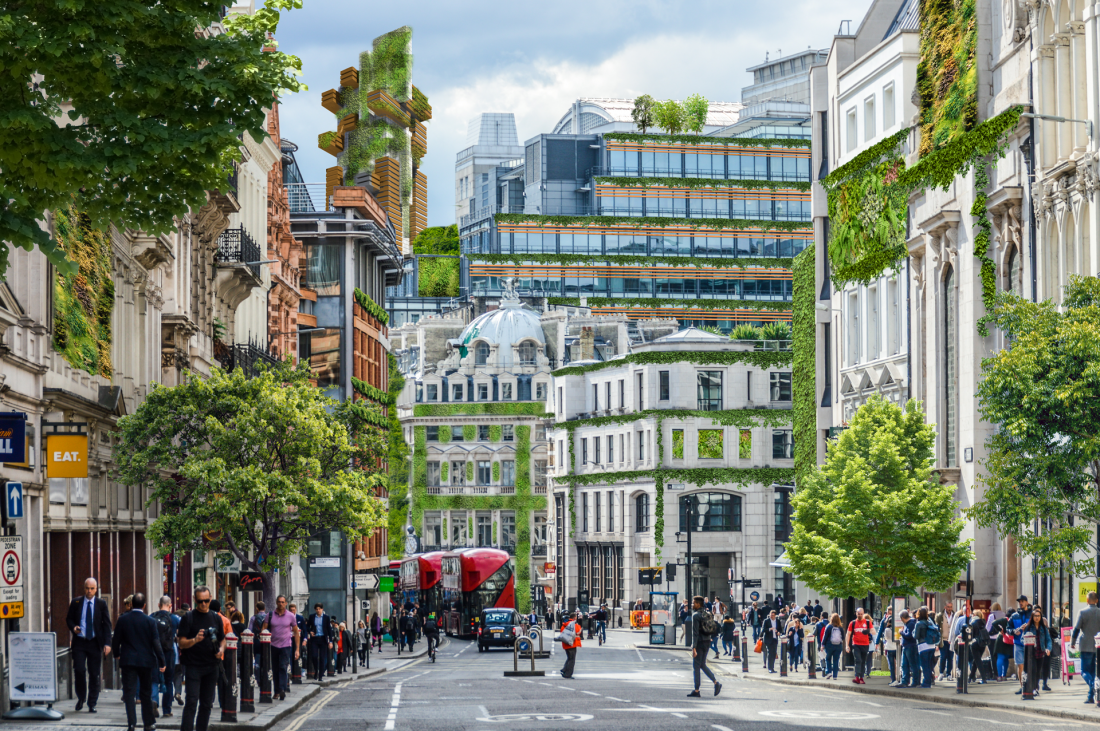 The images demonstrate what biophilic theorists call 'wildness' - the presence of the unkempt amongst the order of the city: the transformative 'sensory shock' of seeing 'the wildness of nature bursting through the cracks of the urban' by integrating green infrastructure into the design and planning process.
Many of the UK's cities and towns have already pledged to improve their natural environment by implementing a more urban forest atmosphere. Mayor of London, Sadiq Khan has already committed £12m to a 'Green City Fund' to cover the cost of tree planting, green space grants, and the growth and management of the city trees in London. His ultimate end game is to ensure that more than half of London will be green by 2050; a challenge indeed.
But, the Future Spaces research highlights a general public consensus that business and building owners should be the ones to foot the bill to ensure our city centres are as environmentally friendly as possible, rather than councils or governments. And they believe this could include features such as vertical forests, biomimicry and roof gardens.
Here, Chris Harrop, director of sustainability and marketing at Marshalls, explains its creative concepts: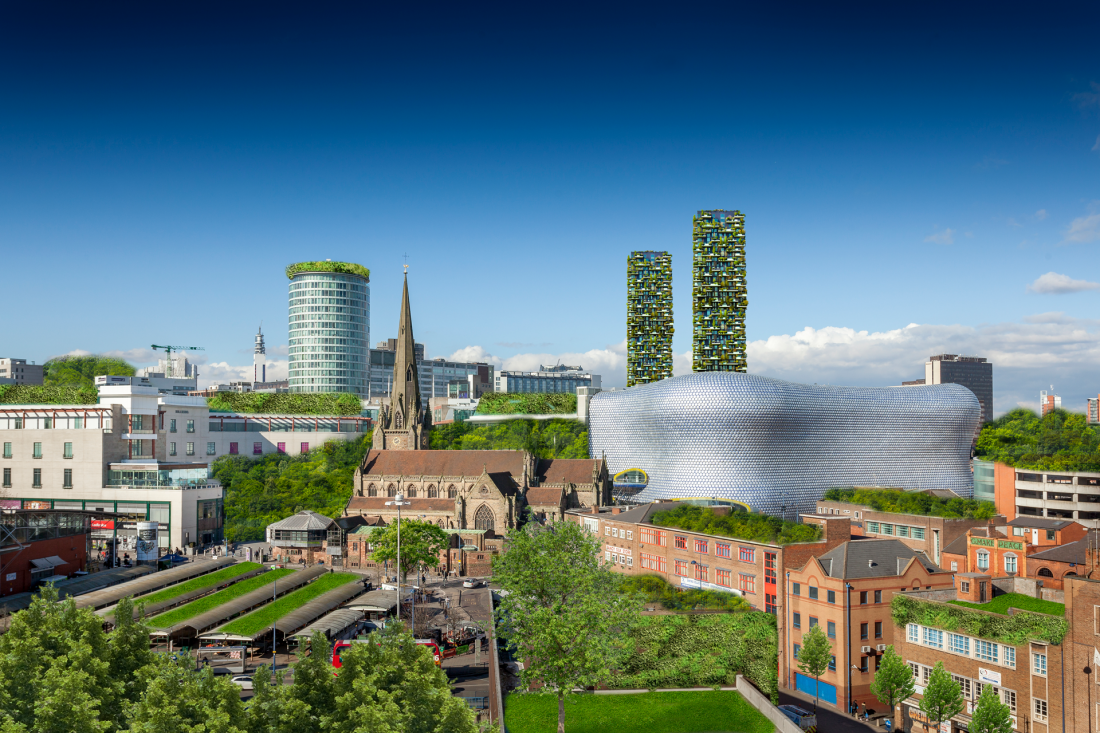 Glasgow
With the potential to be known as a "forest city", the improvement to Glasgow's overall look would be striking. With walkways, bridges and paths littered with trees and shrubbery, Glaswegians could expect to feel immersed in nature from the moment they leave home, to the moment they return from work. With the adoption of biomimicry architecture to mimic natural forms, there would also be a number of striking new buildings across the Scottish city's skyline.
London
Londoners could be surrounded by trees and shrubs, as they grow on the facades of existing buildings helping to capture the carbon dioxide as well as producing oxygen. Not only would this bring colour and vibrancy to its many main shopping areas and quirky side streets, it would also help to counteract the gasses emitted from the many cars, busses and motorcycles that grace London's streets daily.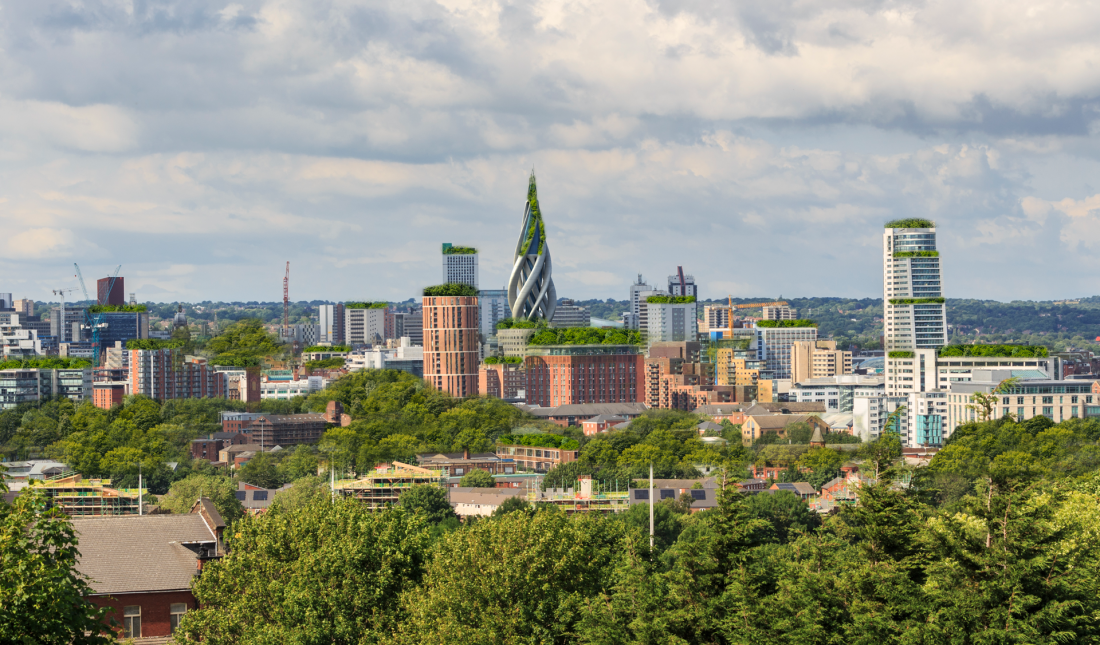 Birmingham
For Birmingham, the 'second city' could be seen to be the new "capital of vertical forests"; thanks to its towering residential blocks and distinct lack of land availability, the introduction of greener measures would see these blocks covered with trees and cascading shrubs to cover the current facades.
Leeds
By embracing biomimicry architecture, the new addition of a spiralled building, designed to mimic the flow and natural forms of nature, adorned with plants and trees to truly emulate the power and fluidity of all things natural, will make an impressive addition to the Leeds skyline.
These structures would be set to capture the carbon dioxide and work to produce oxygen. Not only could they counteract pollution, but they could improve the overall wellbeing and health of residents and visitors, too.
With initiatives such as Manhattan's High Line proving to be a huge success among tourists and locals alike, and other cities, including London, taking cues for their own proposed versions, it seems that this vision for the future could be less of a pipe-dream and, in fact, closer than we think.