Tom Dixon in conversation with WGSN's Bethan Ryder: Biomaterials, constant reinvention & the metaverse.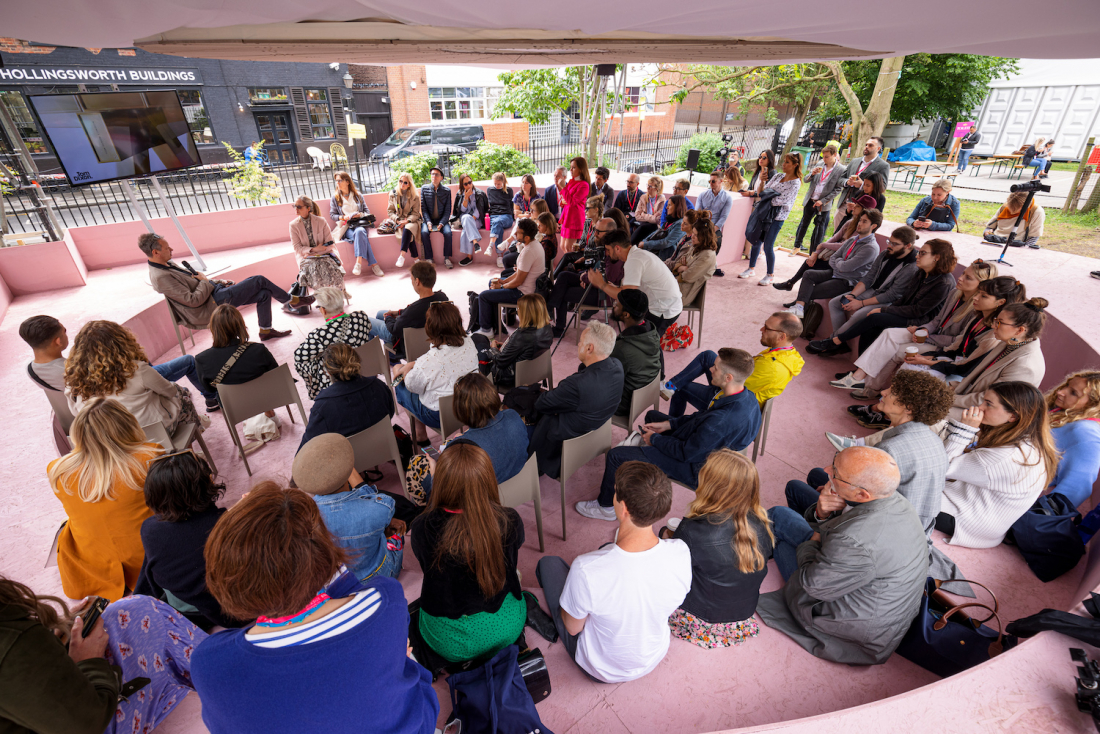 After a two-year absence, it was a delight to tread the cobbles of EC1 once again for the 11th instalment of Clerkenwell Design Week.
This year is said to feature more showrooms, venues and exhibitors than ever before, including some of our Material Source Studio partners: Altro, Autex, Arte, Brunner, Cosentino, Ege, Forbo, Gresham, Karndean, Naughtone, Nomique, sixteen3 & Smile Plastics.
As well as hopping between inspirational installations and exhibits, we headed to the talk space for the kick off of Conversations at Clerkenwell. First up was Tom Dixon chatting with WGSN's Bethan Ryder.
Tom, of course, needed no introduction, so Bethan dived into the questions, beginning with the topic of returning back to real-life festivals after a Covid-induced hiatus.
"Yes, we've missed them. It's really difficult to launch products in the physical world without people being able to sit on them, pick them up or see how they inhabit space, so it's been really difficult for us to do 'newness'. But whether they'll be as relevant as they were before - I would be kind of surprised."
With Milan Design Week on the horizon, and Tom Dixon due to exhibit for its 20th year, Bethan asked what visitors can expect from the brand. "We're 20 this year as a brand and I thought we should celebrate by looking at some of the things we've done that got us here and what's next, while opening up prototyping.
"Broadly speaking, we're upgrading some of our products. In the furniture business you do strive for the perfect thing and then leave it. But for me, it's in a constant state of evolution."
Part of this evolution involves opting for more sustainable, and, in some cases, experimental materials. "For every brand, it [sustainability] has become the number one question. It's important on so many levels. What we will attempt in Milan is to show quite a lot of our old products redone in materials that are either experimental, or getting close to the point where they can be used in this kind of application."
From cork off cuts, to mycelium, and eelgrass found on the beaches of Denmark, Tom's team is investigating "fast and furiously" to find sustainable material alternatives for their products.
I'm less interested in before, but what I'm doing now - Tom Dixon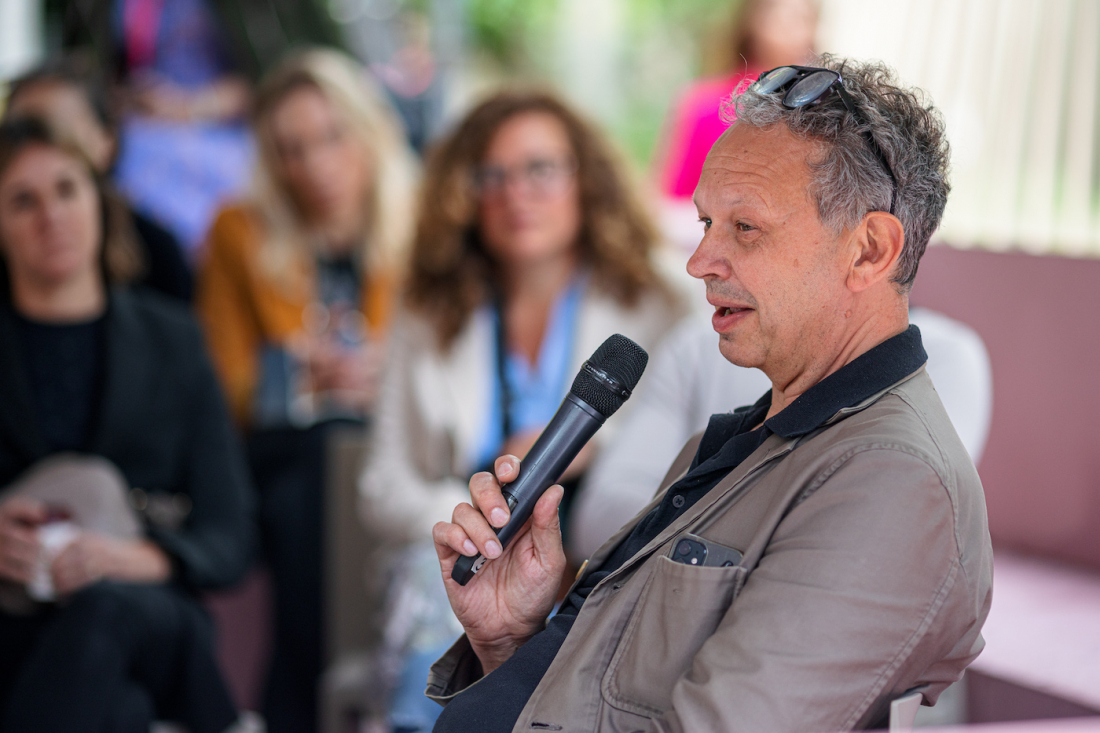 Moving from function to form, Bethan asked why chunky, solid shapes are capturing current consumer imagination.
"There are all kinds of reasons to do rounded. In glass, thick lenticular forms are rounded to catch the light. With the Hydro chair, it's been rounded to rigidise the aluminium. In upholstery, rounded implies and gives real comfort. And even with the cork, these rounded shapes really sharpen the soft material - you can chip it, so rounded is good because it stops a crumbly material crumbling.
"In the bathroom, with Covid, there's been an obsession with hygiene, and so curves are good for cleaning - there aren't corners that you can't get to."
Everything is design - Tom Dixon
If there's one thing for sure, Tom is a man of breaking the mould, and then constantly resetting it. When asked what drives him, Tom answered: "Boredom" while laughing - "perhaps childlike enthusiasm". From opening a staff canteen turned sell-out restaurant - "I learnt about food and furniture in Italy" - to turning himself into a hologram during lockdown to be "everywhere and nowhere all at once", to the future of workplace: "everyone knows the answer, it will be hybrid", Tom's interests sprawl far beyond prima facie product design.
Though one thread does connect the above: innovation. "If you innovate, you'll have 50% that won't work. But you'll never know until you try it."
And looking further ahead, into the future, what are his thoughts on the metaverse? "It's a hot topic right now, but I had a friend 30 years ago that was working in the gaming industry and it's just another version of that, really. I think it's going to become more universal and it's going to allow us to do things a bit more like Zoom, but the thought of being trapped in a headset terrifies me, and I think you have to balance it with real life.
"I don't buy the idea that we're going to be completely bionic. We know it's quite dangerous in terms of how people behave and the impact on how social people are, and fake news, so I think it's a tricky one. I love using it for showing people around a space that we haven't built yet, or making fantastical things that we'll never be able to build, but I think it could be quite dangerous."
Clerkenwell Design Week continues until 26 May. Find out more and plan your visit here.