Darren Clanford & Michael Rogan, co founders of Material Source Studio, celebrate six months of community & collaboration.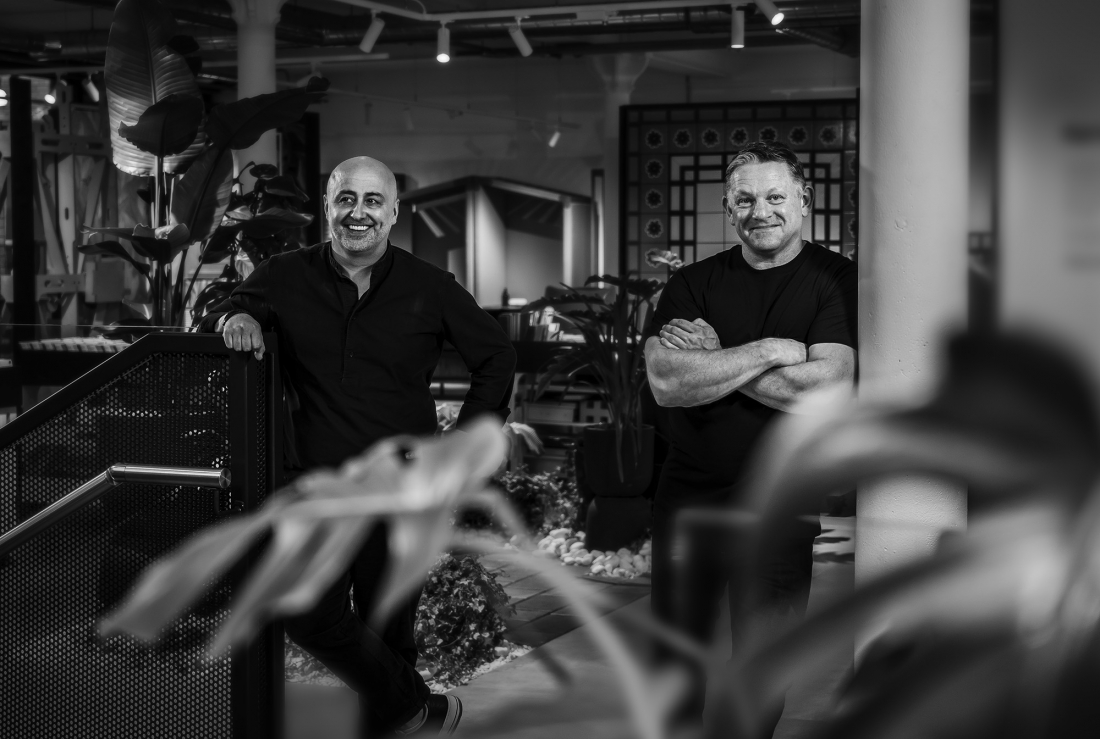 When asked how they'd like to begin this interview, to mark six months since Material Source Studio opened its doors in Manchester, Darren and Michael agreed it should be viewed as an "open letter of gratitude" to their community.
Launching an 'industry-first' in the midst of a pandemic was certainly no mean feat. But, testament to a strong concept built on insight - responding directly to what architects and designers had called for, long before Covid-19 - no pandemic-induced challenge was too great for Material Source Studio. And in November 2021, it launched to a community, ready and waiting, with arms open wide.
Since then, thousands of visitors have passed through the Studio, whether browsing the 40+ partner PODs for creative inspiration; visiting the north west's first dedicated biomaterials exhibition, From The Ground Up in the Studio's Gallery; attending the MSS Presents world-class seminar series - covering topics from the future of workplace and residential to fire safety; or joining a partner for a CPD, product launch or workshop. The Studio also complements designers' own material and product libraries, acting as a sustainable and current way to view the latest products and materials in beautiful surroundings.
Here, Darren and Michael express, in their own words, the journey they've been on over the last six-months (+ 3 years prior) while offering a sneak peek at what's coming next...
So, how've the last six months been? 
Darren: "The success of the last six months is in no small part down to our community. They've stuck with us through a pandemic, offering insight that allowed us to build something they genuinely needed and would use."
Michael: "From the start, we never underestimated the generosity of people coming to visit our temporary Studio to offer information and insight. A coffee and chat that started as an hour quickly turned into three, and that then became the start of a friendship."
"We are also grateful to have amazing people working alongside us. The appointment of David Smalley as director set us on a trajectory of building a stellar team."
Darren: "David has brought so much expertise and enthusiasm to the Studio."
Michael: "Our materialists Emily and Hannah - co curators of From The Ground Up - have played an instrumental role in providing material inspiration to our visitors, ensuring there is always something new to see. And Rae, our studio co ordinator seamlessly supports the smooth running of the Studio's day-to-day. The growing success of the seminar programme has also led to the addition of events co ordinator Andrea to the team. Alongside countless creatives."
Darren: "We've been shown unwavering support from our Studio partners, who not only embraced the concept immediately, but have worked hard to provide constant inspiration to visitors through our quarterly POD refreshes and a packed programme of events.
"We like to call the above a Creative Ecosystem. We believed if we created something people genuinely wanted, they would come. And we've done that through offering inspiration, a vast and varied choice of products, free takeaway samples, fantastic coffee, a team of friendly faces, and a world-class events & gallery programme. After a two-year hiatus from real-life interaction, the reaction to Material Source Studio has been magical to see."
Michael: "The thing I get asked most is how often can I come and use the space? And the answer is, as often as you want - we love to see the space vibrant and full of people."
We believed if we created something people genuinely wanted, they would come - Darren Clanford
What have been the biggest challenges?
Darren: "Knowing when to take time off! We're so involved after 2.5 years, working 7 days a week, that we've become completely attached. Because I find this so enjoyable, I wake up in the middle of the night - in a good way! - with ideas. But, as we know, it's essential for health and wellbeing to have a good work/life balance. Sometimes you need to switch off and do something else."
Michael: "The challenge of the last two years was being involved in developing a Grade II listed building. And the support from the team at NOMA was invaluable when delivering the project. They saw our business as an integral part of the area right from the start, and we're really excited about the developments they're driving in this neighbourhood over the next couple of years."
Anything that's surprised you? 
Darren: "We always knew the community would take to the Studio, because it was built on insight gathered from them. But what's surprised me is the distance visitors have travelled to see us, and the breadth of good tidings that have been spread about us - it's been genuine appreciation. Once we'd asked our community what they wanted we worked hard to deliver it, choosing the very best products and materials - all grounded in insight."
Michael: "The warmth and the comments have been, at times, slightly overwhelming. And so appreciated."
The thing I get asked most is how often can I come and use the space? And the answer is, as often as you want - we love to see the space vibrant and full of people - Michael Rogan
Have your roles changed in ways you may not have expected?
Michael: "No. Darren is the creative driving force behind the Studio, and although I enjoy design, I would bow to Darren's decisions around this."
Darren: "Ultimately, we have built a solid level of trust that means we don't need to cross into one another's roles. Though that's not to say we don't always sense check with one another, of course."
Michael: "Darren and I have challenged each other at every step of the way. We always want to know the 'why' and how things work. We both have inquisitive minds."
Do you have a favourite thing that's happened?
Michael: "Seeing our members of staff blossom and grow. In the six months between hiring materialists Hannah and Emily and now, they've produced an industry-first exhibition that's been visited by thousands. They're now working on the curation of our next exhibit featuring 3D printed sustainable materials from Opt Industries."
Darren: "For me it's also this feeling of belonging to a bigger community. Being embraced with wide open arms. The acceptance of Material Source Studio has been quick and overwhelming. Plus, the genuine friendships that have been forged by us building it.
"At our events, there are immense amounts of laughter (some heads of design louder than others - naming no names...) and it's a joy to witness."
What are the proven benefits of MSS to the north? 
Darren: "Accessibility. When I worked in London I used to get off the train in Manchester and was genuinely narked at the fact that, bar a couple of exceptions, there wasn't a focused source of inspiration for A&D. It angered me that this incredibly creative community had to travel across the country to see amazing products and materials first hand. So part of what fuelled the idea for the Studio was the desire to 'level up', to offer the north access to materials, products and events all year round."
What's coming next? 
Darren: "Our next stop is Glasgow - another cultural gem of a city, followed by Bristol. Many of the northern practices that call Material Source Studio a home-from-home also have a presence in Glasgow – proving synergy and ensuring a ready-made, engaged community.
"In Manchester, constant community engagement is further fuelling our MSS Presents seminar series - stay tuned for some big names in 2023; our quarterly POD changeovers - the next one is mid-July; a soon-to-be-launched Material Source podcast; and our new Material Moods content, providing even more inspiration for your upcoming projects."
Michael: "Our exhibition programme continues with the launch of the Opt Industries showcase this month, and carbon neutral materials to follow, plus our next Maker in Residence, Jacqui Symons, who will be crafting textiles live in the Studio."
Darren: "For us, digital and physical have always worked hand-in-hand. The inspiration we share digitally will continue to act as a signpost to our physical Studios. Because the real magic happens when you bring people together."