London Design Fair chooses 'Plastic Beyond the Chipper' as its Material of the Year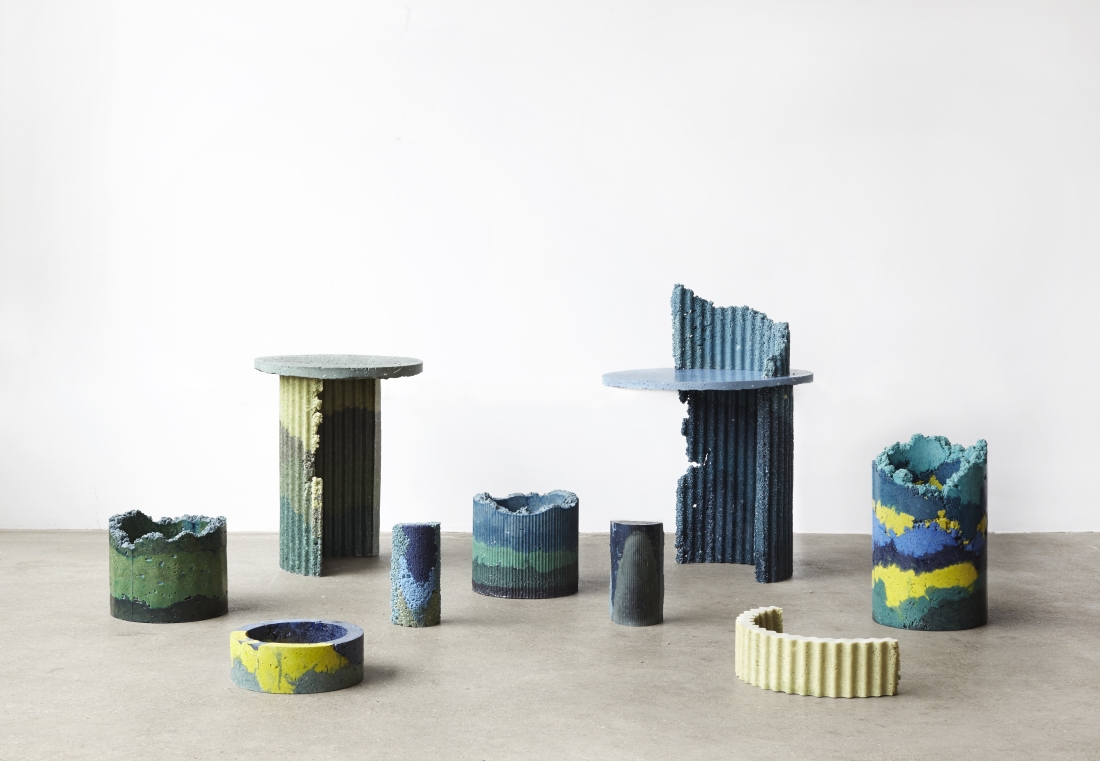 London Design Fair returns to the Old Truman Brewery this September, promising to be a global affair with international brands and designers from Denmark to Dubai and Sweden to South Korea. Alongside the twelve country pavilions and one very special guest country, Japan, there will be a major focus surrounding the subject of plastic, a material that has recently become a major talking point, not just in the creative community, but with the general public too.
As governments strive to tackle and ban 'single-use' plastic, and increasing amounts of microplastic are found in fish, we are left with an obvious problem: what to do with the difficulties posed by it? London Design Fair has chosen plastic as its 2018 Material of the Year, in a bid to showcase and celebrate just some of the designers who are engaging head-on with the significant environmental issues posed by plastic.
Material designer Charlotte Kidger, for instance, recently graduated from Central Saint Martins with an MA in Material Futures. Working with polyurethane foam dust, a by-product of CNC fabrication, she has created a versatile and durable composite material. The composite is processed by means of cold casting to create 3D objects. Kidger will show her collection of large-scale tables and vessels at the Fair.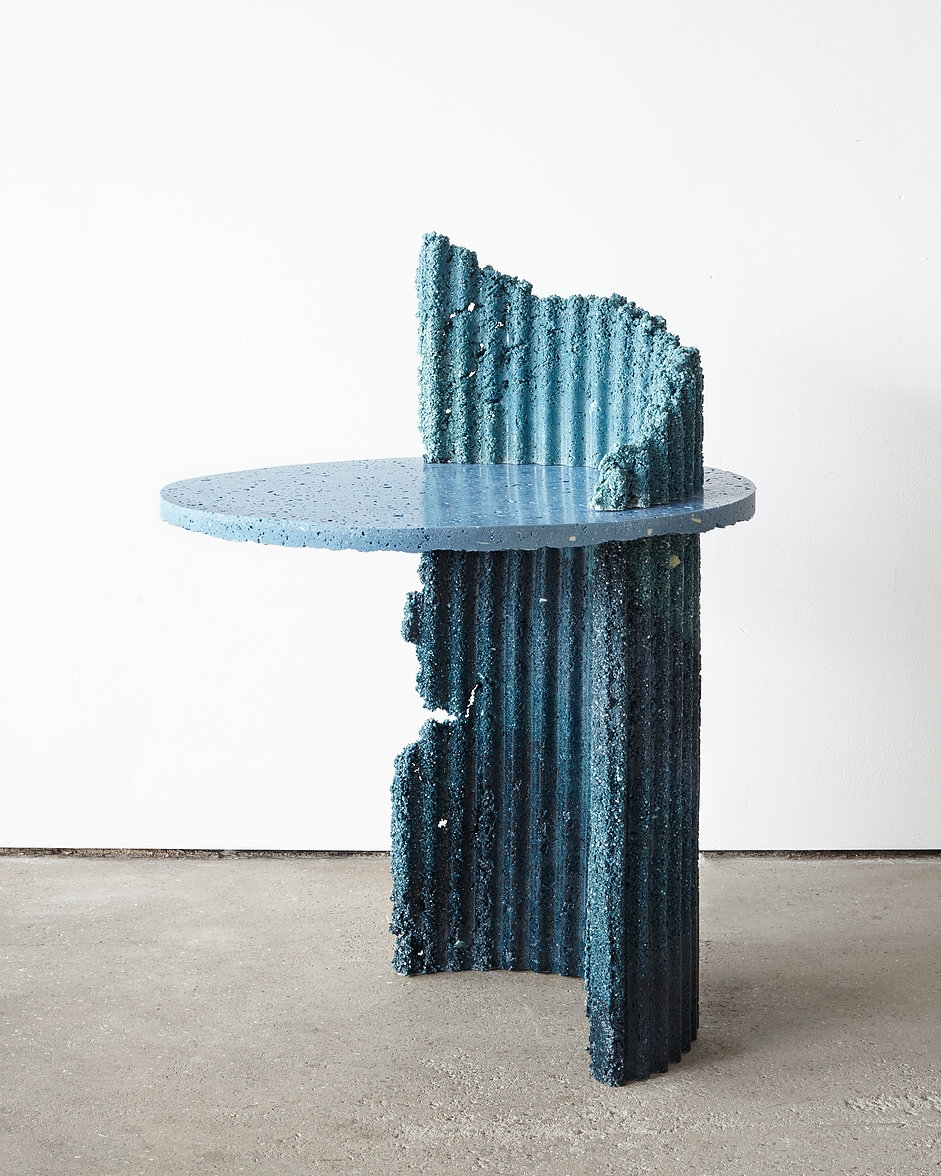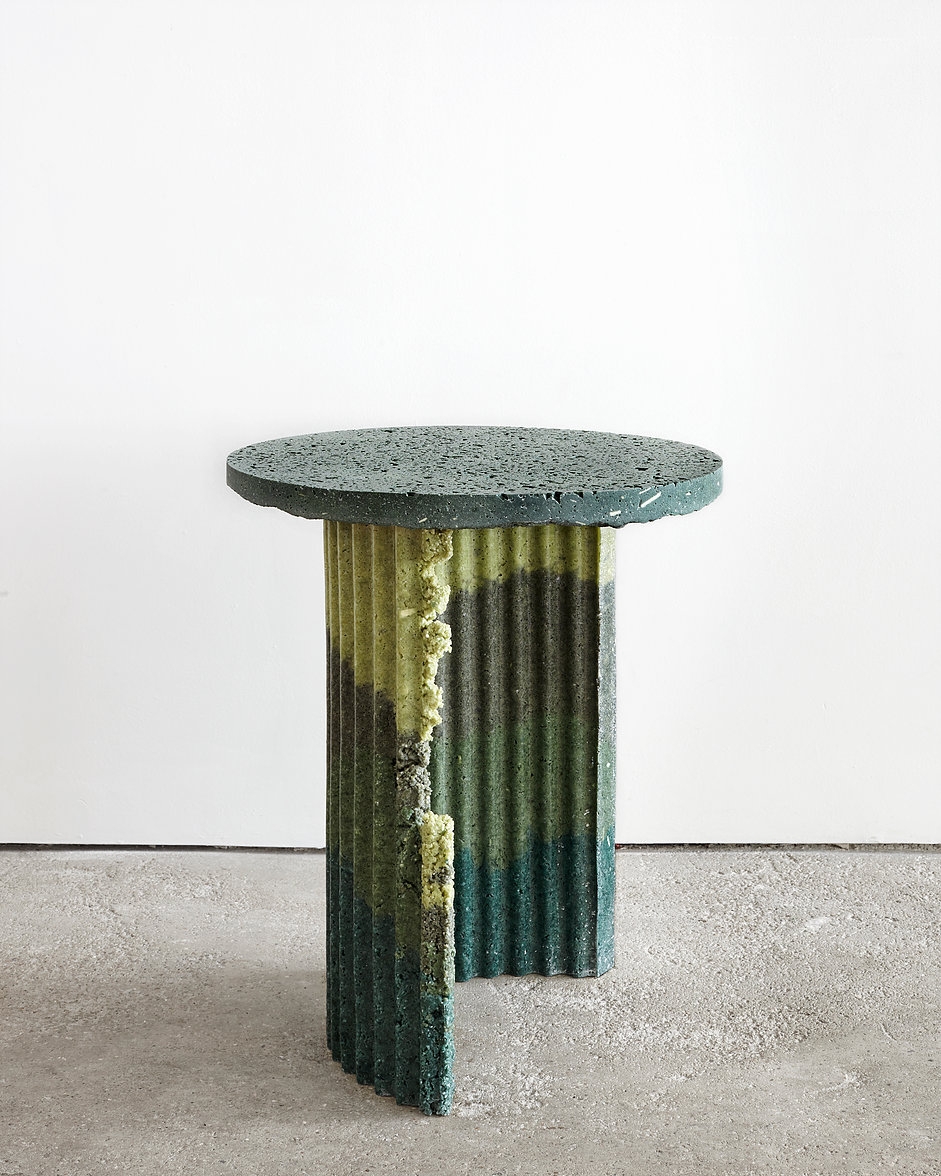 Dirk Vander Kooij, meanwhile, graduated in 2009 from Design Academy Eindhoven. A craftsman and inventor, he is best known for his playful extrusions of reclaimed synthetics.
Using an in-house-designed robot and materials recycled from a range of polycarbonate products, Vander Kooij applies low-resolution 3D printing in furniture production. Vander Kooij will exhibit the 'buitenhuis' chandelier at the Fair, shown in the UK for the first time.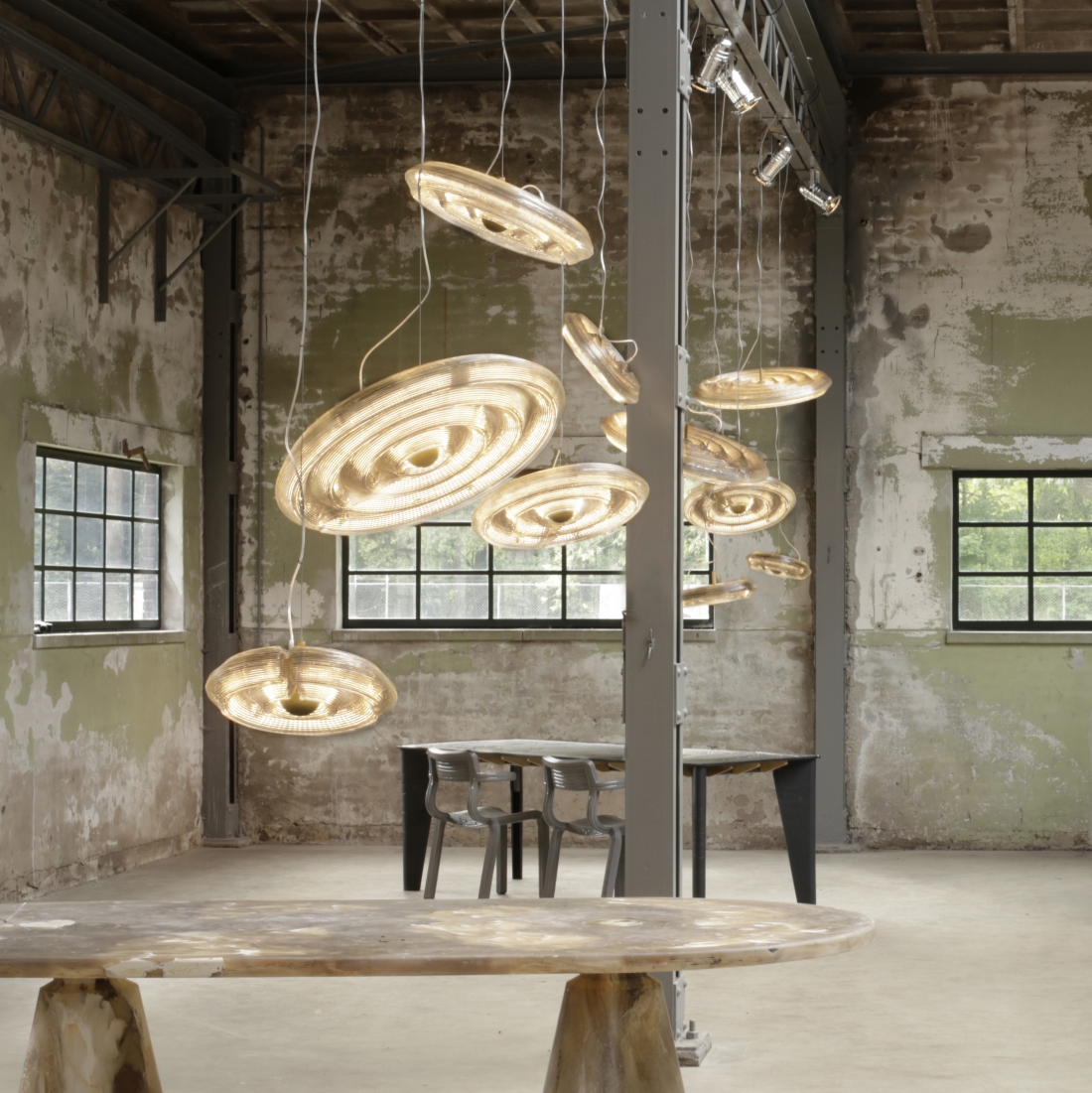 Also on show will be Weez & Merl who design around the concept of a circular economy, crafting plastic designs from local waste materials.
Challenging today's throwaway culture, the duo melt plastic bags and packaging to make a choice selection of objects. The process includes a distinctive marbling effect, achieved by adding coloured plastic bags to melted plastic.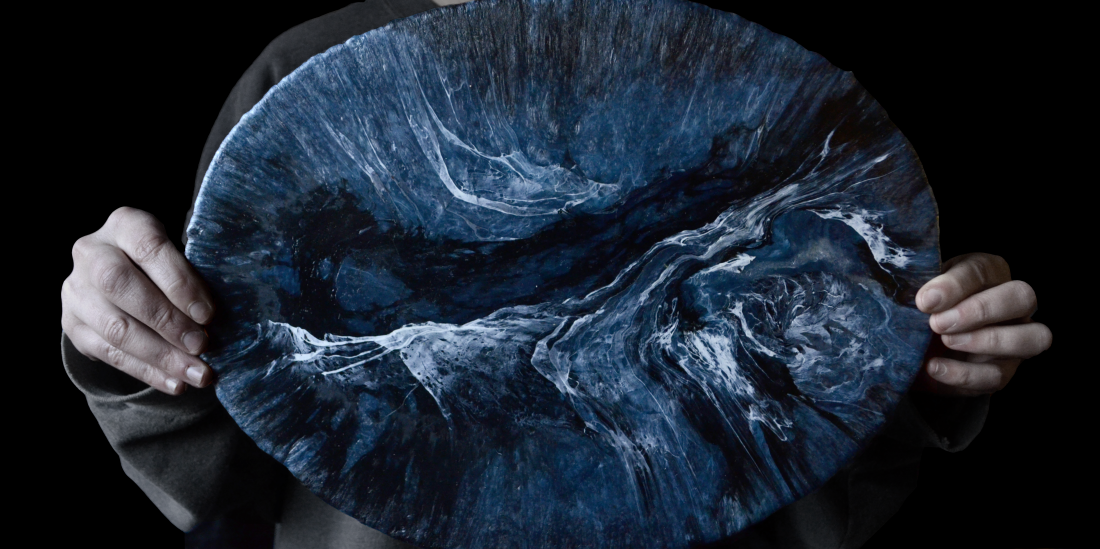 Japanese designer and artist Kodai Iwamoto, meanwhile, will be showing his latest work 'Plastic Blowing Project', which aims to transform cheap, easily-available materials into artworks by applying old-manufacturing processes and answering the question, what will happen if an old manufacturing process meets a cheap and mass-produced material?
Plastic pipes, used for distributing water, are transformed by applying air pressure into a closed pipe, which is slowly warmed by a heater to soften the material. As with glass blowing, many factors such as the shape of the mould, air pressure and the speed of heating the pipe's surface, affect the shape of an object. Even though the pipes are a mass produced and cheap material, Kodai believes that this hand-making process gives the pipe a new value by transforming it into a well-made object.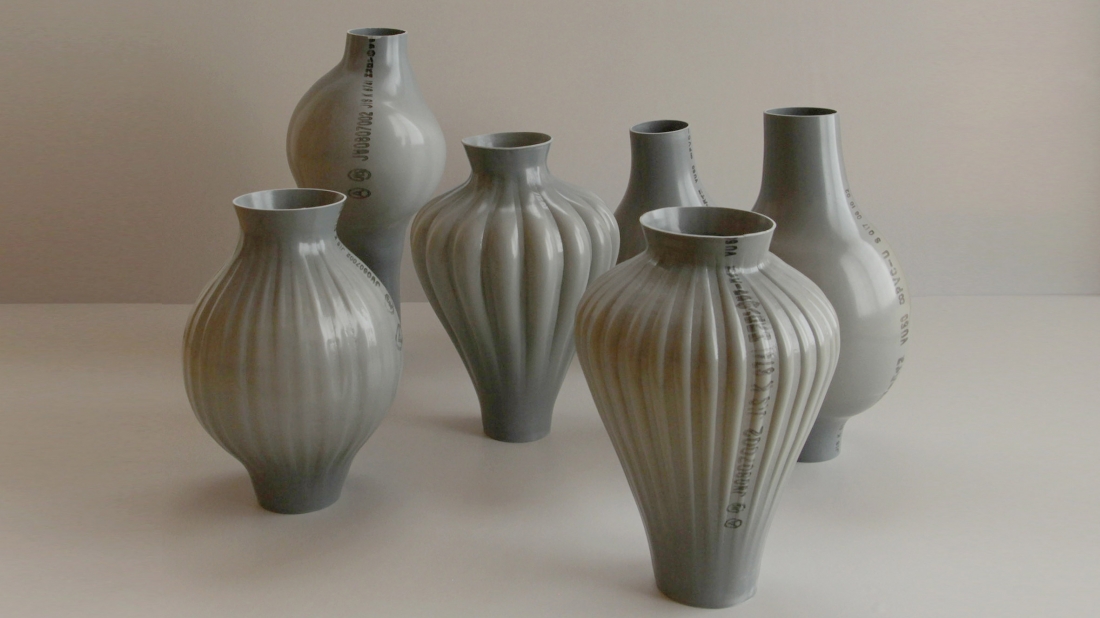 London Design Fair 2018 takes place at the Old Truman Brewery 20-23 September. Discover more at www.londondesignfair.co.uk.