Carl Hansen & Son brings back Børge Mogensen's rugged and elegant Huntsman Chair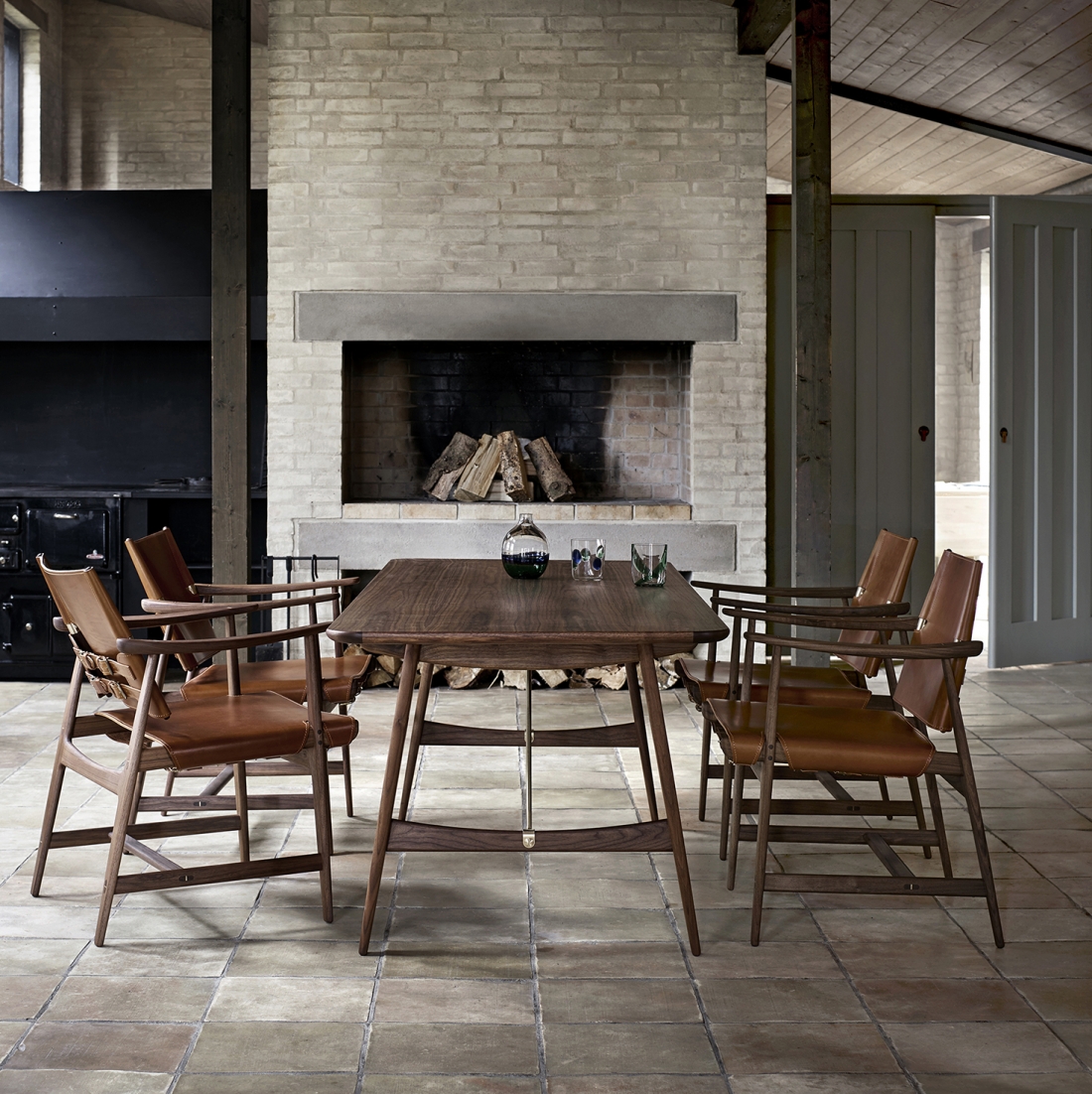 Carl Hansen & Son is reintroducing Børge Mogensen's Huntsman Chair – to complement the Hunting Table, presented last year as part of Mogensen's admission to the Danish furniture manufacturer's extensive portfolio of legendary Danish designers.
The rugged elegance of the Huntsman Chair, which helped to define Mogensen's distinctive style, works in many contexts – even as an attractive lounge chair in its own right.
Of course, Børge Mogensen's designs are renowned for their subtlety, with an emphasis on strong structures and materials of the highest quality. The Huntsman Chair, which Mogensen designed for 1950's Copenhagen Cabinetmakers' Guild Exhibition in line with its 'hunting cabin' theme, is no exception. The chair remained a showpiece until this year when Carl Hansen & Son is adding it to their collection of furniture classics.
"It is natural to focus on this great design created by Mogensen in his golden era. The chair has a quality that makes it highly relevant to the Danish design narrative, and it also complements the elegant Hunting Table perfectly," says Carl Hansen & Son CEO, Knud Erik Hansen. "Børge Mogensen's aim was to create a people-centred design that would last for generations. The Huntsman Chair is a classic example of this."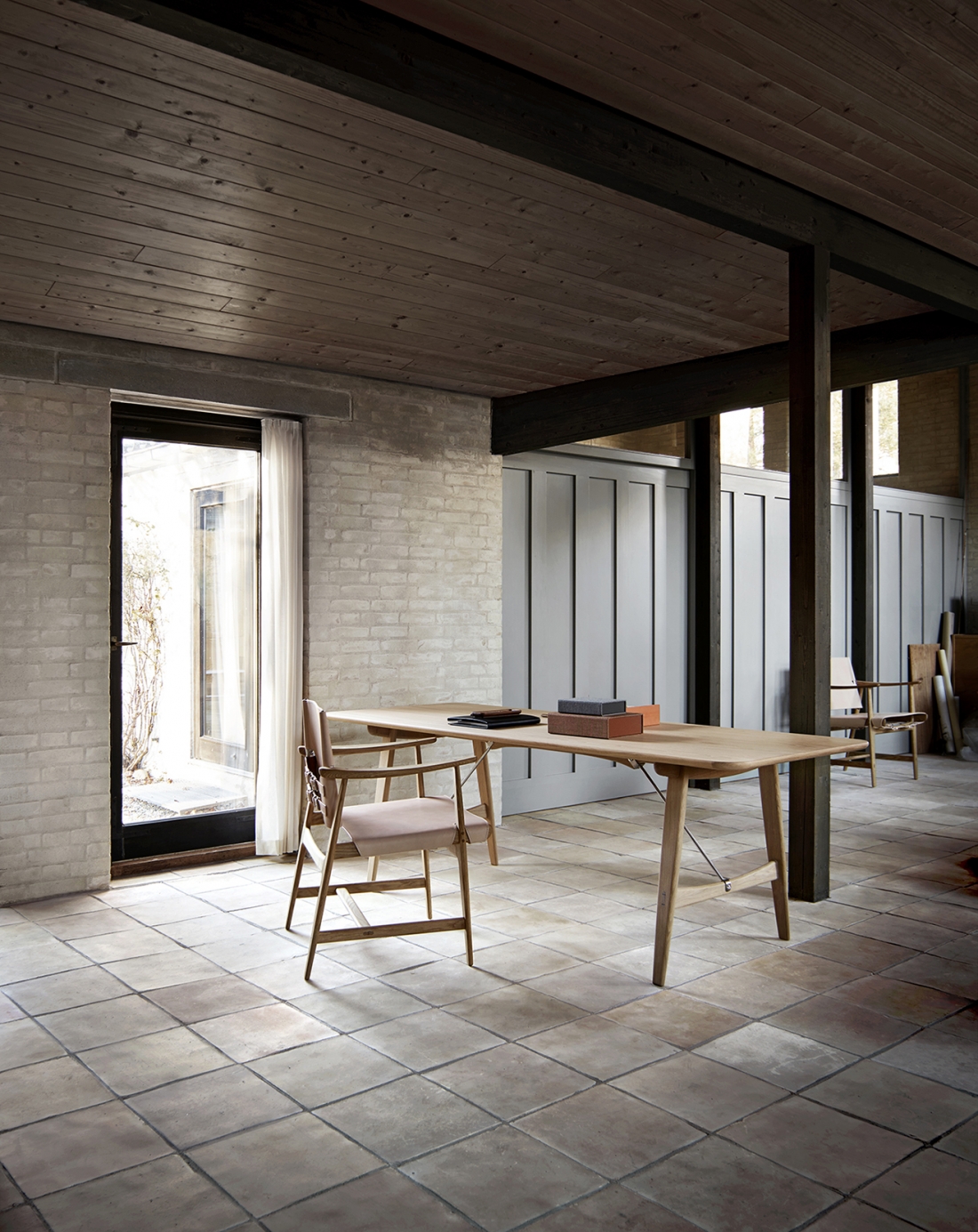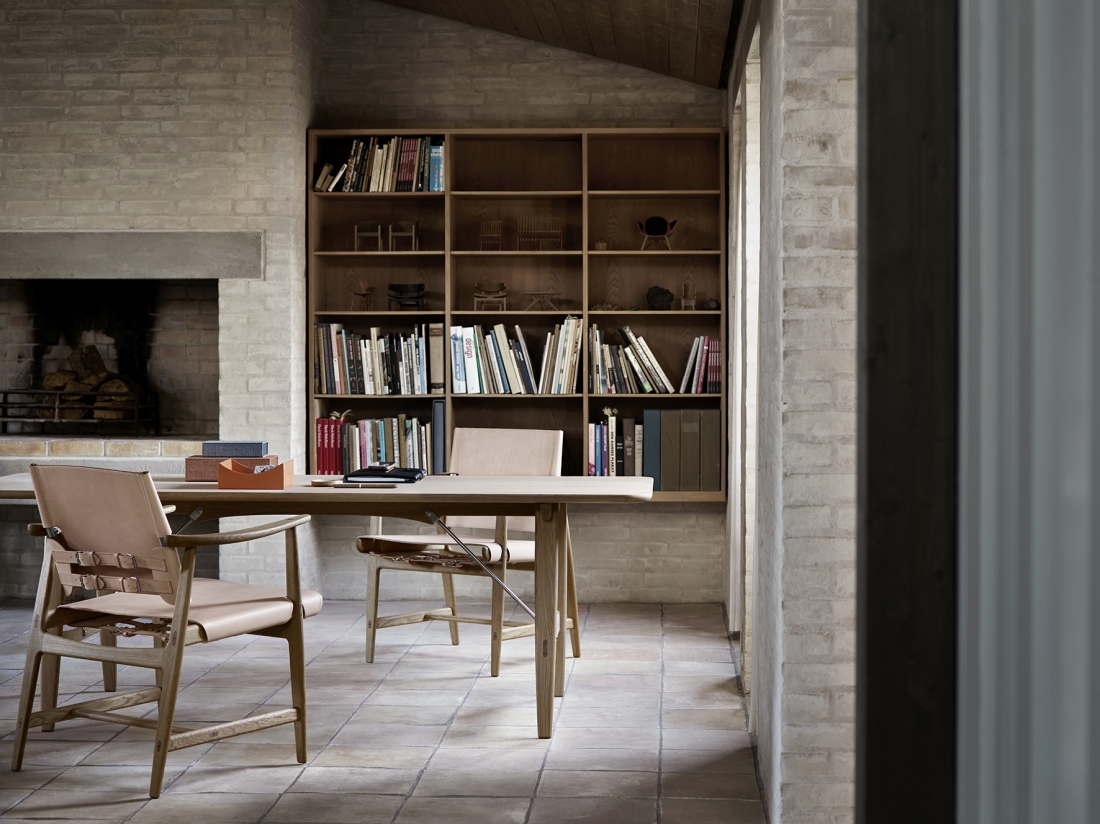 The Huntsman Chair, with its refined strength, became representative of Danish furniture design and the era known today as Danish Modern due to its simple form and organic materials. The chair was originally made of smoked oak and saddle leather – two of Børge Mogensen's preferred materials. Saddle leather was a new material at that point in Mogensen's career and it made its mark, leading to a more robust expression in his designs.
Like the Hunting Table, the Huntsman Chair was originally designed for a specific environment – the hunting cabin – and yet both pieces have an inviting elegance, due in part to their angled legs and slender design, which lend them a lightness of form. Designed to fit under a dining table, the Huntsman Chair is relatively low with organically shaped armrests, so it works well as both a dining chair and a lounge chair.
The Huntsman Chair is characterised by a stringent, rational design that lets the materials speak for themselves. With his typical focus on optimising the function of furniture and his eye for detailed craftsmanship, Børge Mogensen has designed a chair that unites aesthetics and sublime comfort.
From the chair's soft, organic wooden frame, its angled legs, and its rounded embracing armrests to its classic mortise and tenon joints with contrasting wooden wedges, Mogensen's training as a cabinet maker is in evidence. The mortise and tenon joints in particular, which add extra strength to the chair, demand the precision of a true craftsman.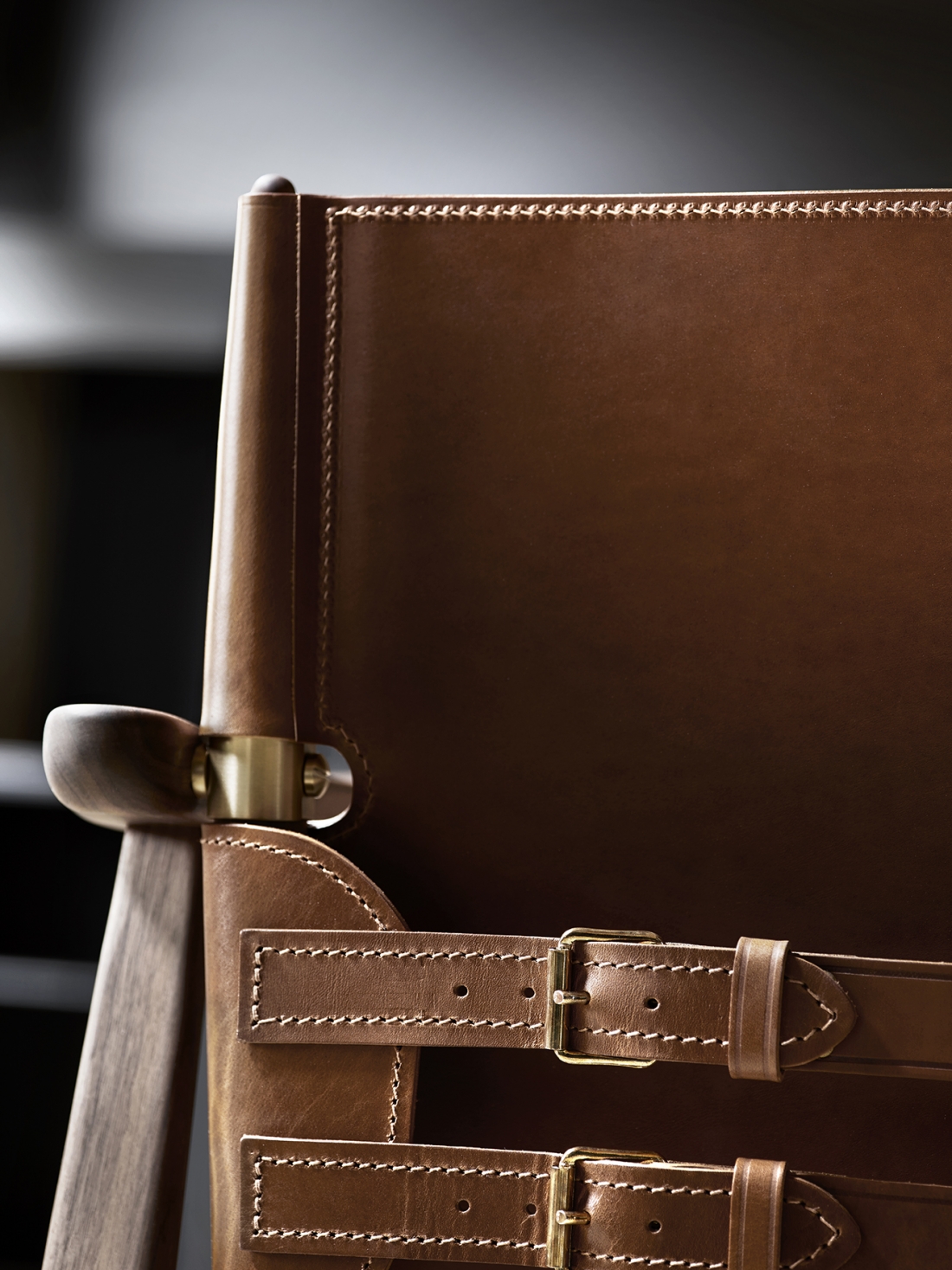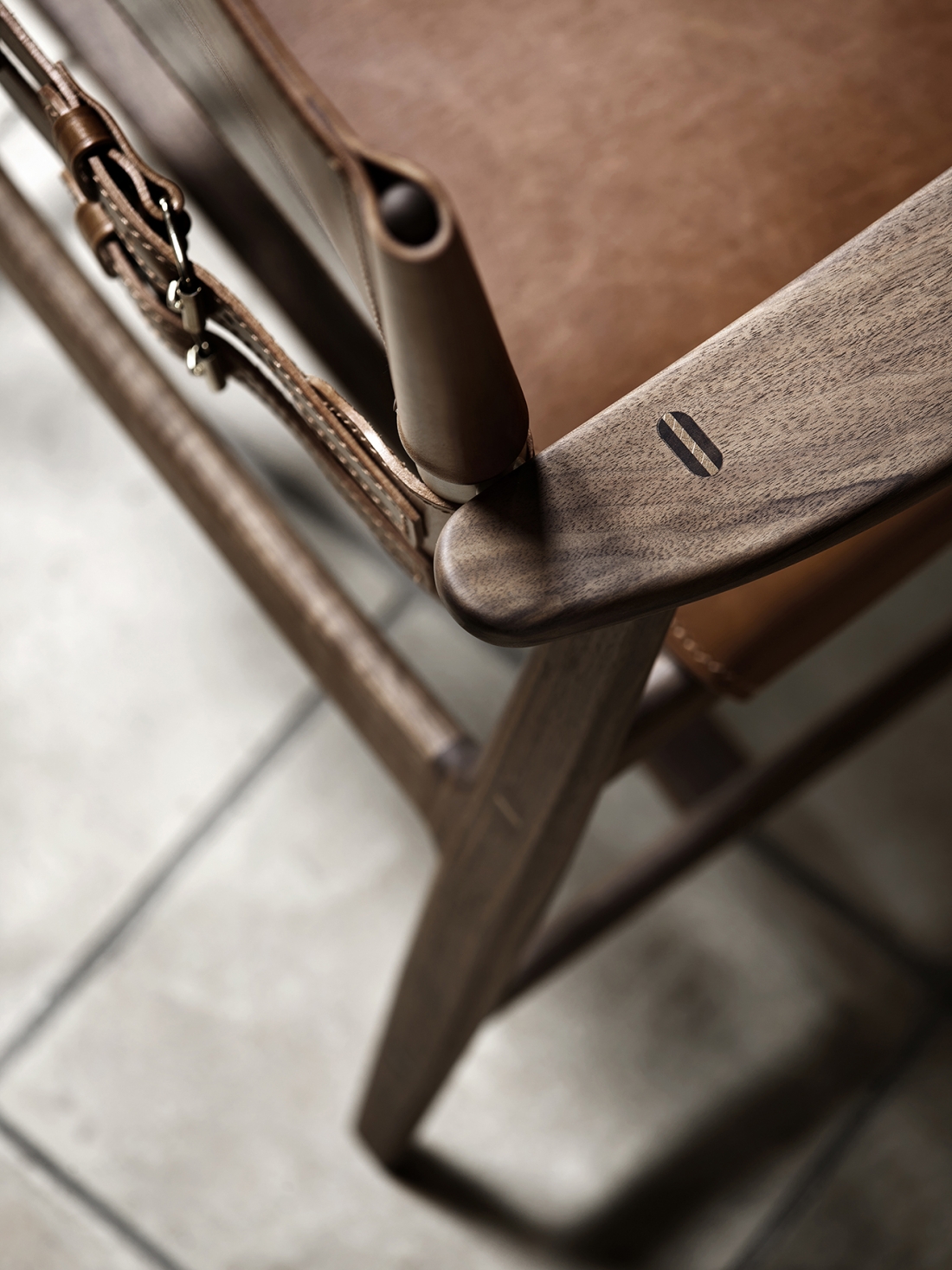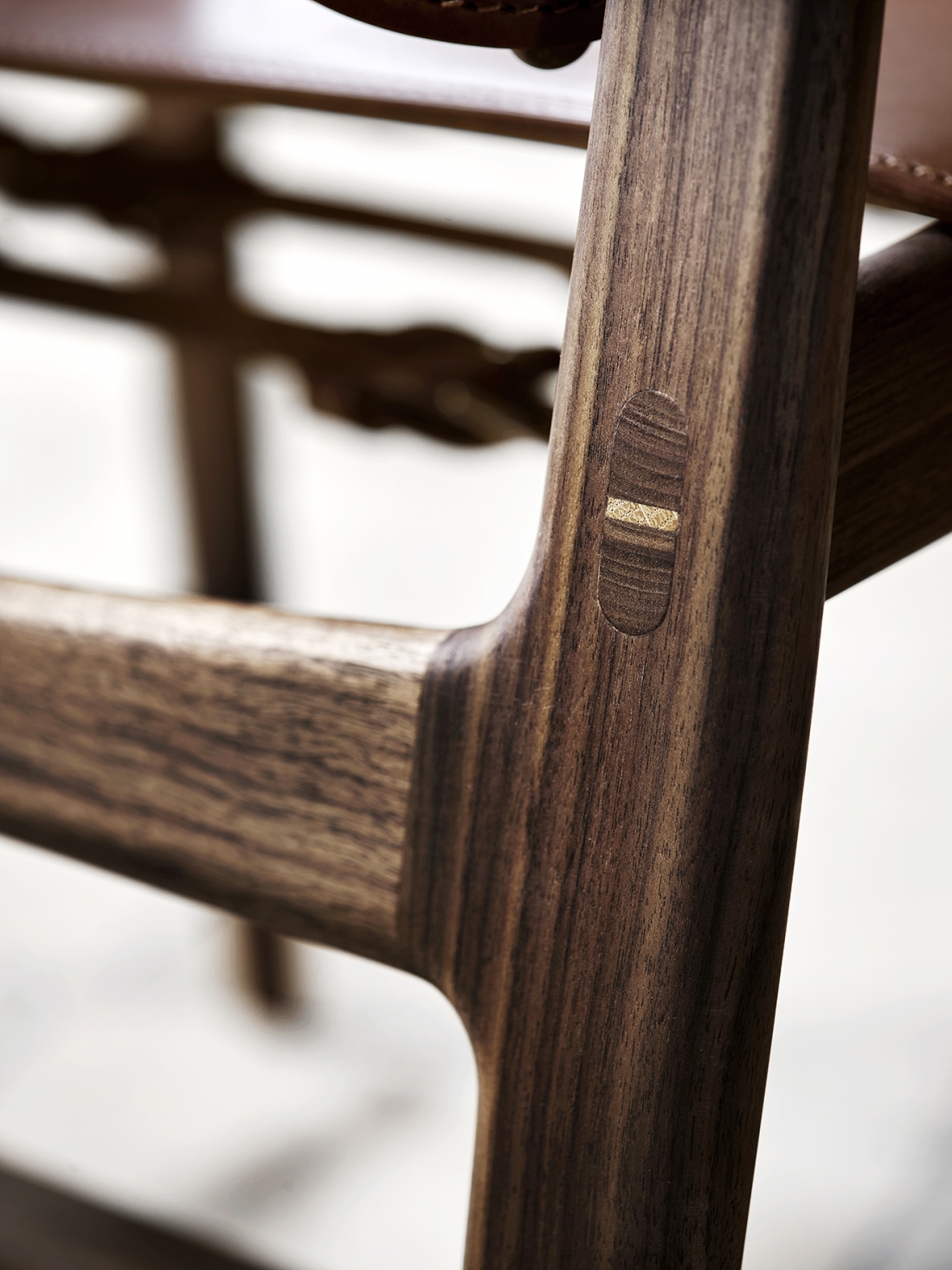 The saddle leather used in the chair's seat and backrest wraps around the wooden frame, held taut by buckles behind the back and under the seat – a characteristic design feature of Mogensen's work that bears witness to his flair for the aesthetic.
The saddle leather is carefully skived for a smooth transition between layers. The flexible top edge of the leather and the swivelling backrest, mounted on brass or stainless steel brackets, optimise sitting comfort and enable flexible sitting positions.
The design is a testament to Mogensen's training under the great master of Danish design — Kaare Klint. Although Mogensen developed his own design expression with an emphasis on an informal interior design culture, he was greatly inspired by Kaare Klint's focus on human proportions, and the idea that a good piece of furniture must radiate visual tranquillity as well as practical function.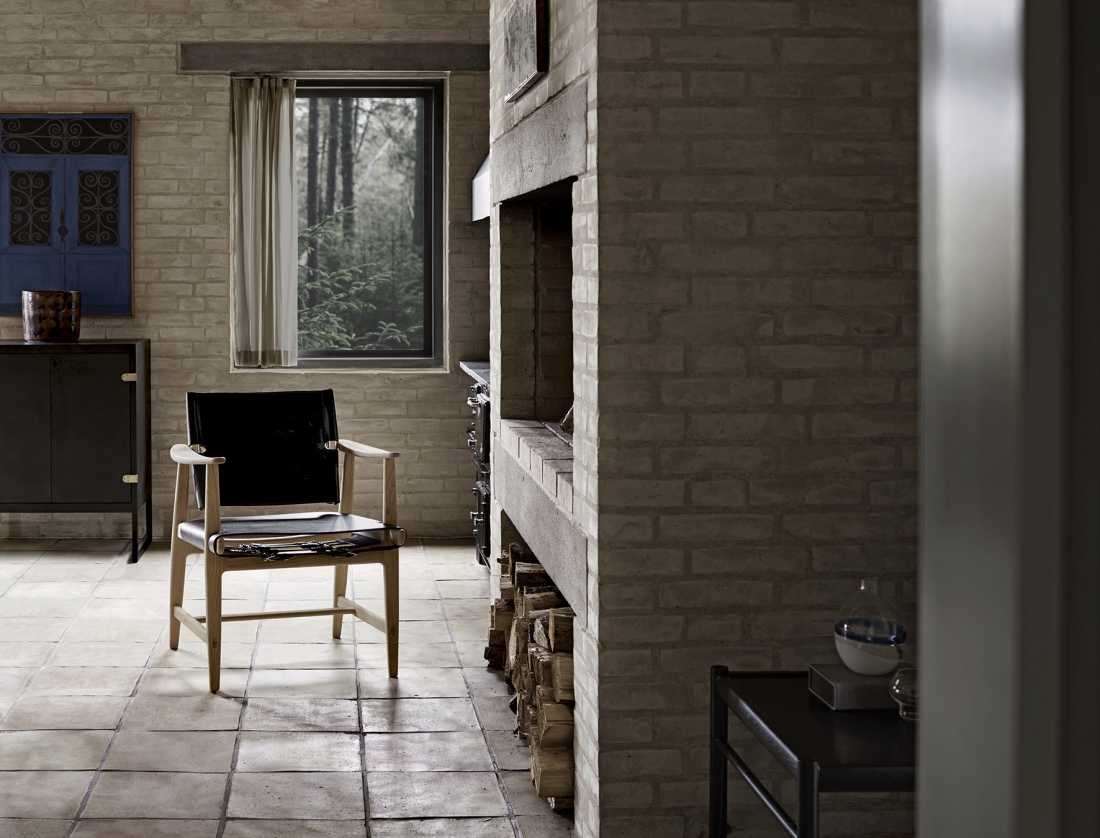 "Børge Mogensen's respect for wood and his expert craftsmanship are clearly reflected in his designs. This is one of the reasons his furniture fits within Carl Hansen & Son's collection so well. His design values are very meaningful to us, and so it is a pleasure to recreate this chair from his original drawings," says Knud Erik Hansen, who looks forward to adding another design from Mogensen to the collection this year.
Like the Hunting Table, the Huntsman Chair – model number BM1106 – is crafted in solid oak and walnut with various finishes. The chair's backrest and seat are available in saddle leather in natural, cognac or black, with buckles and brackets made of brass or stainless steel. The chair's mortise and tenon joints are completed with wedges in a contrasting wood.
Discover more at www.carlhansen.com.